Tips For Elevating Your Black Jean Style In 2023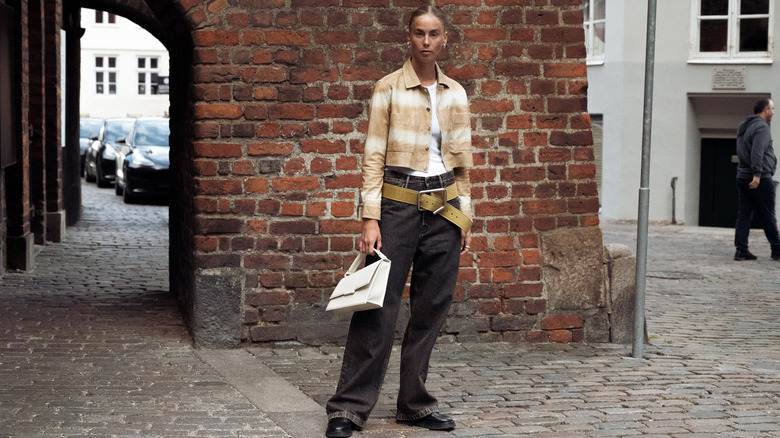 Raimonda Kulikauskiene/Getty Images
Most of us probably have a pair of black jeans we've held onto for years. Maybe you used to wear it daily under a striped shirt when that was a thing. Or maybe it was your go-to for going out looks with peep toe heels. Black jeans are a longtime staple, but for a while they faded into the background as the on-trend look. As relaxed, fit vintage blue denim and flares took over in the 2020s, classic black took a backseat.
In 2023, though, black denim is reentering the conversation. And now they're back in every style. If your penchant is flared jeans, you can do this with black denim. If you're still into skinny jeans, there's a black pair that will go with your every outfit. Or, if loose denim is your preference, this style is stunning in black. But beyond the different cuts of black jean out there, the bigger question is: how are we wearing them?
Sure, you can wear it with the same old tee shirt. But what if you wanted to try something a bit more on trend? The nice thing about black jeans is that they literally go with everything. If you need a casual look, black jeans are awesome. If you want to dress up your denim, black jeans can carry that glitz and glam. Watch how well it works with blazers, red handbags, and lime green tones.
Opt for black denim with a blazer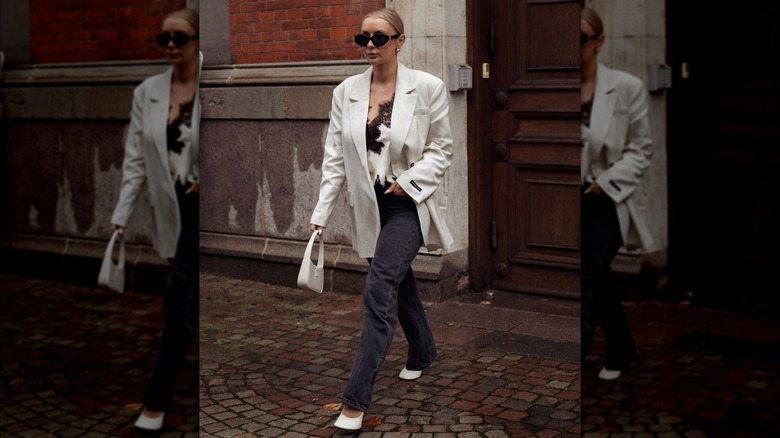 Raimonda Kulikauskiene/Getty Images
Both blazers and black denim are simple, wardrobe staples, which make them foundations for a solid outfit. But now, longer, oversized styles are the norm. Pair a longer, structured cream blazer over a pair of straight-leg, black jeans for a timeless, casual look. Aim for black jeans that are gently faded with light whiskering, for a worn, well-loved vibe. White shoes are the new fall and winter footwear, and white handbags are sticking around long after Labor Day. Play with lingerie-inspired tops by wearing something lacy and delicate under your blazer.
Rock your black jeans with a bouclé jacket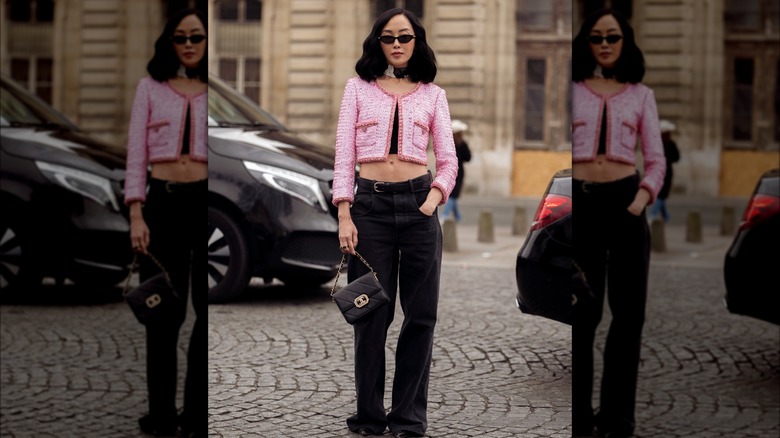 Raimonda Kulikauskiene/Getty Images
For those into the quiet luxury trend, the classic bouclé jacket, made iconic by Coco Chanel, elevates any outfit. A soft, pink version of this timeless jacket looks amazing when balanced with the cool-girl vibes that come from inky black, loose-fit jeans. The delicious tension between the polished, feminine look on top and modern relaxed shape on the pant is so on-trend. Keep the look contemporary by ditching a blouse and wearing a black crop top underneath the jacket. Work in a neck scarf or a thick choker for tonal accessorizing, and of course, don't forget your sunglasses.
Wear a long black coat with black jeans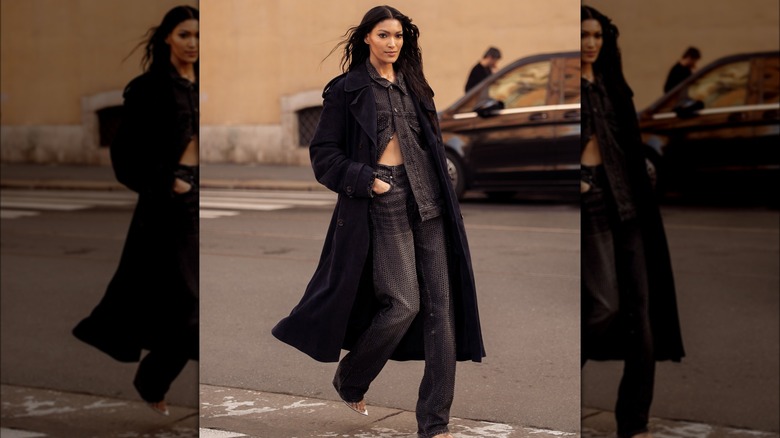 Raimonda Kulikauskiene/Getty Images
Talk about timeless. The long black coat is our go-to fall and winter staple when it comes to outerwear. And though it looks great over slacks and blue jeans, for a sleek, monochromatic cold-weather outfit, layer this duster over black, wide-leg jeans. Although you could go with a deep black pair, the slightly faded wash adds dimension that prevents all the colors blending into one shape. If the weather allows, unbutton the top to show some skin and create a break between all the dark colors. If it's too chilly, wear it untucked for a chill look, or tuck in the top for a formal finish.
Lime green accessories go with black jeans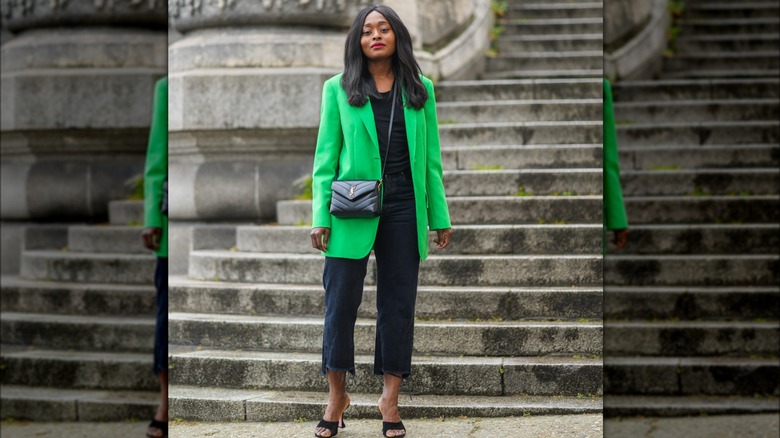 Edward Berthelot/Getty Images
We're not only into monochromatic looks for 2023. Lime green has become the unexpected champion of fall colors, and we're seeing it unexpected places, like outerwear. In the perfect marriage of trendiness, a lime green blazer with black jeans couldn't be better. It's fun and vibrant, but still mature and sophisticated because of the black base. To avoid looking too 'business casual,' wear a jean with a slightly distressed hem at a shorter length to contrast a tailored, structured blazer. The ankle-length crop of the jeans will draw the eyes to your shoes, so make sure you style the look with a stellar pair of heeled sandals. If you need the warmth, pair with ankle-length boots, instead. And don't forget your red lipstick.
Black, faded jeans are perfect with a brown shearling coat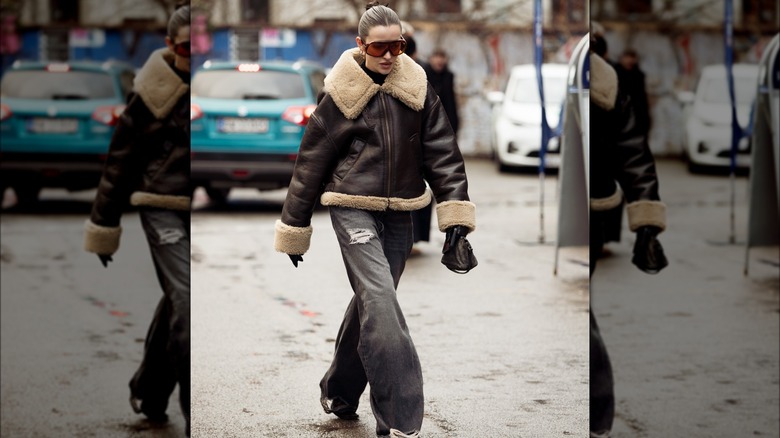 Raimonda Kulikauskiene/Getty Images
Brown, leather jackets are another trendy style that we're seeing everywhere. The added insulation of shearling just makes the outerwear even more essential as a perfect shell for the fall and winter. Play on the juxtaposition of black and brown by pairing your jacket with black jeans. We love the slightly distressed look of faded black in loose denim, with some rich distressed detailing. Pull your hair back in a slick bun and rock your favorite gold earrings as a delicate balance to the ample coat and jeans.
Work in red accessories with black jeans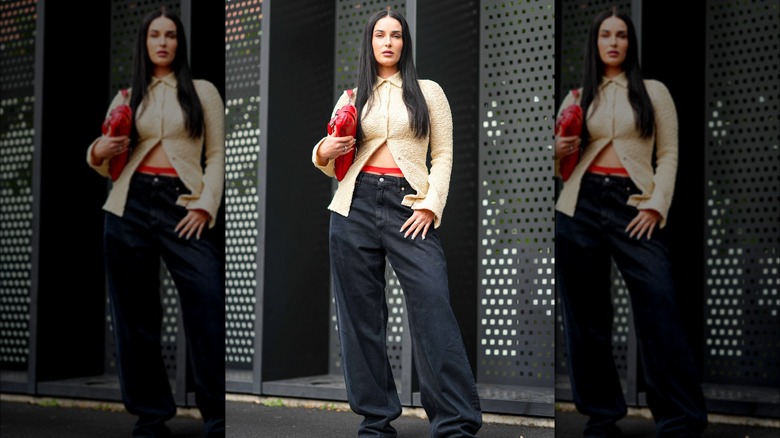 Edward Berthelot/Getty Images
With black jeans, it can be easy to default to the basic gold and silver metallics. And while there's nothing wrong with that, if you really want to make your black jean outfit look great, try spicing things up with a bit of color. Red accessories are everywhere in 2023, and they pop beautifully against black denim. A simple outfit formula like a collared top and black jeans can get a jolt of energy through the addition of a cherry red handbag. If you want to draw more attention to the black jean (or your waistline), you can play around with a bright red belt or if you'r extra daring, a red thong to experiment with the whale tail trend. We promise, we won't judge you.