Red Accessories Are The Most Versatile Fall 2023 Trend - How To Style Them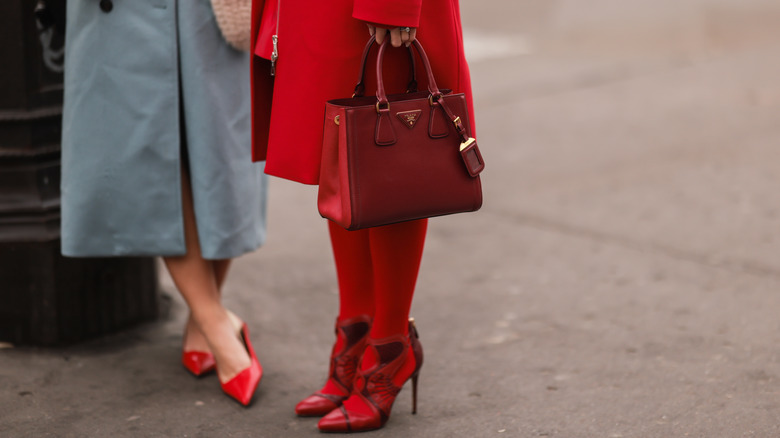 Jeremy Moeller/Getty Images
From bright cherry to rich scarlet, red is having a major moment, and it looks like it's going to stay that way. The color of passion has booted out it's flirtier alter-ego, Barbie pink, to carry us into the fall and winter. The color works perfectly in powerful statement pieces, from burgundy coats to crimson dresses, and carries a look on its own.
But if that much red feels overpowering to you, don't think you have to be totally left out of this fall fashion trend. The color lends itself delightfully to accessories. In fact, leaning into red for pops of brightness is an effortless way to elevate a fall outfit. From shoes to tights to hats and more, we're seeing red galore, and though the color is bold, it's easy to work with. This is largely because red has such a range. It can be punchy, like candy apple red, but it can also be muted and neutral. Just think of the brick, garnet, barn red, and mahogany tones that work in an easy, natural way. Here's how to use red as a favorite accessory.
Go monochromatic with red accessories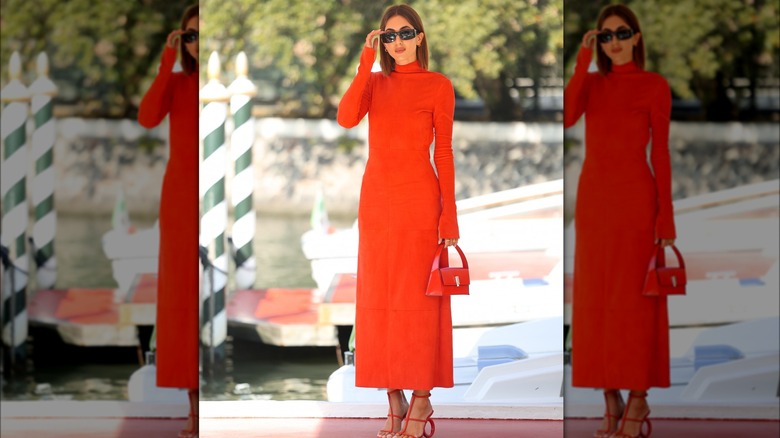 Jacopo Raule/Getty Images
It's a bold choice to go monochromatic with red, particularly a Ferrari red, but the risk pays considerable dividends. It's not imperative that you dress in the same tone to achieve the polish of a monochromatic success story, but in some cases, it makes for a very fun look. Interestingly enough, accessorizing is one of the best ways to achieve a succinct look. Lean into red shoes and a red handbag to add to the story. Stylists Danielle O'Connell and Alix Gropper told Harper's Bazaar that accessories are the key to this look. "Introduce various materials into your look, whether that be a knitted or chain top with a monochromatic suit or a leather boot with a cotton dress," they said. "This can help break it up and also elevate the look to feel more styled." Matching the shoes with the handbag is a great way to achieve this. 
Red earrings pack a punch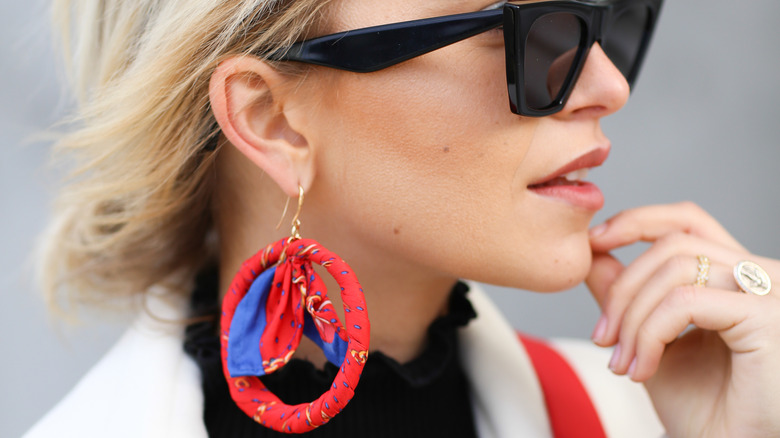 Jeremy Moeller/Getty Images
Nothing makes a statement quite like a pair of show-stopping earrings, and nothing stops us in our tracks quite like red, so imagine if the two came together. If you're working with a simple, even neutral outfit, red earrings are a great way to add personality and dimension, especially since they frame the face and add intrigue at the eye level. Since red is such a powerful color, it doesn't matter if it matches the rest of the outfit. It holds it own. And if there are elements of red in other parts of your look, you know for sure that red earrings are going to bring everything together in a fiery way. 
Red lens sunglasses
We're not talking about red frames, though those are epic too. Red lens sunglasses take the cool factor of sunglasses and take things up a notch — or ten. These visually interesting statement pieces also serve a practical function. Red lenses carry a load of advantages. They're the best sunglasses to wear while driving, since they help with depth and visibility. For this reason too, red lenses can be great for sporting activities, so feel free to incorporate these as part of your athletic look. They also can block out blue light more effectively, making them a strong choice when using electronics. See? Fashion and function can come together sometimes. 
The statement red jacket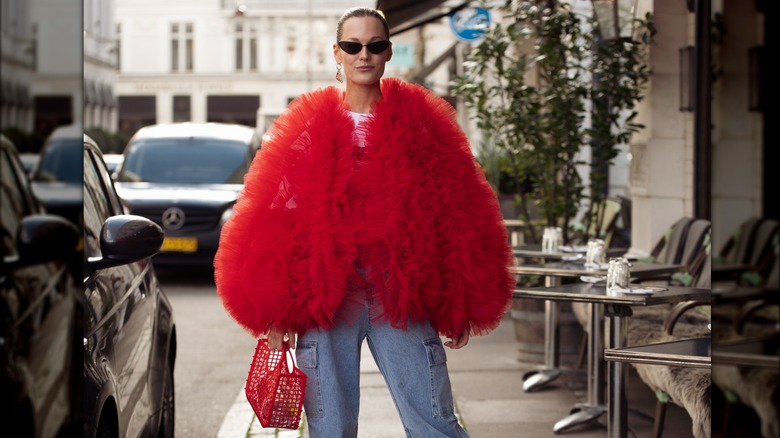 Raimonda Kulikauskiene/Getty Images
There's nothing like a red coat to take a look to the next level, and in such a quick, easy way. Whether the coat is tailored and structured, or full and whimsical, a red jacket blows any outfit out of the water. There really are no rules on how to pair a red jacket. If you want to edge into a busy, playful look, incorporate plaid trousers or a printed skirt with boots. Or, if you want the jacket to steal the show, wear it with neutrals, like denim, or black so that the jacket has its own moment. 
A red beret goes a long way
There are ways to wear a beret without looking like a tourist on her first day in Paris. The quintessential fall hat never really goes out of style, and this is largely because it's such a delight to style. While berets come in an unlimited range of colors, a red beret allows the hat to be the focus of the outfit. In one easy accessory, your look can go from muted to chic. But it's wise to go minimal with makeup, since a beret is such a statement piece by itself, particularly a red one! 
Use a red dress as an extra layer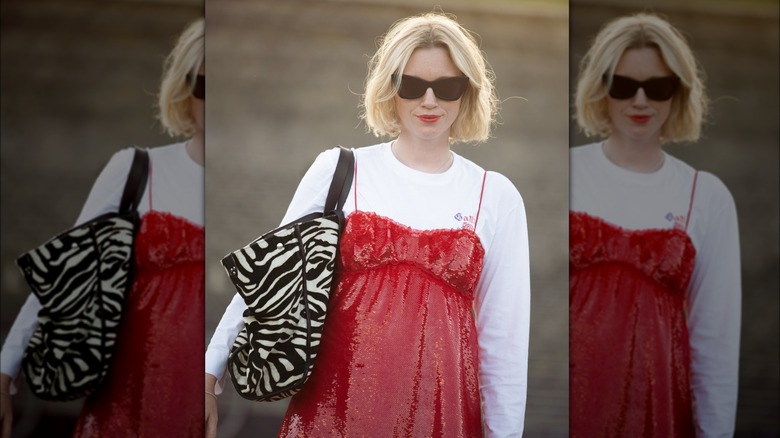 Raimonda Kulikauskiene/Getty Images
Slip dresses function nicely as a solo garment, but sometimes you need a little more fabric than they offer. Transform a slip dress into the ultimate accessory by using it as a layer over your outfit. Wear it over a long sleeved shirt and tights to give your look some added dimension, and wearing a red one creates a brighter layer to your look. The more impractical the slip dress (we're talking sequins and sparkles) the more unexpected it is as a layering piece. Plus, we love textures and fabrics that oscilate easily between summer and winter. 
Match your lipstick, nails, and clutch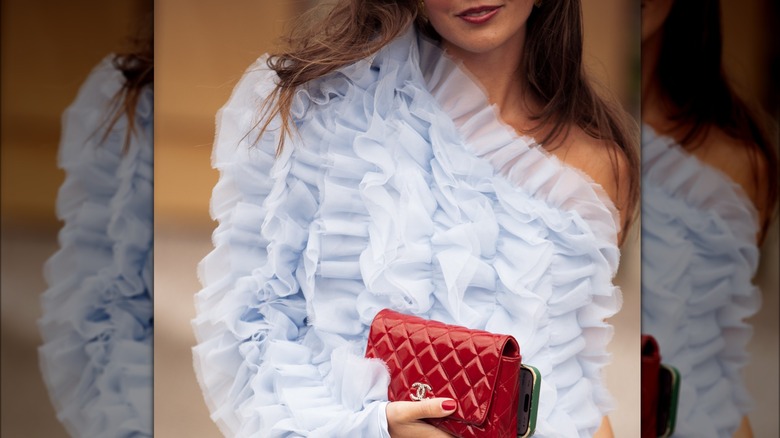 Raimonda Kulikauskiene/Getty Images
There's nothing like amping up the red accessories with bursts of red throughout your look. Use one red accessory as an anchor piece, and continue the pop by matching your nail polish and your lipstick to that particular tone of red. While you can wear red lipstick literally any time of the year, somehow the color is most striking during autumn and winter. So work it into an otherwise neutral outfit and you'll get into season perfectly. Plus, matching your lipstick and nail polish is an adorable way to create cohesiveness to your look, so when you add matching accessories to it, then you're really soaring.