Fall 2023 Fashion Trends Are On The Horizon And We're Ready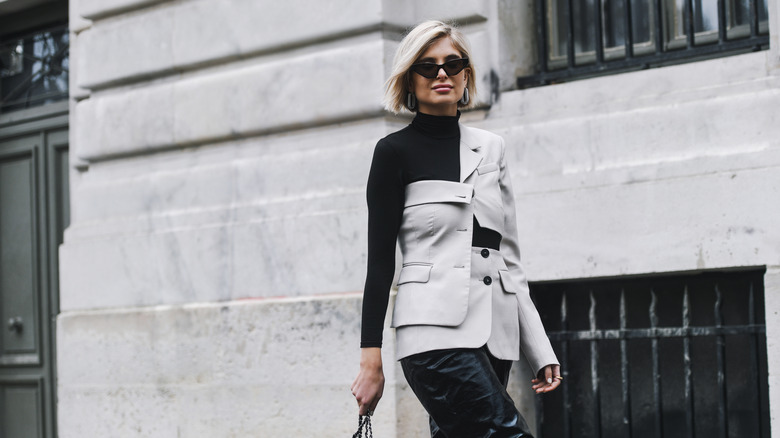 Creative Lab/Shutterstock
Though the scorching summer heat doesn't seem to show any signs of letting up at the moment, the truth is we're quickly approaching the autumn season. And with the change of season comes a change of weather — hopefully some reprieve from the punishing heat and a transition into cooler temperatures. As you put away your warm weather wardrobe, what should you replace it with? 
If there's anything we've learned by scouring the runways of fashion week for autumn trends, it's that this season, anything goes! From bold colors and exaggerated silhouettes to unexpected features like fur and metallics, you really can have fun with fashion this season. You don't necessarily have to rock the classic pea coat and scarf combo. Whatever look you choose, you can tailor it to be a true representation of your personal style while still being totally on trend.
Furry footwear will add a (warm) pep to your step
Though the furry shoe trend is fairly straightforward in theory, it may be one of the tricker fall styles to emulate. If this fun and playful trend is one you want to try, you may want to consider furry clogs or mules, or perhaps a high heel to up the glam-factor like the pair of shoes featured above. 
While the furry shoe trend, like the "ugly shoe" trend, may not be for right or practical for everyone, you can certainly adapt it to suit your style or aesthetic. Wear fur-lined shoes or boots (a style that hits the trend but also works to keep you warm), or shoes with a more subtle, fur detail. If you're feeling bold, however, rocking a full-fur shoe with your outfit is definitely an attention-grabbing vibe.  
Heat up your fall looks by choosing red hues
As the temperature drops, fashion trends are heating up with a classic, fiery hue: red. Red is a great color to wear even if you're not typically someone who likes to wear colorful clothing. With so many shades to choose from, you can almost certainly find a shade of red that is flattering for your skin tone. Even in a more muted hue, red can make a big impact if you opt for a monochromatic look: think red dress and red coat, or red suit with a red blouse. 
For those colder autumn temperatures, you may also want to consider layering up by adding red tights (a bold trend in legwear) to an all-red look like the one featured above. As a finishing touch, if you like to wear makeup, a classic red lip can tie your whole look together as well. 
Metallic looks put the 'chrome' in monochrome
In sports and competition, silver is the color of second place — but this trend gives anything but runner-up vibes! Though silver is typically associated with jewelry and accessories (and you can certainly add silver rings or necklaces to your outfits to really work this look), you should consider thinking out of the (jewelry) box if you are looking to partake in the metallic trend.
This autumn, incorporate silver and chrome into your wardrobe in unexpected ways by wearing a metallic dress, jacket, or even silver-coated denim jeans or T-shirts. Because this trend is making its way through fashion at multiple price points, you are almost certain to find a piece that suits your budget and also works well with your style and aesthetic. This trend brings a new meaning to the phrase, "heavy metal."
All signs 'pointe' to ballet flats
While ballet flats have certainly had their moment in the fashion spotlight, it seemed like they'd become a trend of the past in recent years. This fall, however, the dance-inspired footwear is back with a fervor reminiscent of that of the early 2000s. 
The ballet flat remains a versatile shoe as it comes in many different iterations, including the classic satin ballet flat, studded flat, and even designer styles, like the image above. This is just one cool example of how to wear the ballet flat in a unique, interesting, and most-importantly, current way, especially if you're not quite ready to revisit the trend as it was worn in the past. 
To ace the ballet flats trend without looking dated, consider pairing the shoes with streetwear-inspired outfits — think over-sized cargo or parachute pants and track jackets — to create a look that balances sporty and feminine aesthetics.  
Make your fall 'fit interesting by adding texture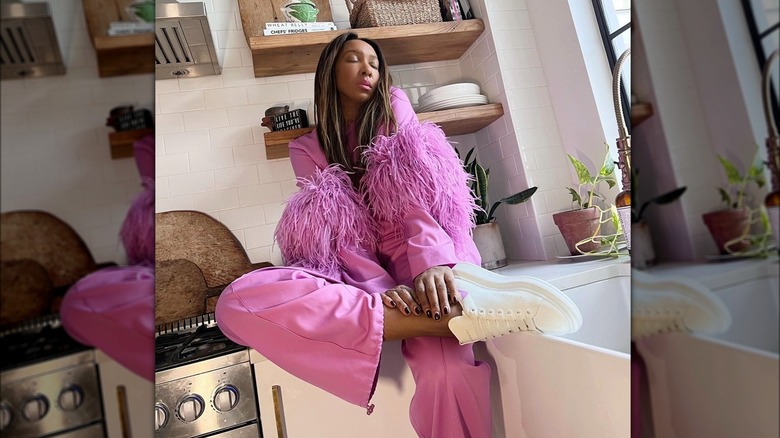 Instagram
Partaking in new trends doesn't necessarily mean veering away from looks within your comfort zone. Updating your look and trying a current trend can be as simple as adding new and interesting details to your outfits. In this case, we're talking about adding texture to your fall ensembles. Textures like feathers or fur, for example, add interest by lending themselves to movement, which can be eye-catching during a windy, fall day. 
You can add textures to any of the trends mentioned, as well as more timeless or classic garments, by way of sparkling details (think sequins, metallic studs, or glitter) or even tactile textiles like embossed leather or embroidered fabrics. Embracing this trend can be a versatile and fun way to update pieces that you may already have in your current fall wardrobe.
Statement coats send a bold message
Autumn weather means an opportunity for chic, layered outfits. But if you want to avoid looking like Joey Tribbiani wearing all of Chandler's clothes on "Friends," or if layering just isn't your thing, a statement coat may be the trend you're looking for. 
The right jacket can make even your most worn outfit look fresh, and can sometimes even feel like an entire ensemble in and of itself. When considering what constitutes a statement coat, think of bold patterns or prints, or maybe something eye-catching like a faux-fur or shearling style. However, if you aren't feeling adventurous with your wardrobe and don't want to foray into the world of exaggerated lapels or oversized fits, for example, choosing a bold and unexpected color for fall — in this case, a sunny yellow hue — can still make a statement without pushing the fashion boundaries.
Feel like an absolute boss with power dressing
#Girlboss is as much a state-of-mind (and lifestyle) as it is an aesthetic trend. According to Forbes Magazine, power dressing is about exuding confidence and presenting yourself in a manner that makes you feel powerful. In the terms of autumn's style trends, power dressing refers to pieces with exaggerated, bold silhouettes, mixed with garments that are typically associated with business or corporate attire, like trousers. 
Of course, this trend is not confined to the boardroom, meant for corporate girls only. Power dressing is for everyone. Even if you are not a high-powered executive, adding a piece like an oversized blazer with intentionally broad shoulders or a floor-length structured pencil skirt to an outfit can make you feel as though you're ready to take charge and conquer corporate America, or even the nearest high-fashion runway show. When choosing pieces to wear for this trend, consider fit above all, as tailoring can make all the difference in ensuring that exaggerated silhouettes like extra long hemlines look chic rather than ill-fitting.
Barbie-core makes its way out of the big screen
It's (still) Barbie's world, we're just living in it! This summer seemed to be the summer of Barbie, with the recent release of the live-action film grossing a record-breaking $1 billion dollars. With that kind of unprecedented success, it is no wonder that the Barbie-core trend that took over summer fashion hasn't gone away yet. In fact, it appears that Barbie is ready to take on autumn fashion trends as well. 
The simplest application of this trend is to take style cues from your current wardrobe and give them the Barbie treatment by choosing similar pieces in pink. While this trend may seem incredibly niche, opting to participate by choosing pieces in various shades of pink — or simply adding more pink accessories like bags, hats, and shoes to your wardrobe — makes it very accessible and versatile from a style and budget standpoint.
All leather everything
"Leather weather" is often associated with cooler temperatures, as leather garments keep you warm. For this autumn trend, consider expanding your leather repertoire beyond jackets. Try adding leather shoes, bags, or hats to your outfits for a subtle nod to this trend. For a more bold outfit option, you may want to try leather pants, skirts, or a leather dress. You may even want to experiment by mixing leather textures (suede paired with patent leather, perhaps?) or wearing a full leather blazer and trouser combination as a suit. 
This trend is so versatile due to all of the style options available, either brand new or vintage. Of course, the type of leather you wear is entirely up to you, and you may opt for a faux or vegan leather in any of these pieces. The mass appeal of leather garments means that you have unlimited outfit possibilities, so long as you can imagine your ideal leather look. 
Rock on this fall by channeling punk vibes
The rock and roll aesthetic transcends fashion, as it has never really left pop culture. Though it may appear is subtle ways, trends and styles influenced by rock and roll can usually be spotted by the discerning eye. Recently, celebrities like Kourtney Kardashian Barker have brought the style back to the forefront of fashion, and the trend will be making its way into the fall season. 
If the rock and roll and punk rock aesthetic is your vibe this fall, you can try to add subtle details like combat boots or Converse sneakers to your wardrobe for a touch of punk. You can also opt to dive right into the trend by incorporating pieces in plaid patterns — à la the iconic British fashion designer Vivienne Westwood — as well as other classic pieces synonymous with the punk rock style, like the leather motorcycle jacket.