How To Ace The Ballet Flats Revival Without Making Yourself Look Dated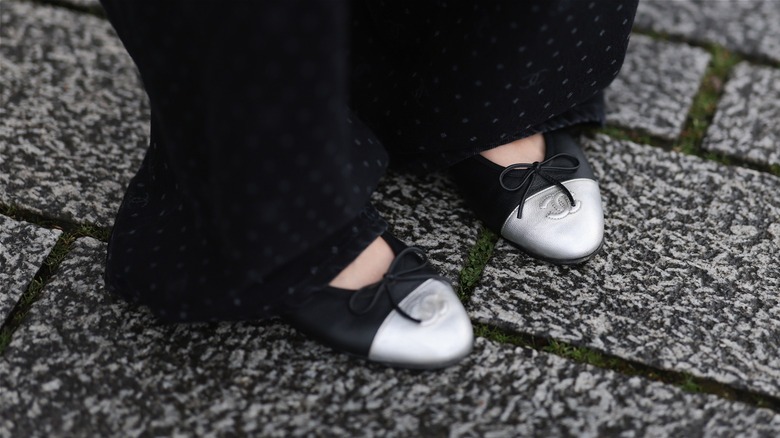 Jeremy Moeller/Getty Images
Ballet flats have long been a staple in wardrobes around the globe, but in recent years, these dainty shoes have fallen by the wayside. Heavy shoes such as super chunky sneakers and lug sole boots have stomped all over the latest fashion trends, instead. It seems that lately, however, ballet flats are having something of a revival. The balletcore aesthetic has been all over TikTok for some time now, spurring everything from balletcore nail trends to balletcore buns and even new pastimes, where ballet class is the new cool girl hobby. 
In stark contrast to the heavy footwear that we're so used to, ballet flats are back as a lighter, brighter alternative to stomping around in your Doc's all day — not that there's anything wrong with that, of course! But something about the ballet flat is just so effortless, just so chic, that you might just find yourself reaching for them over and over again. Should you feel ready to step on stage with this revived trend, remember not to return to old habits. There are a few outdated ballet flat looks you should leave in the past: for example, wearing ballet flats with skinny jeans. Here's some renewed inspiration to get you started on the right foot. 
For an easy daytime look
Lightweight, easy to throw on, and flattering with any silhouette, ballet flats make for the perfect daytime shoe. We love how TikTok user Taylor Hartmann (@taylor.hartmann) styles both a black and a nude pair in her TikTok video. First, she pairs her black ballet flats with several closet staples: a pair of wide-leg jeans, a white tank top, and an oversized gray cardigan, buttoned only at the top. Next, she wears a gorgeous green satin skirt with a white t-shirt for a simple, chic outfit. She accessorizes with a black bag and black headband to match her black ballet flats. And last, she wears an off-white ensemble, complete with a white mini skirt, white tank top, sheer, knitted wrap-sweater, and off-white leg warmers with her nude ballet flats. 
For a night out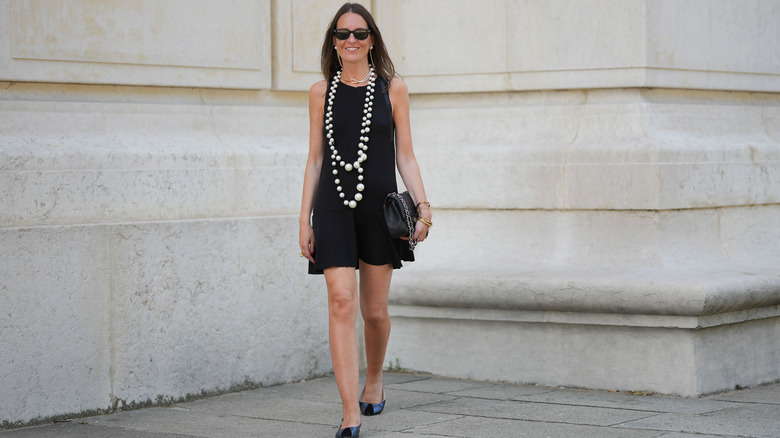 Edward Berthelot/Getty Images
When you want to feel flirtatious on a first date, but refuse to even entertain the idea of putting on heels, ballet flats will have your back. Ballet flats are super comfortable, so you won't have to worry should you be planning on dancing the night away. TikTok user @summerrachelwarren nails the nighttime look in her TikTok video. She wears an ultra-cool, ruched cargo skirt with a black, satin tank top, complete with black feather straps. Then, she slips on a pair of Miu Miu ballet flats, which feature two, grommeted buckles, and a black Prada shoulder bag. 
We love how ballet flats can be dressed up or down, the perfect day-to-night shoe. But for those who are looking to slightly elevate their ballet flats, you can also look for versions with a block heel. And the finish of the ballet flats can also make a difference in the overall look; where a shiny patent leather tends to read more nighttime, a matte leather or fabric tends to read more casual. 
The ultra-feminine look
What better way to wear ballet flats than with a skirt worth twirling in? Should you love to lean into an ultra-feminine aesthetic, ballet flats should be an essential in your wardrobe. We love how TikTok user @ashley.kaylen styles her ballet flats fives ways in this TikTok video. Featuring a pair of pastel pink, heeled Repettos, her first look pairs a fur-lined, pale pink cardigan with a geometric pink mini skirt for a retro-chic look. Second, she wears the shoes with ripped, medium-washed jeans and an oversized pink sweater for a sweet and casual everyday look. Third, she pairs a white, button-down cardigan with a beige cargo-esque skirt, white leg-warmers, and of course, her ballet flats. Fourth, she wears her ballet flats with a maxi slip dress, and last but not least, with a pair of wide-leg trousers, white tank top, and pink shrug. We love how each of these distinct looks are brought together with the ballet flats. The ballet flats give an edge of sophistication to these well-coordinated outfits. 
For a chic office look
Ballet flats are also the perfect shoe for the office. Comfortable, stylish, and versatile, you will always look put together with these beauties on! However, ballet flats can fast become drab when worn with the wrong outfit. Keep the shoe looking fresh with a modern aesthetic. For example, we love how TikTok user Andia (@andia.mau) styles her ballet flats in her TikTok video. She wears a pair of wide-leg trousers, a long-sleeved silk shirt for added sophistication, and a blazer with her gold Chanel ballet flats. The wide-leg trousers add a certain modern, breeziness to the look that might have looked more classic with straight-leg or cigarette-cut pants. The final look is super chic, and simple to replicate at home. When it comes to work attire, nothing is better than an effortlessly stylish look, and ballet flats are the shoe for the job. 
For a sporty look
Although ballet flats can be read as a highly feminine shoe, they can absolutely still work for those with a sporty aesthetic. In fact, ballet flats are a fantastic way to complement a sporty look, where the ballet flats can add an element of edginess to the style. We love how TikTok user @danielalevinte blends her athletic aesthetic with her ballet flats in her TikTok video. She champions three looks in this video. First, she throws on a pair of dark grey, low-rise cargo pants, and a plain, white t-shirt. She wears a green and white varsity jacket over the ensemble, and her black ballet flats balance out the look. Next, she puts on a red mini-skirt paired with a black track jacket. She also pairs her ballet flats with white socks, adding to the sportiness of the look. And for a third, alternative-meets-preppy look, she layers a black cami over a white turtleneck, tucking the tops into a plaid skirt accessorized with a buckle belt. She wears her ballet flats with mesh ankle socks to complete the aesthetic. Notice how pairing ballet flats with different socks can completely change the look.