How To Style A Trendy Brown Leather Jacket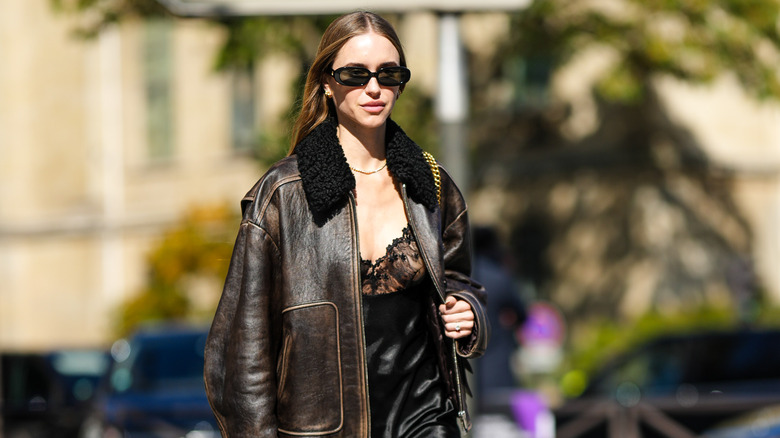 Edward Berthelot/Getty Images
The brown leather jacket has become the darling of outerwear, replacing the polished sheen of patent leather and alligator skin finishes. Add a touch of distress to the brown leather and you're working with something very timely. Everywhere you look, there are bomber and motorcycle jackets in this natural fabric, lauded by the likes of Prada, Saint Laurent, Alessandra Rich, and accessible brands like Zara, H&M, and ASOS Design. 
Distressed brown leather jackets are having a big moment for so many different reasons. For one, the aged-looking leather tells a rich story and creates a striking contrast with other fabrics to make for unexpected texture combinations in outfits. It's the perfect antidote to a basic outfit. Wear the jacket with your favorite denim trends, like loose jeans or a denim maxi skirt, to tap into a lived-in, vintage look. The distressed leather jacket is versatile, offering equal opportunities to dress it up or down. Plus, the look runs oversized, so it invites comfort. Who doesn't want that? 
Embrace the casual power of the brown leather jacket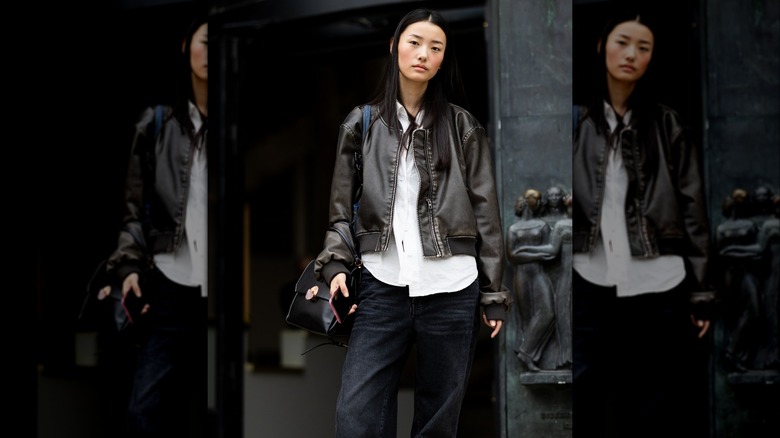 Valentina Frugiuele/Getty Images
The cool girl look works well with any style, but preppy details bring out a playful contrast. Pair a brown bomber jacket with a white button-up shirt to soften the edge. The full sleeves of the jacket add an appealing slouch to the collegiate lure of the classic cotton shirt. Wear with your favorite loose jeans or dark trousers. Don't worry about wearing dark navy or black pants with the brown jacket; its versatility means that you can work in any bottoms.  
Opt for industrial hardware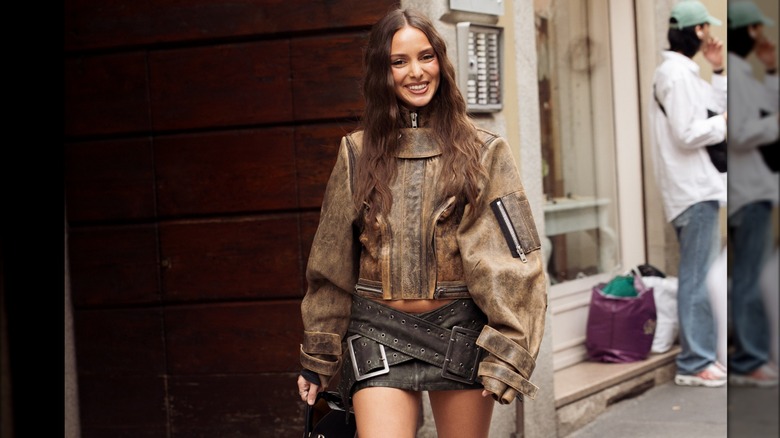 Raimonda Kulikauskiene/Getty Images
The moto jacket brings an edgier feel to an outfit thanks to the zippers, straps, and hardware all over it. The distressed state of the leather lends itself to this aesthetic too. The trend also tends to run oversized, meaning it'll appear boxy on the upper torso. The sleeves, meanwhile, will hang down longer than the average jacket. This is all part of the look. Embrace it and enjoy it. Amp up the sex appeal of the brown leather jacket by pairing your distressed leather with a form-fitting mini skirt and keeping your hair and makeup feminine. 
Have fun accessorizing the brown leather jacket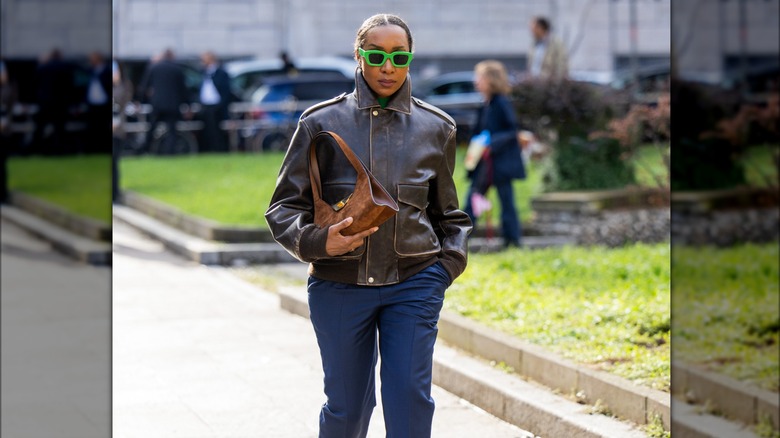 Christian Vierig/Getty Images
Just because your brown, leather jacket registers as a neutral base, it does not mean that your whole outfit needs to lean neutral. This is your chance to let your accessories have all the fun. Go for lime green sunglasses to add a pop of color. Play with sizing by contrasting the oversized jacket with a petite shoulder bag. This way you can play not only with colors but also with structural shapes. Bonus styling: Zip up the jacket and pop the collar.  
Lean into shearling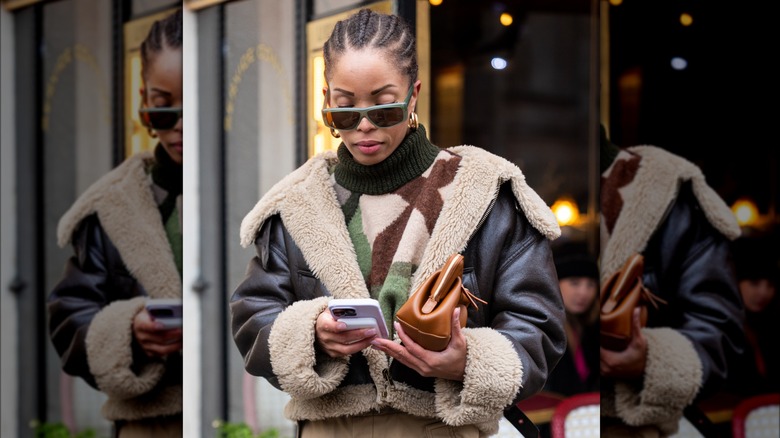 Claudio Lavenia/Getty Images
There's no need to compromise warmth when wearing a brown, leather jacket. Get our ever-favorite distressed look by opting for a leather shearling bomber jacket. The extra layer adds insulation during cooler months, thereby allowing you to keep rocking your leather jacket instead of replacing it with a puffer coat. Play with hearty, autumn colors by styling it with earthy browns and rich green olive tones. A simple clutch bag keeps things easy. A touch of elegance thanks to thick, gold hoops balances out the textural richness of this look. 
Crop tops balance out the bulk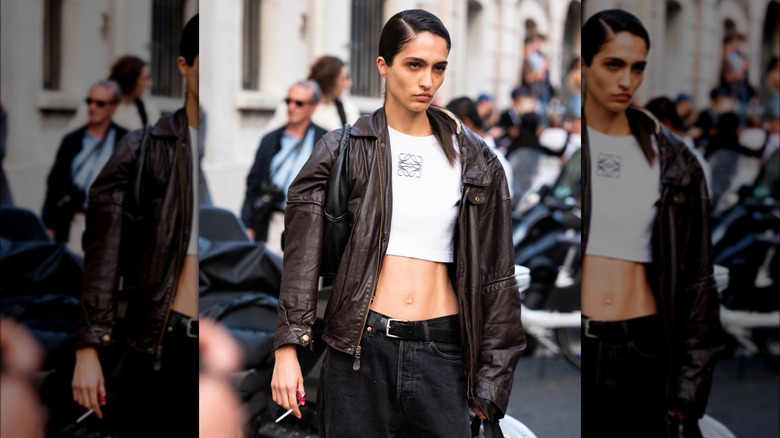 Claudio Lavenia/Getty Images
Crop tops don't have to get packed up in cooler months. Keep these mini tops handy for wearing under a brown, leather jacket to play with size and proportions. The ample leather jacket makes room for exposed skin and the smaller cut of the top. And since there's so little skin exposed, the look works well in the spring and fall. Remain consistent with hardware by pairing a favorite dark pair of jeans with a heavy belt. Keep makeup minimal and play with sleek buns to highlight the real pièce de résistance: your jacket.