Unexpected Texture Combinations To Upgrade Your Boring Style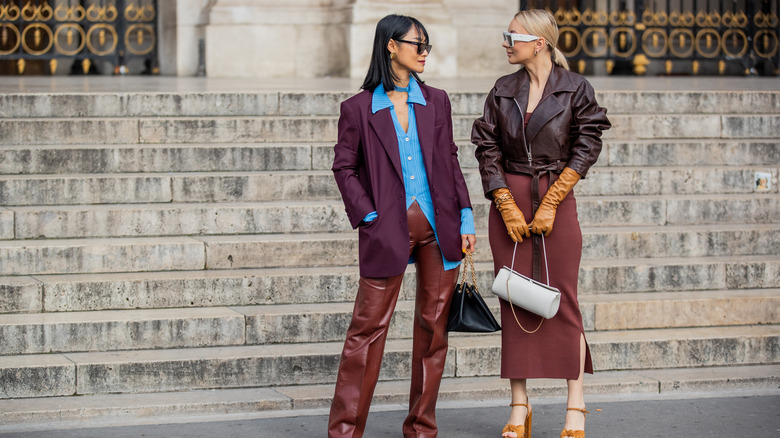 Christian Vierig/Getty Images
Love it or hate it, certain seasons have definite color palettes: Spring pastels, summer brights, fall earth tones, and winter jewel tones. While some of these color themes might work for you, others might fall flat depending on your skin tone or hair color (don't forget to incorporate that color theory into your makeup). It's often easier (and more economical) to stick with more neutral-colored, work-friendly clothing that will get the most wear, but what do you do if you feel like your wardrobe is falling a little flat? Rather than buying short-lived color or print trends that you'll have to replace more quickly, embracing textures can be a unique way to add depth to your wardrobe without sacrificing the economical and utilitarian trends that might already exist in your closet.
That said, mixing textures and fabrics can be a fun and unexpected way to amplify your closet staples and make them feel brand new. By combining your favorites in new ways, you can completely revamp how you see your wardrobe and, most importantly, how you feel about your style. While certain texture combos are more obvious (hello leather and lace) let's dive into some lesser known combinations that you can just as easily incorporate into your closet.
Leather and corduroy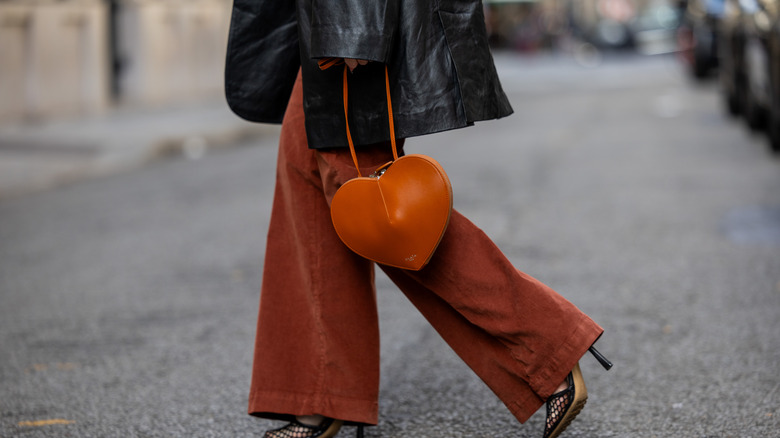 Christian Vierig/Getty Images
Leather is perpetually on trend –especially when it comes to fall outerwear – so it's a no-brainer choice when it comes to adding more texture to your wardrobe. Corduroy, on the other hand, is a far more polarizing texture choice, given its association with the seventies. Love it or hate it, it offers a fuzzy and warm aesthetic that can be visually interesting in an outfit and pretty comfortable to wear. Combining the smooth sheen of leather with the brushed, textured softness of corduroy can create a unique texture blend that is sure to grab the eye and elevate any outfit, even when used in a neutral color palette.  
Faux fur and denim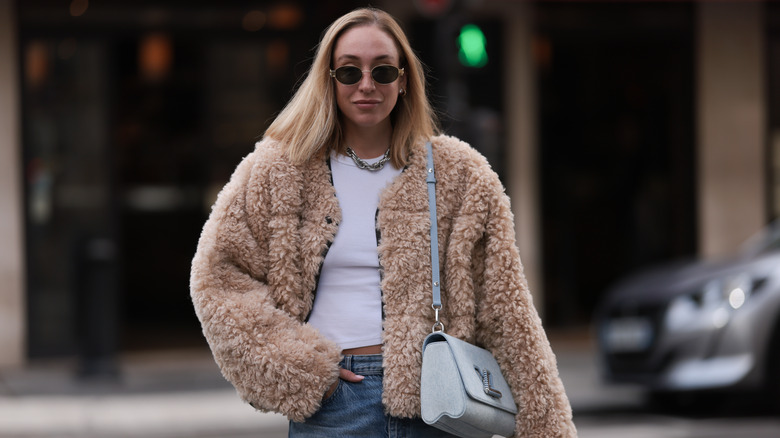 Jeremy Moeller/Getty Images
Another texture trend that never fully goes out of style is faux fur. In fact, the polyester filament market (the materials for faux fur) is actually expected to reach $174.7 billion by 2032 so let's just say faux fur isn't going anywhere anytime soon. Technological advancements have made huge strides in faux fur which gives us a lot to work with. With loud colors, prints, and, most importantly, a wide variety of textures, finding a fuzzy jacket or vest to fit into your wardrobe is easier than ever. If the idea of donning a dramatic piece like this sounds daunting, you can ease up on the over-the-top quality by rocking a pair of jeans with your faux fur items. By combining a more casual textile like denim with the high energy of faux fur, you can create a look that strikes a perfect balance between the two.
Sweater and suede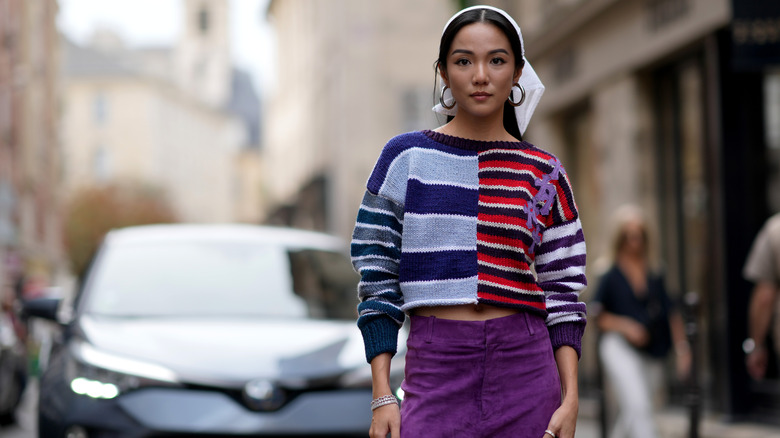 Edward Berthelot/Getty Images
Whether you choose chunky, cable knit, or even a smooth cashmere texture for your sweater or sweater vest, it is sure to pop against the luxe velvety feel of suede. By combining two equally textured textiles, you can create a unique outfit that is not only visually interesting but also pretty comfortable. Remember to maintain visual balance when going for a busier textured outfit (for instance, if your suede is particularly textured, maybe tone down your sweater choice). It's also important to consider how busy or patterned your sweater is and go from there. The key to pattern matching is to pick a singular element both items share – an easy one is color – and build your outfit around there. Accessories can help to make this shared element into a cohesive outfit theme.
Denim and denim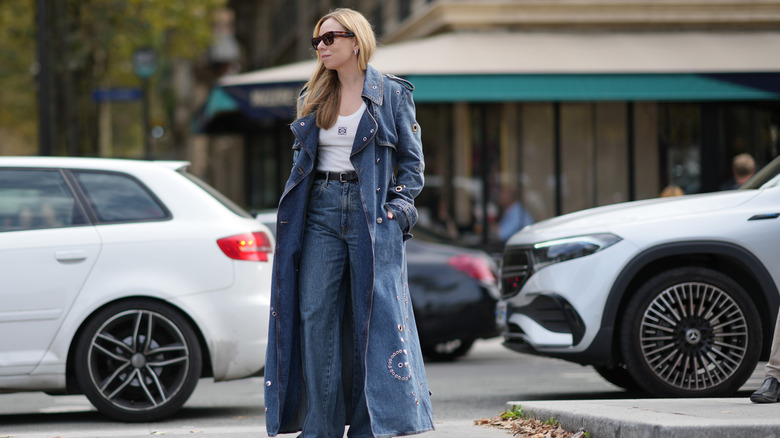 Edward Berthelot/Getty Images
While a suit blazer with jeans is nothing new, there is still something unexpected about an all-denim outfit (dubbed the Canadian tuxedo). Plus, an all-denim outfit allows you to embrace unique denim silhouettes like barrel legs, oversized, and even '90s-style full-length skirts. You can also add to your overall combo aesthetic by including a printed or striped denim blazer or even by including multiple colors and/or denim washes within a single outfit.
Suiting and leather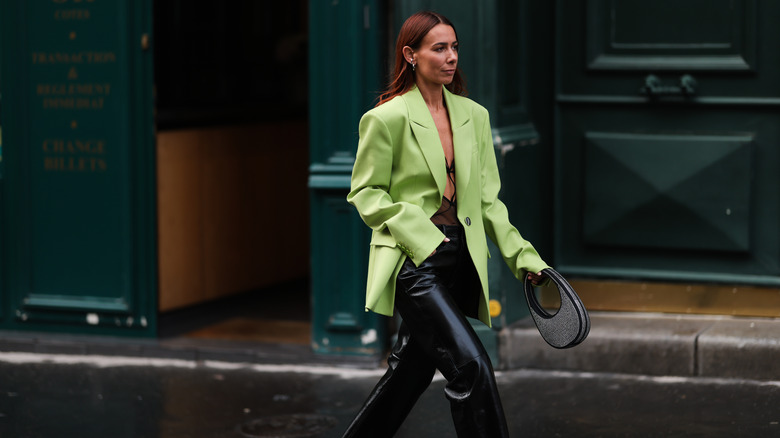 Jeremy Moeller/Getty Images
Workwear is IN, with oversized shoulders and nipped-in waistlines giving you the best of corporate chic. Blazers and sport coats fit for the office have been seen all over runway shows including at Givenchy, Proenza Schouler, and Armani. However, despite what you might think when you read the words 'shoulder pads,' these looks are not your typical '80s secretary wear. The strong silhouette features of these new suit jackets create a powerful visual statement. One of the best parts of this look is that it lends itself to more unexpected pairings like leather, which most aren't used to seeing in the office.
By combining your cotton or twill suit jacket with a leather pencil skirt, trousers, and/or even leather boots, you can bring a bad girl aesthetic that is fit for cocktail hour as much as work.