8 Fall 2023 Coat Trends That Will Be Unavoidable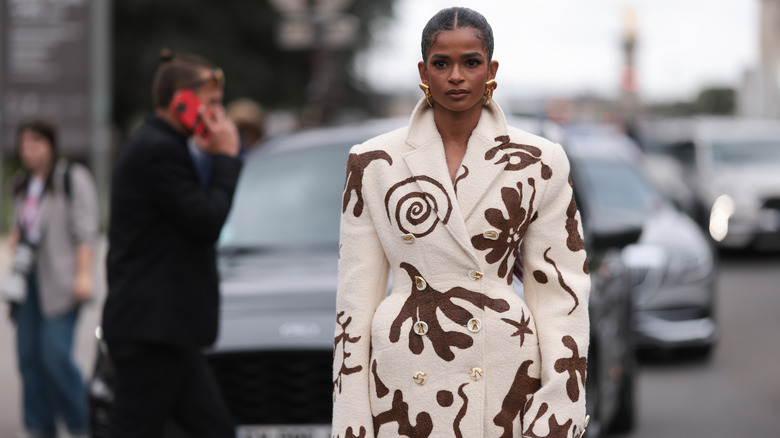 Jeremy Moeller/Getty Images
Even though, for many of us, the dog days of summer are still very much our reality – it's time to officially start thinking about fall. While the influx of cooler weather can definitely be a relief, it also presents new considerations for fall fashions and trends. While some summer trends show no signs of stopping come autumn(hello big and bold pants), certain cold-weather items like coats are dripping with new possibilities.
Picking a coat for your fall (and possibly also winter) fashion season can present its own unique challenges. Ensuring the piece you invest in will work well in your existing closet is key to making sure you can rock the fall trends while staying true to yourself and your personal aesthetic. With so many new and exciting fall coat trends to choose from, it is sure to be a difficult choice for many of us. Let's explore some of the fall 2023 coat trends that you are sure to see everywhere.
Extra long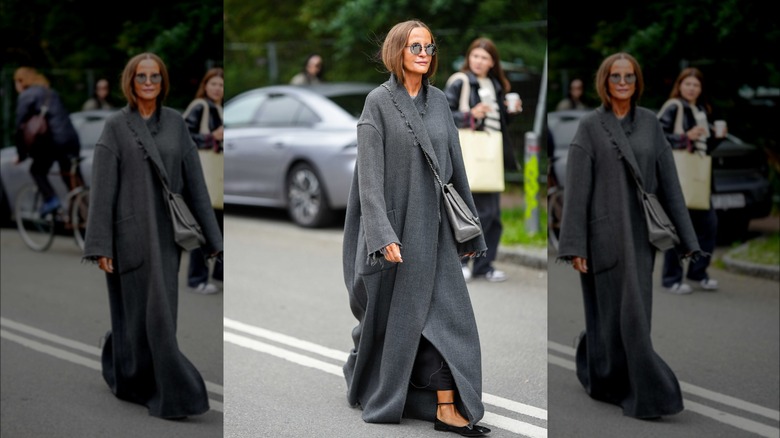 Edward Berthelot/Getty & Edward Berthelot/Getty Images
Everyone from Louis Vuitton to Bottega Veneta to Issey Miyake to Valentino served up extra long, sometimes even floor-skimming, coats for their fall runway shows. The dramatic overcoat silhouette and length of these coats ensure that your legs will stay warm this upcoming cold season. As an added bonus, these extra-long coats also make it easier to pick your fall and winter outfits since you won't have to worry about if your coat matches your look or not because no one will be able to tell!
Lengthy Leather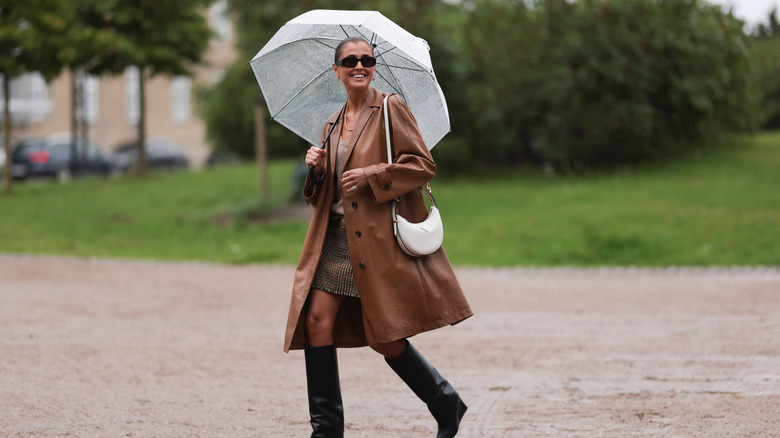 Jeremy Moeller/Getty Images
Perfect for seasonal transitions, leather (or faux leather if you prefer) coats were all over the fall runway shows and are sure to be out in the streets in no time. Even though a leather trench might conjure images of Keanu in "The Matrix," make no mistake. It's a fashion staple this year. The lighter weight of a leather coat makes it great for fall weather layering, while better technologies in faux leather can keep your outfit cruelty-free. Plus, the versatility of leather/faux leather means you can embrace this trend in a wide variety of colors, lengths, textures, and silhouettes to best fit your personal style.
90s minimalism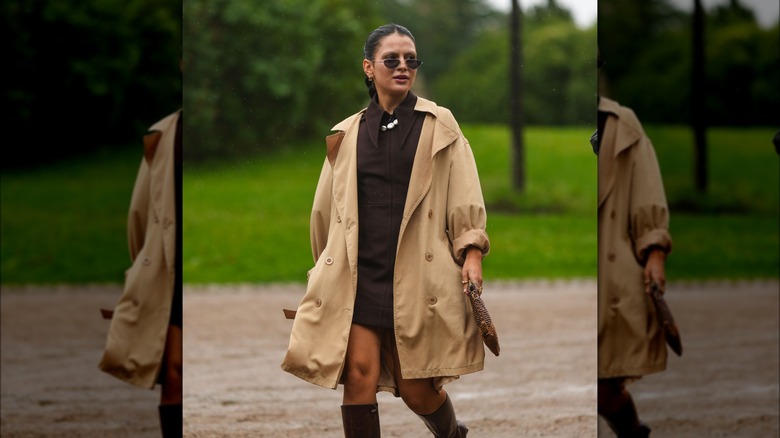 Edward Berthelot/Getty Images
'90s fashions are back, and apparently not going anywhere. While the summer saw the return of slip dresses, chokers, and oversized denim, the fall trend has sleeker minimalism at the forefront of its coats. With callbacks to traditional beige trench coats and understated grunge elements, there is a lot of nostalgia to be had in this year's fall coats. As an added bonus, trench coat styles are great for the transitional summer/fall months so you can wear the fall trends sooner while not overheating.
Boucle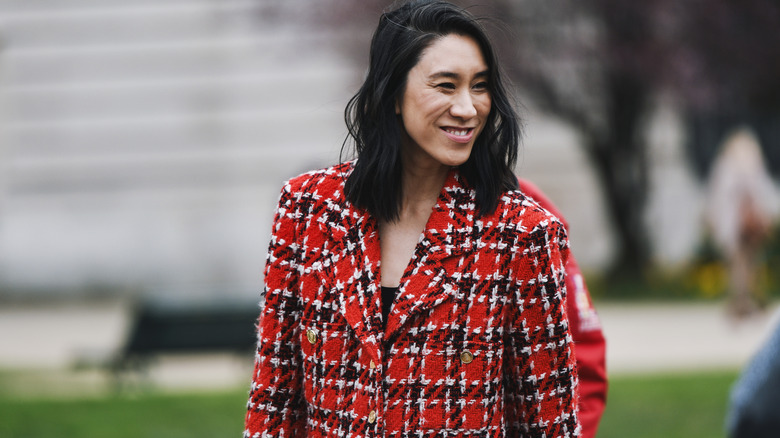 Creative Lab/Shutterstock
Love it or hate it, the luxury aesthetic is still in and nothing shines brighter in the old money aesthetic than boucle. This textured fabric offers an effortless chicness, with typically oversized finishes (like gold buttons) for a refined look. Go minimal with a solid black or white, or spice things up with a plaid, herringbone, or hounds tooth pattern. One of the best things about a boucle coat is its ability to still look luxurious whether you're wearing it with jeans on the weekend or with slacks to the office.
Bomber jackets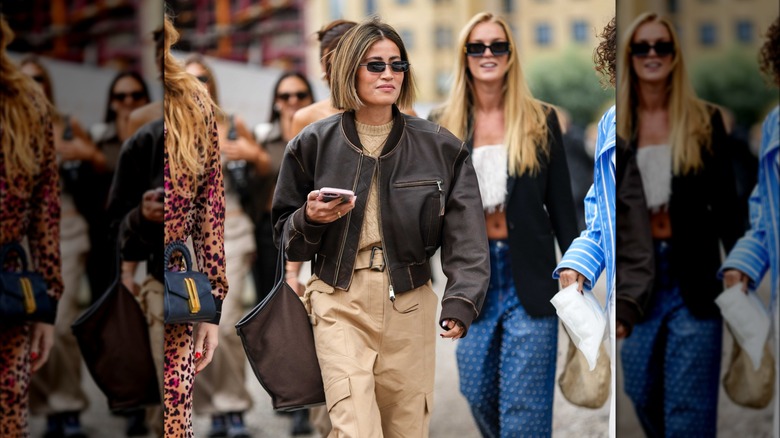 Edward Berthelot/Getty Images
If you've always dreamed of the pilot aesthetic, this trend is for you. With leathers and suedes in various shades of rich browns and tans, you're sure to see plenty of bomber jackets come fall. The best part of this trend is that it allows you to combine other fall trends (like leather, faux fur, or even power-dressing silhouettes) for added drama in your fall coat. Given the lightweight and shorter length, bomber jackets can be a nice way to handle transitional summer/fall weather, or you can splurge on one with a thicker lining for the colder winter months.
Tailored
Edward Berthelot/Getty Images
The sharper the better this fall. Designers showcased exaggerated silhouettes on the runway through the combination of sharp oversized shoulders and nipped-in waists. These tailored fall coats and blazers have an emphasis on creating an hourglass silhouette and are rooted in strong masculine suit tailoring techniques. From structured blazer silhouettes to suiting fabrics, this trend brings big and bold energy to your fall coat and is sure to help you stand out in a powerful way. This trend is especially fun because depending on the level of drama you're looking to add to your wardrobe, you can go big or even stay minimal with your tailored elements.
Faux fur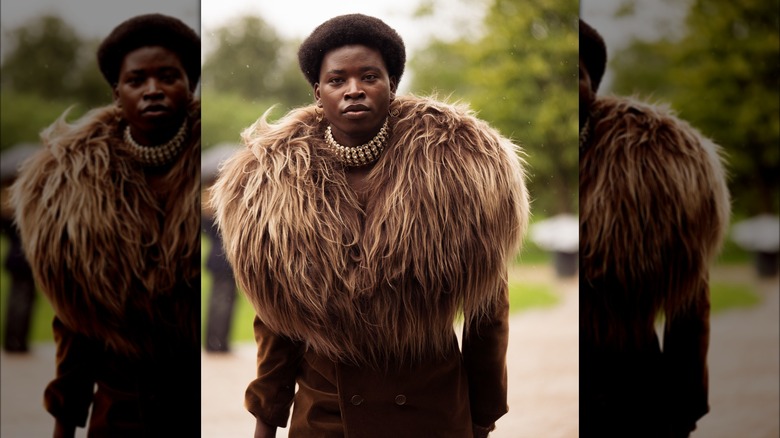 Raimonda Kulikauskiene/Getty Images
Big drama is back, and nothing is more dramatic than faux fur. April Hennig, Moda Operandi's chief merchant, told Who What Wear, "Emotional outerwear is a must-have item for F/W 23." From voluminous silhouettes to fluffy elements, faux fur can add glamour to any coat style. The best thing about a dramatic fall coat with fur is that it can be an easy and fun way to offset a more minimal or tame wardrobe. If you're looking to add some fun without having to change your entire closet, a faux fur fall coat could be just the thing to add some spice to the pumpkin spice season.
Classic black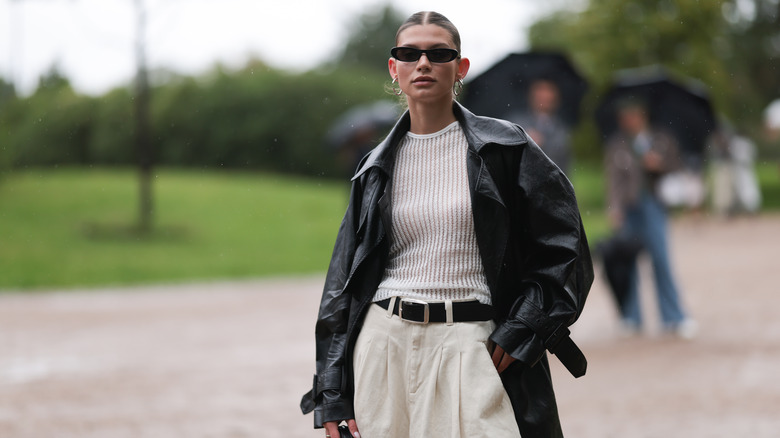 Jeremy Moeller/Getty Images
Although this one never really goes out of style, runway shows showed a particularly strong interest in the classic black coat for this fall/winter season. Extremely versatile and perfect for almost any occasion, the classic black coat has a lot to offer. While it is by no means the most exciting trend of the season, it does offer up a longer longevity than other trends since it will always be in style. For added longevity elect for a more minimalist silhouette and try to stay away from any prints or patterns that might date your coat. Leathers and suedes are great options for early fall, while thicker wools would best serve you into winter.