The Slip Dress Comeback Has Perfect Timing (We Have Too Much To Stress About Already)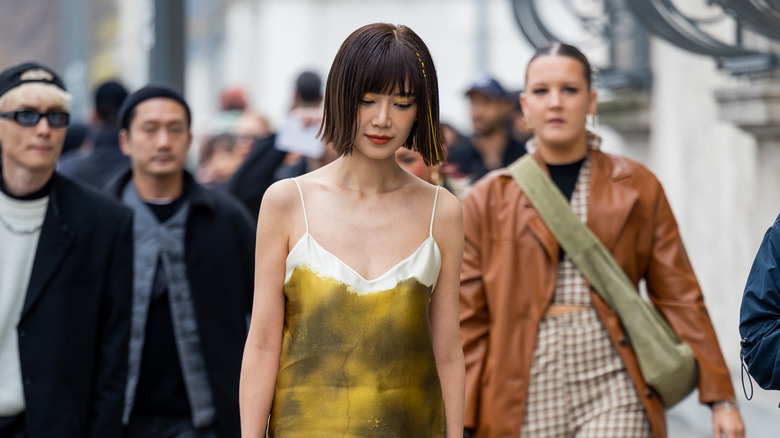 Christian Vierig/Getty Images
There's a lot to love about our current moment's fixation on 90s fashion, but arguably the best part has to be the revival of the slip dress. Ideal for Spring? Yep. Comfy and chic? Of course. Versatile? Absolutely. There's a reason Google searches for "slip dresses" have jumped since 2020. The slinky silhouette is a do-it-all wardrobe staple, suitable for almost any occasion and adaptable for every season. There are boundless ways to incorporate a slip dress into your style repertoire — especially now, with a slate of ready-to-wear styles that draw from 90s trends without regurgitating them.
This spring, retailers and designers have taken note, releasing updated takes on the traditional romantic silhouette at a variety of price points. So if you're tired of squeezing yourself into high-waisted jeans but want to stay on trend, enjoy the slip dress resurgence. It's where beiges and neutrals reign supreme, lace takes center stage, and effortlessly chic is, mercifully, actually effortless. Here are five ways to incorporate a slip dress into your current closet. 
Opt for the classic 90s look
Grab your favorite white tee, throw it on, and layer a slip dress on top of it. Presto. This simple look aligns most closely with 90s fashion, and it's such an easy way to look polished without having to worry about the common frets that go along with slip dresses, like finding a strapless bra. If you're facing colder temperatures, consider a tight turtleneck instead of a basic tee.
You can try out different necklines for the slip, but arguably the best for this look is the straight-neck, spaghetti-strap combo. You can't go wrong with a black slip and a white tee, but consider adding a pop of color. Dannijo, a brand largely known for its slip dresses, has a roster of jewel-toned lacey looks with tie straps. Also worth noting are ombre slip dresses, like a sherbert-colored look from Cami NYC. Complete the look by throwing on a pair of white sneakers for a true 90s vibe.
Mix textiles for an interesting aesthetic
Silk dresses are great for adding textile diversity to your closet. You can play around with juxtapositions by pairing a charmeuse or chiffon slip with a chunky soft sweater or a denim jacket. Aside from being downright cute, a big upside of this look is that it allows you to rock your slip dresses on cooler days or chilly nights.
If your sweater is super oversized, be sure to balance the length by opting for a maxi-length slip, like a colorful choice from Forever 21. That way if your sweater falls just below the waist, you'll leave more of the dress's clingy silhouette visible. If you like mini slip dresses, consider pairing them with an open-front cardigan or denim jacket, leaving the slip to peek through. Complete the look by pulling out a pair of flat sandals, or, in colder weather, a pair of boots or booties. 
Get a polished look with a blazer and belt
You might be thinking "Is a slip dress appropriate for the office?" and "Isn't it too revealing?" Or perhaps you work from home and you wonder if it will look as if you're wearing a nightie on your Zoom call. Fear not. There are ample ways to make a slinky slip more professional with minimal effort. To maintain your figure while looking chic, find a crisp button-up shirt and wear it over the slip dress. Use a belt to accentuate your waistline, and consider throwing on some opaque tights for additional coverage. 
Another option is to throw on a slightly oversized blazer for a loose, casual look. Since the tailored shirt or blazer adds formality to the outfit, feel free to play around with the dizzying number of patterns and colors available in this season's slip dresses. Complete the look by throwing on a pair of mules, slides, or oxfords to stay office-ready.
Go all-neutral for a sexy and sophisticated look
Sex and the City debuted one of the most iconic slip dress looks of the 1990s, with Carrie Bradshaw's character donning a beige-toned version that has since become known in the fandom as "the naked dress." If you want a similar sexy look but don't want to be quite so exposed, try pairing a nude-colored mini-slip with a pair of leggings or tights, or opt for a longer version with a high slit. Going this route will provide a bit more coverage while still offering a barely-there appearance that is at once sexy and sophisticated. 
If you love lace, you're in luck. There are a ton of slip dresses with lace trim and scalloping out right now, especially if you're going for neutral skin tones or a more monochromatic vibe. Complete the look by zipping up some heeled booties or keep it spring-ready with a pair of classic strappy sandals or flats.
Keep it simple with a bold dress and minimal accessories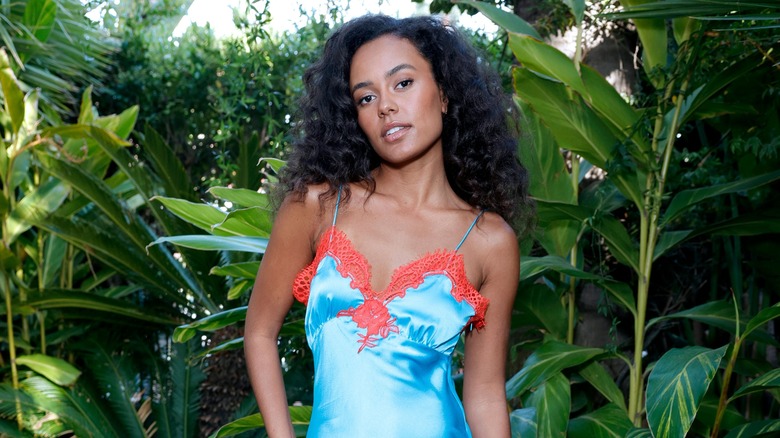 Stefanie Keenan/Getty Images
All of those tips and tricks aside, let's not forget the beauty of the simple slip dress on its own. Model Ava Dash stunned in a sky-blue slip with coral lace recently, keeping her make-up look and accessories minimal. Take a cue and ditch the accessories and allow the fabric and shape of the dress to be its own statement. This is especially true if you're opting for a slip dress in a bold pattern or eye-catching color — and this season, there are plenty of those to choose from. 
The reason the slip dress is so easy and effortless is that it can look stunning all on its own. Complete this look by adding a pair of skin-toned strappy heels or neutral flats. Add a touch of highlighter to your collarbone for a minimalist, natural look.