Loose Denim Styling Tips Because We Need To Prepare For Skinny Jeans Not Coming Back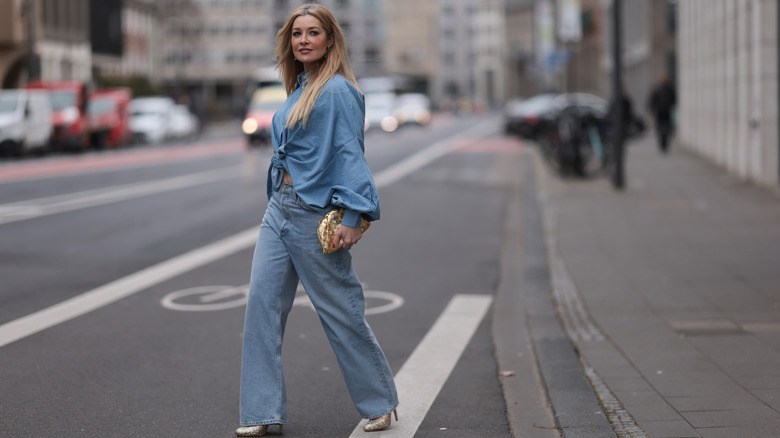 Jeremy Moeller/Getty Images
No matter how much you're not wanting to ditch your skinny jeans, it's time to make way for some loose denim. Sure, we've seen trends come back in style, but this isn't the case for every single fashion era, and there's no guarantee we'll see skinny jeans back in style again. Plus, loose denim is legitimately comfortable. 
So as much as we might be clinging to our snug denim, it's worth giving the hot new wide-leg jean trend a shot. Plus, there are ways to style loose denim while still keeping a sleek silhouette. In fact, the reason we love this denim cut is because it's so versatile. You can dress it down for ultimate streetwear comfort or dress it up for brunch or dinner out. But because wide-leg denim is so ample, we want to be mindful of the overall shape we're creating with our looks. Too much shapelessness on both the top and bottom can run the risk of looking frumpy. So here's how to avoid that.
Keep the waist in sight
The best trick when styling loose denim is to always keep your waist in sight. Don't pair your baggy jeans with a loose, untucked top. This creates too billowy of a silhouette. TikToker @thenickienicole points out that a loose denim jacket with loose jeans is a no-go because it creates an "oversaturated" look. If you want a looser top, she suggests you wear a blue, oversized button-down, but wear the top open so that your fitted tank top and waist show through. If you want to button up your oversized top, consider tucking half of the top into your jeans to add shape to your outfit.
Wide-leg pants tend to look better with fitted tops. If it's not the season for a crop top, or if cropped cuts aren't your scene, you can wear full, even ample tops, but just keep balance in mind. Even when wearing sweatshirts, consider tucking them in so that the focal point is always the more narrow waist of the jeans. If tucking the sweater into your pants creates too much bulk, tuck the bottom of your sweater into your bra to allow the jean's waistline to show.
Styling the wide leg jean for a night out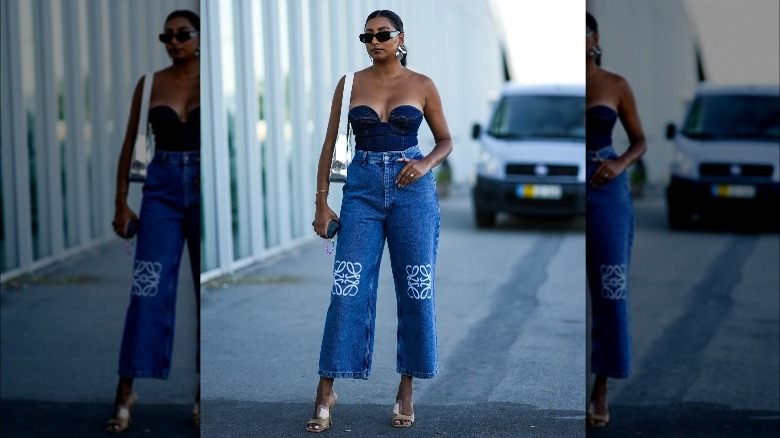 Edward Berthelot/Getty Images
Loose denim also makes for a great base on a night out. In fact, the pairing of casual, wide denim with a sophisticated top makes for great contrast. Pair the jeans with a bra top, corset top, or crop top that's more structured and formal. Or wear the denim with an off-the-shoulder top that's whimsical and feminine. Since denim offers such a neutral base, this unexpected mix of delicate fabric and the durability of denim work beautifully together.
When dressing up loose denim, the key is the rest of the outfit selections. Choose a heel or wedge to elevate the formality to your look, then add touches of bling in the same color tone or coordinating shades. That way, the outfit looks deliberate and styled. In order to read as a going-out look, choose a clutch or shoulder bag that's small and structured.
How to go ultra minimal with wide leg jeans
Loose denim offers the perfect canvas for a minimalist palette. To achieve this look, keep all other tones in the look within the same color family. If you're opting for a charcoal top, your shoes and bag can be black but don't veer too far away from the general tone. TikToker @fabianacristinx perfected this minimalist palette by polishing off her look with black sunglasses and very little emphasis on jewelry to keep the look sleek and stylish.
TikToker @catsanz styled her loose denim in Indigo blue and said, "Denim does not have to be overthought. Just keep it simple with the classics." She paired her denim with monochromatic pieces like an oatmeal-colored tank top, sand-colored sandals, a straw bag, and light brown sunglasses. Then, she finished it off with a few delicate pieces of yellow-gold jewelry to align with the color scheme. 
The sexy wide leg jean look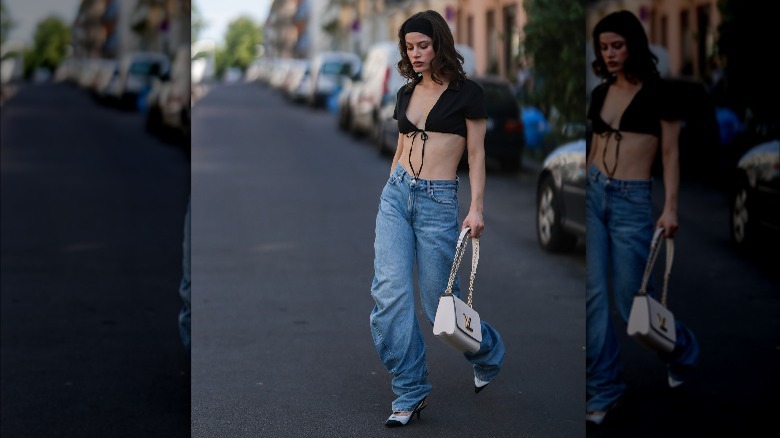 Jeremy Moeller/Getty Images
Loose denim can still lend itself to a very sexy look. The key is in how you style everything else. Wear a sheer turtleneck or top over a bra for a peek-a-boo effect that invites lingerie into outerwear. The same goes for bustier-like tops, corsets, and sleek camisoles. The contrast of the voluminous pants with a sexier top offers the perfect balance. We're also loving the bralette trend as a top itself. Or, pair a bra top with a cardigan or blazer if you'd like a slightly more covered look.
Since loose denim harks back to the '90s, consider an all-out Y2K look by pairing your pants with a tube top. Even a printed scarf works perfectly for a tube top effect and the look holds total sex appeal. Pair with heels or a sleek sandal for the ideal summer look, while still leaning into the comfort and style of loose denim.
Wearing jackets and blazers with your wide leg jeans
Not every day is a crop top day and, weather-wise, sometimes you have to wear something warmer with your denim. TikToker @lapizofluxury created a cozy look with loose denim by first tucking in her sweatshirt. She then wore a bomber jacket over the sweatshirt and polished off the look with thick, gold hoops with a classic pair of New Balance 990 sneakers. It doesn't get more comfortable or trendy than that!
TikToker @oliviacharlotteburton offered a styling hack when pairing a blazer with ample denim. She slid a hair elastic over each sleeve of her oversized blazer and placed them around her elbows. She used the elastics to pull up the sleeves of the blazer and folded excess fabric over the elastics to cover them. The trick of showing some arm with a full blazer and full denim is that it helps to carve out proportions so the mixed lengths create a lighter visual.