A Classic Long Black Coat Is The Winter 2023 Trend That Couldn't Be Easier To Style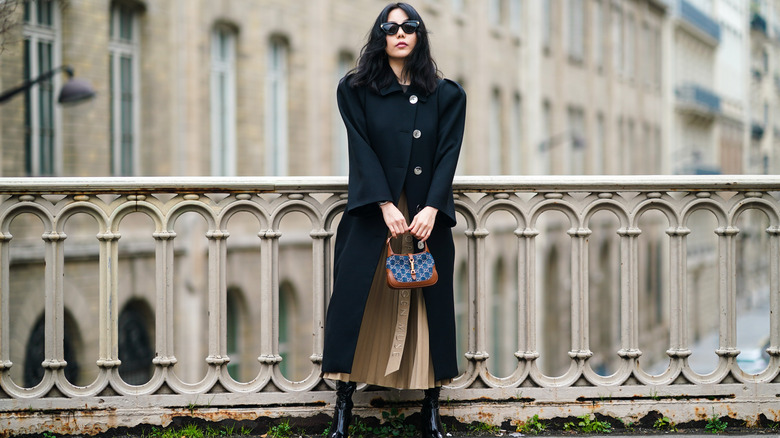 Edward Berthelot/Getty Images
Sometimes, getting dressed should just be easy. This is clearly the case with a long black coat, a winter classic when it comes to timeless outerwear. Depending on your budget, long black coats are worth the investment. They're the type of garment that you'll treasure and use for a lifetime. Even for those who curate minimalist, capsule collections, a long, black, woolen coat is a must-have.
Some styles feature a belt that cinches at the waist. Others offer a boxier cut. Some are floor length, while others cut off at the calf. Really, when buying a black coat, it's a question of drama; how much of a statement do you want to make? However long it goes — from a practical length to a floor-sweeping long cut — the coat is both useful and sophisticated. It's also incredibly easy to style, offering an exquisite canvas for a lot of creativity. 
A black coat + jeans + colorful bag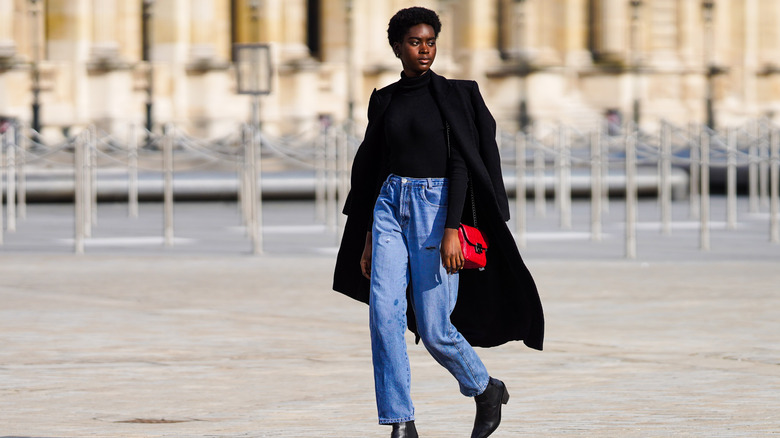 Edward Berthelot/Getty Images
The chic, loose fit of long black coats makes for the perfect fall and winter outerwear. A slightly looser fit means that you can layer it over chunky knits, hoodies, and turtlenecks. The structured shoulder pads add a tailored shape to the look, while an open front keeps the look casual and chill. It's cozy and understated; the perfect way to embrace quiet luxury in cooler months. 
Slip your long, black coat over a pair of light blue loose denim, since we all know that skinny jeans aren't coming back. Pair it with pointy toed boots. As far as accessories go, lean into a deep red bag as the perfect, punchy jolt of color. 
A black coat + a white dress + black heels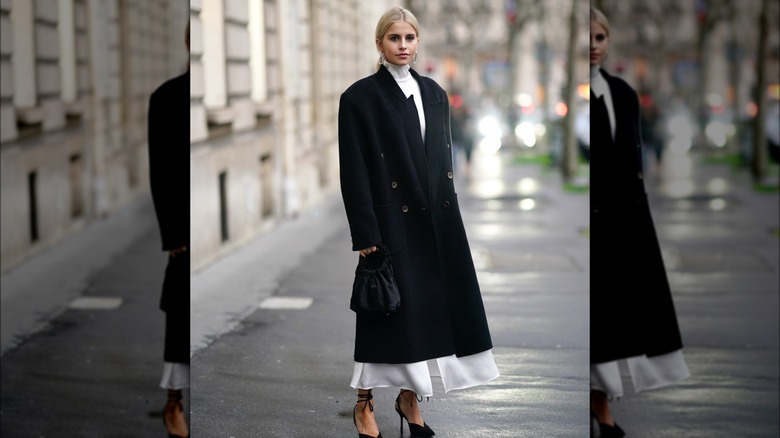 Edward Berthelot/Getty Images
A long black coat is the perfect layer over white. The contrasting mix of these two classic colors leans into elegance akin to Coco Chanel. Not only is there a stylish color contrast, the tailoring of thick, black coat in combination with the loose, silky flow of a white dress or skirt is perfection. The look gives flow and life. It's feminine dressing with masculine tailoring. Stylish, strappy heels makes the outfit cool and modern. A sleek hairstyle and gold hoops are ideal to complete the minimalist styling. 
An ultra-long black coat + loose trousers + crop top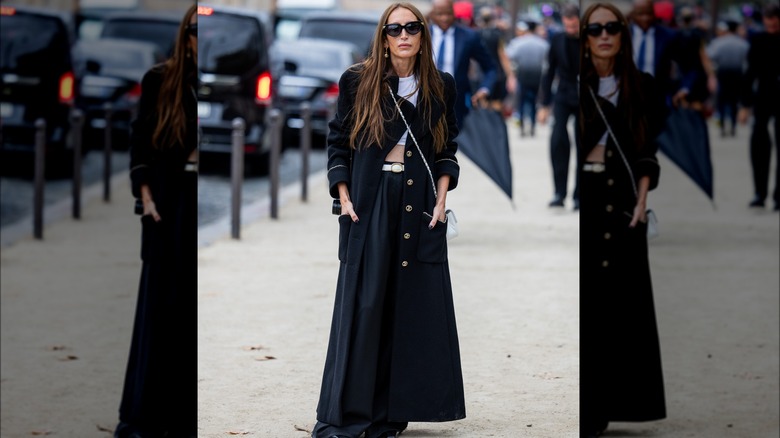 Christian Vierig/Getty Images
For the ultimate cool girl vibe, lean into an extra long black coat over relaxed basics.  Pull a slouchy coat on over loose, wide-leg trousers. Play with balance by pairing it with a fitted crop top for a peek of skin, if the temperature permits. The length gives regal magnitude, and the cascading drapery of this coat looks even better with hair worn in long, loose waves. Because of this, you can go a little glam with your accessorizing. Wear a gold, chain crossbody bag. Opt for dangling, statement earrings and don't forget your big sunglasses. The look is rich in shape and flow, while still being sexy and current. 
A long black coat + a red two piece fit + sneakers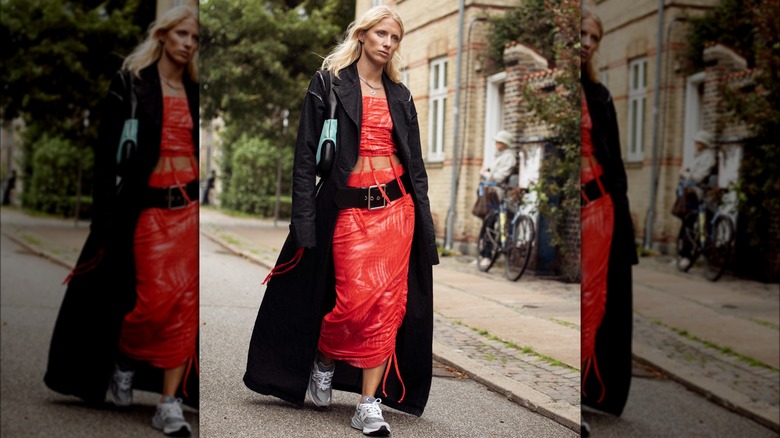 Raimonda Kulikauskiene/Getty Images
The relaxed, enveloping silhouette of a long, black coat is romantic and dreamy. What makes these iconic coats so essential to any wardrobe is their versatility. While you can easily go minimal with a black coat, you can also style it in unexpected ways. Layer this long, open coat over a vibrant two piece skirt set that's visually rich thanks to the drawstrings. Give the outfit a nostalgic twist for Y2K vibes by wearing a thick, low-slung belt. The outfit isn't complete without sneakers, which makes the look current.
A long black coat + a green dress + green tights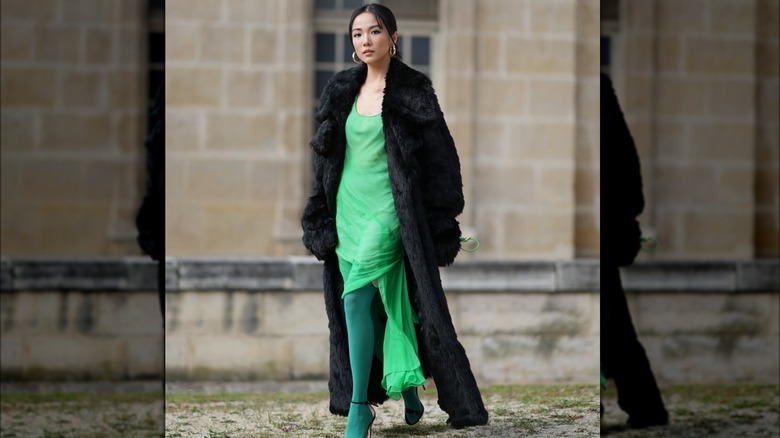 Edward Berthelot/Getty Images
While you can make a long, black coat look chill and modern, it can also dress up an outfit. A thick, faux fur black coat is texturally rich and adds instant old Hollywood glamour. Wear this versatile coat as a layer over a tonal, green outfit. Have fun with pairing tights and strappy sandals for a way to bring summer and winter pieces together. Luxurious, thick golden hoops are the perfect finishing touch for this decadent way to dress up a long, black coat.
A long black coat + a denim mini dress + cowboy boots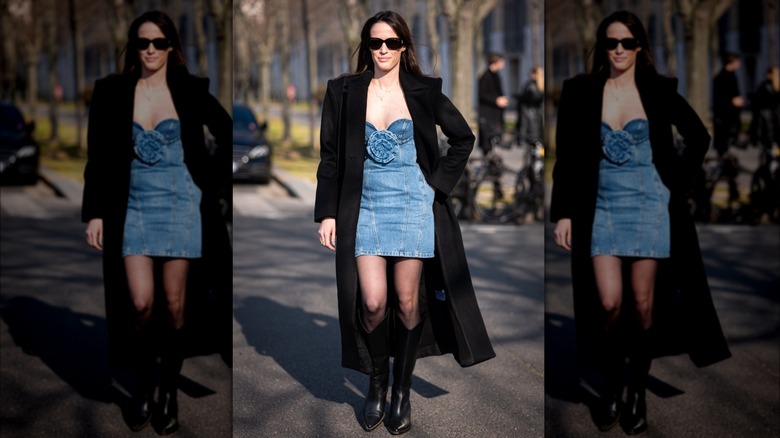 Claudio Lavenia/Getty Images
One of the most creative ways of wearing a long black coat is with something short underneath. Keep the coat open, if the seasons allow, in order to play with the juxtaposition of hemlines. It's a great experiment with proportions. Since denim is having a Renaissance right now, pull out your favorite denim dress and layer it so that it's cold-weather ready. Plus, the textured detailing on the denim dress is a beautiful detail against the rich wool of the coat. Even better, it gives you a chance to pull out your cowboy boots, which are also a hot ticket right now. Keep accessories to a minimum so that the focus is on the textures of the outfit instead.