The Boucle Jacket Is The Sophisticated Trend Your Quiet Luxury Wardrobe Needs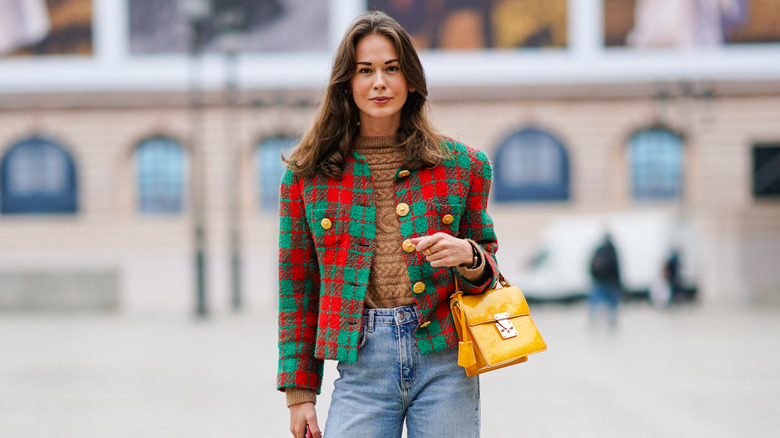 Edward Berthelot/Getty Images
Timeless. Elegant. Polished. The boucle jacket is everything and will remain everything until the end of time. This is because the boucle jacket has the ability to elevate any outfit, including a simple one — perhaps especially a simple one — and make it look polished. The term "boucle" actually refers to the type of wool yarn, boucle yarn, used to make the traditional jacket. Boucle literally means "loop" in French. The yarn is thick and fibrous, leaving a finished texture that's loopy and knobby. While it's the yarn that's given the garment it's name, the boucle jacket instantly conjures up images of quiet luxury. Typically stylized to have four front pockets, the way Coco Chanel designed it, the boucle jacket gives off an easy air of sophistication. We expect a certain kind of button on the boucle jacket too: heavy, statement buttons that are typically gold. 
While we typically associate the boucle jacket with the ultra-luxury brand Chanel, its popularity means that other brands have mimicked this timeless look. It's no longer prohibitively expensive, but looks lovely, which is helpful because the quiet luxury and old money aesthetics are still popular. Whether your boucle jacket is an original Chanel or a much more affordable option, there are several ways to style this perfect piece of outerwear. 
The boucle jacket and jeans make a stylish uniform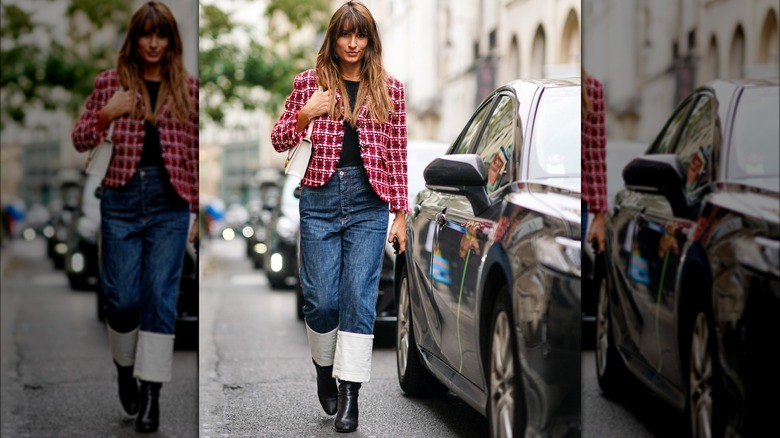 Edward Berthelot/Getty Images
For the an easy and truly timeless uniform, layer a tweed boucle jacket over your favorite pair of jeans and a simple cotton black or white tee shirt. The look is the right mix of casual and elegant, with the jacket adding a dressy, Parisian style flair. Feel free to switch up the denim style and opt for a straight-leg, wide, or relax fit to give it effortless vibes. Pair with simple, black ankle boots and a tonal handbag. 
Pair a boucle jacket with a midi skirt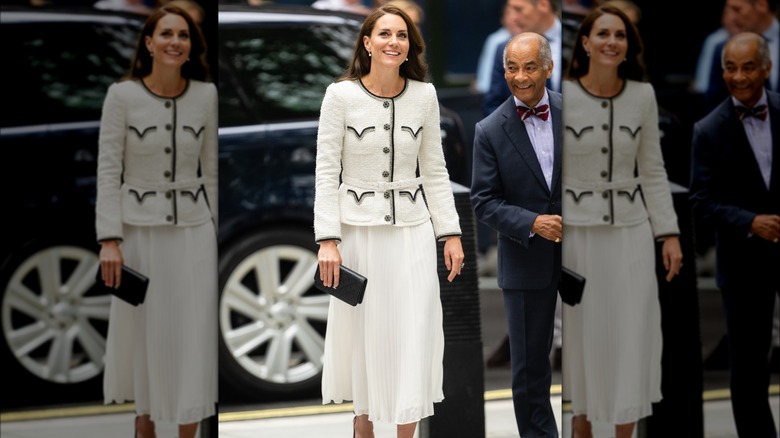 Samir Hussein/Getty Images
Everyone from Sofia Richie to Catherine, Princess of Wales, is wearing a boucle jacket. The look is princess approved! Mimic Catherine's regal hemline by wearing a structured boucle jacket over a midi skirt for an elegant silhouette. Choose your boucle jacket carefully when pairing it with a midi skirt. While this a boxy boucle is very chic with jeans and form-fitting bottoms, a flowing midi skirt requires a jacket that tapers in at the waist. Opt for a longer style that cinches with a belt to create an hourglass shape.
A black and white boucle palette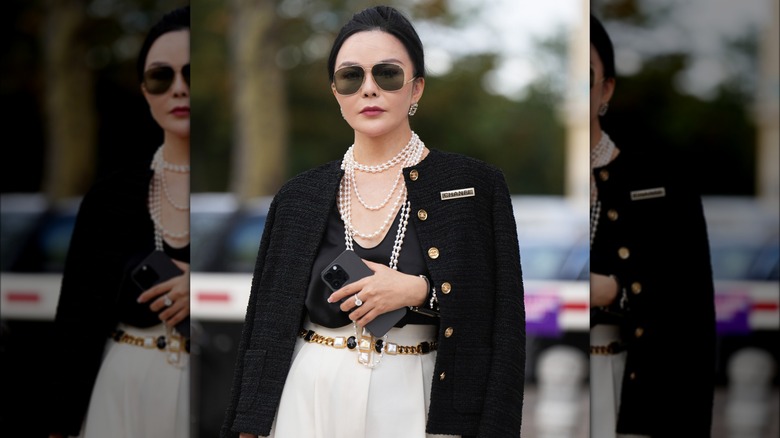 Edward Berthelot/Getty Images
Nothing calls back to classic Chanel collections quite like a luxurious black and white outfit. Pay homage to the iconic origins of the beloved boucle jacket by recreating the same tones in your own look. Pair a simple black boucle with gold buttons over a pair of high-waisted trousers. The accessorizing is where the magic happens in this look. Play with excessive strands of pearls and thick, gold jewelry to add embellishments to the simple color scheme. A gold belt is never a bad idea, especially when channeling the Chanel aesthetic. 
Match your boucle jacket and skirt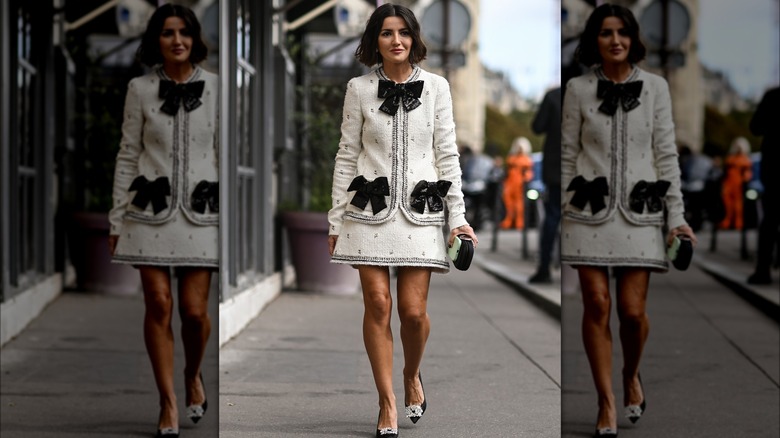 Daniel Zuchnik/Getty Images
Since boucle technically means a particular type of yarn, there's no reason you can't have a boucle skirt too. We love the matchy-matchy, retro look of a jacket and skirt combo in the same material. A mini skirt creates a playful element that contrasts the preppy sophistication of the famous jacket. Play with bows as a fun alternative to the golden buttons (you can pin your own to neutral colored jacket if yours doesn't come with them). If you don't have the exact match to your jacket, look for trousers or skirt in the same color. Pair with black pump and a simple, black clutch. 
Grunge contrast with a pink, boucle jacket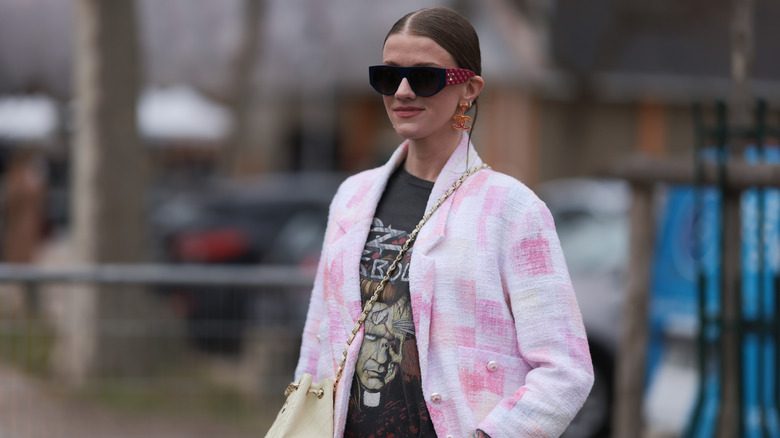 Jeremy Moeller/Getty Images
Since a boucle jacket is so quintessentially high-fashion, you have free rein to do anything you want with one as far as layering goes. Place a pretty, pink boucle over a grunge t-shirt for a playful look built on the contrast or prep and rock n' roll. Accessories with chunky, statement jewelry and sunglasses, like oversized Chanel glasses and statement earrings. Pair with your favorite black, leather trousers and heels or wear with a black, sleek midi skirt to play with minimal proportions on the bottom half of the outfit.