How To Style The Micro Pleat Trend All The Way Into Fall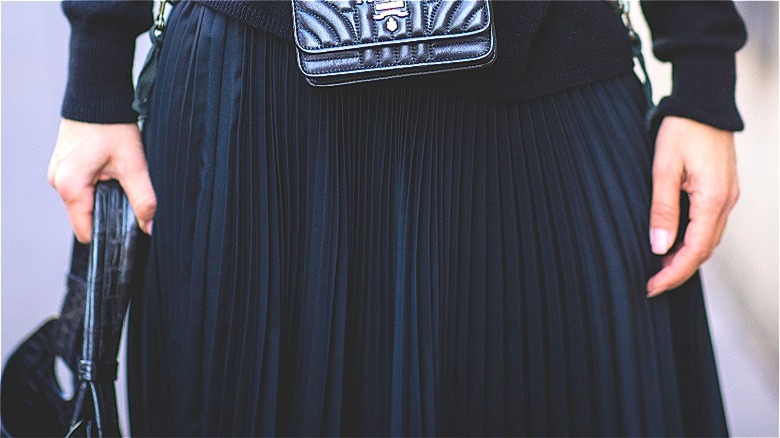 Getty Images
With fall around the corner, we can't help but be thrilled for another change in fashion trends. At this year's major events, experts forecasted a predictable rise in plaid, leather, and just for this year plenty of pleats. All size pleats fit in well with what's on the menu for the next season, but the micro pleats are something little extra special. Accordion and crystal pleats are a small, micro pleat that is the name of a the style of pleating for lighter fabrics. The thinner the weave, the easier it is for the fibers to keep their creases.
According to Ciment Pleating, the United Kingdom's oldest working pleating firm, "Pleating is the art of folding fabric in to different shapes creating differences in volume and texture." Their service is typically used by "fashion designers, interior designers, home dressmakers, fashion colleges, film companies, advertising, theatrical costumiers, and milliners" — almost any place specialized fabrics are utilized.
It makes sense that if micro pleating is associated with lighter fabrics, the trend would make for a summer hit. But, like a few other trends we're shipping from summer to fall, the micro pleat makes an impact when included in these autumn trends. There are loads of fun looks with seasonal textures, styles, layers, and levels that put this micro pleat to maximum work. 
Layers, layers, oh, and layers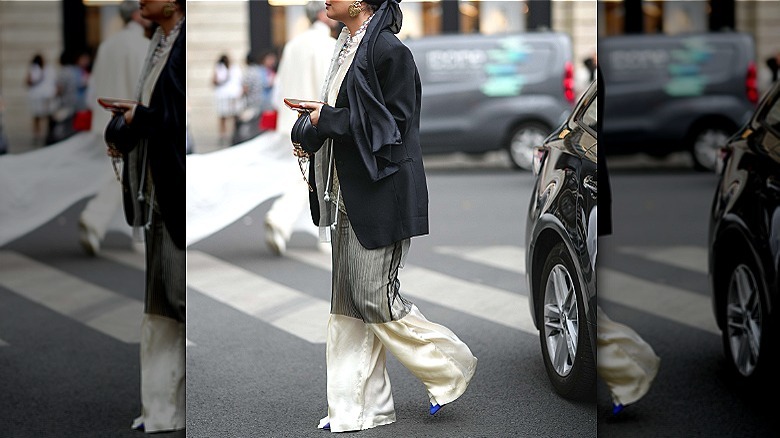 Getty Images
The lighter sides of the micro pleated fabrics could leave you feeling chilly and wishing for extra layers. Good news! Multiple layers that combine contrasting fabrics and textures are another cool, trendy way to celebrate autumn. If you've got a pleated skirt, throw it over some tights. Go even more bold with your fashion choices by throwing it over a pair of trousers. If you're worried about repeat outfits — don't! Experiment with switching up your layers and accessories to freshen your style for every occasion.
Every pleat everywhere all at once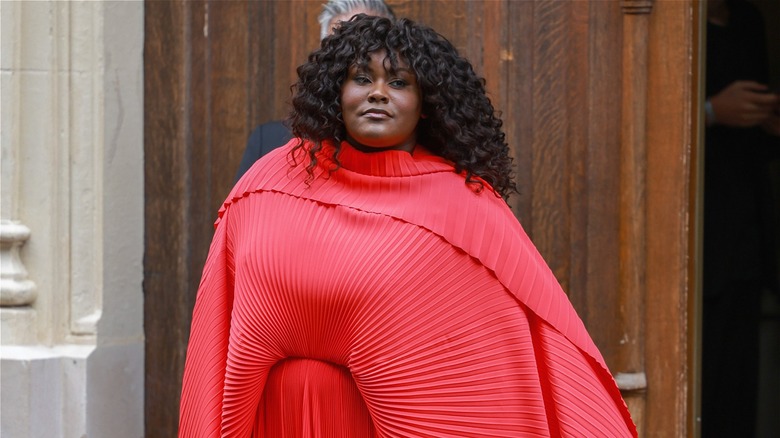 Getty Images
If you'd like a bit of attention and much deserved fan-fare for your stylish micro pleats this fall, go for a power drape with as much fabric as you can find. A pleated blouse can double as both a blanket-like shawl while drawing attention to its unique design. And don't forget the color! Monochrome is still a classic look for dressing up or down while maintaining a head-turning statement. The fibers might be on the light side for fall but the more layers you add, the better! 
Inside out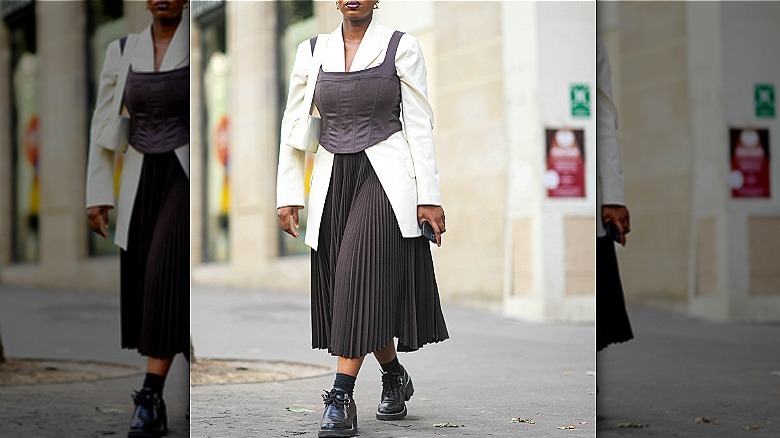 Getty Images
This season, almost every single trend involves continuing the Y2K reboot  — punk meets prep meets bohemia. Like many other eye-catching classic patterns, such as nautical stripes and babydoll florals, micro pleating goes well with vintage, flirty pieces. Think: classic 90s corsets, slip dresses, and lingerie — or underwear as outerwear. So don't be afraid to dress in reverse while highlighting this unique micro pleated look.  
Coat check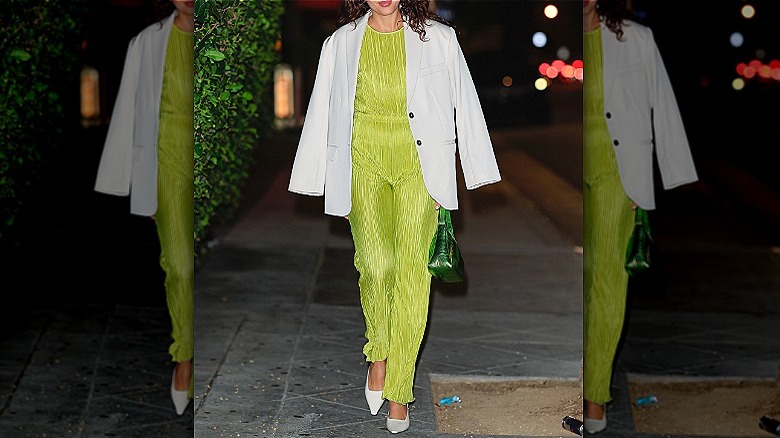 Getty Images
When it gets to the colder months, the micro pleated fabrics could leave you with more than a chill. If you live in a walkable town, zipping up that last layer is akin to shutting and locking the car every time you head out the door. 
Sometimes fall and winter fashions suffer from abandonment and we can end up feeling like we are living in one look: our winter coat. To make your pleats work in the chilly weather, throw on a blazer over a pleated dress or jumpsuit to tie a look together for a night out on the town. Opt for a neutral shade if you're wearing a vibrant colored pleat as your main piece.
Maxi your micro, capture the cutout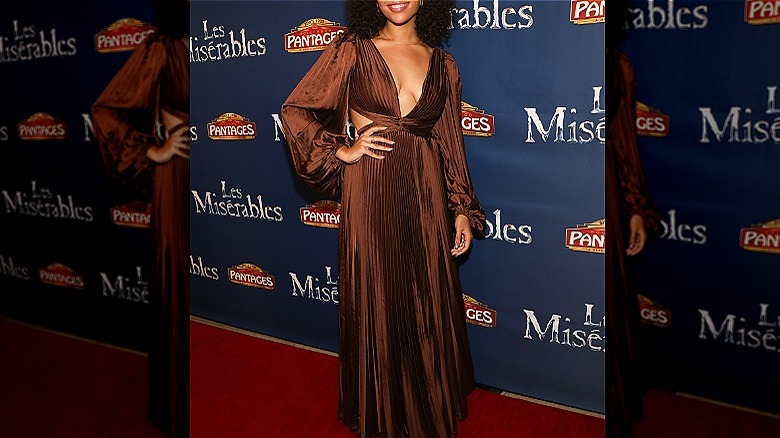 Getty Images
The micro pleat trend transitions smoothly into autumn with a variety of interesting opportunities. Monochrome looks, lots of layers, and large amounts of fabric will help to wrap up any cool weather concerns. Yet, another popular way to carry those lean micro pleated fabrics from the summer into fall are through creative cut outs. Adorn yourself in the luxury of autumn extras with a textile that's a bit more complicated as well as choosing a great design that carries summer's trendy peek-a-boo features. 
Anything goes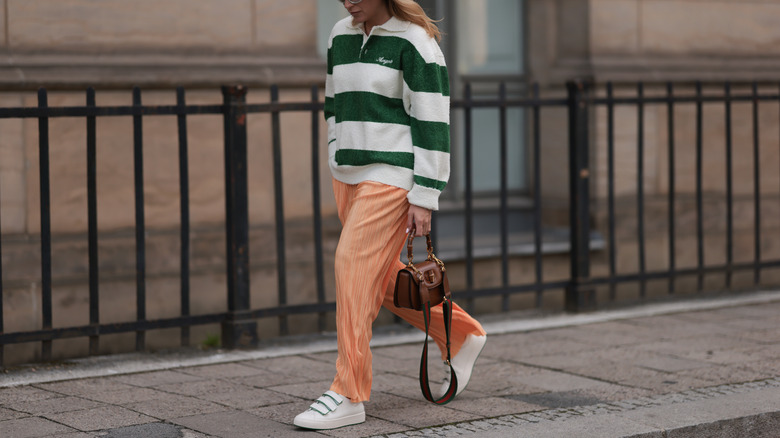 Getty Images
Micro pleats go with everything. No, really. The flow and movement of the fabric lends itself to story in motion and full day with many details. Head out in the morning for a casual walk to meet a friend by pairing pleated trousers with comfy essentials like a long-sleeve pullover and sneakers. Then take the same micro pleated piece of pants all the way into the evening with a simple change of shoes, makeup, and hair. As complicated as this fabric might appear, it's an easy look to wear for every body and every occasion.