Summer 2023 Is In Full Revival Mode With Y2K Fashion Trends
The Y2K reboot is here. Born from a combo of fashions from decades past, the style takes the precision of the 80s high-art pop and combines it with a wild 70s bohemian vibe. Like with fine wine and people finally going to therapy, age looks good on nostalgia. 
Y2K in 2023 isn't parody or satire. Often confused with hipsterism, it's quite the opposite. Hipster style, in all it's detailed creative irony, isn't about authenticity, nor does it take the best and leave the worst like this Y2K '23 summer on our heels. It makes fun of the absurdity of life. '90s reality bites.
Y2K 2023 is high fashion runway off the thrift store rack. It's the best of two yous. It's not country and rock, it's the symphony staring your personality. This Y2K reboot is you being comfortable decorating and celebrating your body with the complicated and contrasting expressions that are exceptionally you. Y2K '23 represents a rising up from the past. Y2K '23 is about survivors and thrivers. And just like the CAKE song wants someone "who gets up early" and also "stays up late," follow this summer's Y2K '23 trends and you'll find yourself in a short skirt and a loooooong jacket. (Maybe a little sleep deprived too...)
Go fun, flirty, and a little bit feral with patterns
Y2K fashion embraces both 80s sharp lines, bold colors, and sculpted hairstyles, as well as 70s fringe jackets, plaid flannels, and sexy sundresses. For this 2000s reboot, don't be afraid to blend corporate 80s with the organic 70s for a little bit country, a little bit Depeche Mode. Pair a little black dress with long jeans. Fun clean lines, solids colors, and eye-catching accessories go in sync with florals, patterns, and well, sexy bare feet. Like a flirty fun-bun hairstyle: think messy, but with purpose. 
Made-you-look midriffs
Get out your scissors, it's time for crop tops and tube tops again. And cut everything! Hoodies, jackets, tank tops, sweaters, and of course, your favorite t-shirts. These short tops not only feature your belly, but this reboot loves an additional peek to your cheeky "underboob." Square off your shoulders and chest with a layer that will give your shape a natural hourglass silhouette. Let confidence strengthen your core and let your gut be your glory out in the summer sun.
Sheer fabrics
This year, give over to the fact your skin will be in. Let your favorite undergarments go from supporting roles to the star of the show behind a flowing sheer nightgown or blouse. Top it with a micro jacket and add accessories around your neck, wrists, and even your hair. Or embrace second hand fashion and dig through a local thrift store or military surplus for the perfect pair of combat boots and march in your own parade celebrating every part of you.
Mini and Micro skirts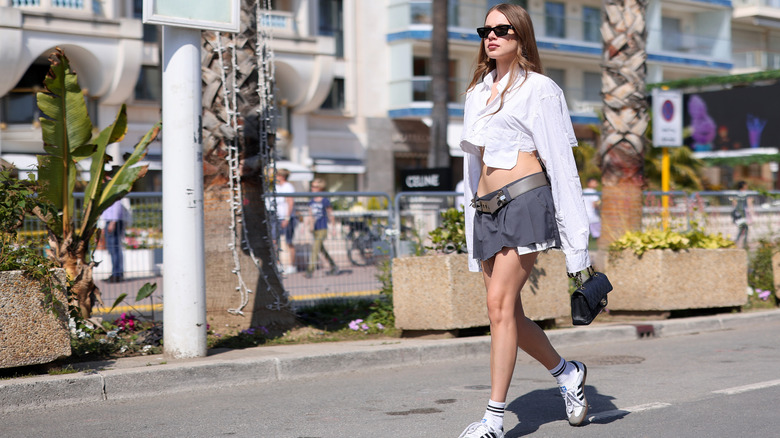 Getty Images
Wait! Don't put away the scissors. Mini skirts and micro skirts are in! Think Christina Aguilera in the "dirrrty" music video. How to know if your mini is a micro? Try the fingertip rule. When standing up straight let your arms fall to your sides and touch the tips of your middle fingers to the tops of your thighs. Where you find that line, go shorter. For views from behind, feature an "underbottom" glimpse that's extra flirty. Feel free to let your thighs see more sun than the rest of your legs will get in those big shoes below.
Funky bags and chunky heels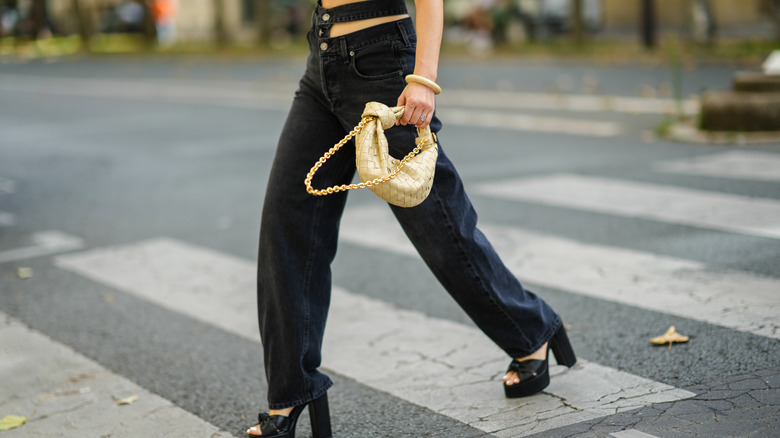 Getty Images
In the early 2000s, it was all about making a statement with your arm candy. It was not surprising to see bags described as buckets or baguettes in varying materials like raffia and denim. 
If it's shaped like something in a museum but you can still keep your phone inside it, it's fair game. For a more casual, "Oh this old thing?" look, printed totes are still the best for form with high points for function. 
Along with Y2k bags, platforms, macro soles, moon boots, and chunky heeled sandals are have made their grand return to the trend cycle. The bigger, the better. Wear your tallest boots with or without thigh highs and runway stomp with playful power. Big shoes equal big confidence, like knowing there's at least another thousand years before the next global software snafu.
Contrast is everything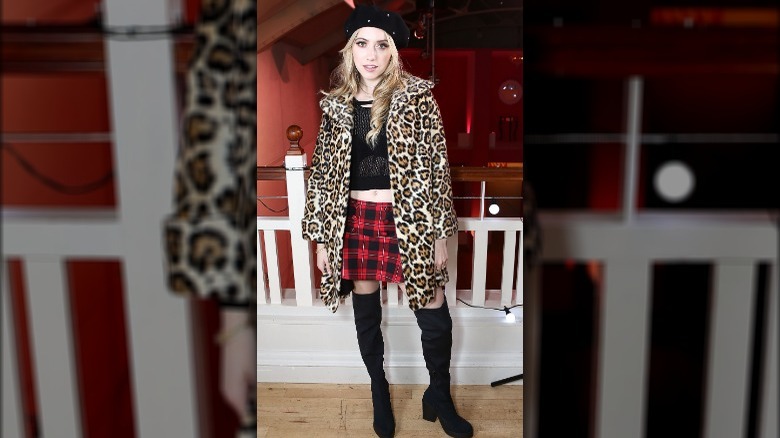 Getty Images
Do you laugh at funerals? Get angry when your team wins? You get where this is going...opposites. Those old enough to recall the year 2000 know it was all about embracing the power clash. Leather meets lace. Lingerie greets vinyl. Patterns shake hands with block colors. Whatever you dig up that highlights your vibe, look for the ways that Y2K looks contrast and affect proportions to accentuate your body the way you see fit. Add a trench coat over micro shorts and a sequined bra. Put a babydoll dress under a pinstriped suit jacket. If it looks like you stumbled out of a costume shop in a hurry, it's going to be golden.
Overalls
Since the invention of denim, every designer decade has had an overall era. The Y2K era was no exception, with all-denim everything dominating the streets and the red carpet. This summer, it's time to embrace comfy, oversized denim again. Overalls are useful enough for day labor and interesting enough as a go-to for an active evening on a dance floor. Dig last decade's pair out of the back of your closet and don't be afraid to get creative with what to add. Y2K is about extremes. High heels and dungarees will never be wrong.
Hats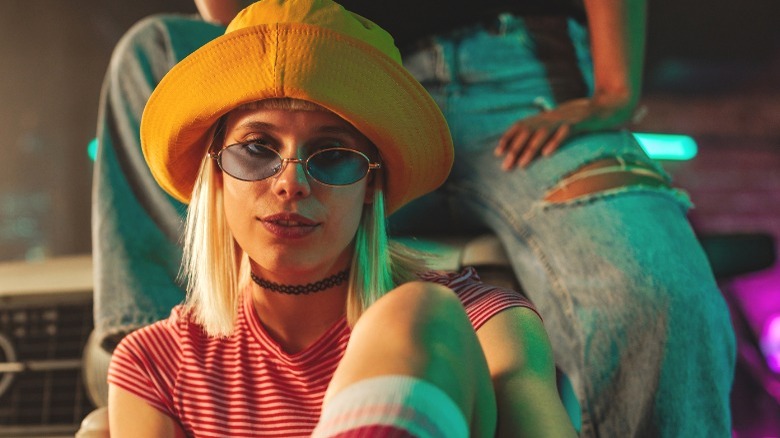 Shutterfly
For this Y2K reboot, hats, as with the entire look, are anything but subtle. It's everything all at once or the stark quiet of almost nothing. For inspiration, look no further than Britney Spears' street style from back in the day. Give yourself permission to complete your Y2k reboot summer look with a stylish cloche, beanie, cap, derby, bucket hat, fedora...the list goes on. As long as it makes you feel confident, wear it.
Chokers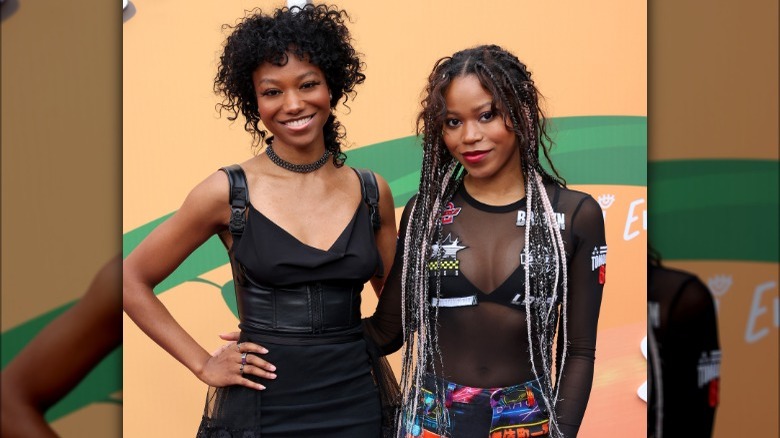 Getty Images
Y2K '23 is bringing sexy back in exponential ways, especially when it comes to highlighting erogenous zones. Anyone who was of adolescent age in the early aughts is likely to recall the reign of the choker. Everyone from Madonna to Britney to the Olsen twins wore them. The 2023 Y2k revival is bringing the iconic necklace back, to sexy up everything from pajamas to gowns.
If you're wanting to bring an easy little flirt to your look, a classic jeweled choker is the way to go. If you're looking for more of a grunge aesthetic, go for the tattoo choker.