15 Grown-Up Ways To Participate In 2023's Miniskirt Revival (We're Never Going Back To High School)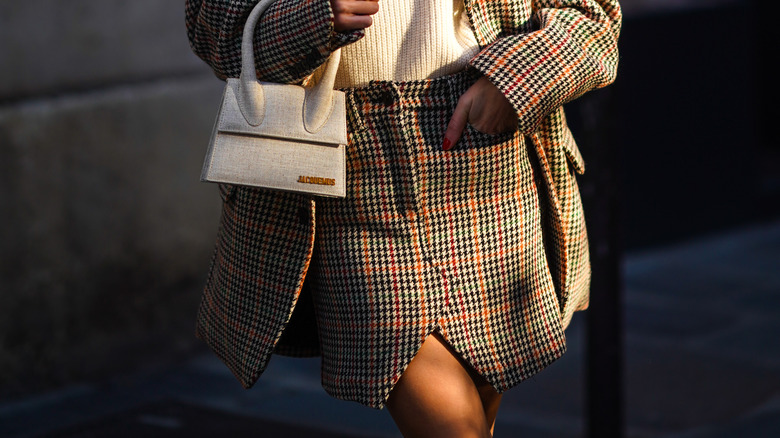 Edward Berthelot/Getty Images
They say fashion trends are cyclical, which means that all the crazy trends from our teenage years are bound to make a comeback at some point in our adult lives. So if you thought your 2000s miniskirt era was over, think again. Miniskirts have, in fact, been popular for quite some time now. The earliest examples of miniskirts have been found and dated back to Europe around 5400 to 4700 B.C. Yet, the item didn't become a mainstream trend until the 1960s, accompanied by the rise of feminism and political rebellion that was being represented in women's clothing. The miniskirt was a playful way to represent this cultural shift in society while contrasting the modest calf- and knee-length hemlines in previous eras.
The short skirt took to new heights in the years that followed, popularized by cheerleading uniforms and pop culture. In fact, the miniskirt reached its peak in the early 2000s, with celebrities like Britney Spears and Paris Hilton sporting midriff tube tops and graphic tees with their ultra miniskirts. Now, the trend is resurfacing once again in 2023, and while you may not be thrilled to go back to the tight-on-tight look, there are new methods to wearing the miniskirt without looking like you're still stuck in high school. Here are 15 ways to style your miniskirt as an adult, in ways that are both elegant and classy.
Nothing says put together like a matching set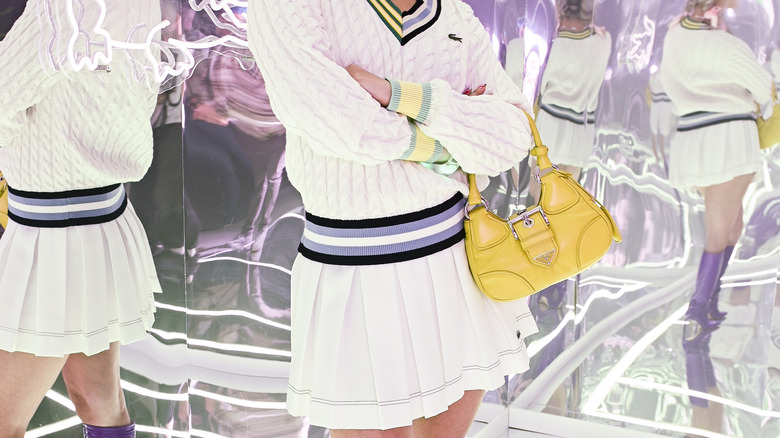 David M. Benett/Getty Images
A monochrome look never goes out of style, and this couldn't ring more true for the miniskirt trend. If you're looking for a way to elevate your miniskirt, try opting for a matching skirt and top set. For instance, you could reach for a matching sweater and skirt in the winter for a classy look. All you need are some stockings and pumps to tie together the look for a dinner date. Similarly, a monochrome satin top and skirt set could be airy and perfect for an elegant summertime look. In order to stick to the cohesiveness of the matching look, you can also reach for some boots, heels, or a jacket that match the color scheme of your outfit.
Add knee-high boots for a sophisticated touch
Do you know about the rule of thirds in photography? This concept is where a picture is more aesthetically pleasing when it can be broken down into thirds both vertically and horizontally. Well, according to Mademoiselle, this same rule can be applied to outfits, and knee-high boots come into play as they help with this rule. In fact, miniskirts and knee-high boots are a match made in heaven as they balance out the length of a shorter skirt while providing your legs with the perfect amount of coverage. Simply wear a sweater and lightly tuck it into your miniskirt before adding knee-high boots that match the color of your skirt. This breaks up your outfit and also gives you a one-third to two-thirds proportion, which makes for a look that's both visually appealing and sophisticated.
Elevate a pleated miniskirt with a button-down shirt
Who says that a pleated miniskirt has to give off a schoolgirl look? There's a reason this skirt is back in style, and it's because it flatters just about everyone. But if you're looking to elevate your pleated miniskirt, try adding a button-down shirt. This look can be perfect for work as long as your skirt feels like an appropriate length for you and the workplace. Simply grab a striped button-down and lightly tuck it into your pleated white skirt for a seamless look. Even experts agree that the button-down and miniskirt combo is an unbeatable one. "It is playing with balance and proportion in a way that feels classic and modern, and adding some menswear touches makes the mini feel a bit more sophisticated and less straightforward," said fashion stylist Allison Bornstein in an interview with Marie Claire.
Dress up your outfit with a blazer
Neutral blazers are back in style in all their forms: cropped, belted, and our personal favorite, leather. The leather blazer is such a trendy staple piece that has the ability to turn all your outfits into formal chic. Plus, we're pairing these stunning blazers with all of our miniskirts in order to instantly elevate our look. The key is that — unlike our 2000s era where we reached for an untailored hot pink blazer with a tight black mini dress — we'll now turn to more sophisticated, neutral-colored blazers that are tailored to our bodies, and pair them with structured miniskirts and a sleek shoulder bag in order to feel both professional and trendy.
Wear stockings with your miniskirt to keep you warm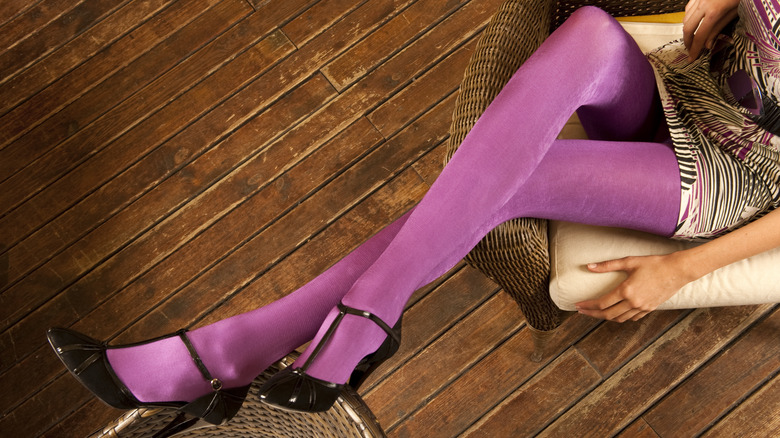 1001nights/Getty Images
Stockings are the perfect solution to keeping your legs warm in the winter while still wearing a skirt. In fact, if styled appropriately, the right color and pattern of stockings can elevate your outfit and help you look more grown-up. A pair of nude, black, or brown stockings are the perfect neutral accessory to compliment just about any outfit. Plus, with fleece-lined stockings currently trending, you won't have to worry about your legs getting cold in your miniskirt.
Pair your miniskirt with chunky loafers and white ankle socks
Pairing black chunky loafers with white socks can never go wrong. To highlight this classic pairing, wear a miniskirt that can showcase your footwear instead of it hiding under your outfit. Ever since Miu Miu's fashion show in October 2022 where the ultra mini skirt was sported, celebrities have been sporting the super short skirt and one of the most fashionably trendy ways to wear it has been with loafers and chunky socks. Plus, the Parisian-inspired look adds a sophisticated charm to the otherwise-short skirt.
Add a trench coat to make yourself look taller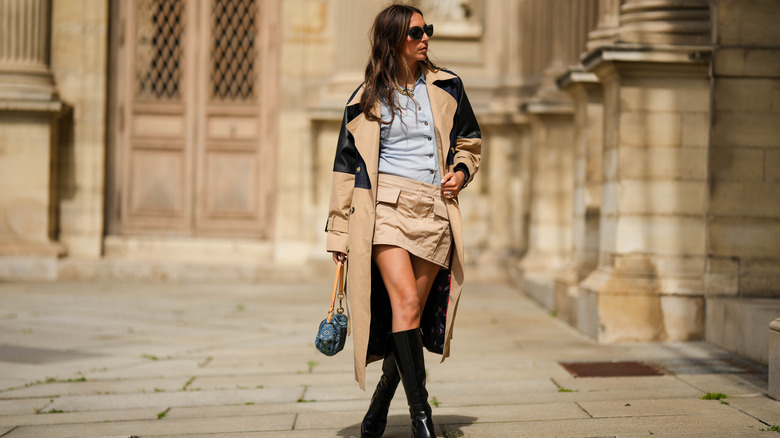 Edward Berthelot/Getty Images
It's a common myth that you have to be tall to wear a trench coat or else it'll drown you. This couldn't be further from the truth, as the key to pulling off the trench coat is all about the proportions, not your height. This is why pairing a longer trench coat that suits your frame along with a shorter miniskirt can help break up your outfit into different lengths, and help your legs appear more elongated to balance out the entire look. For a miniskirt, a trench coat that extends past your knees and hits the mid-calf area would be the perfect accessory. Since this look also provides you with extra coverage, it can be appropriate to wear to the office.
A leather skirt will never fail you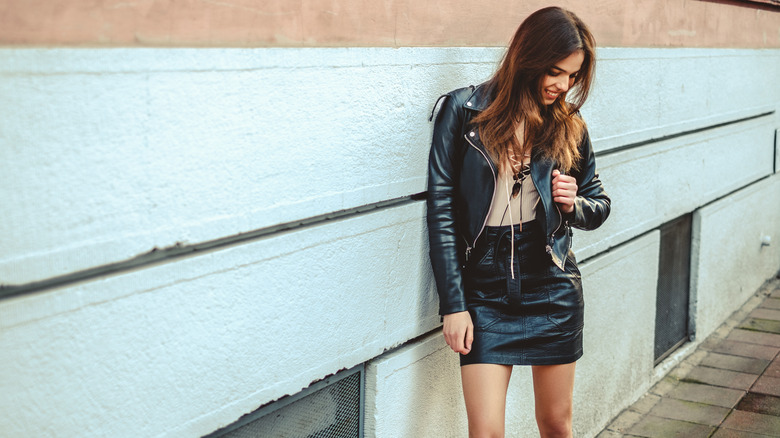 Sjale/Getty Images
Just like leather jackets, leather skirts are also in fashion and never fail to steal the show. Reaching for a leather miniskirt can be edgy and daring but, with the right accessories, you can prevent it from looking too over the top. If you do opt for a leather mini, try going looser on top with a free-flowing tee that's loosely tucked in, or a baggy sweater. You can also accentuate this look with some heels or knee-high boots to balance out the edginess of the skirt.
A sweater vest can make you look more grown-up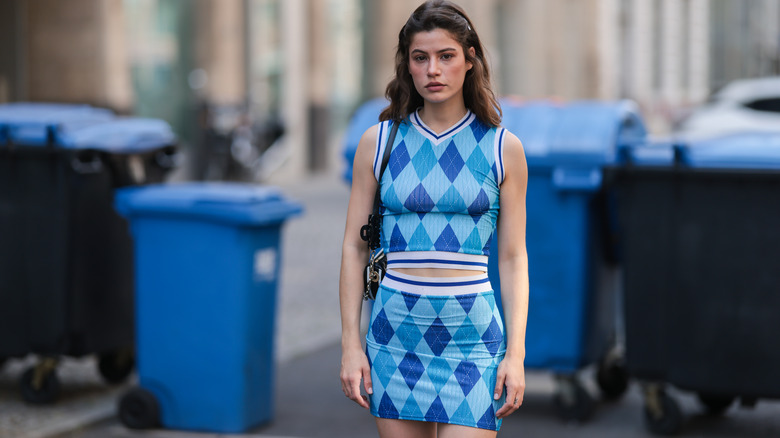 Jeremy Moeller/Getty Images
Just like miniskirts, sweater vests have also decided to make a comeback. The sweater vest was all the rage as a gender-neutral accessory in the 1970s, but by the late '90s, the trend had gained a nerdy reputation and lost its popularity. The good news is that sweater vests are back in style, and this time there's a sure way to make them appear both edgy and put together, by pairing them with miniskirts.
A cropped v-neck sweater vest paired with a free-flowing miniskirt in the summer or a collared shirt in the winter are just a few reliable combinations to give you a cohesive outfit. Plus, different sweater vest colors and patterns can help you achieve whatever aesthetic you desire, from a preppy pink sweater vest to a fringey, patterned one.
Try a cargo miniskirt for an elevated casual look
The return of Y2k fashion means that many '90s fashion trends, such as cargo miniskirts, are here to stay. Lucky for us, these utility skirts are the ultimate combination of chic and comfortable and can be easily worn on a daily basis. If you're looking for a way to make these skirts look more grown-up, try reaching for a pair of neutral knee-high boots and a cropped sweater. Add a pair of dark sunglasses for a polished look.
Add strappy heels for a night out
If you're in search of the perfect strappy heel, then look no further than the Stuart Weitzman Nudist collection, according to celebrity stylist Elizabeth Stewart in an interview with Vogue. This strappy heel is the perfect example of a go-to pump that can make any outfit feel like you're walking the red carpet. Because strappy heels add the perfect balance and touch of femininity to your mini skirt, they make a great pairing. If you're not comfortable walking in higher heels, try strappy kitten heels for a dainty finish to your look.
Look for a skirt with structured fabric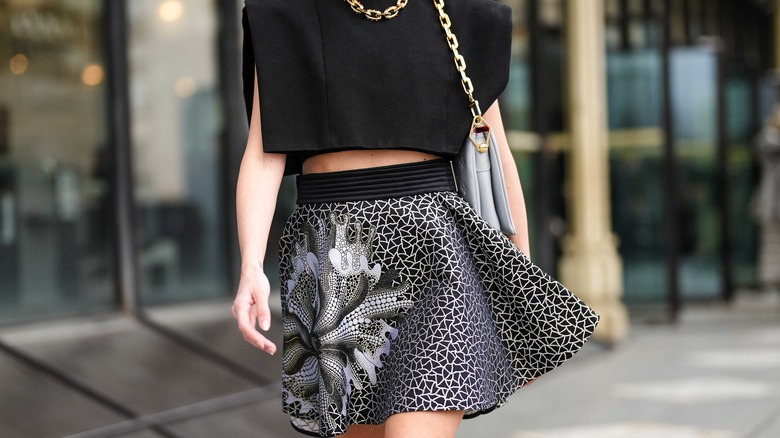 Edward Berthelot/Getty Images
You might think that miniskirts use minimal fabric. However, the type and quality of fabric you choose for your skirt can make all the difference in how classy you'll look and feel. For instance, if you're looking for a slimming effect, then "an a-line skirt is going to be the most flattering, since it will fall from the hip," says New York-based personal shopper Samantha Brown in an interview with Bustle. Since miniskirts are already confined in length, having a stretchy fabric that still retains structure is your best bet. This is why denim and cotton miniskirts are both good options that will allow you to move around freely.
Opt away from distressed denim skirts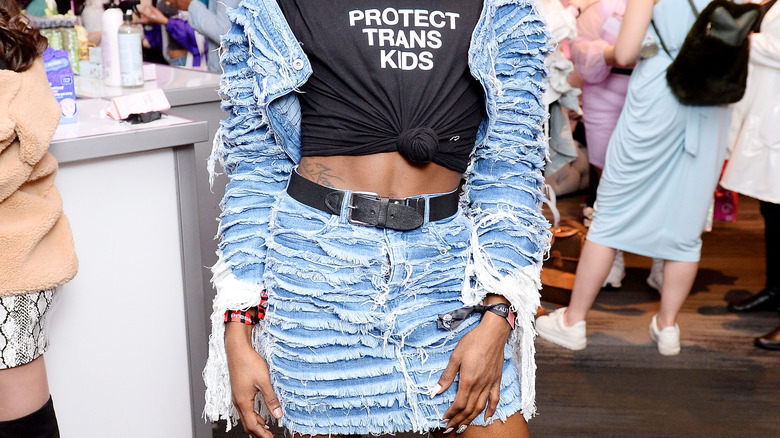 Noam Galai/Getty Images
Distressed denim skirts may have been all the rage in high school, but they are not exactly the look we're going for in 2023. Still, if you can't resist a denim skirt, then there are a few ways to pull it off. For starters, you can try a cohesive denim look. That's right, wearing denim on denim is now in. If you can't commit to the full denim-on-denim trend, then break up the pairing with a white shirt and add a denim jacket on top. Finish off the look with some solid ankle boots and you're good to go. However, if you love that feathered denim feel, we're not here to yuck your yum. Make it a matching distressed set with a denim shirt or jacket, and pair it with a bodysuit or T-shirt.
Avoid a wardrobe malfunction by choosing a comfortable skirt length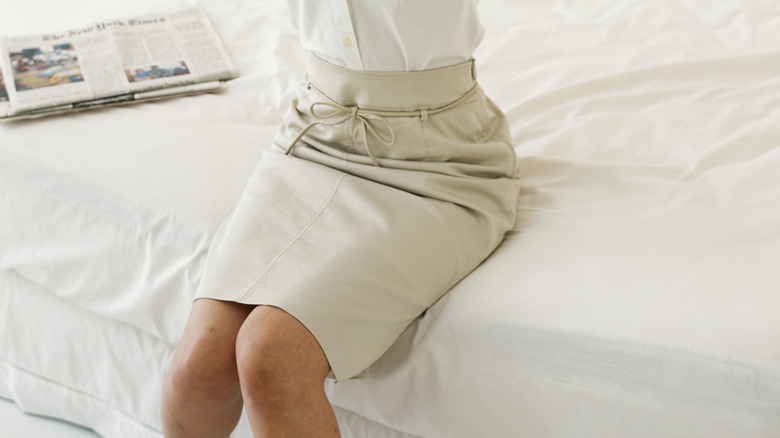 Hitoshi Nishimura/Getty Images
While there is no limit to what skirt length you can wear as an adult, it is important that it matches the occasion. Gone are the days when you wore your clubbing skirt and going-out top to class. Instead, it's important to be mindful and aim to match your miniskirt with the rest of your outfit and the occasion in question.
For instance, a micro miniskirt might be a good option for a night out, but can be balanced with a more free-flowing skirt fabric or a looser top in order to maintain a daytime look. In contrast, an asymmetrical mini might be the perfect bold option for a date night, if you're looking for a romantic look that gives the right amount of edge. On the other hand, a wrap-around mini skirt is the perfect look for lounging by the pool.
Always wear shorts under your miniskirt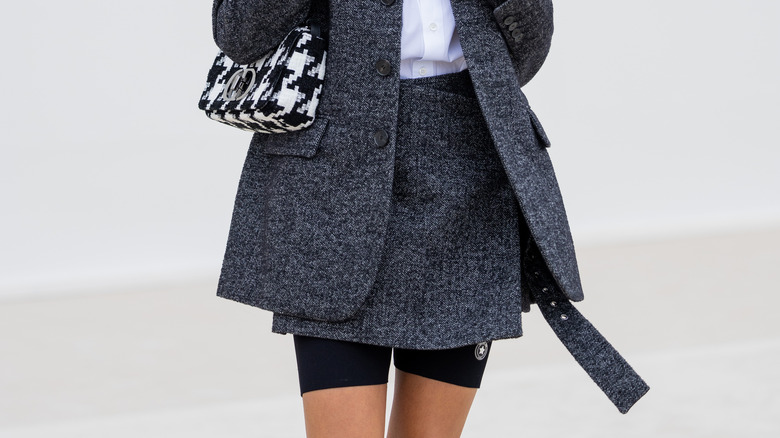 Christian Vierig/Getty Images
The last thing you want is for your miniskirt to lift up and risk indecent exposure. This is why, in 2023, wearing shorts under your miniskirt is a must. Not only does this reduce the risk of accidental exposure, but it also minimizes chafing. According to Healthline, chafing can occur if you wear ill-fitted clothes due to moisture, heat, and the friction of your legs rubbing against each other. This is why form-fitting spandex shorts under your dress are necessary in order to prevent chafing. You can also opt to wear shorts that match the color of your skirt, or find a skirt with in-built shorts — you know, a skort. Plus, you'll feel comfortable knowing that no matter how short your skirt is, you will be covered and, therefore, will be able to move freely.