The Nostalgic Styling Trend That'll Make Your Little Black Dress The Ultimate Throwback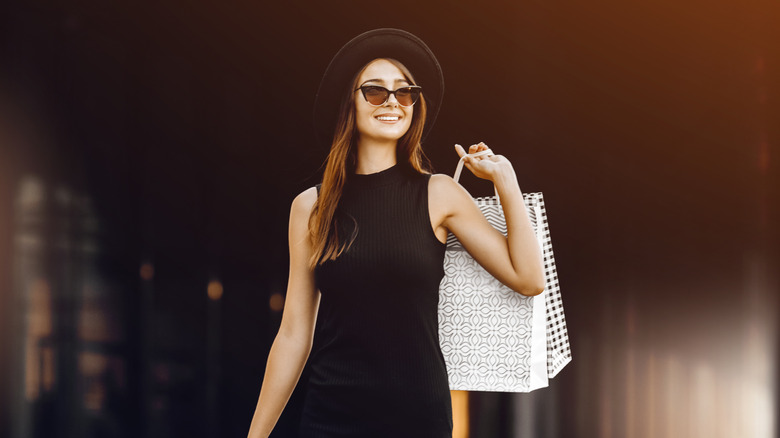 Shopping King Louie/Shutterstock
When Katie Holmes went viral for her nostalgic take on a Y2K-inspired outfit in December 2022, the internet was divided. The "Dawson's Creek" star wore a strapless sapphire blue tube dress over a light-hued pair of bootcut jeans and completed her look with black sneakers when she attended the 2022 iHeartRadio Jingle Ball. The look was effortless and cute and was a major throwback to the early 2000s when celebrities like Ashley Tisdale and Miley Cyrus sported similar styles on the red carpet. 
No matter what you personally think of the look, this styling trend has seen appeal for both practical and fashion reasons. First, you get to wear your favorite gowns — including that little black dress you keep hidden in the colder months — not just in the summer. In fact, it's a classic outfit that will be especially trendy for fall. You're adding layers without looking like you're doing so. Often, our go-to bottoms when we try to wear dresses in spring or fall are tights or leggings, and while these are functional enough, they can also be quite constricting. Jeans are a lot more comfortable alternative. 
Secondly, it's a nod to a nostalgic time when pairing something as casual as jeans with an elegant dress turned heads on the red carpet and in real life. 
This styling trend reminds you that outfits can look playful and chic at the same time
For fashion historian and researcher Sara Idacavage, the dress over jeans outfit was a favorite in high-school because it allowed her to be just the right amount of dressy while wearing her party dresses to school (via Huff Post). "The dress-and-jean combo helped me look like I wasn't trying too hard, which is actually why I think the look was popular with female celebrities at the time," she shared. 
The look was prevalent in the 1850s too, and was considered controversial for a number of reasons back then. One of which was the fact that the combination of clothing went against what was considered gender-appropriate at the time. As fashion historian Cassidy Zachary told Huff Post, when women's rights activists like Amelia Jenks Bloomer and Elizabeth Cady Stanton embraced the trend, it "horrified polite society." But the revival of the styling trend by Disney stars in the early 2000s has a more fond and nostalgic feel to it.
Jeans and little black dresses are staples in anyone's wardrobe. Now you have a way to give new lease of life to both in colder months. Plus who doesn't like embracing a bit of fashion-related throwback every once in a while? 
Here's how you can style a little black dress with jeans
Styling a gown over jeans doesn't mean that you have to instinctively reach for the most skinniest pair of pants you own. In fact, more lightweight and shorter black dresses look great when paired with a flared cut of jeans. 
If your dress is slightly longer but has buttons down the length of it, try unbuttoning the gown from the waist down where your jeans essentially start for a more flowy and carefree appearance to the outfit. Or simply knot the dress on one side to show off more of your pants. Asymmetrical hemlines in your little black dress also make a great fit for a jeans over dress combo. If the weather is particularly cold, combine a long jacket to add to the uneven tones you're going for. Got a pair of black jeans instead of blue? Going monochromatic with your pairing is also okay. As InStyle noted, this could be an intentional and new way to dress up your little black dress. You can always add a pop of color with your accessories.  
An important part of this nostalgic styling trend is the shoes. While you could go the casual route and opt for sneakers like Holmes did, heels or ankle-length boots add an elegant feel to your entire ensemble. Not to mention they instantly elevate the look. Try and have fun with this your throwback style. Ultimately, that's what it's all about.