Lingerie As Outerwear: 5 Realistic Ways To Weave Sultry Looks Into Your Wardrobe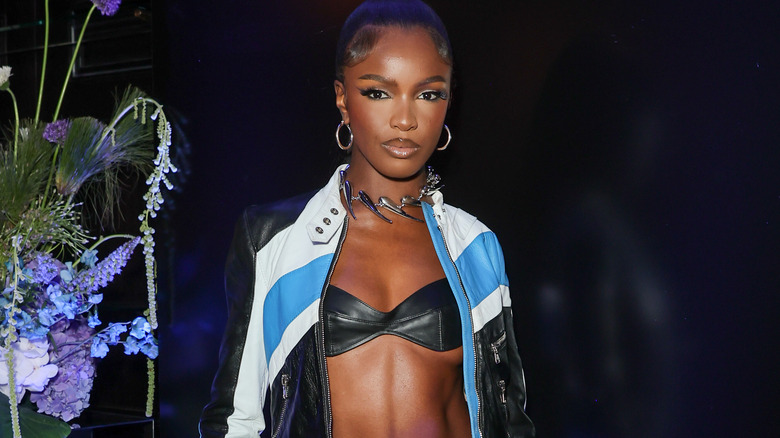 David M. Benett/Getty Images
Lingerie doesn't have to be hidden anymore. We're all about styling a look so that we can bring this sexy category of clothing into our outerwear for a seductive daytime look. The best part is that lingerie is as versatile as it gets, and this proves true when wearing it with our curated day look as well. There are slip dresses, lace, camisoles, and bras that function as tops. There's the sheer skirt trend, a bold look that can be as subdued or risque as you want. Sheer dresses are another way to bring bras and panties into your look while still feeling covered. Plus, bustiers and corsets are timeless and we want to show them off. The possibilities are endless. All it takes is a little styling to incorporate lingerie into a perfect outfit.
This look isn't for everyone, and that's okay. For some, lingerie as outerwear might be a little too daring. But for those who want to try it, it can be a stylish way to feel free and sexy while just living your life.
Slip dresses are here to stay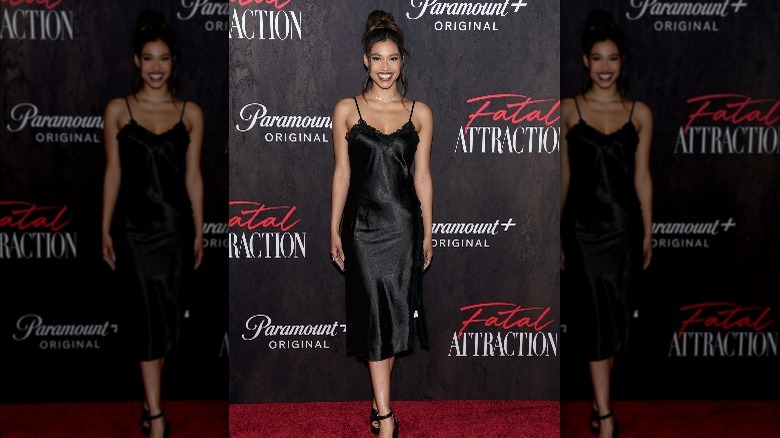 Phillip Faraone/Getty Images
Slip dresses have been having a moment for a while, proof that they're stunning and comfortable. They've evolved from functioning as lingerie or layering underneath another dress, to standing on their own as a complete outfit. Vogue called slip dresses "the ultimate party dress" thanks to their minimal design and flattering cut. Plus, they're a nice throwback to '90s fashion.
Slip dresses are wearable all year. In colder weather, style a slip dress with tights and boots, with a coat overtop. Or pair a slip dress with a blazer or chunky sweater for a perfect balance of heavy fabric and lighter material. They're so easy to layer because they look amazing as a foundation for an outfit. Stylist Tanya Tamburin told InStyle, "In the winter months don't be afraid to pile on the layers — chunky knits, hooded sweatshirts, tailored blazers, and chic overcoats on top, and thin long-sleeved tops and tights layered underneath." If it's warm enough, slip dresses can stand on their own as an outer garment. Or, if you want a little something with the dress, layer it over a t-shirt or pair it with a denim jacket.
One reason that slip dresses have stood the test of time is that they're so versatile. Pair them with heels for a night out, or wear them with sneakers for a casual, chic daytime look. There's really no way to go wrong with them.
Bras as tops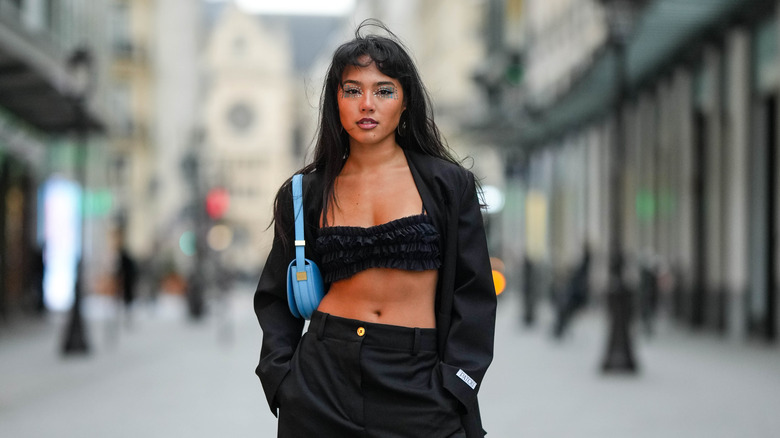 Edward Berthelot/Getty Images
Bras have graduated from underwear to outerwear, and we are here for it. It's certainly one of the more bold concepts when wearing lingerie as part of a look, but there are ways to style bras as tops so that you still feels covered, should that be more comfortable. The best part about bras as tops is the range of options. Choose from bralettes that are either lacy or sporty. Think of the classic Calvin Klein bralette when opting for a more casual look. There are also woolen and cashmere bras that work beautifully as tops. Since the material is heavier, it doesn't read like classic lingerie immediately. There's the Colossal Knit bralette by Hope Macaulay, for a chunky look, or the cashmere bra by Khaite for something more minimal. In fact, we saw Katie Holmes rock this cashmere bra as a top, with a matching cardigan in New York City, and it ruled.
Pair the bra with a slouchy sweater or blazer for a peekaboo effect. Bras and bralettes work well under overalls as well, creating a sexy base to the cool-girl slouch of the overall look. And of course, wear the bra on its own for the ultimate hot girl look. Consider pairing a bra with an ample-legged pant, like cargo pants or khakis, for a playful balance between sexy and functional. 
The versatility of lace camisoles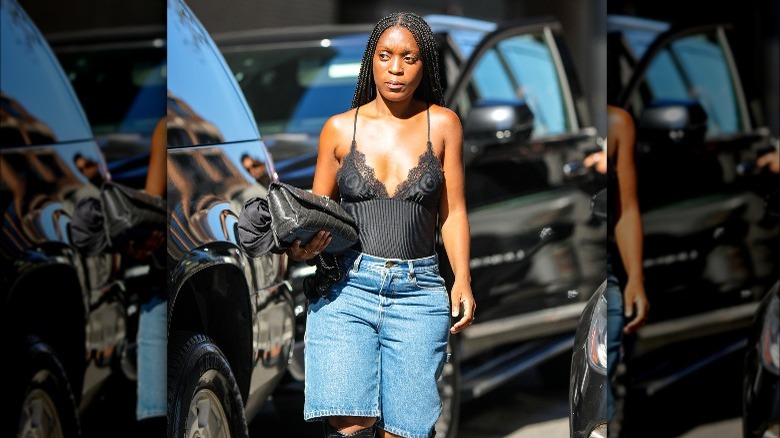 Edward Berthelot/Getty Images
Lace camisoles might be one of the easiest ways to bring lingerie from under our clothes into the realm of outerwear. They instantly add an indulgent look to any outfit, thanks to the slinky straps and lace detailing. Pair a lace camisole with a pantsuit to create the perfect blend of sexy and sophisticated. The tops also work beautifully underneath cardigans, softening the bulk of the sweater with the lace of the camisole. The same goes for blazers and leather jackets.
Camisoles can also stand on their own as tops if you don't want to wear them under another layer. They work perfectly as a tank top, with either a strapless bra underneath or braless. Lace camisoles pair well with heavier bottoms — think jeans, woolen trousers, or any other thick fabric — to add balance and texture to the look. They also soften the edge of leather or vegan leather skirts, creating a sweet and salty look that always keeps us interested.
Corsets and bustiers as tops
Wearing corsets and bustiers as tops is without a doubt the most romantic way to bring lingerie into a daytime look. Corsets and bustiers are having a real moment, largely because there are so many ways to wear them. Historically, the two garments were used differently. Corsets were used to accentuate the waistline and cinch the body, while bustiers were used to lift the chest, much like the modern push-up bra. Corsets were used much like we use shapewear today. Both corsets and bustiers can come as strapless or with straps.
However, for outerwear styling purposes, the two can function in similar ways. They are amazing when worn outside of a whole look. Think of the same way a vest functions over a button-up top or a dress. They create a defined silhouette and add an edge of sexiness to any look. Corsets and bustiers add an interesting dimension to an outfit thanks to the vertical bones from traditional structuring. Often, they tie with ribbon, creating an even richer fabric palette.
If you want to go even bolder than wearing a corset or bustier overtop of a blouse or dress, wear them solo, as a stand-alone top. They function well as a tube top or tank top with oversized pants or skirts. Garments as structured and gorgeous as these want to be seen.
The range of body suits: from tops to full-on catsuits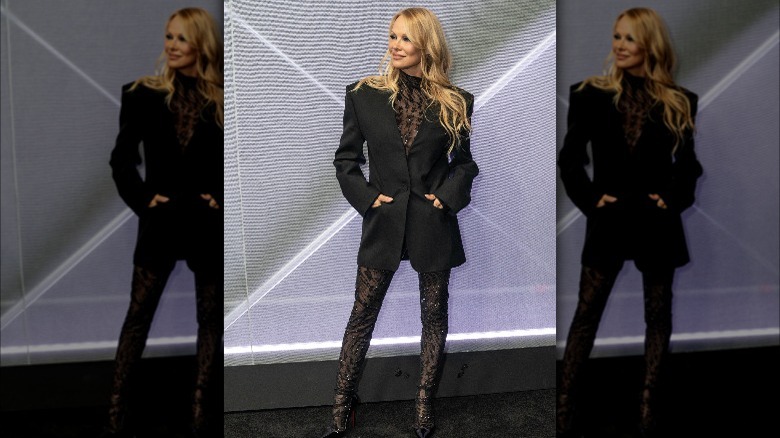 lev radin/Shutterstock
Bodysuits have become a vital part of chic outerwear. What makes them so compelling is the range. Bodysuits are one-piece garments that typically include underwear and a top in one to cover both torso and crotch. However, they can also include leggings and arm sleeves as well, and literally cover the whole body, like a catsuit.
When styling the first kind of body suit — that includes the torso and crotch only — use the piece in the same way you'd use any kind of top. The perk is that the finished look is seamless. There's no untucking to worry about. Pair with jeans, cargo pants, leather pants, or skirts for a polished, smooth top.
For a more daring concept, go for the full-body catsuit. Pamela Anderson rocked this look in New York in April 2023: She wore a sheer, full-body suit made of lace that included a turtleneck and tights in one. She paired the bodysuit with heels and a structured, black blazer. Anderson's look provides so much inspiration for how to work with a catsuit. Wear one under a dress or blazer to play with the sexy sheerness contrasted by the sharp structure of the outer garment.