Cutout Dresses Are Totally Outdated For Fall 2023 - Our Favorite Alternatives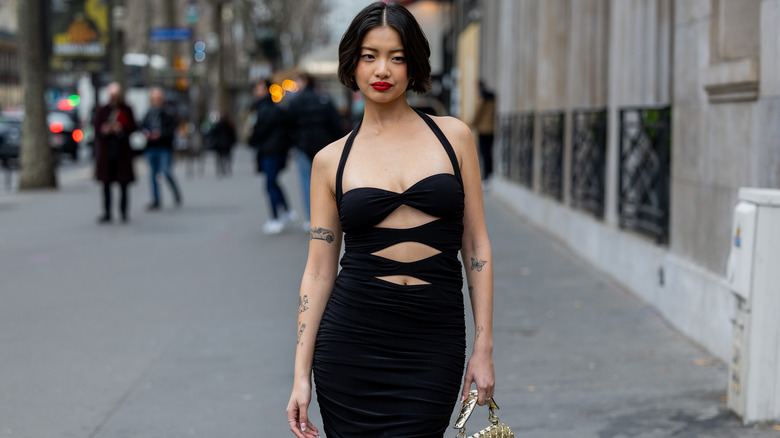 Christian Vierig/Getty Images
Hear ye! Hear ye! Cut out dresses and tops are no longer the trend for a fashionista's autumn advantage. Fall 2023 has decided to uncouple from the peekaboo design. Besides, in most places where fall fashion is the frenzy, it's getting cold, and there's no need for a draft from your dress. Hang the clever cut outs to the back of the closet and get ready to tailor something familiar or shop for something new.
Don't worry. The 2023 season is still heavily influenced by a popular peek at the skin you're in. Summer's Y2K reboot trends are still just as prevalent now, as they were then, and also, just as they promised on 2023 fall fashion's runways. But plan on things being a little more cozy for the upcoming months. Soft fabrics, knits, and pleats will make good for added layers around the transition out of summer fun. And while more attention to seeing skin is still a highlight for the fall, there's also more opportunity to show it off in different ways. Watch what your favorite folks are wearing and keep an eye out for how to get creative with a sneaky skin reveal. Retire the cut outs for now, and take a look at these alternatives sure to inspire until the end of the year.
Totally tubular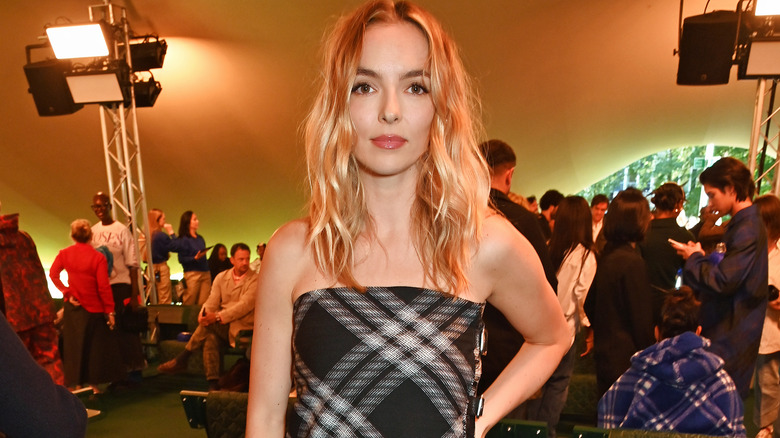 Dave Benett/Getty Images
Not only are tube necklines great for a sneak peek of skin, they also tend to flatter most silhouettes. Where a cutout dress may show skin in awkward places (such as the side), the strapless, straight across shape highlights the collarbone and shoulders. They're also a big part of the Y2k resurgence, so if you're looking to be on trend, this is the way to go.
You can swap out your cutout dress for a tube midi dress or a tube top and trouser ensemble. Find a few tube tops in colors and patterns you love and layer them with everything — blazers, sweaters, and log jackets for fall. Explore even more options with a trendy tube top in combination with a popular, flattering peplum. Tube tops are endlessly versatile. Some tubes can make an adventure go from day to night in a single tube. Clever fabrics can even transform from a top to a skirt or even an entire dress. How you use a tube top depends on the where and the flare!
Bringing sexy back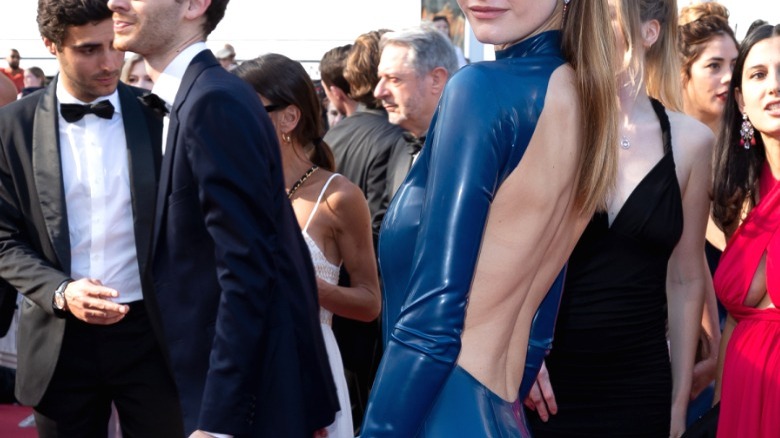 Getty Images
Back exposing summer swimwear is officially transferring over to the autumn backless dress. It's no mystery your spine is essential to your body's strength. Why not show off all the hard work it did this summer?  Ditch the teasy cut out and go for more than just a peek of your bare skin on your back. Revealing parts of our bodies is the great magic of fashion. Who doesn't love a good view when someone is walking away? Just don't forget the pasties.
Deep dive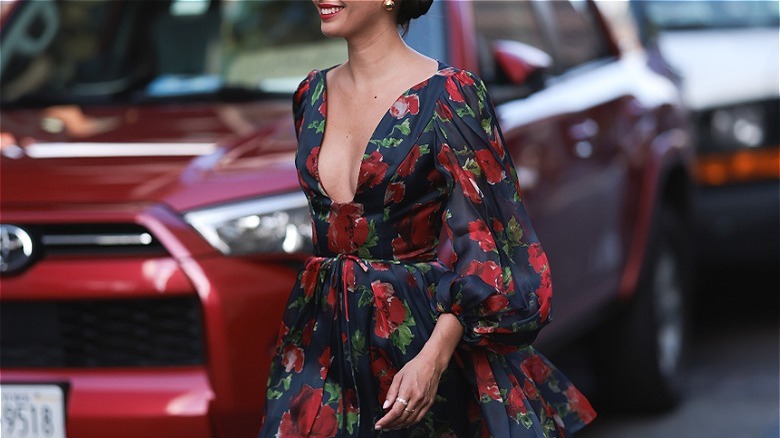 Getty Images
If the cut out dress is about clever ways to reveal what's typically hidden, the plunging neckline dress is about playing with and pushing limits. Keep things soft by opting for romantic patterns or draping. While the deep-V dress is common and appropriate attire, you might want to stay away from too low of a neckline for events like weddings or more somber ceremonies unless you're sure the aesthetic of the event calls for attire on the bold side. Even the topless blazer trends are becoming a décolletage exposing basic and we agree!
See through peek-a-boo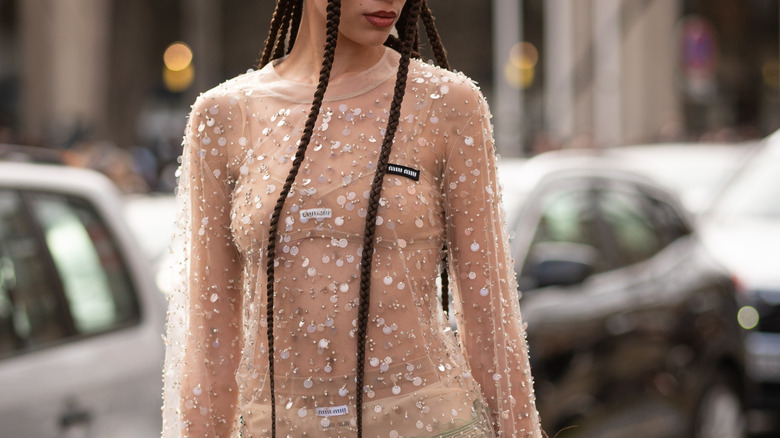 Claudio Lavenia/Getty Images
It's been clear throughout 2023 that we can't get enough of the sheer clothing trend, and fall is continuing to prove that as see-through is replacing peek-a-boo. Whether we are adding them to layer over complete outfits or wearing over lingerie, they're a stand out piece. If the fabric is of the mesh or sheer variety, you simply cannot go wrong. If a peek of skin was what piqued your interest about cut-outs, go for the full show this fall and show even more of your shape in sheer!
Hello halter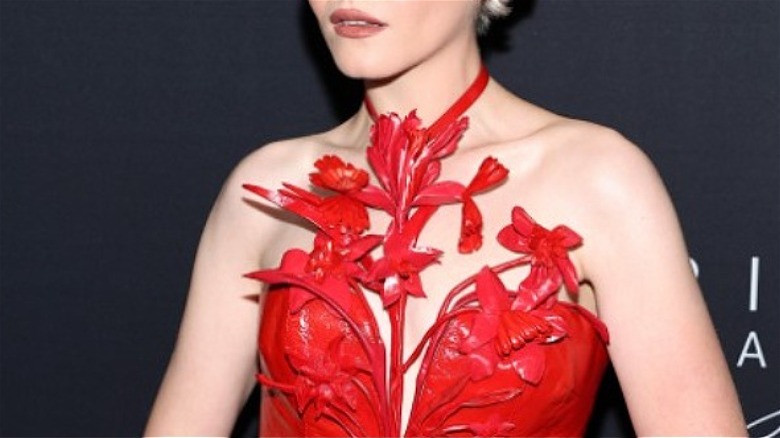 Getty Images
Consider replacing your affinity for the cut out dress with a creative and classic halter. The bare shoulder look is similar to what you might love about the cut out, but it's combination of a high neckline with bare arms makes for a classy and striking shape. There are endless ways to accentuate the collar bones and shoulders with cut outs, but halters with innovative front designs are quite literally keeping our love of great fashion close to the heart.