How To Pull Off A Topless Blazer Moment Without Feeing Too Exposed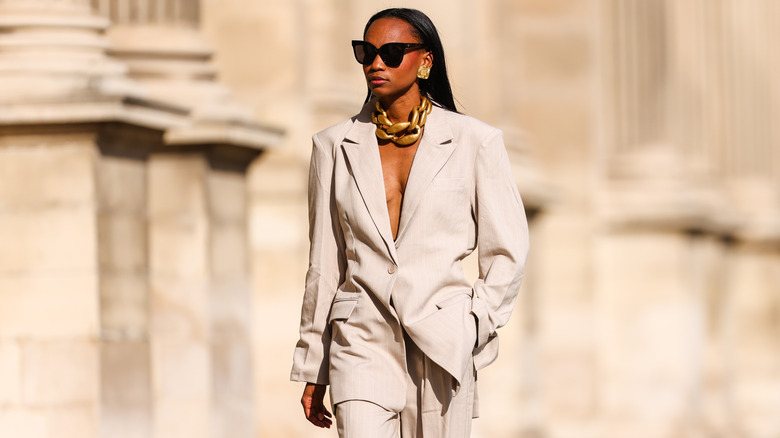 Edward Berthelot/Getty Images
We may receive a commission on purchases made from links.
Have you ever been getting ready and thought your blazer would look cool without a shirt underneath? If so, you're in luck. With the topless blazer trend, being (semi) nude is in vogue. 
Also known as the shirtless blazer trend, the trend of wearing blazers without a top underneath is only gaining traction. The trend is exactly what it sounds like: going topless underneath your blazer to create a slightly risque look. Depending on your level of comfort, you can experiment with different levels of skin showing, for example only revealing the top half of your chest or covering your navel instead of everything showing.
Miley Cyrus, Blake Lively, Jennifer Aniston, Zendaya, and Rihanna are just some of the celebrities who have dared to rock the trend. It isn't just for women, either. The trend has also been seen on men, with Timothee Chalamet and Harry Styles being two of the celebs who have dared to bare their chests under their blazers. Want to try out the trend? We've got plenty of inspiration so you can find the topless blazer look that's right for you.
Figure out the basics to get started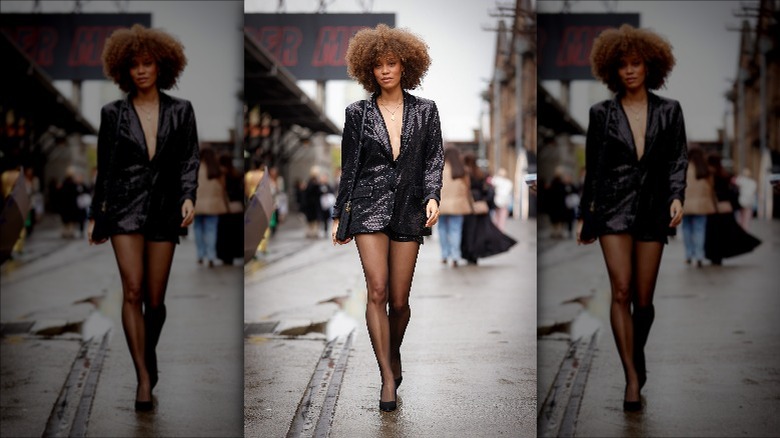 Hanna Lassen/Getty Images
First things first, it's all about how best to position your blazer so that your breasts can be seen but aren't fully exposed. To prevent full falling-out moments where your nipples are on display, you need either boob tape or a stick-on bra. Either of these options will help to keep your breasts where you want them and give you more of a sense of security. You may require extra tape or support if you have larger breasts, so look out for products with strong adhesive.
A topless blazer look can suit more than one occasion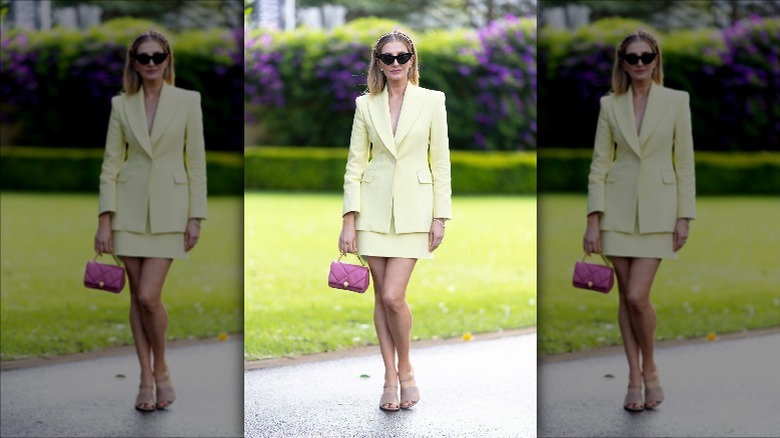 Wendell Teodoro/Getty
A topless blazer look can totally be formal, as demonstrated by model Kate Waterhouse, who styled her lemon suit with pink accessories. The key thing to note here is that Waterhouse's blazer is done up rather than left open, giving her a more modest look. This is a great way to dabble in the trend if you're not 100% confident with baring your chest completely. It also eliminates the need for boob tape if you can't get your hands on any. 
Layer up for a cool contrast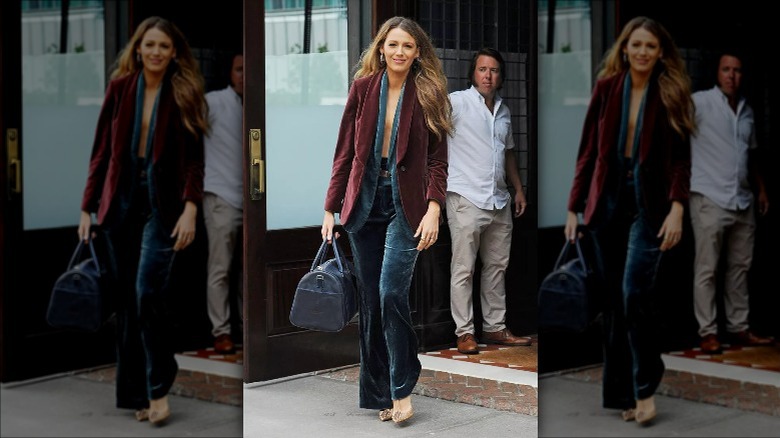 Josiah Kamau/Getty Images
When you sport a topless blazer look, people are bound to take notice. However, a good way to ensure you're not too exposed is to layer up like Blake Lively. Layering two velvet blazers over velvet pants, Lively's look is mysterious and chic. In fact, because of her two blazers, it's hardly noticeable she isn't wearing a top unless you pay extra attention. Layering outer clothing items is also a good way to cover up your torso if you don't want to display your belly button. 
Experiment with shapes and silhouettes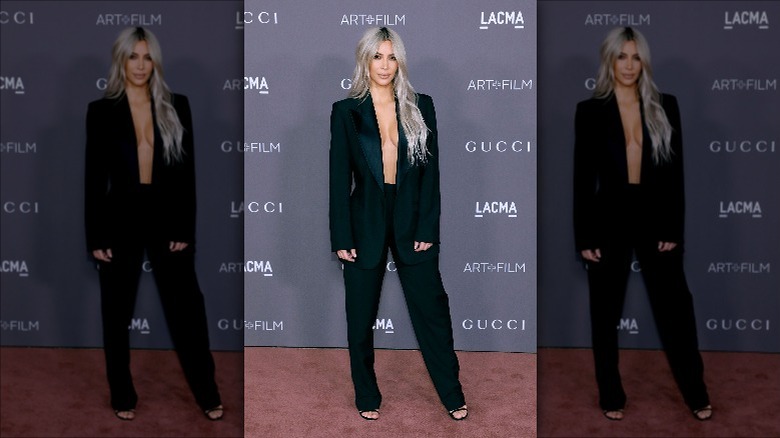 Taylor Hill/Getty
There's no color classier than black, and this all-black look worn by Kim Kardashian shows a black suit can be sophisticated and sexy in equal measures. An oversized blazer goes with any outfit, which makes it the perfect piece for a topless blazer look. If you plan to recreate this look, you'll need boob tape, as a stick-on bra will be visible due to the completely open blazer. Or, customize it to your comfort level by closing the bottom button or pulling the lapel over.
Go back in time with '80s silhouettes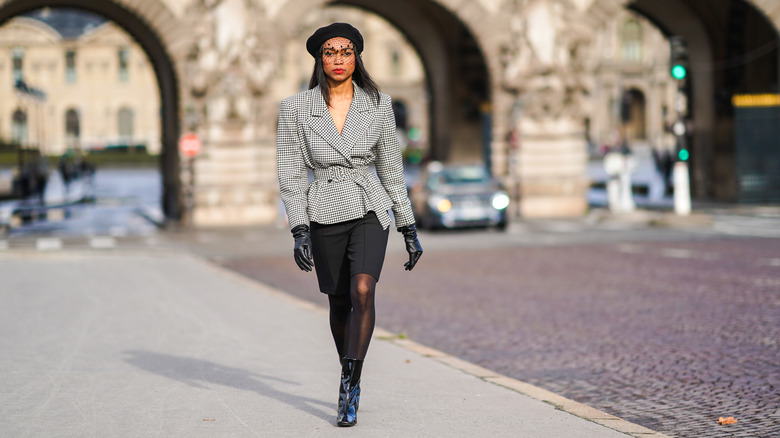 Edward Berthelot/Getty Images
We're obsessed with the '80s style of this houndstooth blazer. Because it sits higher and belts at the waist, it creates a flattering hourglass silhouette that's made more evident by the lack of shirt. An open blazer may be the most popular version of the topless blazer look, but a blazer like the one above is an excellent alternative if you are fuller chested or don't feel comfortable with tons of cleavage. Style with black tights and a pencil skirt for true '80s style.
Think outside of the box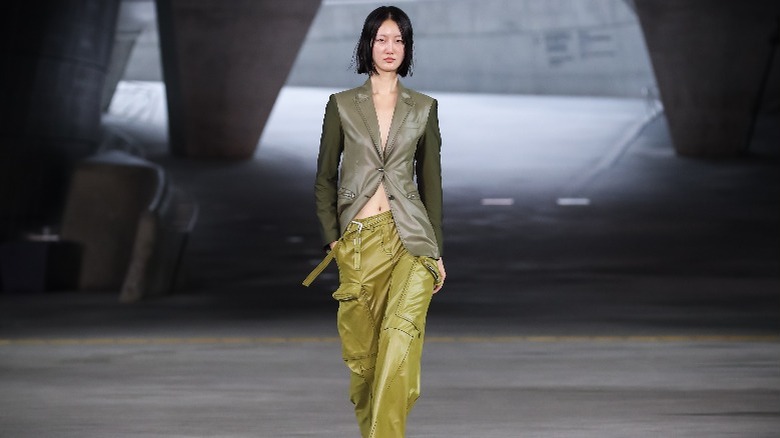 Justin Shin/Getty Images
Switch things up and stop yourself from feeling so exposed with this take on the shirtless blazer trend. The blazer being unbuttoned at the bottom instead of the top will show off your navel without exposing any of your chest area. This option is also great if you have a fuller chest, as you'll be able to wear a proper bra instead of a stick-on bra or boob tape. It still has that sexy vibe due to the lower neckline, but won't leave you feeling quite so open.
Look for blazers designed with wide lapels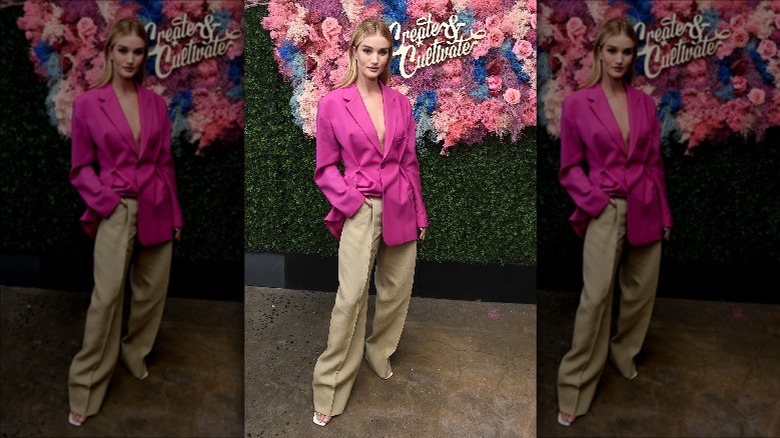 Ilya S. Savenok/Getty Images
A blazer with wide lapels will offer you more coverage than a blazer with slim ones. You can also give yourself more coverage by tucking in part of your blazer at the front. This will prevent the blazer from moving too heavily in the wind or slipping out of place — even tape can sometimes be no match for the weather. If you plan to tuck in your blazer, pants are better than a skirt, as pants can disguise the bulkiness of fabric better.
This outfit is perfect for vacation weddings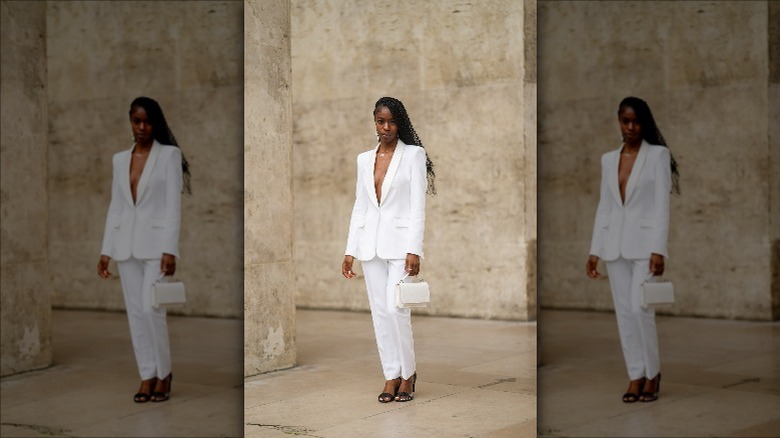 Edward Berthelot/Getty Images
Nothing screams masculine meets feminine quite like a tailored white suit. The tailored design and full length of the pants make this look a solid option if you want to balance out your uncovered top half. Plus, we love how the blazer isn't overly cropped, lending the look a streamlined silhouette. In this outfit, the blazer is fastened but lower down, giving just a hint of cleavage, an ideal look if you have a bit more confidence but aren't fully there.
Go for a menswear-inspired look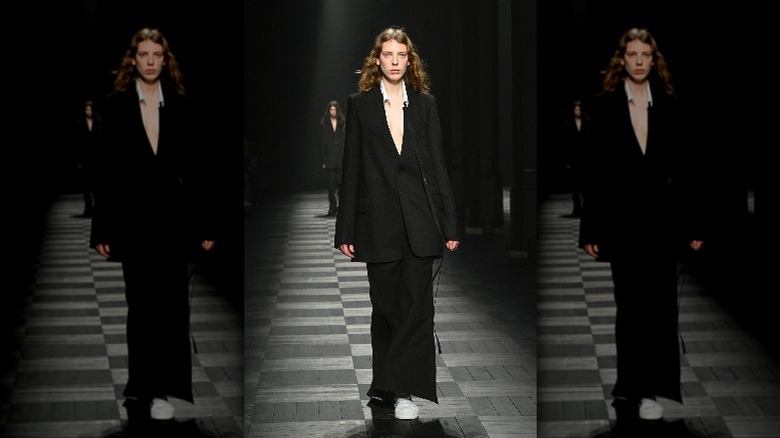 Peter White/Getty Images
Turn traditional fashion on its head by wearing a shirt underneath but only having the collar peeking out. Fresh and cool, this twist on menswear is perfect if you don't like to dress in an overly feminine way. To achieve this look, you just need a regular shirt and tape so you can tape the shirt in place. Make sure to prep the collar so it sits where you want it to, though this may take a few tries depending on the style of the shirt.
Use accessories to your advantage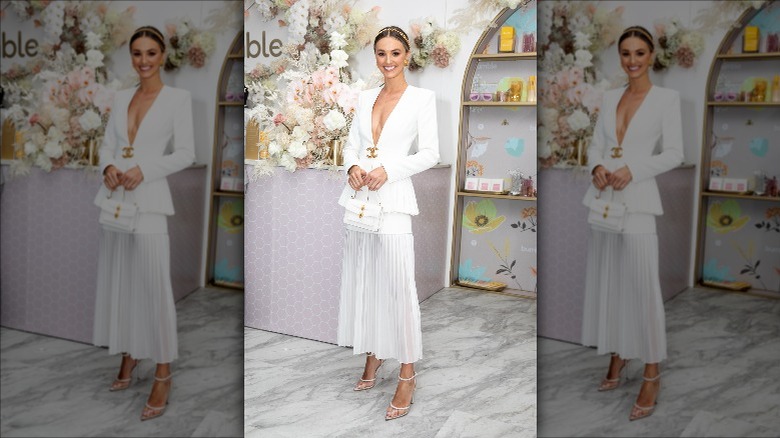 Mackenzie Sweetnam/Getty Images
A topless blazer look is definitely suitable for daytime occasions. The charming white outfit pictured above works well due to the open silhouette of the blazer complementing the flowy nature of the skirt. Brooches have made a major comeback, and we love how the brooch in this look is positioned in the center of the blazer to fasten it together. Innovative and stylish, you can use any brooch to achieve this look, or a pin if you don't have a brooch.