Are There Rules On How Low Your Neckline Can Be For A Summer Wedding?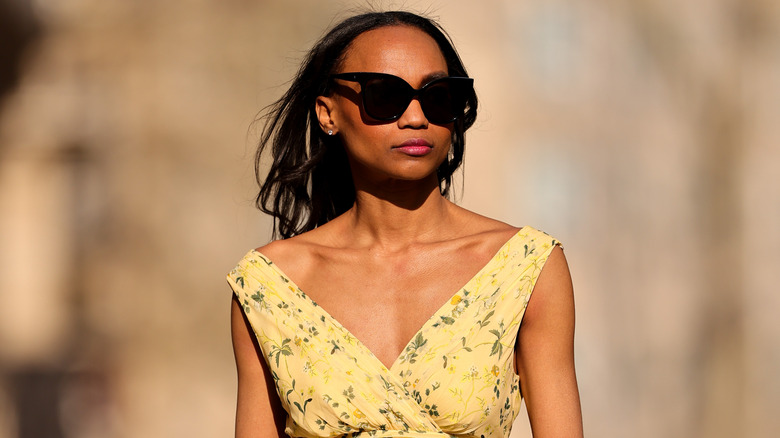 Edward Berthelot/Getty Images
If you have a wedding coming up this summer, you're probably already picking out your summer wedding guest dress. As opposed to a wedding that takes place in fall or winter, summer and even spring weddings often have different dress code expectations. 
Speaking generally, a formal dress code will require elements like a higher neckline in order to make your dress appear less casual, but this may not be the case depending on the general vibe and theme of the wedding. On the other hand, if you're attending a summer beach wedding, you have a lot more freedom in terms of fabrics, styles, and necklines, and the same goes for semi-formal. Remember that, no matter the dress code, an outfit that you wear to the club is probably never appropriate wedding attire — keep it for nights out. 
However, there are plenty more deciding factors that go into whether you can wear an outfit with a low neckline. Here's everything you should consider before opting for that deep V-neck dress.
Always think about the location and time of when the wedding will be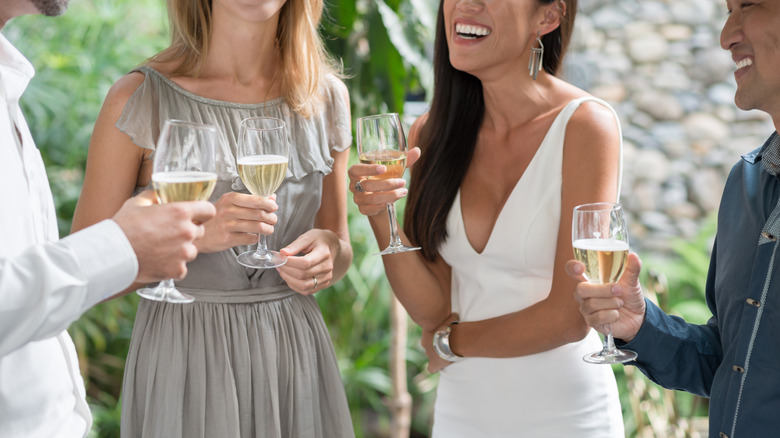 Dragon Images/Shutterstock
In general, the rule is that if you have an outfit with a plunging neckline, that should be the main draw of the outfit. This basically means that you shouldn't go for a dress with a cutout back and a plunging neckline, or a super short mini that also has a deep V-neckline. As Simone Hill, assistant editor at bridal website The Knot, told Bustle, you "can have one sexy element like a plunging neckline, short hemline, cutout, low back, or a body con fit, but no more than one." 
However, there are a few exceptions to this. Most weddings begin in the day with the ceremony but the reception can go on well into the evening. If you are invited to both parts of the celebration, you may look out of place wearing a deep V-line dress in broad daylight. If you are only attending the evening portion of the wedding, it's much more acceptable to show a bit of skin, as guests begin to unwind once the main part of the wedding is over. The same goes for guests, too. A plunging neckline at a wedding with lots of family members is usually a no-go, but might be more appropriate once the formalities are over and people let loose at the reception. 
Don't forget to take the couple's preferences into account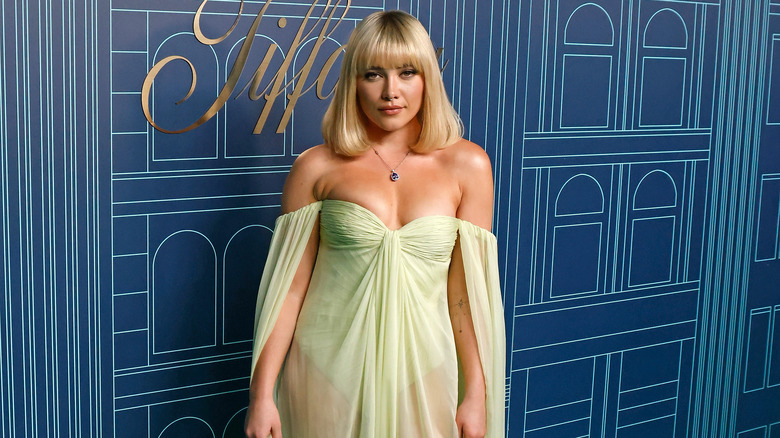 Taylor Hill/Getty Images
If you are attending a wedding with a traditional wedding aesthetic, a low neckline will probably be a bad idea. However, it all depends on the couple in question and their preference — if in doubt, always reach out and double check the dress code if it isn't 100% obvious on the invitation. This will prevent any awkward or embarrassing moments. You may love your plunging neckline dress, but if it isn't approved by the couple getting married, you face them being annoyed and upset. Plus, if everyone else is wearing outfits with a more modest appearance, you could take away attention from the couple, a major faux pas at any wedding. 
Take a look at what the bridesmaids (if there are any) are wearing, too. If they are wearing outfits with lower necklines, it's safe to assume a bit of cleavage is acceptable. If they are wearing outfits with a high neckline or they all have a mixture of different necklines, we recommend asking the couple getting married or a member of the wedding party to double-check if higher necklines are part of the dress code.
Nobody wants to stand out at a wedding for all the wrong reasons, and the above tips will help you pick the perfect summer wedding guest outfit.