Your Summer 2023 Wedding Guest Style Guide Is Here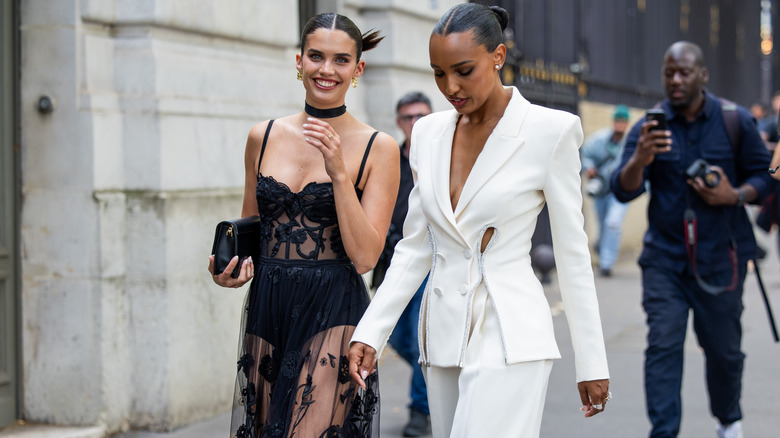 Christian Vierig/Getty Images
Summer wedding season can be the ultimate balancing act between cute styles and trying to stay cool. Add onto that the photo opportunities and finding a unique look that represents your style can be stressful. Incorporating quintessential event looks into your wardrobe can not only be a fun way to express your personality but also ensure that your wedding guest style is a huge hit this summer.
There are some stunning looks inspired by your favorite eras of fashion, as well as fresh silhouettes in classic materials, like linen. From call-back designs to contemporary trending fabrics, there's a look for all weddings, from formal to backyard casual. And whether you want to go bold or keep it minimal, there is a summer trend for you. Plus, if you are someone who is excited about the return of Y2K fashion, the expansion of size inclusivity since the early aughts makes many of these looks more accessible than ever. Let's look at some current summer trends to ensure you have the best summer wedding season style possible. 
Go sleek and sheer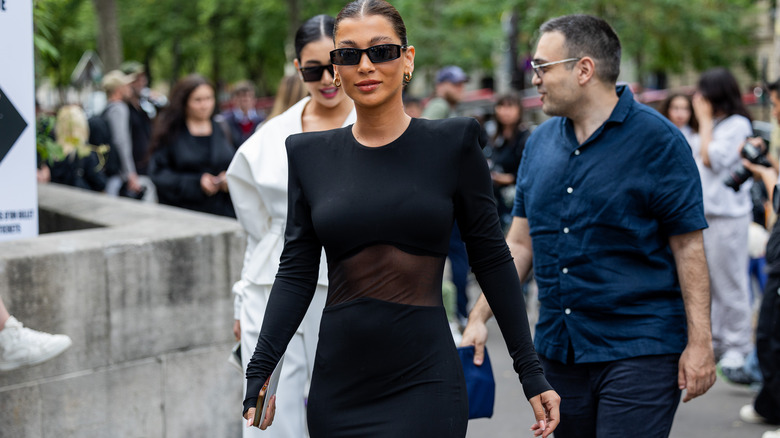 Christian Vierig/Getty Images
Y2K sheer shirts might not be fancy enough for an evening wedding, but there is no denying that sheerness is one of the biggest trends of the summer season. While a full naked dress might be a bit too extreme, incorporating semi-sheer elements or varying mesh fabrics can allow you to give the illusion of sheerness while staying as covered as you want. Another fun option might be to incorporate fully sheer panels or peekaboo styles to elevate your look while ensuring enough modesty to keep the bride's grandmother pleased. The great news is that there are a lot of different sheerness levels and options available for incorporating this trend in a way that you feel comfortable with.
If you're looking to embrace the classic Y2K aesthetic, you might be interested to know that the sheer shirts of the era have been elongated into full-length dresses. These make for unique statement pieces that would absolutely stand out at a wedding. An added bonus of the sheer aesthetic is that many sheer pieces can be used for layering purposes, meaning you can keep wearing your items well into fall and winter.
Enjoy elevated linen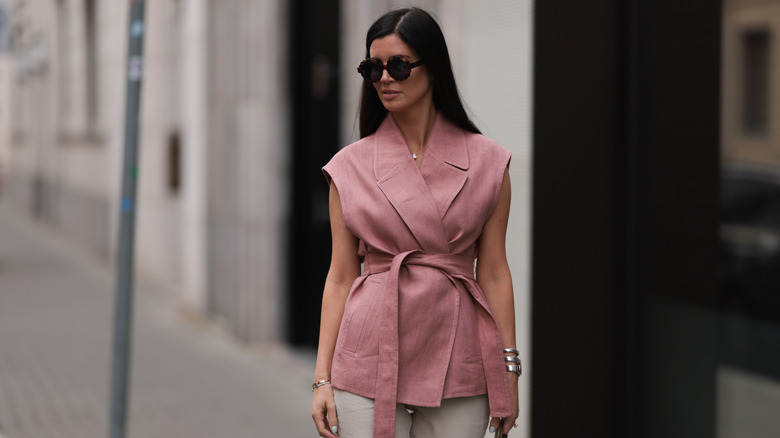 Jeremy Moeller/Getty Images
Linen is absolutely having a moment in 2023. With a relaxed vibe, the fabric also offers a cooling breathability that makes it ideal for summer weather. Since linen has a loose and relaxed aesthetic it lends itself well to trending 90s simplicity like slip dresses and low-rise trousers and can be easily styled for an effortless look.
Linen is also a natural choice for anyone currently embracing the minimalism trend. Since the fabric typically comes in solid colors, and those hues are generally more muted in nature than synthetic fibers, linen is perfect for achieving any stealth-wealth aspirations. The fabric will not only stand out at a summer wedding for its understated chicness but also ensure that you're comfortable and cool on the dancefloor. 
Linen can also serve as a great option to wear to casual daytime wedding celebrations. Similarly, it can be the perfect textile choice for pre-wedding dinners and/or post-wedding brunches where you want to look nice but don't need quite the glamour of the main event. Stick to oversized or slightly less structured silhouettes to ensure you maintain the relaxed aesthetic that makes linen so special. 
Warm up to the cold shoulder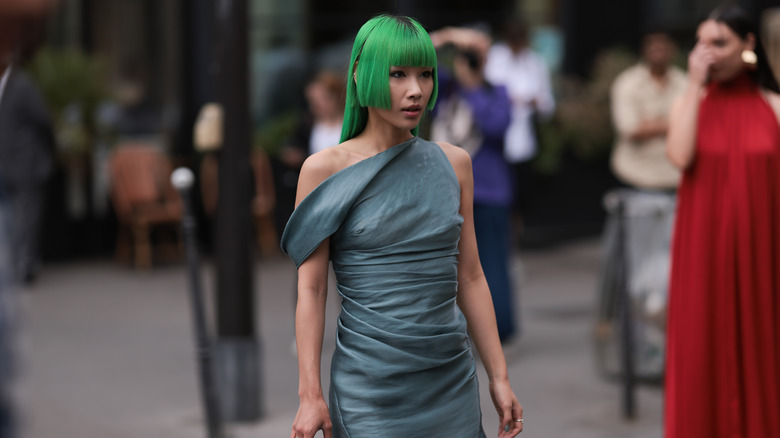 Jeremy Moeller/Getty Images
Another strong throwback to Y2K fashion is the cold shoulder or one-shoulder neckline silhouette. The Fall Fashion Week shows in 2022 were filled with one-shoulder tops and dresses so it's no wonder that the trend has carried over to this summer. The great part of this particular trend is just how versatile it can be. Whether you go with a form-fitting or relaxed silhouette, the one-shoulder neckline adds a subtle sexiness to any outfit.
The trend also pairs nicely with other contemporary trends like crop tops, matching sets, and cutouts. The single sleeve can provide nice variability with different lengths, embellishments, and a shaped sleeve like a bell or puff. Plus the fact that you can embrace this trend with either a dress, jumpsuit, or separates leaves you with a lot of options to best fit the style, theme, and dress code for the wedding you're attending. This trend can also be a fun way to show off tattoos or even your summer tan.
Keyhole cutouts for subtle pops of skin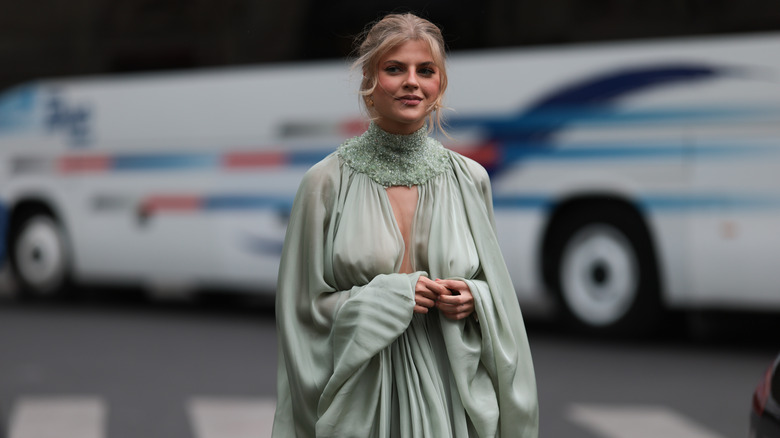 Jeremy Moeller/Getty Images
Cutouts are back and have been seen in everything from swimwear to athleisure. While the cutout movement of the early aughts oftentimes invoked questionable wannabe clubwear, the keyhole silhouettes of 2023 are generally more thoughtful than their predecessors. Many cut-out silhouettes balance the extra skin on display with long sleeves or high necklines for an even more dramatic contrast. The variability in boldness within this trend makes it more accessible and allows you to find exactly what's comfortable for you and your body.
Seek out strategic cutouts that work for your body type, and stay away from anything that could lead to a potential wardrobe malfunction. Just because you're embracing the early aughts doesn't mean you need to call back to any infamous Super Bowl halftime shows. Finding a silhouette that highlights the parts of your body that you love — whether that's your cleavage, your collarbones, or your legs — is the ultimate key to feeling confident and empowered in your look. One of the best things about the cutout trend is that you can wear it any way you want.
Matching sets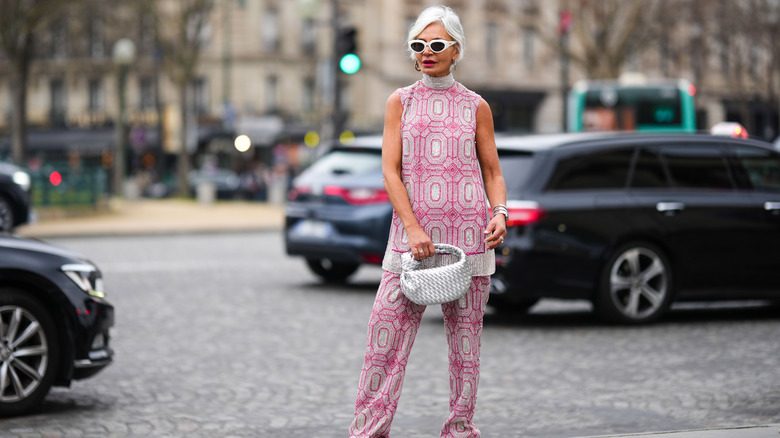 Edward Berthelot/Getty Images
The matching sets that have taken over fashion are an undeniable extension of the pandemic sweats we basically lived in for a year. In this way, the fun secret pajama aesthetic of matching separates is absolutely a callback to Y2K aught fashion. Best of all, it makes for a unique wedding look. You're not only guaranteed to be the most comfortable wedding guest at the reception, but with unique fabrics and color options, you can elevate your matching set to chic status. And, the best part is, that you'll absolutely be able to wear it again, and again.
Look for textural fabrics that offer a luxurious quality to elevate your set. From flowy high-shine silks and satins to textured laces and eyelets, fabrics with texture or sheen can create elevate your aesthetic for evening wear. The added bonus of a matching set is the wide variability of available silhouettes. While the camp collar long-sleeve shirt with wide-leg pants is a classic, don't be afraid to try a crop top, tunic, or even a midi-length skirt. If you do decide to go with the classic set silhouette make sure to be thoughtful with your print options. Sticking to solid colors or monochromatic patterns can help you avoid looking too obviously pajama-esque while achieving a bold look.