What To Wear To A Wedding When The Dress Code Is 'Casual'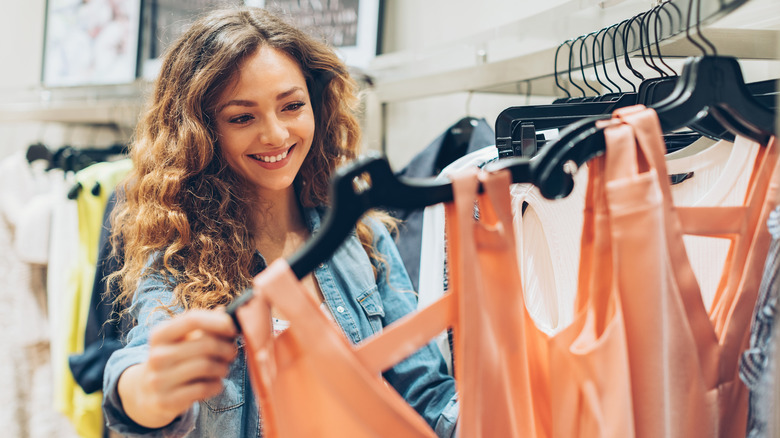 Pixelfit/Getty Images
Whether you're in the wedding party or are attending as a guest, a whole lot of planning comes with partaking in the age-old ceremony. Not only do you have to prepare yourself for mingling and socializing, but you also have to decide what to wear. And while many weddings are dressy, the decision can be even tougher when the invite indicates that the big day's dress code is casual.
Your wedding guest outfit might seem trivial, but aesthetics play a huge role in the wedding ceremony. For instance, one of the most common post-wedding praises that people will say is, "It was a beautiful wedding." As a guest, you want to fit into the wedding's ambiance of style and class. You may have a go-to look or favorite dress for formal weddings, so you might be at a loss when trying to pull together a casual look. But don't panic. We've put together some guidelines to ensure you fit right in.
How casual a casual wedding is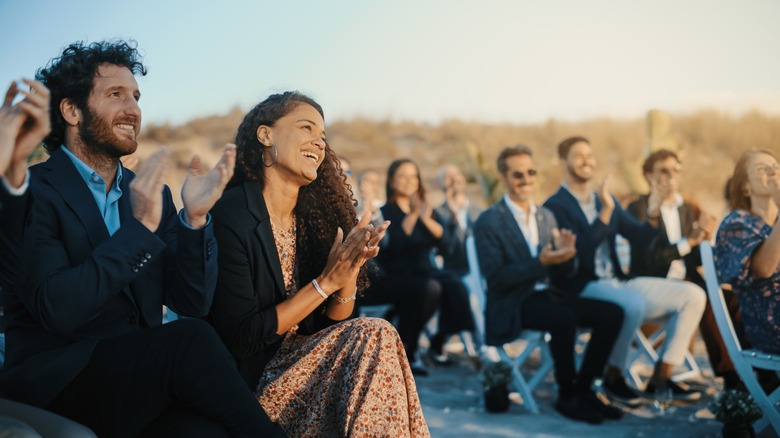 Gorodenkoff/Shutterstock
In general, when someone defines their wedding as casual, you have to remember they are comparing it to a traditional wedding. While it's likely that no one will be in black-tie attire, it will be expected that everyone will dress nicely. You can typically expect that a casual wedding will be a bit smaller and at a simpler venue, giving it a more intimate, laid-back vibe. However, the event is still extremely special to the people getting married and holds great significance. You'll want to pick an outfit that is less formal but still shows effort and respect for this importance.
"Casual" in the context of a wedding dress code is much different than that of regular party or restaurant attire. While you might show up to a casual party in shorts and sneakers, this could be a major no-no at a casual wedding. Yes, you'll want to put away your gowns and suits. But, you'll also want to steer clear of jeans, flip-flops, and any athleisure or loungewear. Of course, these things are totally acceptable if they are requested to be worn on the invitation.
Ideas for a casual wedding outfit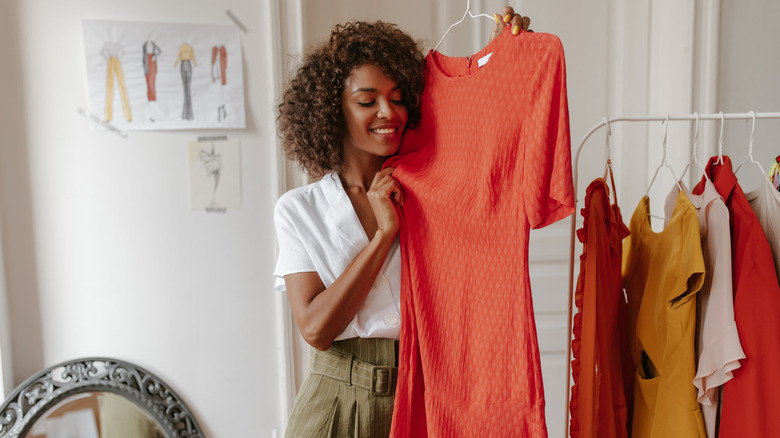 Look Studio/ Shutterstock
What's nice about a casual wedding is that you likely don't have to go out and buy something new. And if you do, you can likely wear it much more often than you would a more formal piece you'd buy for a traditional wedding. In an interview with Brides, personal stylist Yasmin Moinian gave some basic suggestions for casual wedding attire. Moinian remarked, "[The] basic dress code for a casual wedding would be [to not wear] something overbearing. Don't go above and beyond. Just an easy dress that you could wear day or night."
Add accessories to elevate your casual look and show off your personal style. And keep in mind that you might want to hit the dance floor. Moinian recommends opting for a block heel or wedge — which can both be ideal for a comfy, casual look.
When piecing together your outfit, you can think about the season and setting of the wedding to draw inspiration. For instance, if the wedding is in the springtime and at a small rustic venue, you'll want to wear something more earthy and light. But, if you want to pick the perfect outfit for a beach wedding, it'd be best to gravitate towards something bright and flowy. Whatever you do, don't get too glammed up or too dressed down, and you'll be good to go.