Your Guide To All The Different Wedding Dress Codes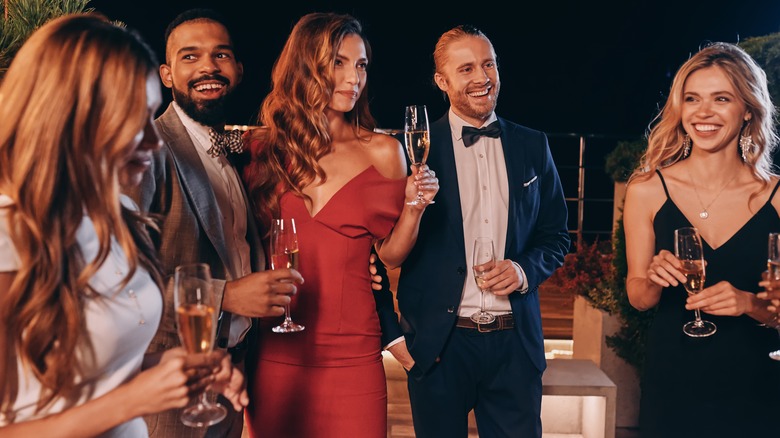 G-Stock Studio/Shutterstock
Summer is here, which means that wedding season is in full bloom. With free food and love in the air, weddings can seem irresistible to attend. Yet, you're left with one big dilemma: What do you wear? If you have an upcoming wedding to attend, it's probably a good idea to check the expected dress code for guests. Couples spend a lot of time nailing down the details of their wedding day, including theme and attire. Dress codes are often tied to a variety of factors like the wedding venue, season, time of day, and most importantly, the couple's wishes. The last thing you want to do is show up to a casual backyard wedding in an evening gown and high heels. Similarly, a black-tie affair can only call for nothing short of your very best gowns and suits.
Luckily, we've compiled a list of the most common wedding dress codes and what they really mean. Here's what you can wear stress-free all wedding season long.
Beach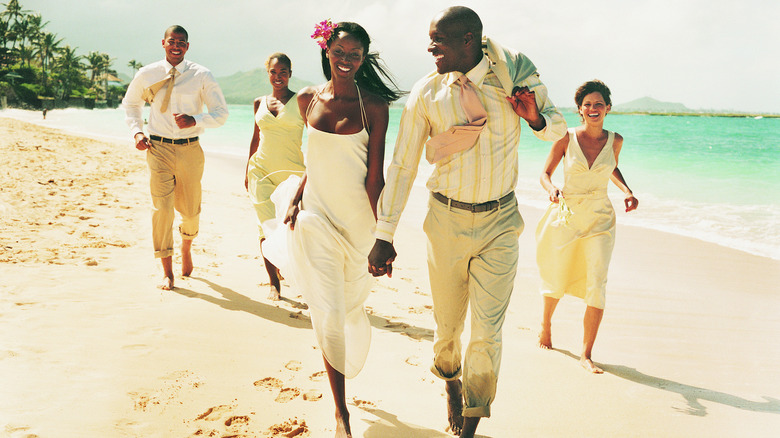 Digital Vision./Getty Images
Beach weddings are a dream come true. As a guest, you get to sit back, relax, and enjoy some stunning views. Yet, a beach wedding dress code can be a bit of a mystery. There are so many unanswered questions, like what shoes, if any, do you even wear? And then there's the sand problem, where you risk just about any outfit being ruined or covered in sand.
The best place to start when choosing your attire for a beach wedding is with lighter fabrics. In order to prevent potential overheating, light linens or cotton-based outfits are great options. Flowy dresses that can sway with the wind or lighter jumpsuits can also be perfect for the beach. If the wedding invitation doesn't say anything about the level of formality, then dressing in semi-formal attire is probably your best bet for this sandy affair. You can also gravitate toward lighter colors, like shades of blue or pink that will complement the beach backdrop. Don't forget to carry a shawl or jacket with you if the ceremony is in the evening, as it can get quite chilly.
For shoes, sandals are your best friend."If the ceremony is in the sand and the couple isn't putting a platform down of some sort, you'll probably want to be barefoot or in flat sandals, because even a block heel will sink," said bridal stylist Gabrielle Hurwitz in an interview with Martha Stewart.
Casual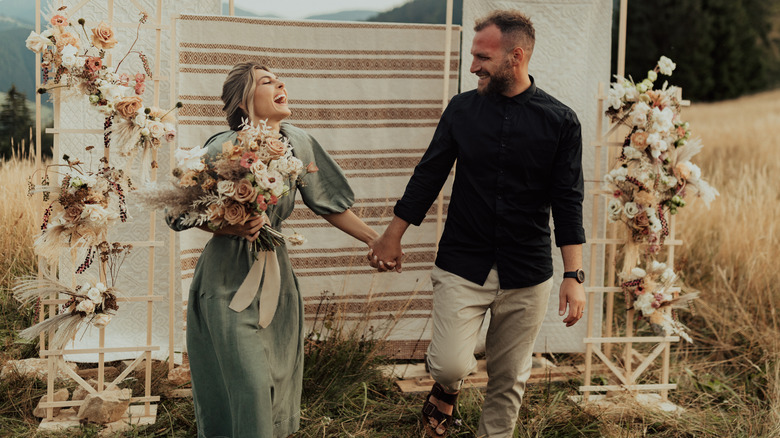 Doralin Samuel Tunas/Shutterstock
Dressing for a casual wedding can be harder than it seems. After all, you're still attending a wedding, so showing up in a sweatsuit is probably out of the question. Yet, a formal gown or suit is also not quite what's required. "[The] basic dress code for a casual wedding would be [to not wear] something overbearing," said personal stylist Yasmin Moinian in an interview with Brides.
The best option for a casual wedding may be to wear your most casual dress or skirt. Even a nice button-up with slacks can do the trick of showing respect for the wedding while remaining less formal. Typically, jeans or sweats are best left at the house, as these items are not really appropriate even for a casual wedding unless otherwise specified by the couple getting married. Your casual attire may also be influenced depending on where and when the wedding is. For instance, casual backyard daytime wedding attire will be much more laid back than a casual evening wedding indoors. As for footwear, you'll probably want to avoid sneakers or tennis shoes. However, sandals, flats, or wedges are all fair game.
Festive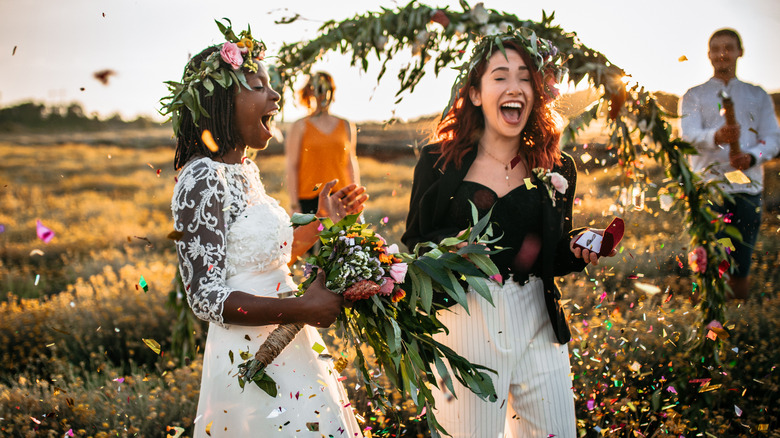 Hobo_018/Getty Images
What does it exactly mean when a wedding invite calls for festive attire with no other specifications? Well, for starters, you'll definitely want to pull out your most colorful looks for this event. Typically, festive equals fun, and this rarely means sticking to neutrals. Instead, try matching your colorful festive look to the wedding season. For instance, a festive wedding around the holidays calls for rich jewel tones like emerald green, dark purple, or a crisp red. You can also play around and get creative with silhouettes like a one-shoulder dress or a silk button-up. To dress up your colorful look, aim for a cocktail-type gown or suit. This will allow you to be wedding-appropriate, while also sticking to the festive theme.
Sequins and accessories have never been more appropriate than when you have festive guidelines to work with. Don't be afraid to add a pop of color with some festive socks or a bright heel. You can even add a sparkly bag or flowers to your hair as fun accessories. For a tropical wedding, fun sunglasses are also necessary to shield your eyes from the sun.
Semi-formal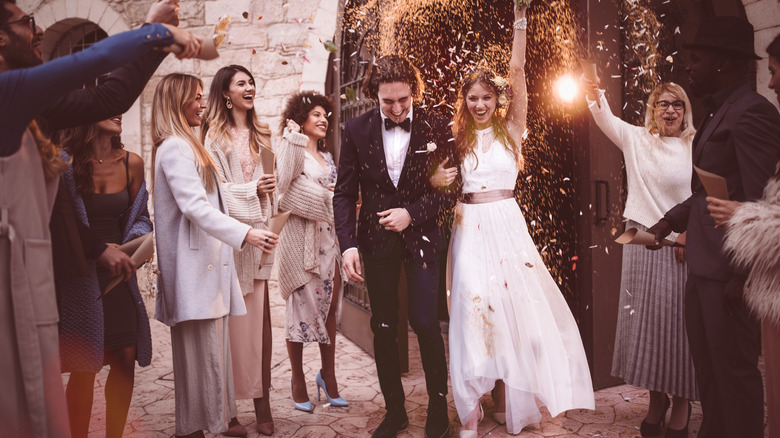 Wundervisuals/Getty Images
Just a step up from casual, semi-formal attire lies somewhere between formal and not. This means you can have fun mixing and matching casual pieces with dressier items, like a formal skirt with a simple top and some flats. Think of this wedding attire as dressy casual, with the kind of outfits that would be perfect for a barn or backyard wedding. We're thinking of sandals, summer dresses, white or black dress pants, and khakis. For semi-formal events, it's best to leave the jeans and flip-flops at home. However, there is also no need to pull out a full suit or a floor-length gown.
Most weddings nowadays call for semi-formal attire. This is often to give the guests some freedom as to what they desire to wear, while also encouraging them to elevate or dress up their daily casual looks. For instance, if you typically opt for jeans, a nice top, and some wedges for a dinner out, try switching out the jeans for some dress pants and adding some fine jewelry to elevate your everyday attire. A semi-formal dress code can also be a popular option in the summer, while the weather is hot. This makes wearing your favorite little black dress with some sandals the perfect go-to for a semi-formal wedding.
Cocktail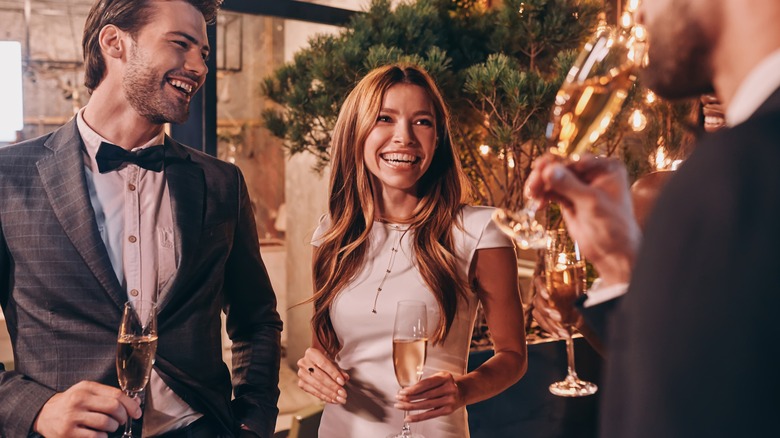 G-Stock Studio/Shutterstock
One of the more popular choices for a wedding dress code is cocktail attire, as it's easy for guests to follow. Known for its flexibility, cocktail attire allows you to be dressy, yet not too dressy at the same time. You can think of cocktail attire as a slightly dressier cousin of semi-formal attire. Of course, the level of formality also depends on the venue, season, weather, and time of the day the wedding is taking place. Yet, this wedding dress code also calls for timeless trends, meaning tea-length dresses or a suit and tie are pretty standard. A stylish pantsuit can also be a chic option.
For classic accessories, opt for a watch, leather shoes, or polished heels. When coordinating colors for your outfits, try to avoid overly flashy colors like a bright silver or neon green dress. Instead, more subtle tones like navy or taupe with simple accessories would be a great choice for this particular dress code. For silhouettes, a more structured look like a tailored suit or dress is a good option. Regardless of your specific outfit choice, try opting for more sophisticated and classy looks when dressing in cocktail attire.
Sunday best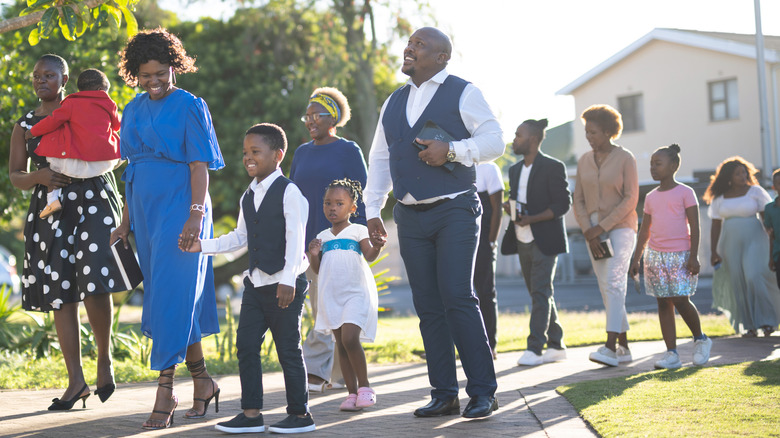 Pixelcatchers/Getty Images
Wearing your Sunday Best is exactly as the title indicates, your best Sunday or church-appropriate attire. Think Easter dresses, long maxis, and modest sweaters or jackets. The main goal for your outfits should be to wear something that is formal and appropriate for a church service, like a buttoned-up shirt and pressed pants. If your wedding happens to be on a Sunday or during the daytime, then floral dresses are a great option to remain classy, while adding a delicate touch. Gravitate towards dresses that are not too tight and can make you feel comfortable. Pastel colors like lavender or rose pink are also great options to incorporate for Sunday Best attire.
Sunday Best also gives you the unique opportunity to wear sophisticated tea party hats and gloves depending on the venue of the wedding. These can make for great accessories that elevate a simple outfit. Frills, pearls, lace, and ribbons are also all welcome and encouraged to incorporate with your Sunday best outfits.
Of course, just like your outfit, Sunday dress shoes are also required. If the wedding is taking place on grass, you can add sky-high pencil heels to the list of what not to wear to a wedding. Instead, opt for block heels that won't sink in, allowing you to walk confidently. Oxfords or loafers are also appropriate and sensible footwear choices.
Black-tie optional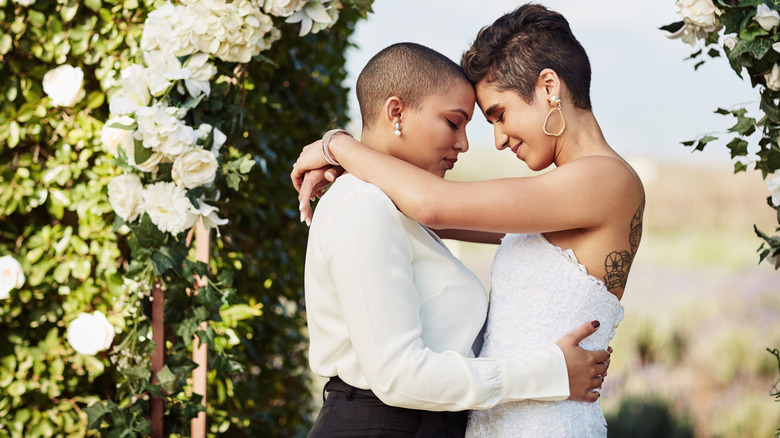 Luminola/Getty Images
As the name suggests, black-tie optional is a dress code that gives you the option to wear a black-tie ensemble or modify it to have more freedom with your formal wear, without the dos and don'ts of a black-tie affair. The main difference between this wedding dress code and a true black-tie affair is the extra wiggle room that guests have to cater to their own personal style while remaining formal.
If you get an invite to the increasingly popular black-tie optional wedding, try to opt for classy colors like black, navy, or charcoal gray. You can skip light pastels altogether, as they give off a less formal feel. However, you can take more risks with a polka-dotted dress or geometric-patterned tie. You can also choose between a floor-length gown or a chic cocktail dress. Tuxes can also be swapped for darker suits, depending on what you're comfortable with. Dress shoes like leather shoes and socks that match your trousers are still a great call for this dress code, while solid pumps will add a glamorous finish to your overall dress code. A sleek clutch and timeless accessories like a watch will help add the final touches to your dress code. Just remember that, while you have some leeway with your accessories, it's probably better to dress up than down.
Black-tie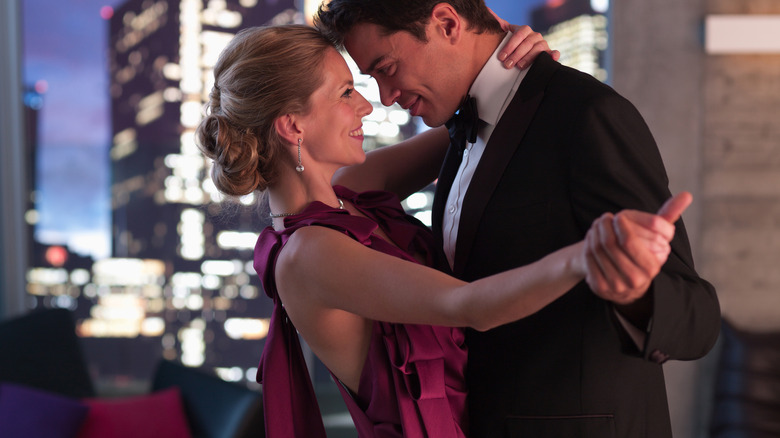 Chris Ryan/Getty Images
If you receive an invite to a black-tie wedding, you know it's going to be gorgeous and expensive. This is one excuse where dressing to the nines and in your finest attire is an absolute must. Traditionally, black-tie attire means dark tailored suits, evening gowns, and a glamorous yet tasteful look. But this doesn't mean that you necessarily have to spend an exorbitant amount of money. Stick to the basic rules of a black-tie event and you should be golden. For instance, it is best to stick to longer floor-length dresses and skip out on shorter ones. In addition, grooming your hair and accessorizing with jewelry and sensible shoes is a must.
A dapper tuxedo in dark colors like black or navy is a great option. Neckties or bow ties are also encouraged, as is footwear like loafers or dress shoes. For gowns, a black formal gown never fails to do a trick. However, muted colors like burgundy, navy, or dark green can also be great choices for a timeless look. It's important to also consider rich fabrics like silk or satin, which may help present the black-tie aesthetic. Minimal accessories like pearl studs or a classy necklace can help tie your whole look together. Complete the glamorous look with some slicked-back hair and a red lip.
White party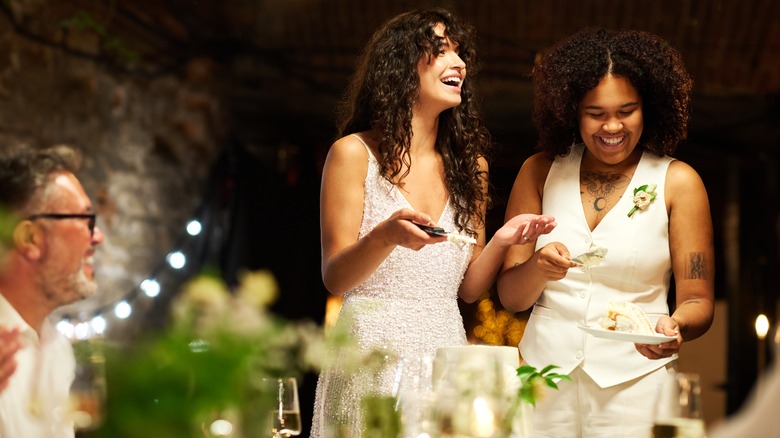 Pressmaster/Shutterstock
Now, everyone knows that the number one cardinal rule for wedding guests is to never wear white. This is because, at traditional weddings, brides will often wear a white dress, so guests avoid this color out of respect. However, these traditional rules go out the window when the wedding theme is a white party. For this wedding dress code, you are not only encouraged but expected to wear white. Typically, you'll get informed of the couple's desire for guests to wear white through the wedding invitation or their wedding website. This monochromatic look is often preferred for weddings hoping to achieve a certain aesthetic and to keep the guests looking uniform.
However, just because the attire is to be a certain color, doesn't mean you can't still have fun with the fabrics, shades, and textures of what you wear. Typically, white parties also have different levels of formality, so be sure to clarify this with the hosts. For instance, white linen pants or a romper can be a great option for a casual beach wedding, while a white silk dress is typically better suited for a more formal black-tie event. Remember to stick to the monochrome theme even for your shoes and accessories. Your hosts will not only appreciate it, but it will make your outfit seem more cohesive.
Retro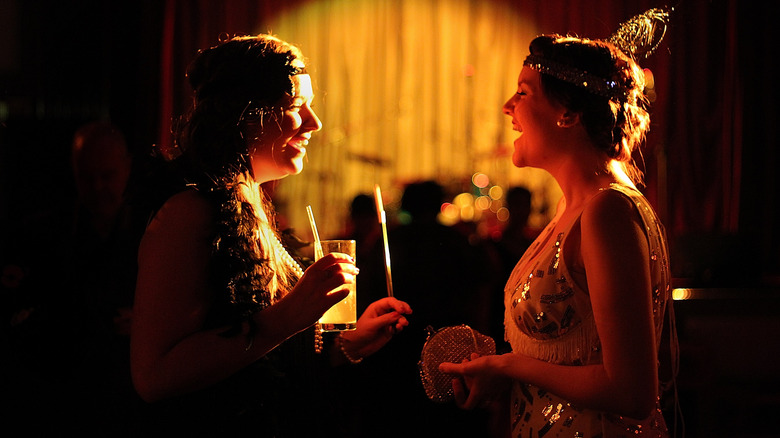 Peter Macdiarmid/Getty Images
It's not every day that you find yourself attending a retro wedding. Typically, this wedding theme revolves around a particular era and encourages guests to rewind the clock in terms of their wardrobe. When dressing for a particular era, it's important that your entire look matches. This means coordinating even your hair and makeup to match the decade the couple wants to celebrate. For instance, a 1920s-themed wedding is perfect for short bobs, flapper dresses, boas, and all the sparkles you can think of. A 1970s-themed wedding, on the other hand, requires long sleeves, lace, and flared pants.
The main way to nail the retro dress code is simply to put effort into your outfit. If you're unsure that your attire will be appropriate, just ask other guests or the hosts for some guidance. As long as they see you trying, they'll be more than happy to point you in the right direction.