Did You Know Your Bikini Top Can Be A Streetwear Staple? Here's How To Pull It Off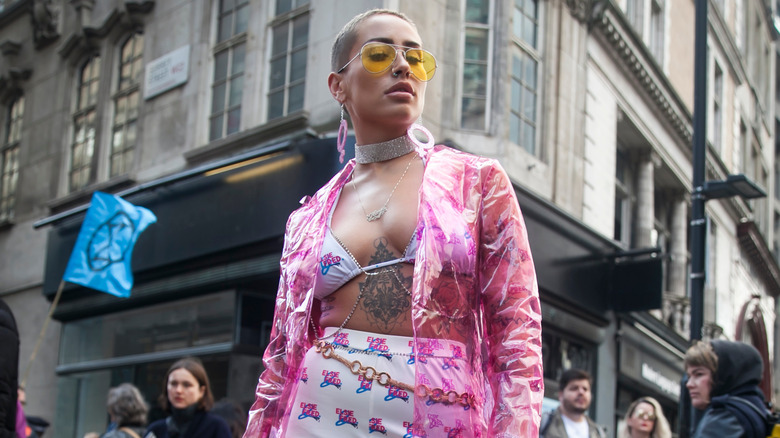 Elena Rostunova/Shutterstock
Bikinis might have started off as swimwear in the '40s, but they're no longer just for the beach. Celebrities, high fashion models, and influencers are all rocking the polarizing "no pants" trend that's turning underwear into outerwear, and sheer fabrics leave little to the imagination; something that could be tied to our post-COVID society. According to fashion historian Einav Rabinovitch-Fox, the less-is-more clothing trend is nothing new. "Similar things happened in the 1920s, after the flu pandemic of 1918, when clothing became light and loose, almost wanting to discard heavy fashions that can be health hazards and make it difficult to breathe," she told W Magazine, suggesting, "It [could be] an unconscious way to break free from Covid."
Fashion also has deep-seated ties to feminism. Flappers in the 1920s traded in their corsets for loose silhouettes and shortened hemlines. In today's version of the roaring '20s, see-through designs, cut-outs, and micro minis have in part coincided with the Roe V. Wade timeline. This year, we're ready to integrate bikini tops into our wardrobe rotation. They're surprisingly versatile depending on your choice of bottoms, outerwear, and accessories.
Denim minis are the way to go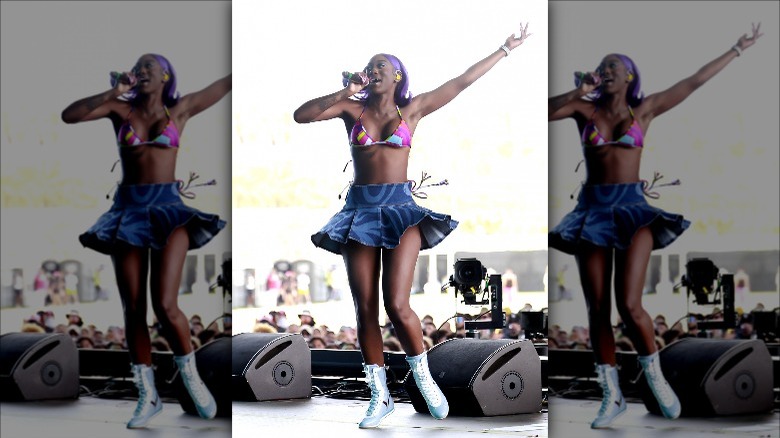 Emma Mcintyre/Getty Images
Mini skirts, which have been a staple for the last 60 or so years recently got a lot shorter. In 2022, Miu Miu's controversial micro-mini took off. However, unlike mini skirts of ages past, it's approximately 10 inches long and ultra low-rise — the perfect recipe for minimal coverage. Channel rapper Flo Milli and wear it with a colorful bikini top and sneakers. If you're looking for a bit more fabric but still want that mini aesthetic, opt for a pleated denim skirt. Anything that combines comfort and fashion is a win in our books. 
Pull out that patterned duster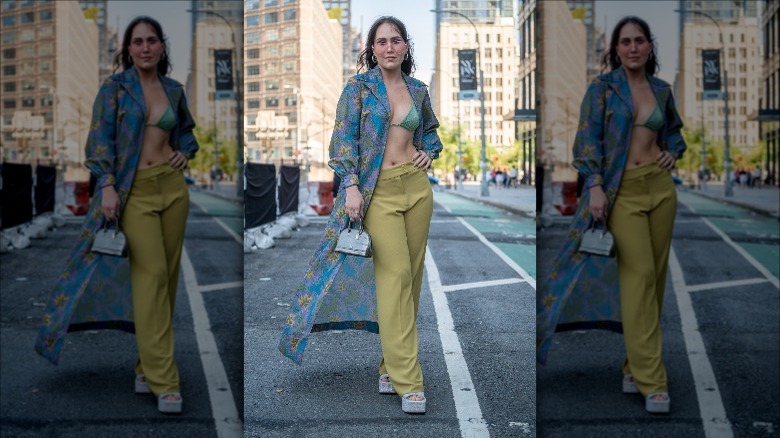 David Dee Delgado/Getty & undefined
Ever since "Daisy Jones and the Six" took off on Amazon Prime, duster jackets are back and better than ever. Most importantly, they're adaptable. "Depending on what climate you live in, you can wear the duster alone as a jacket, layer a hoodie underneath, or a trench on top," celebrity stylist Shea Daspin explained to InStyle. When paired with a colorful bikini top instead of a typical blouse or shirt, the duster becomes the focal point of the outfit. On those warmer days, wear a light, floral-patterned duster with bright trousers and platform sandals. Of course, you'll need to tie it all together with celebrity-worthy shades.
Some cowboys wear bikinis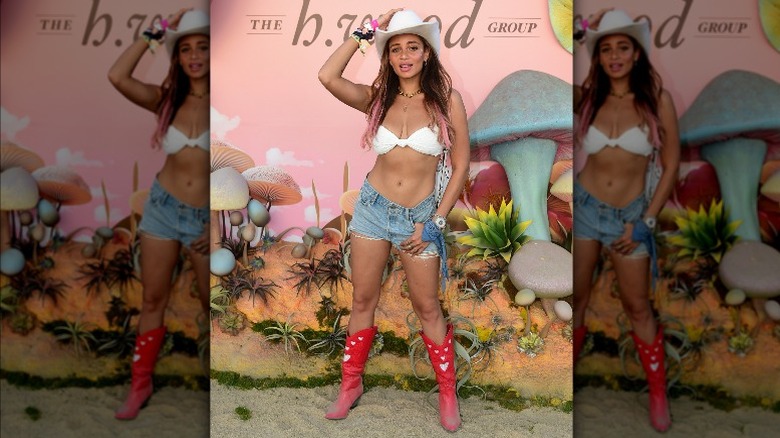 Vivien Killilea/Getty Images
As the weather warms up, a bikini top is one of the best ways to stay cool, especially if you're attending any music festivals. This year, wear a classic white bikini with classic jean shorts (aka "jorts") and a cowboy hat to protect your face from the sun. Complete the country western look with bright red "Footloose"-style cowboy boots and a bandana around your neck. This casual look is best styled with beach waves, minimal makeup, and lots of sunscreen.
It's giving CEO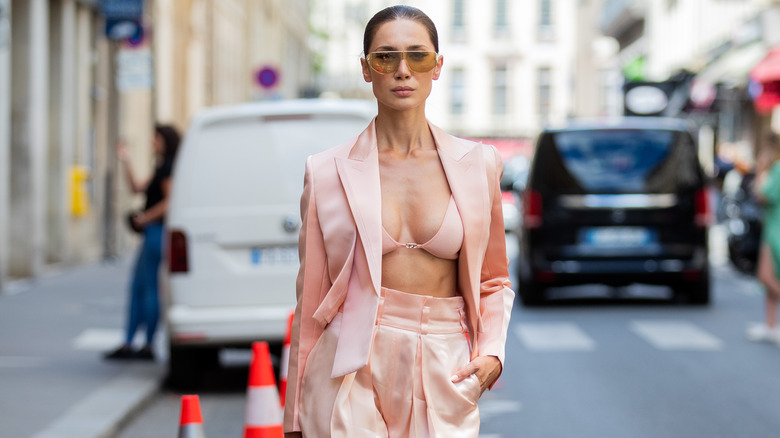 Christian Vierig/Getty Images
Admittedly, it's more than likely your boss won't allow bikini tops in the office. However, that doesn't mean you can't style a shiny suit and bra top combo in your off hours. From Gigi Hadid to Hailey Bieber, the blazer and exposed bra top combo is a streetwear must. Pair a satin blazer with matching high-waisted trousers and a complementary bikini bralette. Style your hair into a slicked-back bun, and add extra height with stilettos or platform boots.
High-rise maxis provide some security
Maxi skirts are giving micro minis a run for their money. Plus, they're ideal if you're looking to contrast a low-cut bikini top. "I often advise clients to style a maxi skirt [sic] with something simple and fitted on the top — for example, a bodysuit or a simple tank top," Stitch Fix stylist Allison Bornstein told InStyle. Following that reasoning, a bikini top is the perfect option. Finally, layer on a light oversized button-down. "I love the idea of creating long lines to create an exaggerated proportion," Bornstein suggests. Pull your hair back with a bandana.
Longline shorts are a must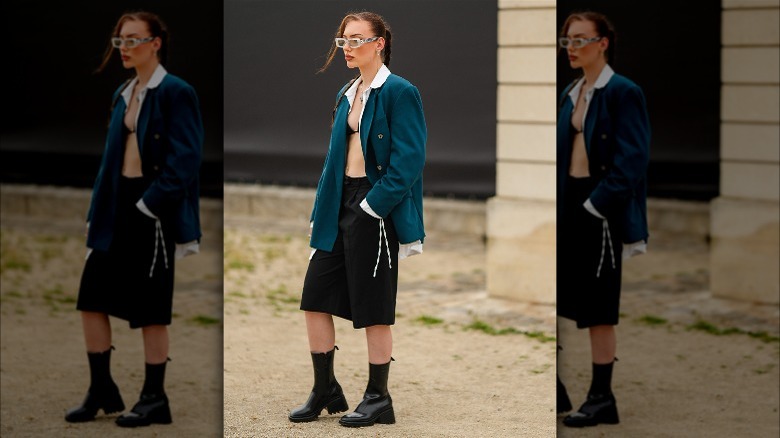 Edward Berthelot/Getty Images
The fashion world operates in extremes. There's the maxis vs. minis debate, and minimalist "clean girls" are the antithesis of loud and proud fashion maximalists. Now, the rise of longline shorts contrasts with the celebrity-driven "no pants" aesthetic. The conservative trouser makes for the perfect pairing with a simple black string bikini top. On top, layer an unbuttoned button-down, and, depending on the weather, an oversized blazer. Heeled Chelsea boots and fashionable shades will take your look to the next level.
Crochet is here to stay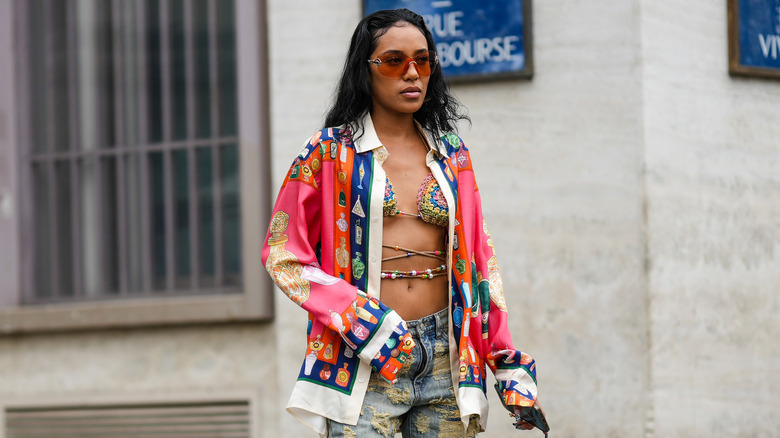 Edward Berthelot/Getty Images
From bucket hats to beach cover-ups, '70s-style crochet is in the midst of a renaissance. Although crocheted bikini tops aren't great for swimming, they get the job done when it comes to making a fashion statement. Whether you DIY your own top with the help of a YouTube tutorial or order a checkered design from your favorite boutique, crocheted bikinis are best styled for the street alongside distressed denim, a bright patterned overshirt, and — if you're looking to go all out — beaded elastic waist chains.
Risqué Canadian tuxedo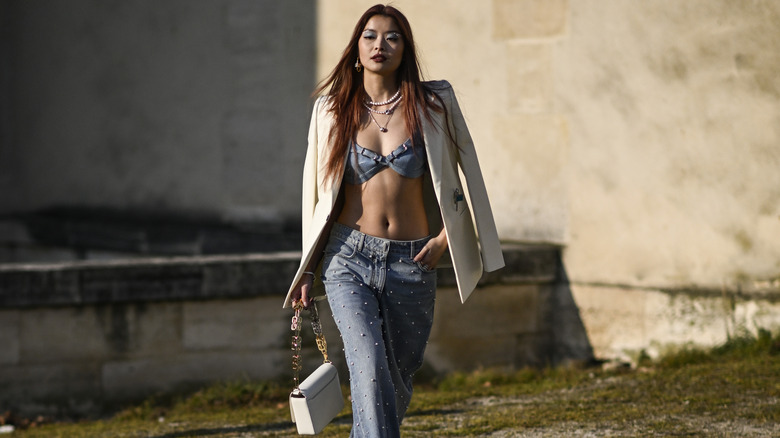 Daniel Zuchnik/Getty Images
Britney Spears and Justin Timberlake wore a polarizing matching denim look to the 2001 American Music Awards. In the 20-plus years since the iconic pop duo called it quits, JT married Jessica Biel, and double denim went from campy to high fashion: Just look at designers like Saint Laurent and Marc Jacobs. This season, put a sexy spin on the classic Canadian tuxedo, and wear a denim bikini top with matching wide-legged pants, a blazer (ideally denim), and heels. Take it above and beyond by jumping on the denim footwear trend and experimenting with washed denim eye makeup. 
Find a beaded shear top
Haven't decided how to style that see-through top you purchased on sale? Wear a black bikini underneath. "The texture [of a sheer top] adds depth to pieces I already own, it's the perfect layering piece," Tibi founder Amy Smilovic told Harper's Bazaar, noting that "It's the ultimate balancer to a big full pant or a midi skirt that on its own could feel more conservative." With this in mind, opt for baggy low-waisted pants and let your underwear waistband peak through.
Shrug off the sun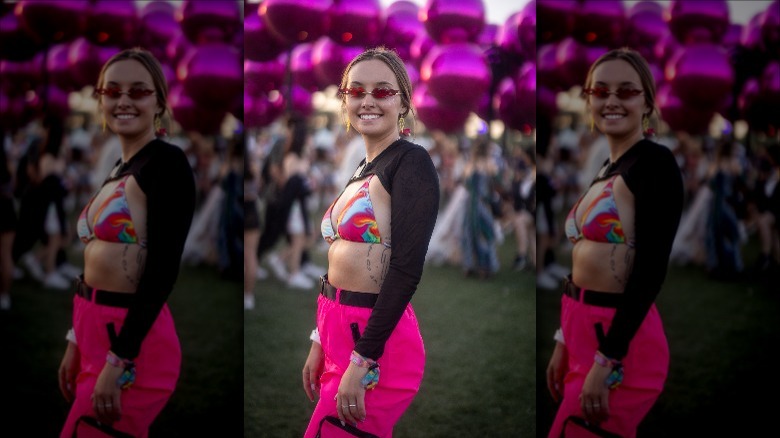 Emma Mcintyre/Getty Images
Wearing a bikini on its own more or less demands constant sunscreen application. However, a shrug top will add some much-needed shoulder coverage in the spring and summertime. If you're headed to a festival, throw on a simple black shrug over a patterned bikini and statement pants. Have an old pair of leggings lying around? Slice off the feet and wear the legs on your arms à la @444layna. "Tights are so cheap and versatile and can be converted into so many different clothing pieces, with just a pair of scissors and a little bit of creativity" the creator advised Byrdie.
Layer over instead of under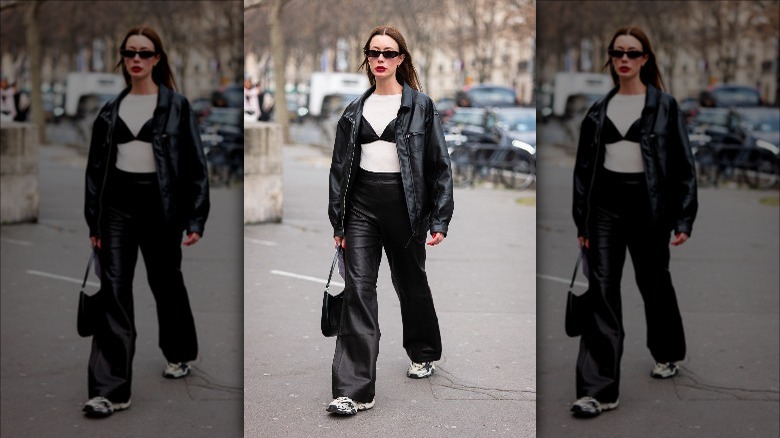 Claudio Lavenia/Getty Images
If you're hoping to keep your midriff covered, contrast a plain white tee shirt with a black bikini top (or vice versa), wearing wide-legged faux leather pants and a matching leather shacket. Accessories with a sleek black purse, sneakers, and '90s-style shades. While bikinis are most often layered beneath other clothing articles, this approach will make you stand out. Plus, leather will add a bit of edge to the look — it's giving bikini biker, but cold-weather appropriate.