10 Elevated Ways To Wear A Classic Jean Short This Summer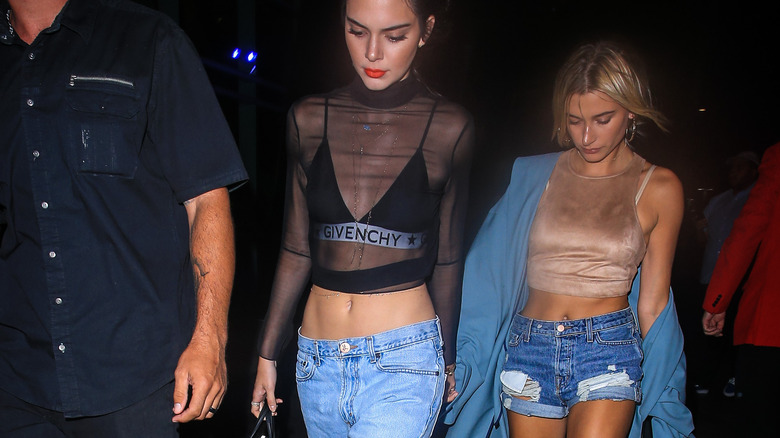 Bg001/bauer-griffin/Getty Images
We know that jean shorts are the ultimate summer essential, but let's be real, sometimes it's easy to fall into a style rut, pairing them with the same old t-shirts and flip-flops. No matter how comfy that breezy style is, we're taking jean shorts to a whole new level this summer and showing you all the ways you can add a unique twist to the same old combo.
Imagine sipping a refreshing cocktail at a beachside cafe, your favorite jean shorts perfectly hugging your legs, turning heads left and right. From oversized blazers and flirty crop tops to delicate accessories and resort-inspired footwear, we've a treasure trove of ideas to help you elevate your jean shorts game.
Whether you're heading to a backyard barbecue or a glamorous rooftop soirée, there are always new ways to make a lasting impression. Grab a frozen margarita or an ice-cold Diet Coke, sit back, and let us guide you to your most fashionable summer yet.
Pair them with big boots
Remember when ankle boots and shorts were the ultimate combo? Well, now you can take it up a notch without having to worry about looking dated because this summer, we're all about knee-high boots, especially chunky ones! This unexpected pairing brings together the laid-back coolness of denim shorts with the fearless attitude of bold boots. Whether you're rocking out at Coachella and eating $20 dollar nachos or just want to make a statement with head-turning street style, the look is sure to add some fashion credentials to your LinkedIn resume.
To create the perfect foundation, you can always opt for a pair of distressed or high-waisted jean shorts, to counteract the ruggedness of the boots. But, if you're really feeling daring, go for oversized denim shorts. Remember though, balance is key! Pair them with a tailored jacket or a form-fitting blouse on top to maintain a polished and put-together look.
If you're hoping to add a bit of delicate femininity to your ensemble, a floral or silky blouse is the perfect choice to counterbalance the chunky aesthetic of the boots. It adds a soft and delicate feel while creating a harmonious contrast.
Add an oversized button-down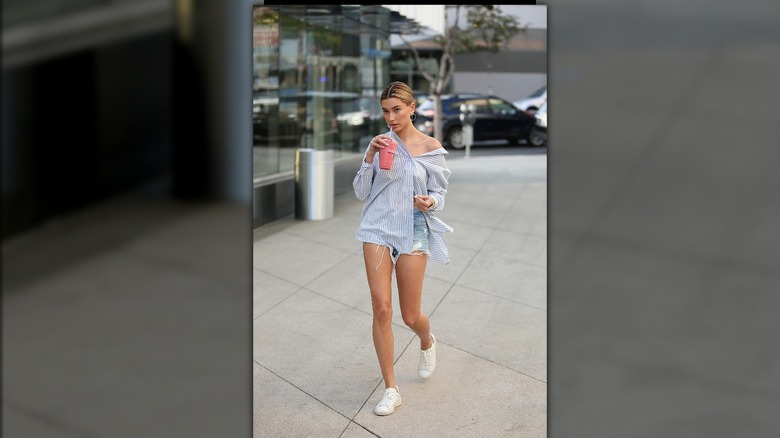 Phillip Faraone/Getty Images
The only item to match comfort level of jean shorts in the summer is an oversized button-down. To start, go for a slightly tailored or high-waisted pair of jean shorts. These gems add more polish and structure to an outfit without compromising on comfort.
As for finding the perfect button-down, look for one that hits around mid-thigh or slightly longer. This length will create a beautiful contrast with your fitted shorts, creating an effortlessly chic silhouette. It's all about playing with those proportions. And, speaking of proportions, try knotting the button-down at your side. This little twist not only adds a touch of visual interest but also accentuates the waistline.
If you want to add a dash of sexiness to your look, allow a tank top or crop top to peek out from beneath your top with a few buttons undone for that subtle and alluring appeal. It's the perfect balance between casual and flirty, just like the quintessential Parisian woman. For a formal touch, go for a silky or linen material.
Add a preppy twist
Preppy doesn't have to mean tweed and beige trousers, it can also mean jean shorts. According to Harper's Bazaar, preppy style is back in action, so why not embrace it and bring that timeless charm to your summer outfits? With the right styling, denim bottoms can easily become a wardrobe staple for the sophisticated look. 
Start by choosing a chic button-down shirt, such as one from Ralph Lauren. This classic piece sets the foundation for a preppy ensemble. To take it up a notch, throw on a blazer and you'll instantly look like you stepped out of an editorial shoot with Vogue.
To complete the preppy transformation, don't forget about the accessories. Think tortoiseshell sunglasses or a chic brown leather bag; it's all about the details. These add-ons take your outfit from Pinterest to Instagram street style real quick! Loafers are a must-have when it comes to achieving that preppy vibe. Comfortable and oh-so-fashionable, they are the perfect finishing touch to a classic outfit. Last but not least, make sure your jean shorts are tailored to perfection. A well-fitted pair are truly the flour in the cookies, with everything else being an add-on.
Go seaside chic with a nautical twist
Nothing says nautical like timeless stripes and classic charm. Pair your favorite jean shorts with a striped top for an instantly chic and maritime-inspired look. Whether it's a Breton-striped tee or a navy and white striped blouse, this pairing will give you that perfect sailor-chic vibe.
If you're looking to take your nautical game up a notch, opt for a crisp white button-down with subtle touches of navy blue accessories. This combination oozes sophistication and maritime allure. Add finishing touches through navy blue accents like a skinny belt or a silk scarf tied around your neck. You'll instantly feel like you're strolling along the French Riviera. Reach for a stylish straw hat to shield yourself from the sun while adding a touch of vacation-ready charm. Channel the timeless elegance of fashion icon Jackie Kennedy in those tres cool pictures of her on a sailboat with John F. Kennedy.
To complete the ensemble, slip into a pair of white canvas sneakers or espadrilles. These footwear choices will channel that breezy coastal ambiance and have you ready to conquer the boardwalk in style.
Riviera ready: Channeling French vibes with jean shorts
The French are renowned for their impeccable croissants, effortless attitudes, and of course, their street style. You too can unlock the secrets of mastering the classic French look, and you can do it with jean shorts no less. C'est Magnifique! To start, swap in a standard tee for a striped Breton top. Go for a navy and white or red and white combo for that timeless color combo.
Besides the Breton top, nothing says Parisian fashion quite like a tailored blazer. Being that it"s summer and paired with jean shorts, you'll want to go for a lightweight fabric like linen or cotton to look seasonally appropriate. If you really want to pull off the typical Parisian, "I just threw this on" look, roll up your sleeves and you'll immediately elevate your ensemble.
When it comes to accessories, keep it simple and understated. Add a dainty pendant necklace or stack up delicate bracelets to enhance your outfit without overpowering it. Remember, it's all about those subtle touches that make a statement. Ohh la la indeed.
Try the '90s grunge revival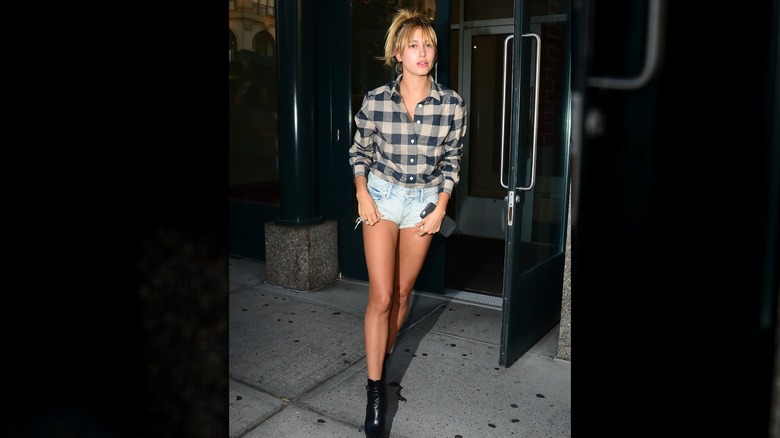 Raymond Hall/Getty
There is nothing like a killer pair of jean shorts to unleash your inner grunge goddess, especially if she's been in hiding since the '90s. Raid your wardrobe or the local vintage shop for some of those coveted band t-shirts; think Nirvana, Pearl Jam, or Soundgarden. For an ultra-cool lived-in vibe, go for an oversized t-shirt and tie a knot on the side or tuck it into your jean shorts. 
For the quintessential grunge aesthetic, layer on a plaid flannel shirt in red, green, or blue on top, leaving it unbuttoned to reveal your band t-shirt, or tie it around your waist. To truly embrace the '90s nostalgia that everyone is into lately, look for jean shorts that have a rugged, distressed look about them. Think frayed edges, lots of rips, and a faded wash.
If you're really feeling ambitious, layer a pair of fishnet stockings under a shorter pair of jean shorts that peaks out from beneath your hemline. To complete your grunge transformation, throw on a pair of chunky combat boots, black being preferred or some good ol'black and white Converse sneakers.
Go full denim on denim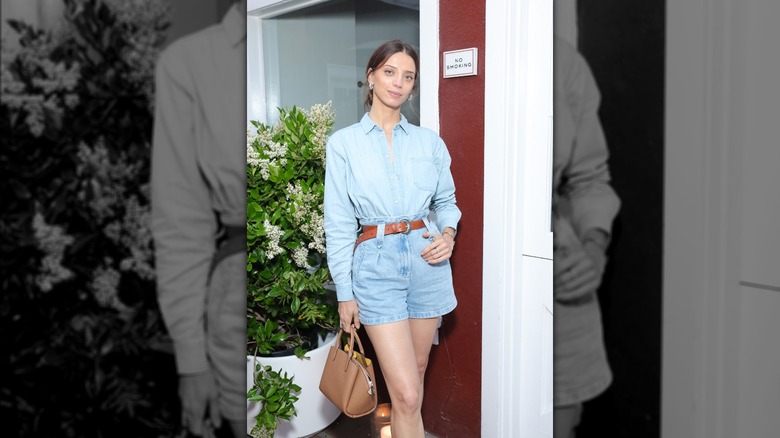 Stefanie Keenan/Getty
Denim on denim has been making a comeback lately, and whether Britney and Justin ever want to see it again is beyond the point because it's here to stay. When it comes to this trend, mixing different washes or shades is the key to success. Opt for jean shorts in a different wash or shade than your denim top. For example, if you're rocking a light-wash shirt, pair it with a darker wash or black jean shorts. This contrast adds depth to your outfit and creates a visually appealing combination that will definitely put you in the history books the next time the trend comes around (maybe in 15 years?).
Another way to elevate your denim-on-denim look is by mixing different textures. If your denim shirt is smooth and lightweight, go for jean shorts with a distressed or textured finish. This contrast in texture adds visual interest and keeps your ensemble from looking too uniform. It's all about that dynamic combination that keeps the eye intrigued.
While the all-denim look is trending, going overboard can still look a little, well, stale; as in, saltine crackers at the back of the cabinet kind of stale. Don't be afraid to incorporate some pops of color with your accessories like an aquamarine belt to cinch in your waist or some hot pink wedge heels.
Embrace minimalism a la Marie Kondo
If you're all about less is more, throwing out things that don't bring you joy, and capsule wardrobes, a minimalist jean short ensemble will be right up your alley. When it comes to a truly minimalist look, sticking to a neutral color palette is key. Think of a wardrobe that's filled with shades of beige, black, and navy blue. This classic color scheme brings a seamless and cohesive look to your outfit. Pair darker denim shades with lightweight, flowing tops in muted hues like gray, white, or beige for that effortless, minimalist elegance. To achieve that streamlined silhouette, choose jean shorts with a tailored and well-fitted design. Opt for styles that have a sleek aesthetic, without excessive embellishments or distressing for clean lines and a refined finish.
Just because you're going for basic colors, doesn't mean your outfit has to be boring. Layering can be your best friend, especially during transitional seasons. Pair with a loose-fitting linen shirt over your jean shorts for an easy-breezy summer vibe or a relaxed, oversized sweater for a cozy, yet refined aesthetic.
Keep the accessories minimal as well, with delicate gold or silver jewelry, a classic watch, or a simple leather belt to add subtle finishing touches without overwhelming the basic appeal. When it comes to footwear, keep it understated. Choose simple sandals, clean white sneakers, or classic leather loafers. These minimalist yet stylish options will complement your ensemble without overpowering it.
Add a sporty swagger to your jean shorts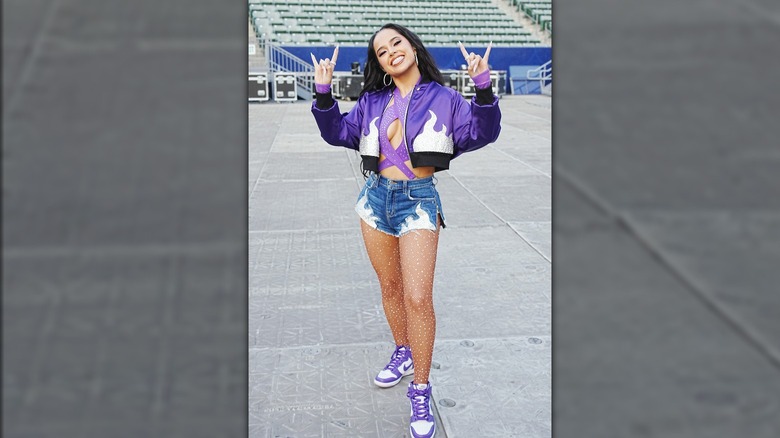 Jeff Kravitz/Getty Images
If you're in the mood for some ESPN or a Shaquille O'Neal documentary, you can match your summer wardrobe to that aesthetic and you don't have to give up your trusty jean shorts to do it. To instantly infuse a sporty vibe into your ensemble and channel Bella Hadid or Hailey Bieber, pair your jorts with athletic-inspired tops: racerback tanks, graphic t-shirts with sports logos, or crop tops that could be worn on the treadmill. Finally, opt for a classic white sneaker for a clean and versatile look or brightly colored running shoes for a pop of personality.
To keep your hair in place while looking effortlessly cool, throw on a baseball cap, visor, or a sporty headband. These accessories not only serve a functional purpose but also enhance your overall sporty aesthetic. And don't forget to adorn your wrist with a stylish sports watch or a fitness tracker for that extra athletic flair.
Layering is key when it comes to this type of outfit; throw on a lightweight track jacket or a zip-up hoodie with sporty details like stripes or logos. Experiment with bold neon accents, color-blocking, or fun patterns like camouflage or geometric designs. Feeling adventurous? Try layering your jean shorts with patterned or colorful athletic socks for a trendy twist. Alternatively, wear bike shorts underneath your jean shorts for added comfort and a sporty edge.
Go for poolside glamour to give your jean shorts a resort vibe
Channel your inner brunch with the girl's style by pairing your jean shorts with a luxurious silk or satin blouse that exudes elegance. Opt for soft, flowy fabrics in neutral or pastel tones to transport yourself to vacation mode. Look for tops with delicate details like ruffles or lace to add a touch of femininity and romance to your ensemble.
To complete your resort look, don't forget the accessories! Shield your eyes with oversized sunglasses that scream glamour. Top off your outfit with a wide-brimmed or floppy sun hat for that chic and effortless vibe, channeling your inner evil stepmom from the Parent Trap. And let's not forget about jewelry! Layer delicate gold or silver pieces such as necklaces, bracelets, and statement earrings to add a touch of sparkle. For some drama and flair, layer your jean shorts with a flowy kimono. Look for pieces in vibrant prints or rich colors and let the kimono flow freely, creating a breezy and resort-inspired style that just screams mimosas at 9 a.m.
To carry your essentials in style, reach for a structured tote bag or a sleek clutch that perfectly complements your resort glam aesthetic. Choose bags in luxe materials like leather or woven textures that can be taken to the beach as well as a 3-course dinner.