Leather Dusters Are The Must-Have Coat For Winter 2023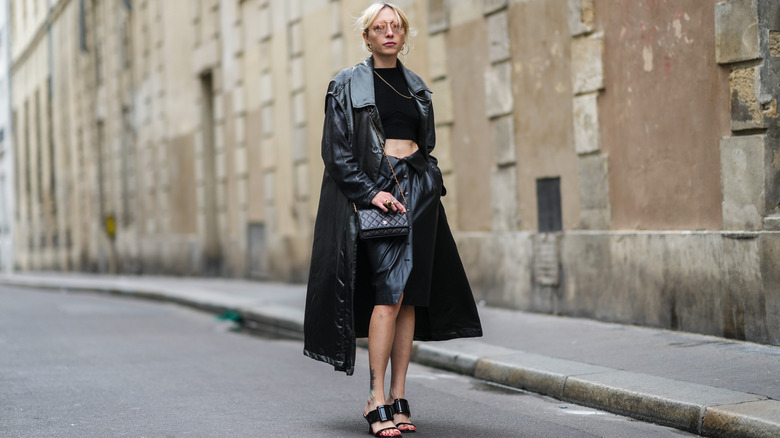 Edward Berthelot/Getty Images
We may receive a commission on purchases made from links.
Leather is everything for winter 2023. Leather gloves are the must-have accessories for your winter wardrobe, and a trendy brown leather jacket is a great way to make a casual outfit extra cool. With a range of leather jacket styles to choose from, you can lean into any look you want, while still staying ultra chic. For those who don't want to wear real leather, the good news is that these looks are equally as cool in vegan leather, so there's no compromising on personal ethics there. 
One area where we're really leaning into the leather look is the leather duster. The looks are long; they lean into draping and excessive fabric, plus they offer decent insulation for the cold winter months. While similar, a duster differs from a trench coat in length. Trench coats — and leather trenches are huge right now — typically cut off around the knee or just below the knee. The duster is a longer coat, cutting off around the mid-calf or lower. Once upon a time, dusters were a staple of Western wear, because cowboys and ranchers wore them on horseback as a covering from, you guessed it, dust. Well, we're bringing the Wild West right to our city sidewalks as we reimagine the duster in its contemporary reincarnation.
A camel beige leather duster and bold boots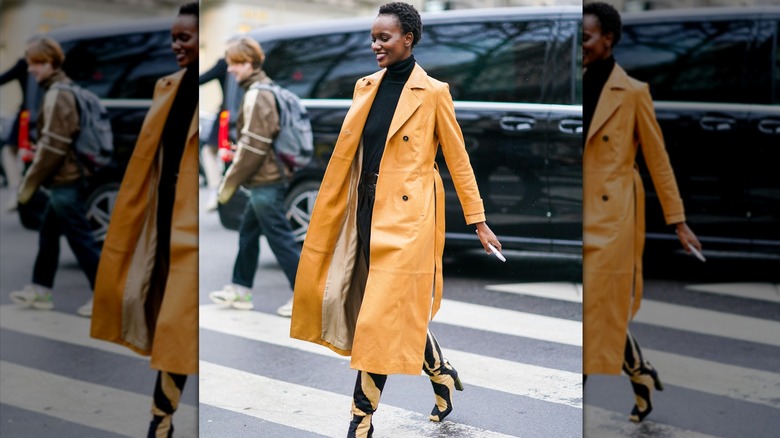 Edward Berthelot/Getty Images
What we love so much about the duster is that the long silhouette gives any outfit a dramatic flair. Pair it with jeans or a glamorous dress, and a camel beige leather duster will read as sunny neutral, creating a cheery outer layer that pulls together a black turtleneck, black bottoms, and vivid boots. Wear unbuttoned and unbelted (weather permitting) for a relaxed energy while walking. 
A bright yellow trench and black heels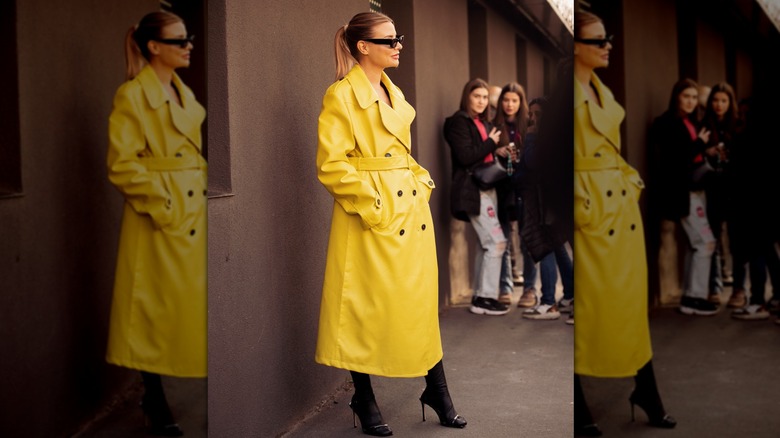 Raimonda Kulikauskiene/Getty Images
A leather duster is an investment piece in your wardrobe. The timeless look creates the perfect finish to any outfit because the duster stands alone as a finished piece. Even vivid, bold color choices are timeless, like a lemon-yellow leather duster. The black buttons give the double-breasted coat sharp detailing, and it helps pull together the black tights and black heels. You can never go wrong with a pair of black sunglasses to top things off. 
A glossy black duster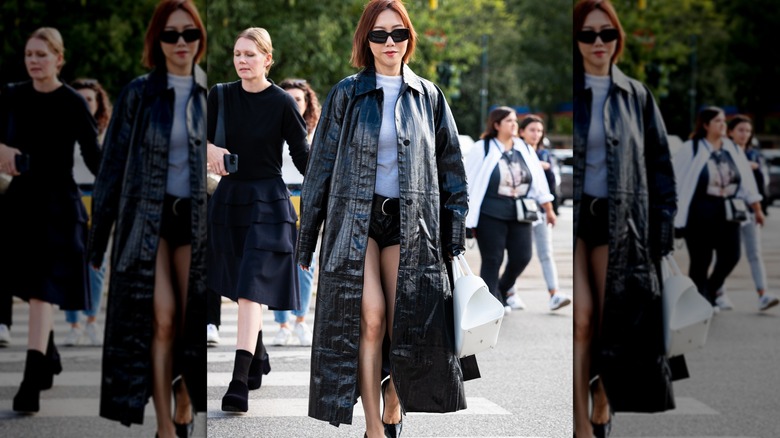 Claudio Lavenia/Getty Images
The leather duster is meant to hang ultra-long since it was historically worn as a protector by cowboys in 19th century America. Contemporary wearers of the duster likely don't need as much protection from dust, but the cool wrap effect of the coat still holds that compelling level of mystique. Throw a glossy, black leather duster over any look, no matter how chill or glamorous, for instant drama. Shorts and a T-shirt are one way to style the under-layers, but in the fall and winter, dress as simply and warmly as you need. Wear it open and enjoy the oversized cut of the coat.
A white leather duster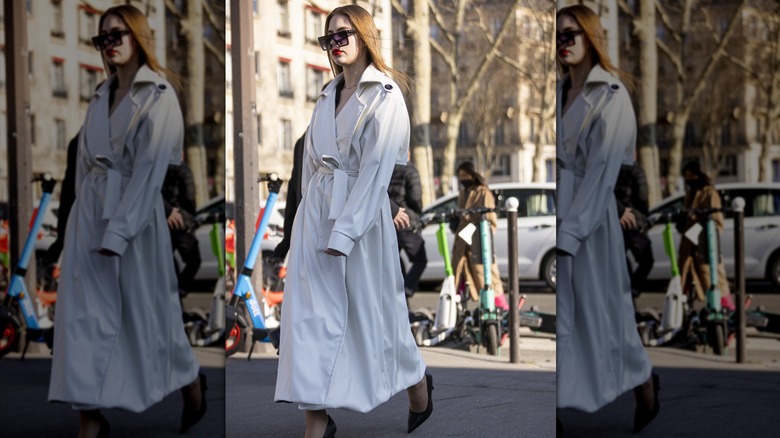 Claudio Lavenia/Getty Images
A leather duster can be a look all its own. Choose to cinch the coat closed to show off the effect of the jacket without any other distractions. Oversized coats are the move for winter 2023, as Vogue pointed out, noting that the look is not only insulating but also chic. Everyone from The Row to Helsa is offering a rendition of women's looks that feature longer sleeves, draping hemlines, and ample fits that are meant to be worn very loosely. We love the contemporary aesthetic of this oversized, white leather duster. 
The Western duster for the urban cowgirl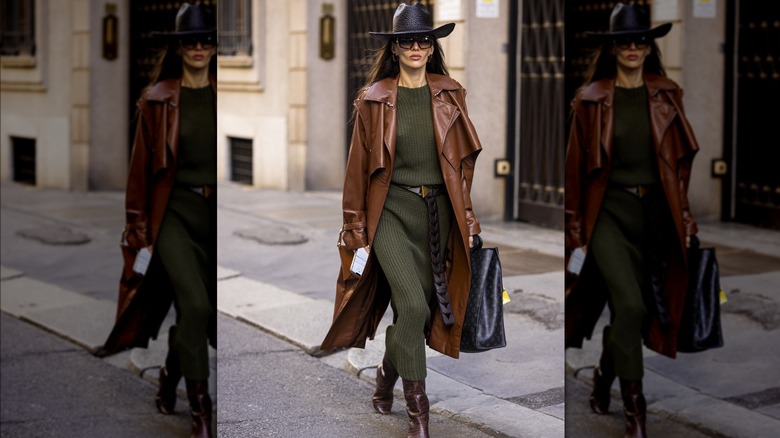 Claudio Lavenia/Getty Images
True to its origins, this leather duster leans into cowboy roots. The rich brown tones hark back to the American frontier, evoking earthy settings. The brown works well with the mossy green dress, cinched with an oversized, leather belt. Brown heeled boots give the look an element of sophistication while the cowboy hat is everything. The neutrals make the look harmonious, while the Western aesthetic is both historically accurate and playful.
A light blue leather duster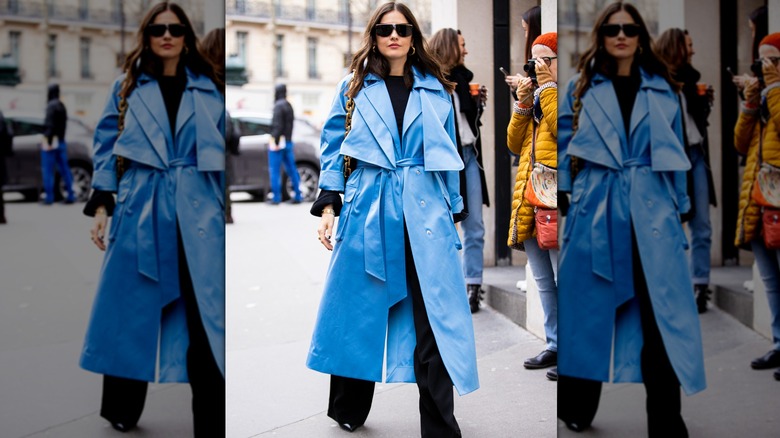 Claudio Lavenia/Getty Images
Designed for a loose fit, this azure blue leather duster is the perfect statement piece. The belted waist and the unique layered collar give the coat rich, textured detailing. The long lines in both the sleeves and the hem create a romantic silhouette that works well over loose pants or jeans. Black creates a nice foundation for this coat since it's such a statement, you won't want to detract from it. Top it off with gold jewelry and gold hardware on a handbag, to make for some polished final touches. 
A pale yellow duster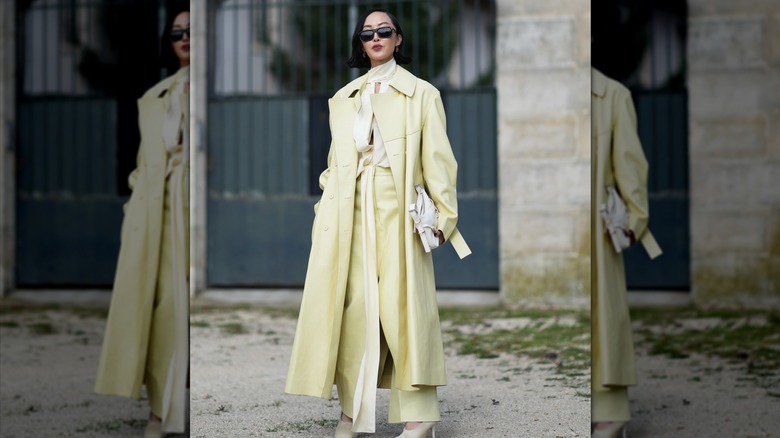 Edward Berthelot/Getty Images
This ultra-pale pastel yellow leather offers a relaxed fit over a tonal leather skirt and a silk wrap blouse. The look here is formal and polished, despite the looser cut. The fashionably loose fit is everywhere in winter 2023, with overly long sleeves giving a snug effect. The best part about this oversized trend is that the whole outfit can lean into this draping effect. A loose duster doesn't necessarily have to be countered with a fitted outfit underneath. Embrace the breezy, chic comfort of the loose, flowing look. 
A snakeskin duster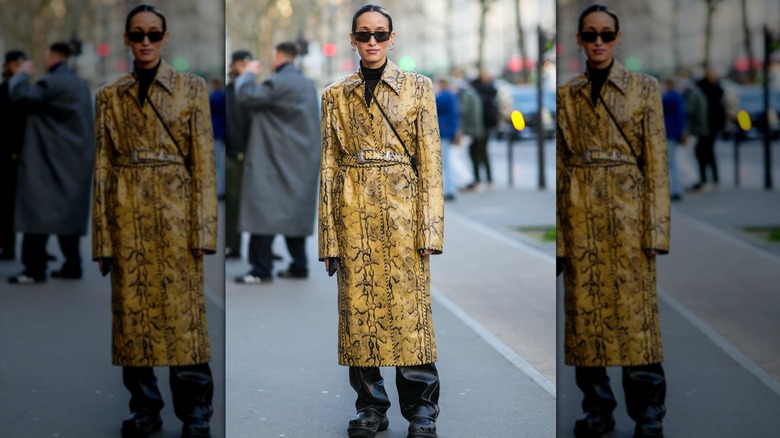 Edward Berthelot/Getty Images
Snakeskin dusters are having a particular moment this winter. The vivid animal print is making its way into our jacket selections in all sorts of eventful colors. There are, of course, the classic python tones that read as neutral, but there are also several looks where the snakeskin is bright and punchy. Yellow snakeskin or blue tones, like the duster by Camila Coelho, are great ways to get colorful with this animal print. In September 2023, Kim Kardashian walked around New York in a cherry red snakeskin duster, wearing it in the day over wide-leg jeans, and at night as a going-out look. The duster is certainly versatile!