Leather Gloves Are A Must-Have For Your Winter 2023/2024 Wardrobe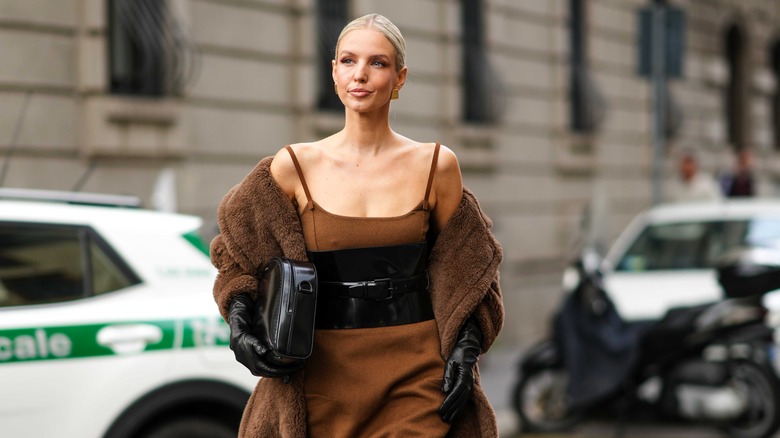 Edward Berthelot/Getty Images
If you live in a cold climate, gloves are a non-negotiable in the winter time. But deciding on the type of fabric for your hand accessory can be tricky, especially if you want to look fashionable. Thick, woolen mittens are a great casual choice for keeping hands insulated, but they often lack shape. Meanwhile, cashmere and other woven styles feel thin and comfortable on the hands, allowing more dexterity while still adding another layer of warmth. Leather gloves, however, are the best of both worlds. The gloves add considerable warmth while bringing a striking element to any look. Since leather is a big trend in 2023, it's a great way to tap into the fun without committing to a full length leather outerwear.
Best of all, they come in a variety of lengths — from bicep scaling opera length ones to shorter styles that pair beautifully with bracelet-length coats. The range of cuts is wide, and the color options are endless, giving you both styling choices and cozy comfort throughout the winter. 
Red leather gloves and wintery whites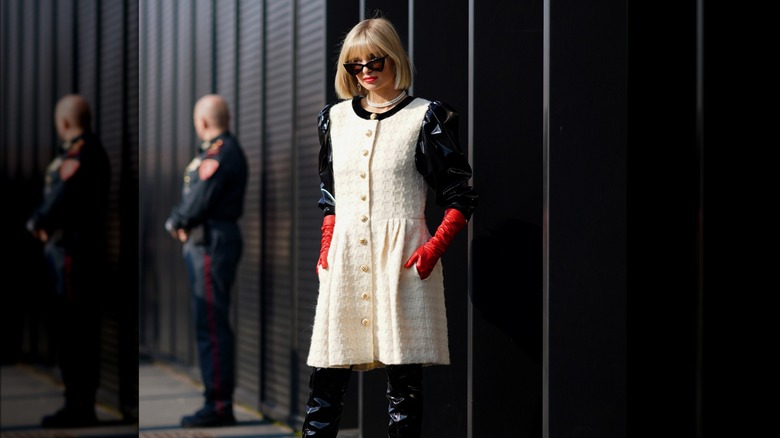 Edward Berthelot/Getty Images
Nothing commands power like the color red, and seeing it in leather only doubles down on that vibe. Make a statement by letting this power color stand out against a traditionally feminine and neutral look like a beige button down dress. A white dress layered over black pieces creates a richly textured look; the red gloves are the perfect final touch. 
Orange leather gloves with a pinstripe suit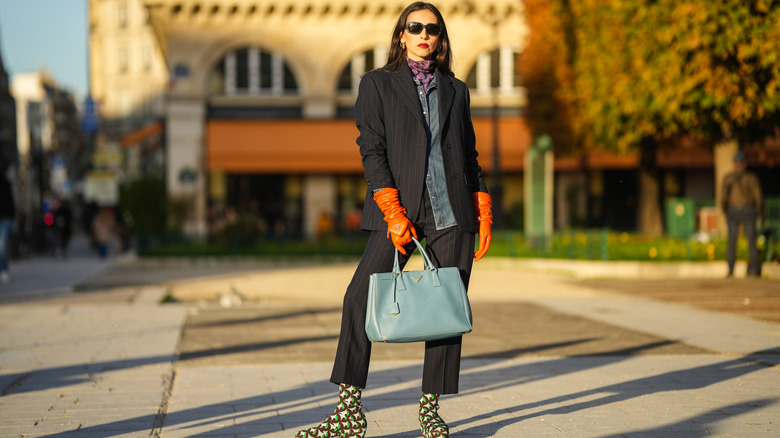 Edward Berthelot/Getty Images
Red may be loud, but orang gloves are notoriously difficult to pull off because of how attention-grabbing they are. But trust us, this is the year to let go of inhibitions and embrace the citrusy shade in your accessories. Big brands like Prada are already bringing leather gloves back in a colorful way. The brand's Nappa leather gloves with pouch are a creative and futuristic take on regular glove design, featuring a zip pocket for holding whatever tiny items your heart desires.
But more than anything, it's showing us how leather in citrus tones can work as a fun and eye-catching accessory. Turn yourself into a trendsetter by pairing them with unexpected pairings, like a pinstripe suit for the ultimate main character vibes. A regal purple neck scarf is a sophisticated finish to this thoughtfully styled look. 
Red leather gloves with black, leather boots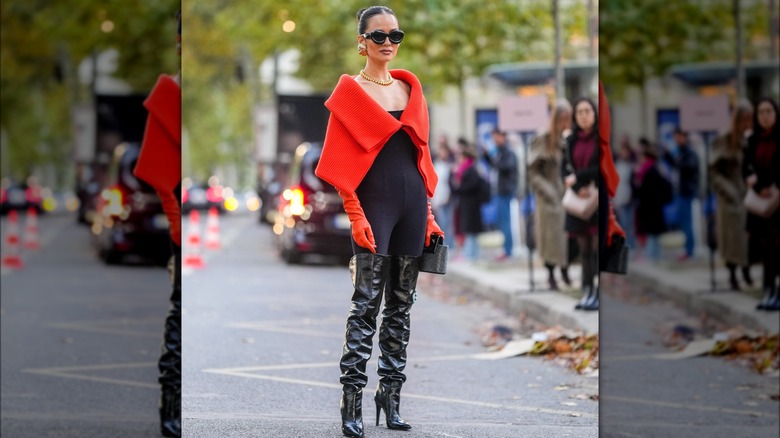 Edward Berthelot/Getty Images
Since red is the hottest accessory color for 2023, what better way to get in on the trend than with a pair of cherry red leather gloves? Wear a pair of vibrant opera length siren red gloves over a black jumpsuit to elevate a typical going-out look to new heights. Drape a red tonal shawl over the top to really bring out the color and oversized gold jewelry to lean into the decadence. Don't be afraid to add more leather, either. Black, thigh-high boots are the perfect finishing touch. 
Short black gloves and red tights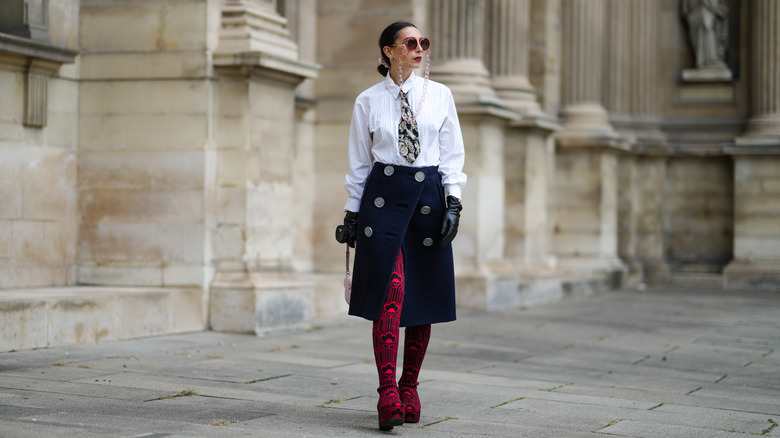 Edward Berthelot/Getty Images
A simple pair of wrist-length, black leather gloves are the perfect fall and winter accessory. The shorter length means that they're easy to style with a variety of sleeve cuts, so you can work them into any outfit. And the price point doesn't need to be prohibitive to rock a luxurious pair. The Emilie Classic Leather Glove for $172 from Cornelia James is simple and elegant and will last you several seasons. Wear your leather gloves with a crisp, white blouse and a navy woolen skirt for a vintage look that will also keep your hands warm. Accessorize with bright red tights and a tie, for a preppy vibe. 
Orange gloves with red shoes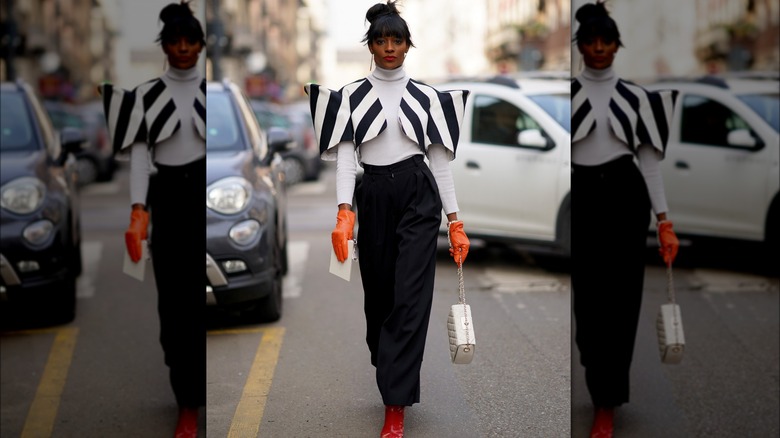 Edward Berthelot/Getty Images
Bring some warmth to your winter wardrobe by wearing bright orange leather gloves with other warm toned accessories. The vivid colors hold their own against a strong foundation of black and white pieces like tapered trousers and a solid colored turtleneck. Since the warm colors are placed just the ends, they don't overpower the outfit, but still make a statement. Lean into wearing white after Labor Day by accessorizing with a structural, white bag.