Butter Yellow Is The New Neutral For Fall 2023 - Our Tips To Style The Trend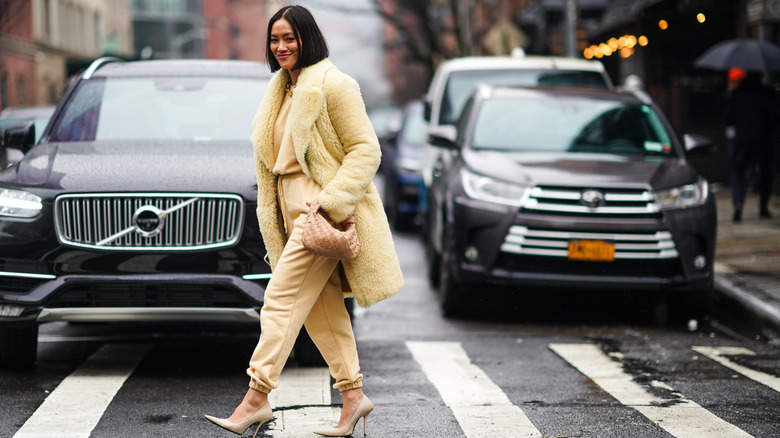 Edward Berthelot/Getty Images
Butter yellow has worked its way into the fashion palette lately, and we are salivating over the rich, warm neutral. It differs from its nude counterparts, like sand and beige, in that it has a stronger yellow undertone, making the look much warmer. This color trend evokes everything yummy — shortbread cookies, sugar cookies, and drizzles of flavor — while still reading as a luxurious shade that's simultaneously easy to work with. 
We're loving neutrals right now. Sure, some of the fall trends for 2023 are punchy colors. Reds are huge right now, as are jewel tones. Camo has made an unexpected come back, and chocolate brown is everywhere. But sometimes you just want a neutral look to feel cozy and chic at the same time. 
Givenchy's spring/summer 2024 shows were rich in butter tones, serving the unexpected nude in pieces like warm overcoats. The Japanese designer Kanako Sakai's collection was also flooded with this warm tone, steering us away from white and into this soft yellow for a richer wardrobe. In fact, a lot of the spring/summer 2024 shows featured butter yellow as the new neutral. Here are all the ways to style it. 
An oversize blazer and baguette bag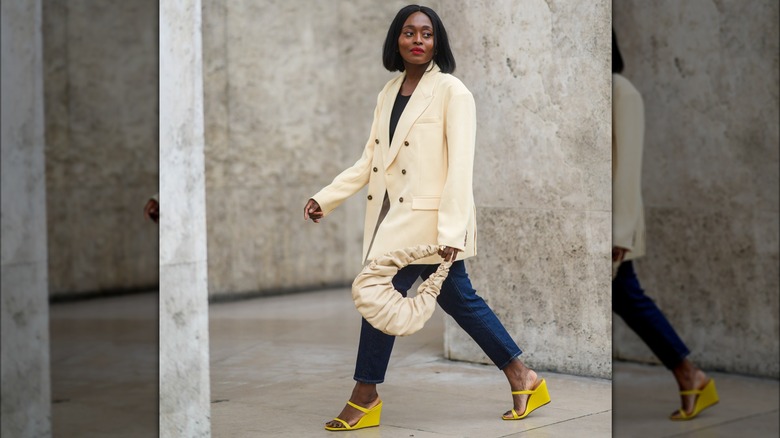 Edward Berthelot/Getty Images
The range of butter yellow tones is wide, and the shade certainly doesn't have to enter the artificial realm of movie theatre butter to be included. A soft, light butter yellow blazer is a beautiful way of rocking the new neutral. Notice how much softer the look is than if the blazer were stark white. Pair it with a tonal ruched handbag, and play with yellows by rocking a pair of lemon yellow wedges. If the weather won't permit wedges, then pair the look with caramel or oxblood boots for a rich base. 
A butter yellow suit with a beige blazer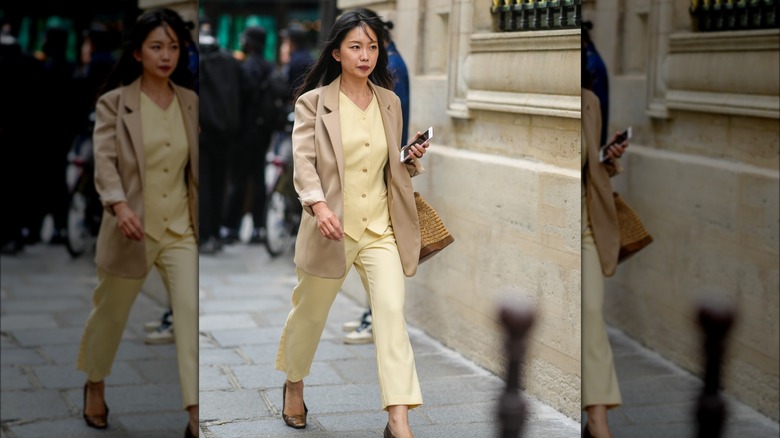 Edward Berthelot/Getty Images
The difference between butter yellows and other neutrals is that they are each much more amplified when paired alongside each other. We can see the warm and cool contrasts, and that tension is awesome in an overall neutral outfit. There's nothing boring about this look. A buttery yellow vest and pants work beautifully as a base. Pull over a sand-colored blazer for some fall layering. Accessorize with a woven bag since it carries the neutrals even further into the outfit. And remember, woven bags are not just a summer style. They look great in the fall. 
A butter yellow skirt suit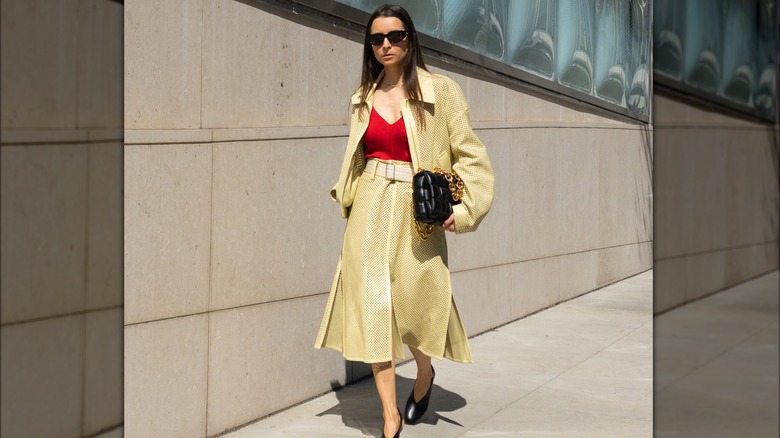 Edward Berthelot/Getty Images
There's so much to love about unexpected textures in a look. The mesh skirt and jacket combo instantly adds dimension, while the butter yellow tone of the pieces is refreshingly neutral in the trendiest way. It's warm and soft, but contemporary at the same time. Pair the look with a bold, red top for a jolt of color. Accessorize with black shoes and a woven, black leather bag to ground the outfit. Throw on a pair of sunglasses and you've got yourself a great fall look! 
A long, butter yellow trench coat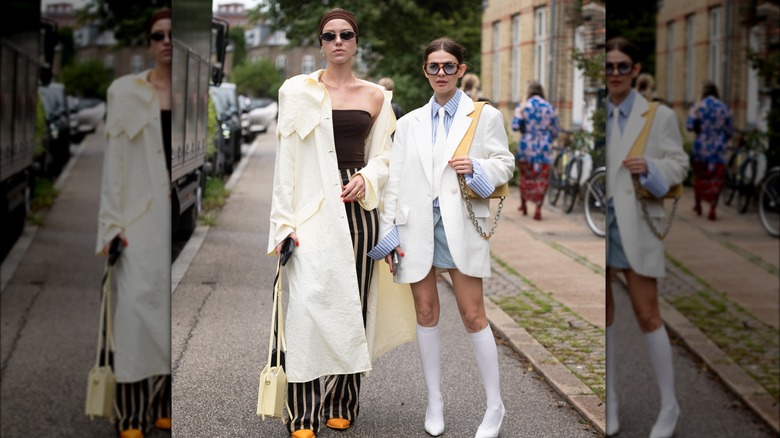 Raimonda Kulikauskiene/Getty Images
What better way to get into butter yellows than through outerwear (since you'll need the added warmth for the fall, anyway)? The warm trench coat elevates the whole outfit in a way that's different from what a black or brown trench coat could do. The look is brighter, and we can appreciate the contrasting richness of the striped pants, orange shoes, and dark tube top. A heavily structured, tonal handbag is a great way to bring a contemporary edge. Plus, mini sunglasses are still in vogue, baby!
Monochromatic in butter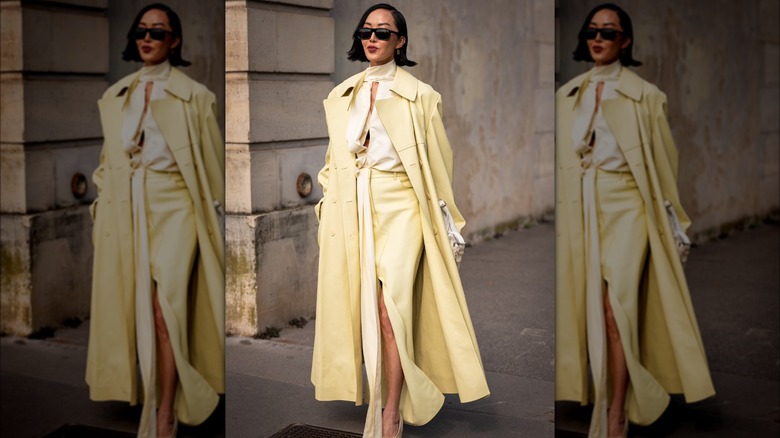 Claudio Lavenia/Getty Images
Talk about extra butter! Immerse yourself in the warm fall trend by going monochromatic with butter yellow. A leather midi-skirt with a high slit plays with both sophistication and sex appeal, while the simple scarf-tie blouse is an elegant base. The butter yellow, leather trench coat is sublime, giving us vague hints of "The Matrix" in a fresh, revamped way. A pair of sunglasses and a bold, red lip is the perfect way to polish off this masterpiece. Our girl knows she nailed it. 
A butter yellow sweater with a white skirt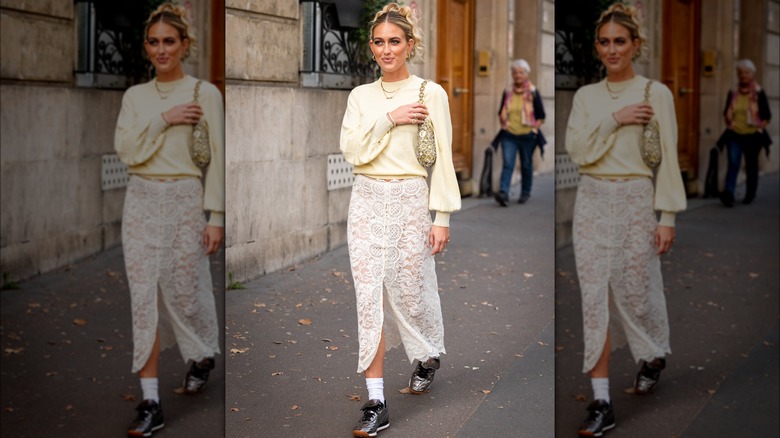 Claudio Lavenia/Getty Images
You can wear white any time you please. There are no rules anymore, and Labor Day has no power over fashion. Pair a white, lace skirt with a butter yellow sweater for a sweet pairing of soft neutrals. Here's a great opportunity to showcase your favorite gold jewelry; bring out the gold chains and layer them, then add gold earrings. Heck, how about a gold chain bag to pull the accessories together? What we love about this look is the pairing of the silver, soccer-style shoes. The white socks with sneakers are a smart way to keep the look from getting too precious. Plus, you can get around town a whole lot easier in comfortable footwear.