Woven Bags Are Fall 2023's Most Sophisticated Purse Trend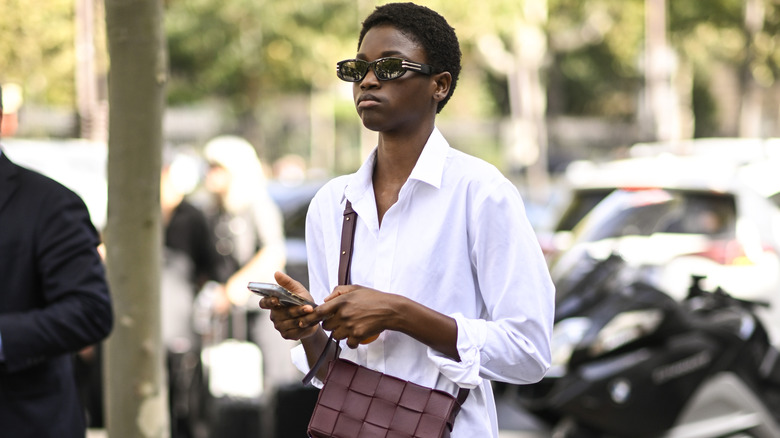 Daniel Zuchnik/Getty Images
Woven bags aren't only for the summer months. While we typically associate this particular style with beach weather and sunshine, the woven bag is becoming a fall essential. In fact, the woven bag is one of the hottest purse trends at the moment. From sizable totes to dainty shoulder bags, a woven finish looks great any way we can get it.
There's so much to love about the woven bag. The unexpected texture combinations add a pleasing dimension to any outfit. Plus, a woven bag can look like a lot of different things. Some are made with strips of leather woven together, and can come in a range of neutral tones, all the way to vivid, electric colors. Other woven bags have more of that quintessential look we expect; they're made of raffia, grasses, or wicker and bring a unique coarseness from the natural fibers. Whether it's woven leather or woven raffia, this bag is our favorite style in terms of functionality and design.
The woven bucket bag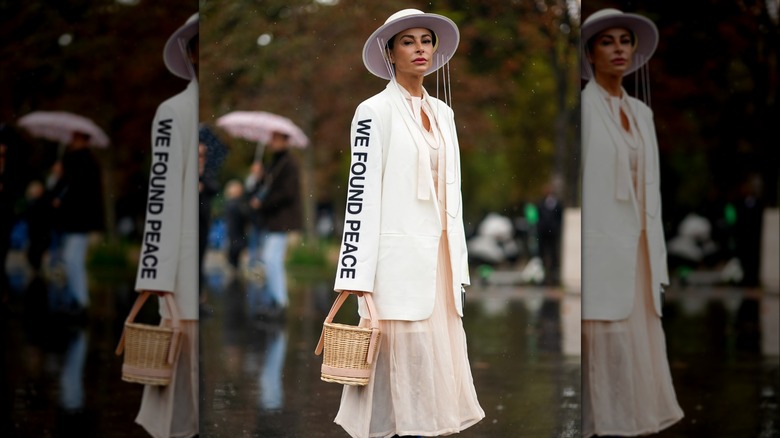 Edward Berthelot/Getty Images
The whimsy of the woven bucket bag adds playfulness to any outfit. Typically built with woven rattan, these bags make us think of picnic baskets or apple picking. Trimmed with raw leather, this bag is the perfect balance between elegant craftsmanship and lighthearted accessorizing. Let the woven bucket bag lead the way with the rest of the outfit. To match the Arcadian vibes, go for fun, dreamy choices, like a raw silk skirt and an oversized blazer. A wide brim hat balances the woven bag.
Wear your woven bag with wool and denim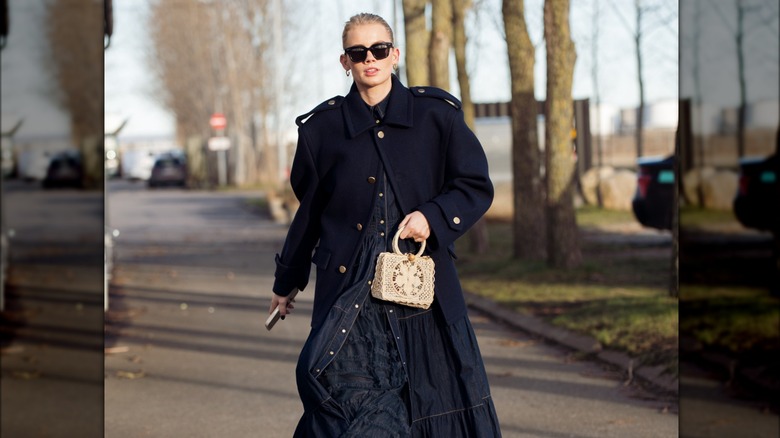 Raimonda Kulikauskiene/Getty Images
We're breaking the rules by bringing the woven bag into the fall, so why not really lean into that by playing with proportions? A dainty, raffia handbag makes a much more interesting story when paired with heavy, winter wools and ample, dark wash denim. Thanks to the varied textures, the raffia bag makes us think of dried corn stalk bundles and golden wheat wreathes, rather than beaches. Accessorize with your favorite oversized sunglasses.
Play with bright colors and woven bags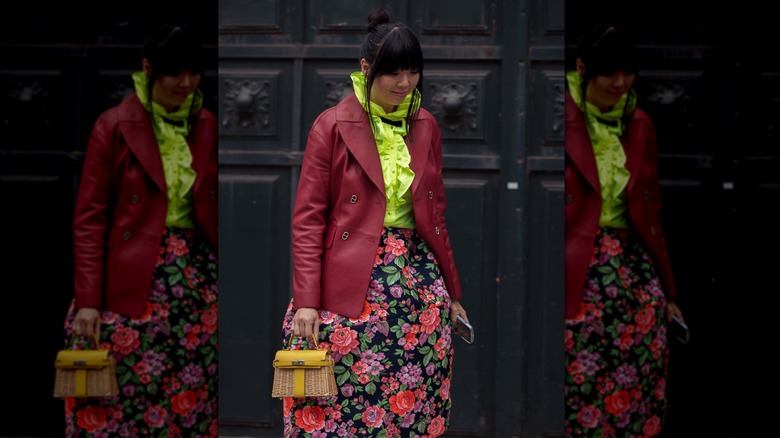 Raimonda Kulikauskiene/Getty Images
Since a wicker bag reads as a neutral, you can play with bright colors in the rest of your outfit. Red is our favorite fall accessory color, so create looks with bold statement pieces like a maroon red jacket. Contrast the tones with a lime green, silk blouse and a lively floral print skirt. Since you've put together such a vivid story with your clothes, a raw, woven bag is the perfect purse to sport here since it only adds interest without introducing another tone. 
Go bright with the woven bag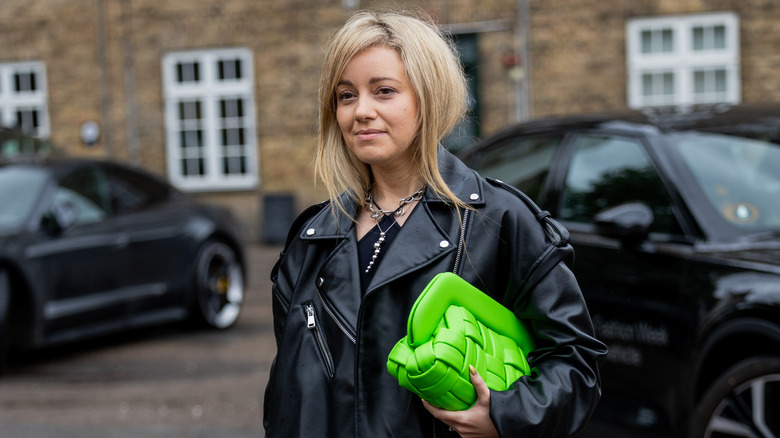 Christian Vierig/Getty Images
A woven bag doesn't only come in natural tones. The woven trend right now encompasses leather weaving techniques that involve a good deal of craftsmanship and come in a variety of fabulously lively colors. The art form is called intrecciato, and its a style of braiding and looping strips of leather (or another kind of material) in order to create a richly textured bag. The strips of leather can range from extremely thin to very thick, depending on the desired result. Pair a colorful intrecciato leather bag with a moto jacket for maximum cool.
Enjoy the textural play that a woven bag brings to an outfit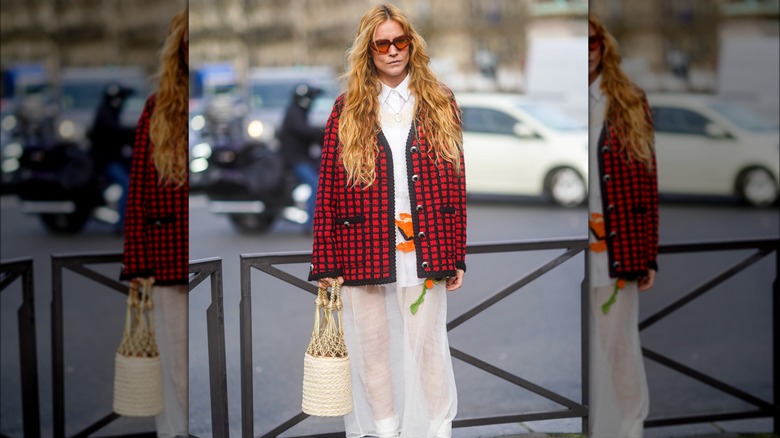 Edward Berthelot/Getty Images
A raffia bucket bag introduces a new dimension into any outfit. Woven bags invite you to break the rules, so pair textures and textiles that you might not normally bring together. Depending on the weather, pair a sheer, maxi skirt with a heavy knit sweater, bringing together a chunky-style with breezy bottoms. White high socks underneath are always adorable. Let the raw texture of your woven bag inspire you to bring together other unexpected pieces, both in terms of fiber as well as season.