Fall 2023's Purse Trends Have A Little Something For Everyone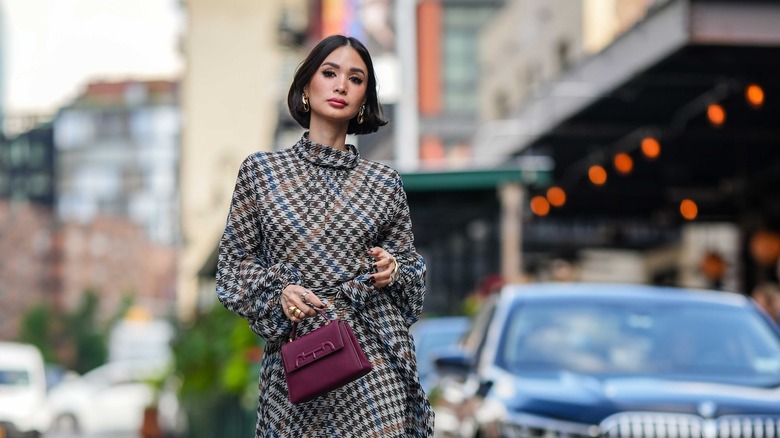 Edward Berthelot/Getty Images
With the arrival of fall comes a shift in purse trends. We're seeing merlot and burgundy tones taking over, as autumn palettes replace the Barbiecore pinks of summer. Looks are becoming more muted and earthy, as color schemes feel richer and more subdued. While we hate to say goodbye to our carefree summer days, there's something pleasant about a shift in season. It brings new perspectives and opens the door for changes. If you've been meaning to try a capsule wardrobe, the fall is a great time to winnow things down to a minimalist selection. 
But just because fall is rolling in doesn't mean we have to totally forget some of our favorite summer elements. You don't even have to pack up all your light and breezy clothing — there are ways of bringing the summer sheer trend into fall 2023. Wicker and woven bags are also still in, even though it's the fall. Just because they work well on the beach doesn't mean you have to pack them up just yet: they also work beautifully in cooler weather. Reds are huge this fall, as are fun, playful bags that pair perfectly with chunky knits and leather trenches. Here are the top purse trends for the fall.
Bring the small bag trend into fall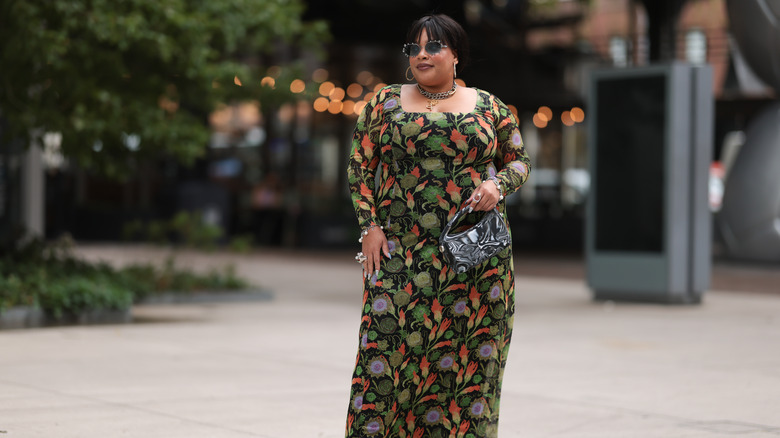 Jeremy Moeller/Getty Images
The small bag trend is still thriving. A small bag with a short strap is the perfect way to carry essentials, and a small strap makes the bag easier to carry than a clutch. We love this bag size, because it works so well with daytime and night looks, offering more versatility. A small bag in a solid color can get lost in a look, which is why we're so drawn to multi-toned bags. A black and white mini bag reads almost neutral, but the decadent marbling adds a layer of interest, particularly when worn with other patterns. 
Sequins in the fall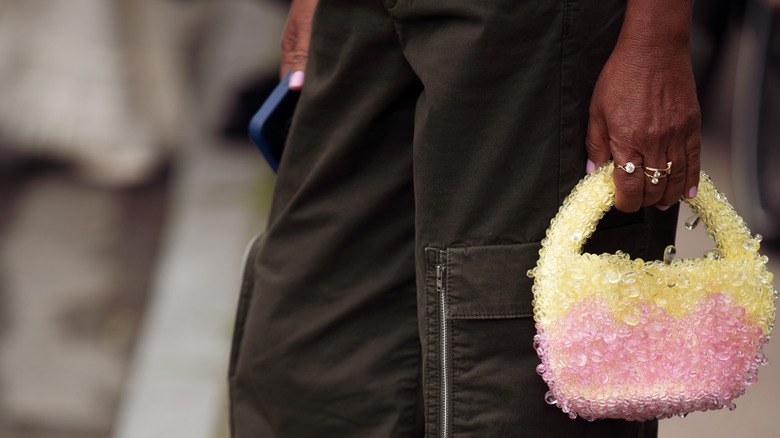 Raimonda Kulikauskiene/Getty Images
There's a charming wave of sequins creeping their way into fall fashion, and we love it. We're more accustomed to seeing sequins either in summer clothes or winter festivities, say around the New Year. The shiny ornaments are making an unexpected arrival in autumn purses, and it's bringing a touch of celebration into the changing season. 
Don't be afraid to contrast the sequins with traditional fall colors either. Feel free to carry over bags that feature summer colors, like soft strawberry tones and lemon sherbert sparkle. Pair the sequin bag with heavy, fall fabrics and moody tones, like rich browns, charcoals, and olives. The unexpected combinations of tones and textures make for a much more interesting look. 
Woven bags are a fall necessity
Edward Berthelot/Getty Images
Fall purses in 2023 are all about texture. Woven handbags, while often used as beach bags, are emerging as a charming accompaniment to apple picking and taking in the fall foliage. The fibrousness of the bag makes for an added layer to a fall look. Play with juxtaposition by wearing white after Labor Day. As the weather changes and becomes cooler, layer turtlenecks under dresses for added warmth. If you want to incorporate autumn tones, pick a small, silk scarf that features richer, darker colors and tie this around the handle of your woven bag. 
An oversized neutral bag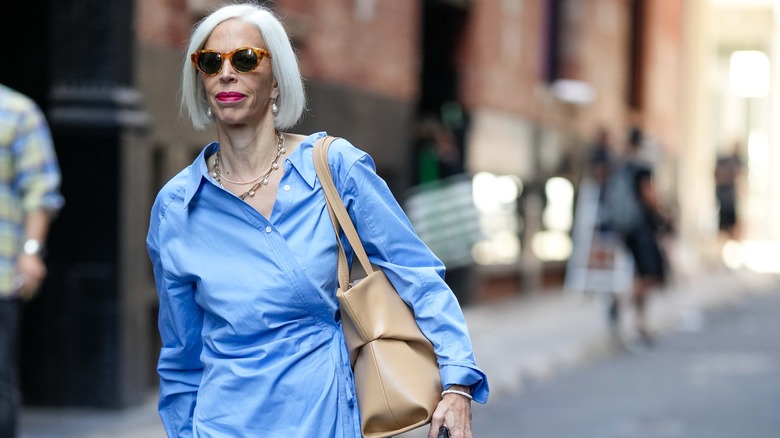 Edward Berthelot/Getty Images
If you're someone who loves rocking a big bag, or even a canvas tote, instead of a purse, then this neutral bag is going to be your fall favorite. A beige, taupe, or cream-colored bag is the easiest thing to work into any look. If you want to curate the "quiet luxury" trend, then use your neutral bag as a guide for a monochromatic look. Pair it with cream cashmere and wool, choosing sweaters and pants of the same natural fibers. However, if you're in the mood to wear a little color, know that a large, neutral bag is going to be an easy choice on your way out the door. 
Have fun with your bag this fall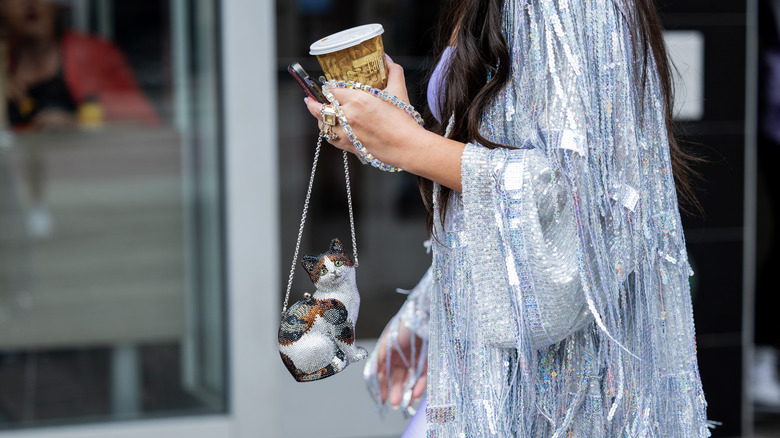 Christian Vierig/Getty Images
One of the biggest sartorial mistakes we can make is taking fall fashion too seriously. While we live for plaid and scratchy wool, outfits don't have to become somber just because the season has changed. Keep a playful energy alive with fun, bizarre bags. Animal-shaped purses are the best, and there's no question about it. Nothing has to be too reverent, and sporting a cat-shaped bag, or a swan on a chain is a lovely way to add sparkle and humor to your accessories. 
Go for bright right red shapes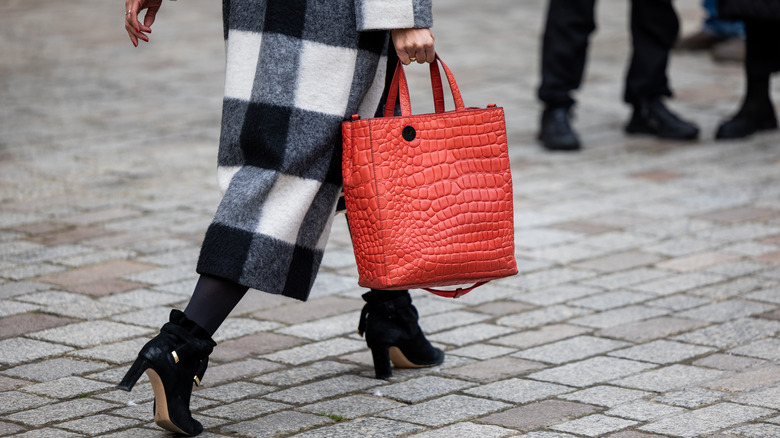 Christian Vierig/Getty Images
Red is, without a doubt, the ultimate color of fall. Everything is red, so let that guide you as you choose your fall purses. There are a ton of ways to style the colorful purse, whether it's matching it to your other accessories or using it as a contrasting pop of color. To make the color a little more interesting, source out purses in unique shapes. A strong square purse is a wonderful accessory to a black-and-white fall look, brightening up the muted outfit. Heavily structured, sculpted leather bags are an ideal way to bring architectural elements into your outfit. And if they're red, so much the better.