How To Wear Camo In Ways That Are Actually Fashionable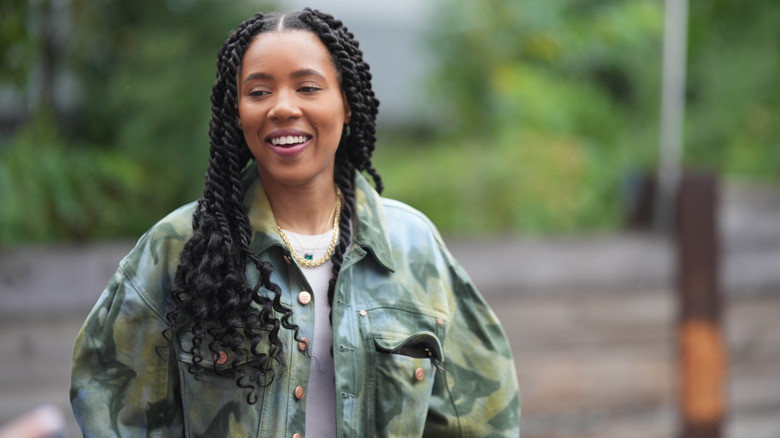 Edward Berthelot/Getty Images
The best part of fashion is revamping something we've seen a million times before and making it fresh. Camouflage print is something that's been around for ages, only now, it's no longer relegated to military personnel or rebellious teens. These days, the iconic print is as stylish as ever, brightening dresses, scarves, jackets, and more with its timeless, recognizable pattern. It's also become, somewhat surprisingly, a very feminine print thanks to creative styling and innovative designers. Camo is fresh again, and has earned a well-deserved place in your closet. 
Camo ranks among a few other fashion styles that have made an unexpected comeback. For instance, along with camo, denim capris have resurfaced and actually can look great. On top of that, the '90s inspired tie-dye look is having a real moment and, honestly, it's super fun. It seems that bold prints and nostalgic styles are back, with camo leading the way. Alexander Wang and Amiri have both leaned heavily into camo prints as of late, proving that the look is fashion designer approved. Let's look at the best ways to style camo so that the outfit fits your style and looks fresh. 
A camo sweater adds unexpected edge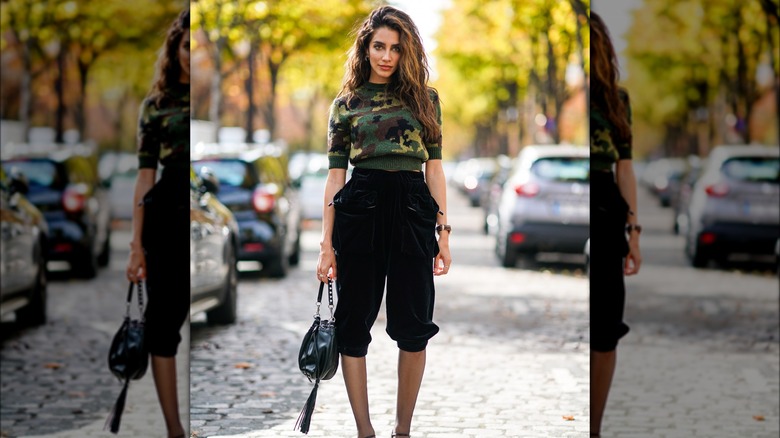 Edward Berthelot/Getty Images
A top is a less common choice for camo print, since we traditionally see it on cargo pants. But it can be one of the quickest ways to add some liveliness to solid-colored outfit. A fitted, green camo sweater with shades of brown and yellow mixed draw the eye upward, while the elastic band cinches the waist. Pair with high waisted black capris and a black shoulder bag. Keep hair down and amplify makeup to play with feminine grooming, while leaning into the edginess of camo. 
A camo bomber jacket makes a classic look contemporary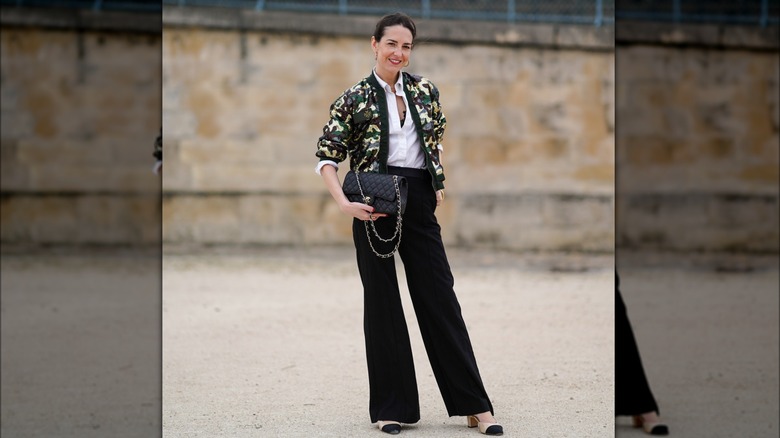 Edward Berthelot/Getty Images
What we love so much about camo is that it often creates a unique juxtaposition of themes in our outfits. Take for instance, the classic white button-down and trouser look. Everything's traditional and safe. But when you throw some camo into the mix, the outfit suddenly becomes contemporary and self-aware.
Pair a camo print bomber jacket with what otherwise is a very feminine, business casual outfit for more of an edgy look that goes beyond the office. To recreate the look in this photo, start with black, wide leg slacks and a tucked-in button up blouse as a base. Layer on a camo bomber that hits just at the waist to create an eye-catching silhouette, and finish with simple, Chanel heels and a black handbag to keep the focus on the jacket.
A camo scarf gives a touch of boldness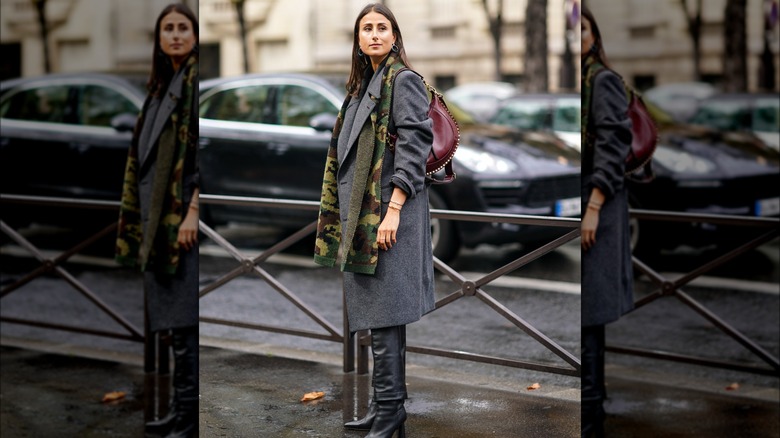 Edward Berthelot/Getty Images
If you're not ready to commit to  something as dramatic as full-on camo pants or sweaters, accessorizing with the print is a brilliant way to go. Opt for a camo print scarf to play into that utilitarian feel without feeling overwhelmed. Since camo registers as a neutral, you can accessorize it in pretty much any way you want. Wear a scarf with a grey and black outfit, and bring out the brown tones in the camo with a burgundy bag. 
The camo tone tuxedo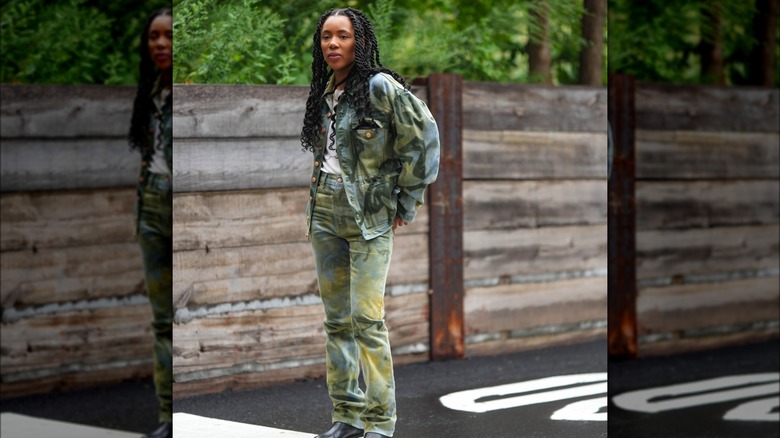 Edward Berthelot/Getty Images
You've heard of the Canadian tuxedo, made by wearing denim-on-denim. Well, we're taking it up a notch by swapping the all-jean look for the tonal camo tuxedo! Pair your favorite camo utility jacket with high waisted jeans in a similar, watercolor print. The look is updated and charming because the camo print itself is softer and more pastel-like than traditional camo prints, proving that you can make the look your own. Wear your favorite white t-shirt under the look as a second skin, so that nothing detracts from the statement pieces. 
The beauty of pink camo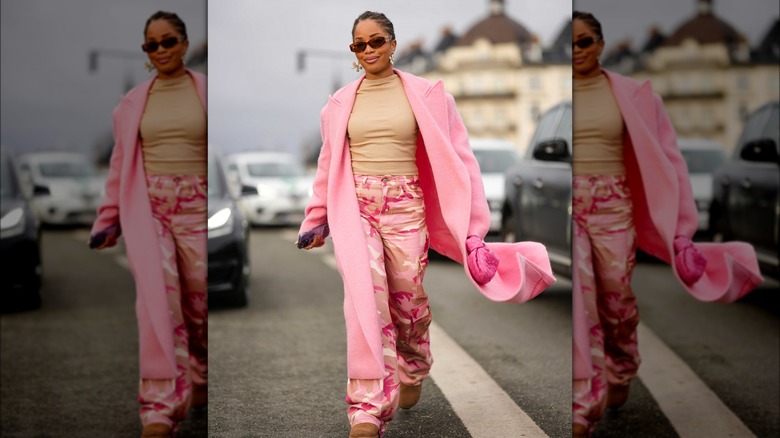 Edward Berthelot/Getty Images
Who says camo has to be earthy? We are loving this fresh, playful pink camo look that's decidedly soft and dreamy, but has the irreverent twist of the army print. What's even more fun is that the pink print is on a pair of cargo pants, complete with utility pockets. Pair with statement gold earrings and trendy sunglasses for the best styling of camo that we've seen to date. 
The camo dress is the perfect errand attire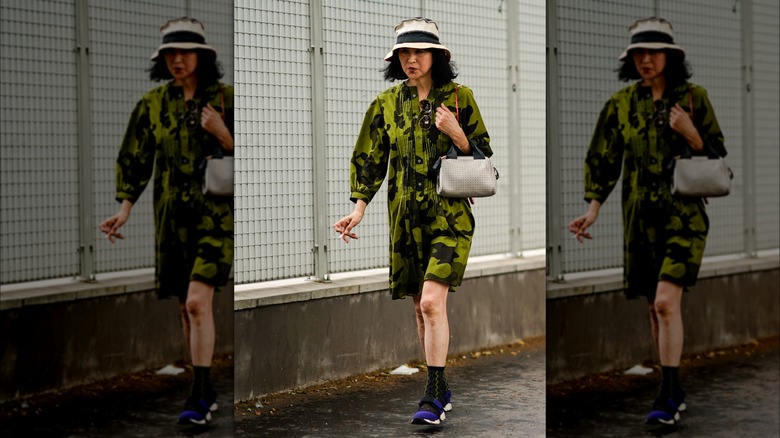 Edward Berthelot/Getty Images
While camo print was originally made so that the individual could completely blend in with their surroundings, contemporary camo is speaking out and showing up. Opt for a camo print dress in vivid lime green and rich olive tones. What makes the dress so charming is that the puff sleeves are so traditionally feminine, adding a rich quality to the look. Wear with your favorite bucket hat and socks and sneakers for your most comfy, stylish outfit ever.