Denim Capris Are Back And We're Not Hating The Look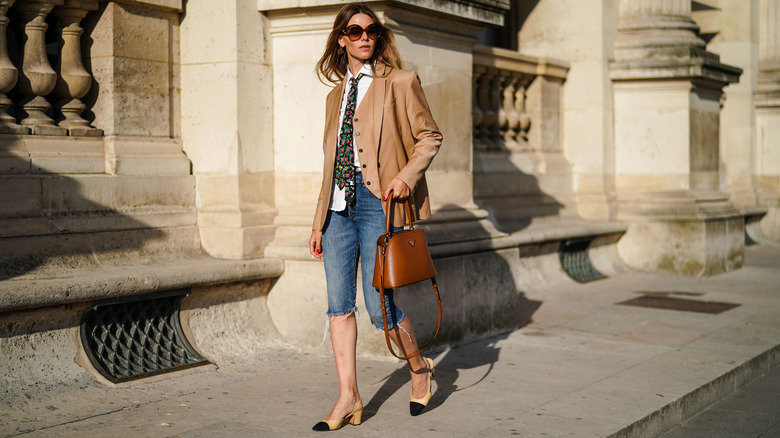 Edward Berthelot/Getty Images
Capris, pedal pushers, highwaters, long cut-offs — whatever you call them, they're coming back. And in denim, no less. Yep. If you're old enough (we are, but wish we weren't) you'll more than likely remember this noughties staple that literally everyone was wearing. Let's be honest, most of us probably still have a pair or two in our closets. Longer than denim shorts but not as long as jeans, denim capris really are the ultimate in-between statement piece, making them perfect for transitional dressing in those in-between weather months.
If you remember those golden days of the denim capris ruling everything from movie premieres to runways fondly, then do we have some good news for you. The '90s/'00s pants are officially in style again, and so many of our favorite stars have already begun to embrace the unexpected comeback. In fact, these polarizing pants are so back in public favor that Lyst confirmed to Elle that searches for pedal pushers on the website had increased 26%. Think that's impressive? Searches for capri pants surged even more, with a 41% uptake in searches from May to July. But there are a few things you might like to know about where the pants might fit into your wardrobe today before you reach into that part of your closet you thought you'd never venture back to.
Gigi Hadid and Sarah Jessica Parker are leading the charge for the denim capri resurgence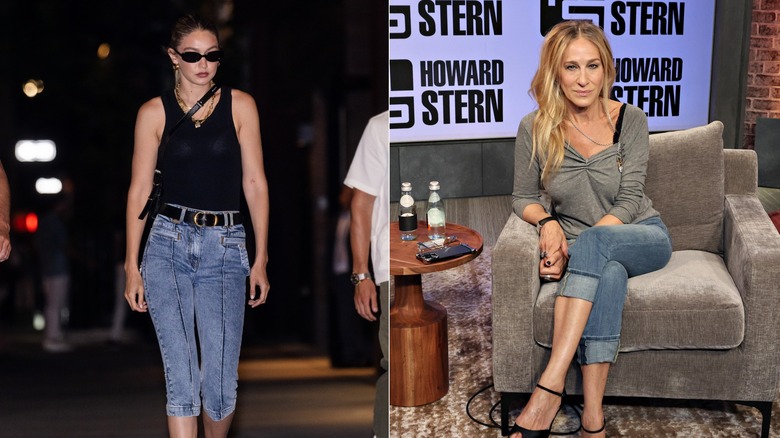 Gotham & Cindy Ord/Getty
Two of the biggest names raising the alarm for the fashionable return of denim capris are Gigi Hadid and Sarah Jessica Parker. The two trendsetters have been shouting about the pants from the rooftops (not literally, but you know what we mean) and, we can't lie, they have us pretty darn convinced. Hadid made her case for the forgotten bottoms in July when she was spotted out and about in a high-waisted pair from fashion house Jacquemus. She paired hers with a simple black tank top, black pointed flats (another throwback), gold jewelry, and black shades.
As for Sarah Jessica Parker? She opted for a pair turned up at the bottom while paying a visit to "The Howard Stern Show" that same month. The "And Just Like That..." actor cut a slightly more casual look than the Victoria's Secret model, opting to pair it with a slouchy gray top and black peep-toe heels.
There's no doubt that both looked super comfy in their bottoms and because denim can be neutral, these two proved how easy they are to style. Equally, they're ideal for those warmer but not too warm days where full jeans would be hot and denim shorts would be too cold. No wonder people are wearing them again!
But how do we wear denim capris today?
You may remember denim capris being super low-rise back in the day, but there's a new way to wear them for 2024. Elle Denmark contributing editor Sidsel Alling opened up about how to sport the look for the modern day, and you'll probably want to move away a little from the super slouchy and low-slung denim trends we've been seeing in 2023. "I like leggings and pedal pushers to be tight (I like that body-hugging feeling), and always high-waisted," Alling told Elle. Style therapist Christina Stein also explained that more formfitting is the way to go when it comes to this trend. "Capris in 2023 seem to be a bit more tailored and body-hugging, similar to the styles that really hit all-time popularity with Hollywood starlets like Marilyn Monroe and Audrey Hepburn in the '50s," she said to InStyle.
As for why the trend has suddenly taken hold again? Credit that to the resurgence of '90s fashion for this one. "We're seeing the '90s-style capris dominate the fashion industry, with models and celebs alike opting for the sleek form-fitting cropped pant," Alicia Rivera, stylist at Stitch Fix, shared. "We attribute this comeback to the rise in '90s fashion that has been revitalized through social media."
No matter why they're back though, it definitely seems like it's time to give denim capris another chance.