Here's How To Style The '90s Grunge Aesthetic For Summer 2023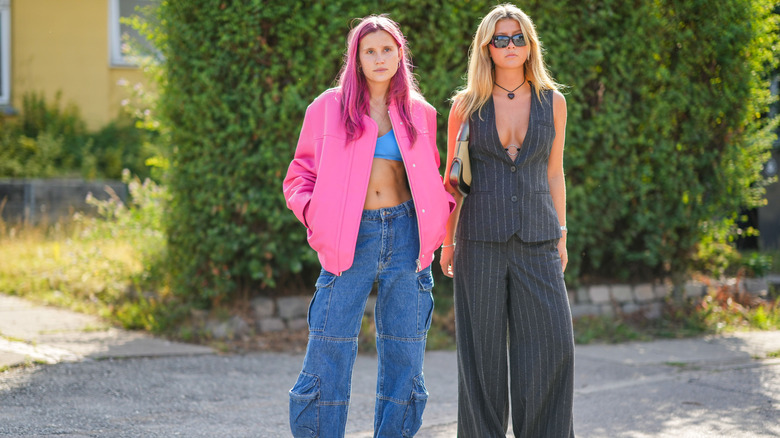 Edward Berthelot/Getty Images
There is no denying the triumphant return of '90s fashion. While most millennials were too young to fully embrace these aesthetics the first time around, now, as adults with disposable incomes, it's finally our time to shine. With a messy and relaxed aesthetic, it is no wonder that grunge fashions in particular are experiencing a fashion renaissance. Grunge not only serves as a fun counter to stealth wealth aesthetics but also provides a mischievous bad-girl look that can be appealing to many who might be tired of the minimalism trend this summer.
With a wide variety of beauty, accessories, and fashion options available this summer, it is the perfect chance to try incorporating grunge into your personal style. If you find yourself wondering how you're supposed to embrace these messy ingénue aesthetics as a full-grown adult with a job and responsibilities, have no fear. Many of the current '90s fashion and beauty trends make it easy to incorporate grunge elements into your look while still staying true to your adult self. Let's explore some fun ways to add '90s grunge to your summer style.
Slip dresses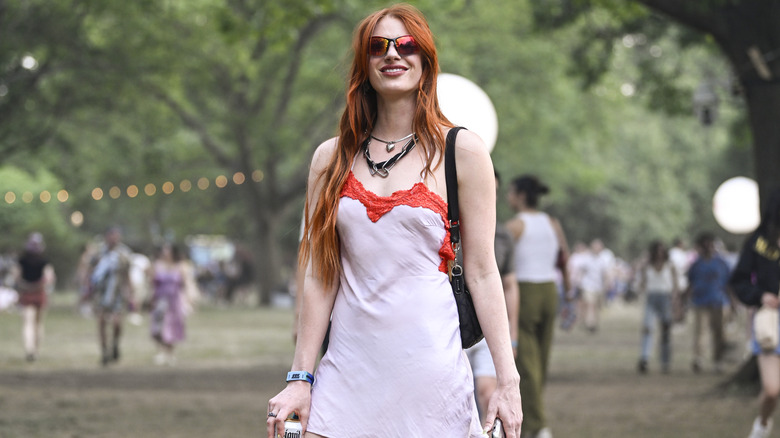 Daniel Zuchnik/Getty Images
While the slip dress has never fully faded away from the fashion world, it is definitely having a resurgence this summer (and this comeback has perfect timing). While its slinky, often shiny, aesthetic might not seem particularly grunge, the key to achieving that true '90s grunge edge lies in the messiness of the look. 
Layering a slip dress with a jacket, flannel, or oversized sweater can help you achieve the relaxed look that was so popular among grunge queens like Winona Ryder and Courtney Love. Another styling choice could include wearing mismatched accessories for added contrast. Finding the right balance to the chaos is key. Ultimately, keeping the contrasting elements of your outfit to a minimum will ensure you're grunge-inspired without veering too far into the just-woke-up territory.
Choker necklaces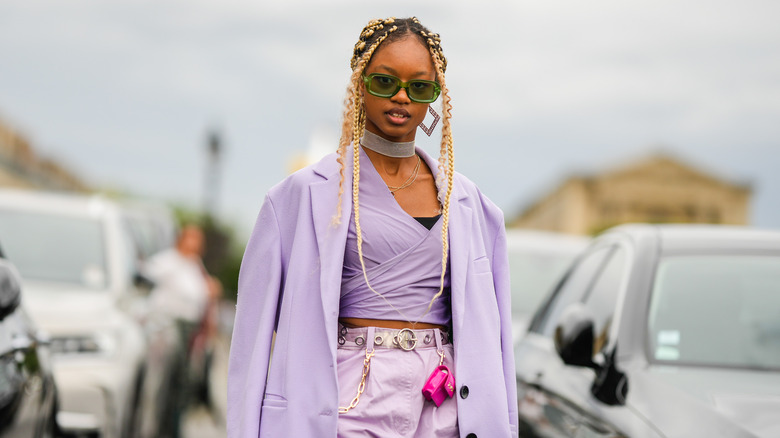 Edward Berthelot/Getty Images
A truly iconic piece of '90s fashion, the choker necklace is the ultimate accessory for adding a little grunge to your summer style. One of the best things about the choker necklace is the sheer variety in both styles and materials available. From chunky metal chains to skinny fabric ribbons to multi-layered strands, there is no limit to the ways you can make the choker your own. This also makes it an extremely versatile accessory for almost any outfit and occasion. Layered gold chains can add a nice hint of metal to your work outfit while a black velvet ribbon can top off an out-on-the-town evening look.
Dr. Martens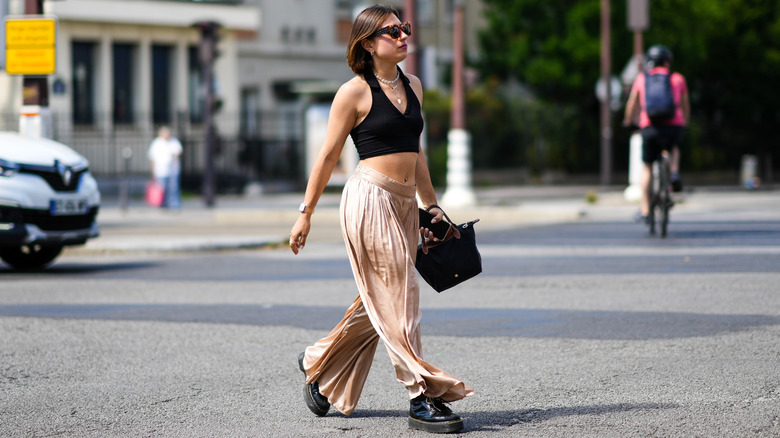 Edward Berthelot/Getty Images
The pinnacle of '90s footwear, Dr. Martens, is still around and ready for you to embrace. The great news is that they've updated their styles to include so much more than just their iconic combat boots of the original grunge era. With work-chic loafers and summer-approved sandals, you can still achieve the chunkier, grunge aesthetic but with a more modern silhouette. They also offer mules and slide styles for easier on and off during the hot summer months. Best of all, you don't have to stick to solid black if it doesn't fit your look, with colors and even prints available for some added feminine touches.
Distressed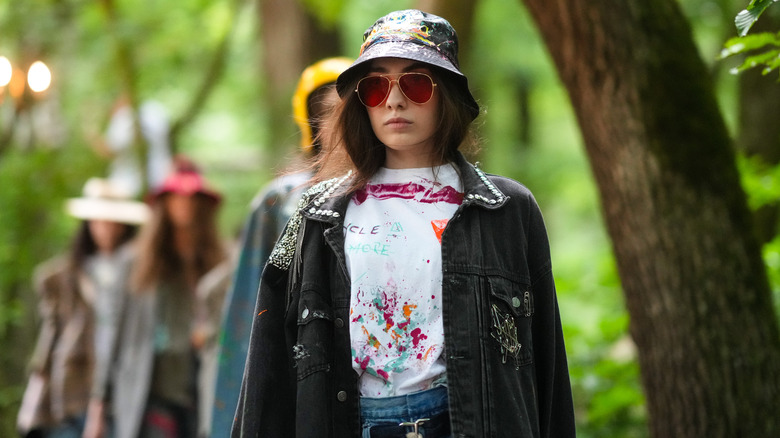 Edward Berthelot/Getty Images
A strategic rip, shred, or tear can be the key to adding a grunge vibe to your look this summer. From shredded sweaters to ripped jeans, adding distressed elements to your wardrobe can be a fun way to add grunge to your style. This can be especially true if you create your own grunge elements from old unloved pieces in your closet. Distressing your own clothes can not only help you embrace the slow fashion movement by upcycling instead of buying new, but it can also ensure you get exactly the amount of grunge you want in your outfit in exactly the right places.
Dark lipstick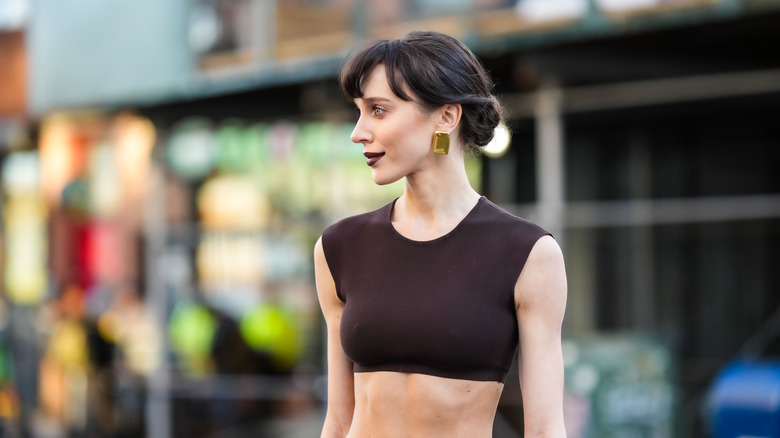 Edward Berthelot/Getty Images
Taking a cue from Drew Barrymore's iconic '90s grunge style — a bold burgundy lip color can help you create the peak it-girl grunge look this summer. The key to achieving this trend is to use bold, dark colors in reds, browns, mauves, and berries. 
Also important is the use of lip liner which can help to create the appearance of fuller lips while defining your lip line. Frankly, lip liner could be its own trend right now as well since some are actually opting to use only lip liner in their makeup routines. Using a lip liner that is at least two shades darker than your lipstick color can help you nail that '90s grunge aesthetic. For an even more committed look, you can smudge your eyeliner for a grungey makeup look
Baggy/oversized pants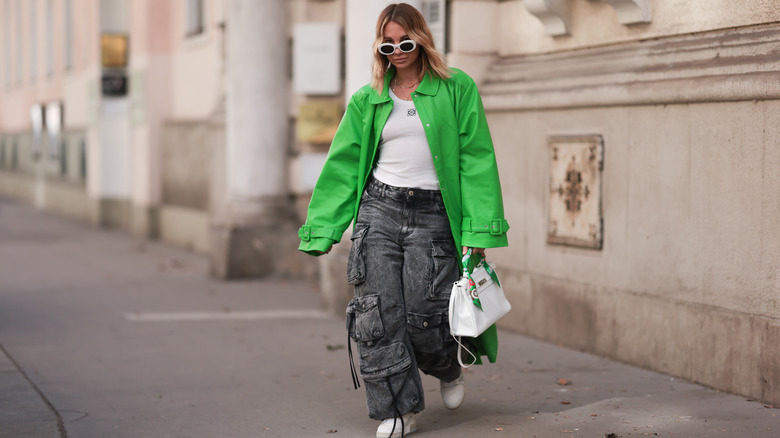 Jeremy Moeller/Getty Images
Volume is everywhere on the runways and in the streets this summer. Oversized, baggy, and dramatic pant silhouettes have become the new look for summer, and there is no end to how to wear (or style) this trend. However, unlike our '90s predecessors, we don't have to stick to JNCO-callback jeans to achieve the baggy grunge aesthetic. With the increasingly popular silhouette of work-chic oversized slack trousers, barrel leg pants, and workwear/cargo style pants, you can find a way to make the oversized look fit any occasion. An added bonus to the oversized pants trend is the roomier and airier fit which will help you stay cool in the warm weather.
Vests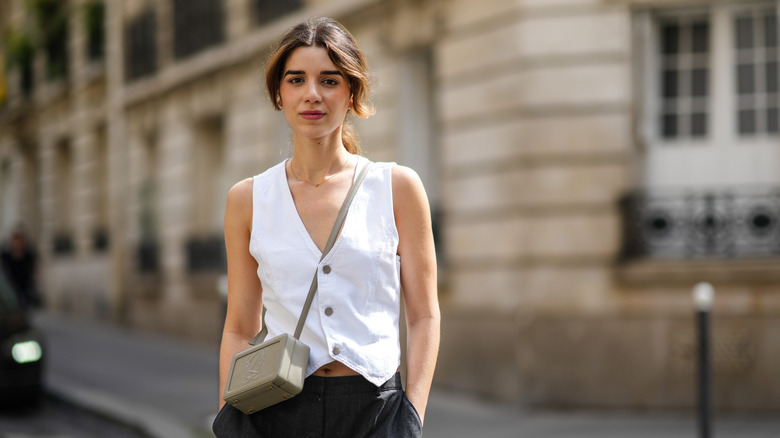 Edward Berthelot/Getty Images
From sweater to pinstripe to leather to denim, the vest is officially back and more versatile than ever. Whether you wear it over a band tee or as a top on its own, the vest is an easy way to embrace the '90s throwback style. What's also great about this trend is how easily it can convert from the workplace to a night out due to the wide array of not only styling options but also textile options. 
Different fabrics can truly transform a vest from a trendy brunch look to a work meeting and everything in between. A classic vest can be transformed by a pair of jean shorts to combat the summer heat or elevated with the addition of summer's hottest oversized pant styles. Add in a distressed element or two and you're the embodiment of grunge glam.