How To Elevate '90s-Inspired Tie-Dye In 2023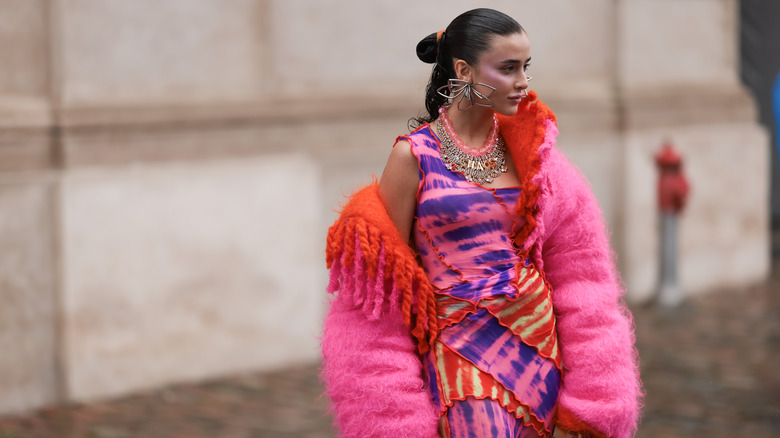 Jeremy Moeller/Getty Images
Like every other '90s trend back from the dead, tie-dye has had a resurgence. However, unlike the oversized t-shirts and camp craft activities of our youth, today's tie-dye is serving bolder and more out-of-the-box aesthetics. Thanks to new trends in accessories, nails, and even hair, there's truly no limit to where or how to wear tie-dye.
Tie-dye has a long and fascinating history, with different techniques across the world developing independently of each other. Bandhani, originating in 4,000 B.C. in what is now a northern region of India, is the oldest known form of tie-dye. However, according to National Geographic, different tie-dye techniques and methods have historically appeared in China, Japan, Nigeria, and even Peru making it nearly impossible to say which culture developed the very first tie-dye.
While most Americans' first exposure to tie-dye happened during the 1960s hippie movement, the technique has been around since ancient times. This long and cultural history makes tie-dye the perfect textile technique to receive an elevated reboot and reassessment. While it's true that many of us grew up seeing '90s grunge tie-dye, and maybe we even embraced tie-dye for remote work (hello sweat suits during the pandemic), it's time to upgrade how we see tie-dye textiles.
Change up your silhouette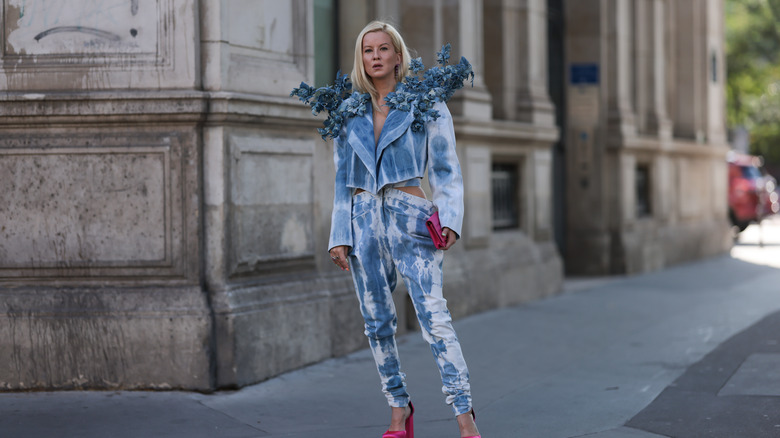 Jeremy Moeller/Getty Images
We're all familiar with the ubiquitous tie-dye t-shirt, usually worn on a beach boardwalk or to a music festival. This semi-hippie aesthetic is part of the American charm of tie-dye but this can also make it feel more difficult to choose tie-dye for nicer occasions. With that being said, elevating your tie-dye to more formal settings is a no-brainer. Changing up your tie-dye with a more daring silhouette can transform (and definitely elevate) the look. Whether you go for a full-length evening dress or even a more structured garment like a blazer, utilizing tie-dye in a non-stereotypical silhouette will not only ensure you're elevating the look but will allow you to rock tie-dye in a lot more places. It's also a great option if you're looking for sustainable ways to transform old clothing like, say, a wedding dress.
The American perspective — and sometimes the stigma attached to tie-dye — can often feel like the textile doesn't have a place at work or in more formal settings. However, in Edo period Japan, shibori (a type of tie-dye technique) was considered so special that only the wealthy classes could even afford it, and it was actually even banned in the 1600s for being too ostentatious. Long story short, absolutely wear that tie-dye evening wear!
Feature your tie-dye in unexpected places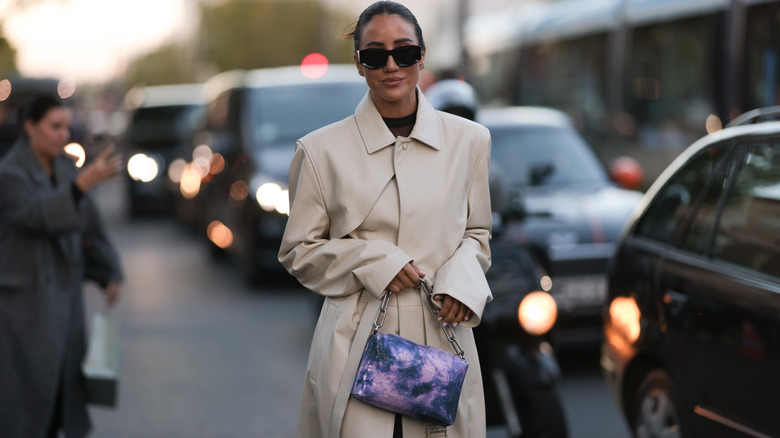 Jeremy Moeller/Getty Images
Take tie-dye out of its typical place in your clothing for a truly elevated spin on a classic. By releasing tie-dye from its t-shirt constraints, you might be surprised to find just how versatile it can be. A fun way to try incorporating tie-dye into your everyday life is through nail art on your manicure. Fun trends in tie-dye hair color can also elevate and transform your look, especially if you're looking for a more daring style change-up. Another option could be to find or even make your own DIY tie-dye accessories like bucket hats, bags, shoes, or even handkerchiefs and bandanas. The real key is to include tie-dye in unexpected places for an added pop of surprise. 
Outside of wearables, tie-dye bedding, and decorations can add a fun energy to your home or even work space. It's important to remember that the American rainbow swirl style of tie-dye is only one of thousands of different tie-dye techniques and designs in the world. From the Adire designs in Nigeria to the Amarra practice in Peru to Shibori techniques in Japan, there is no limit to the creativity and cultural significance of tie-dye textiles out there.