The Neutral Tone That Will Ground Siren Red In Your Wardrobe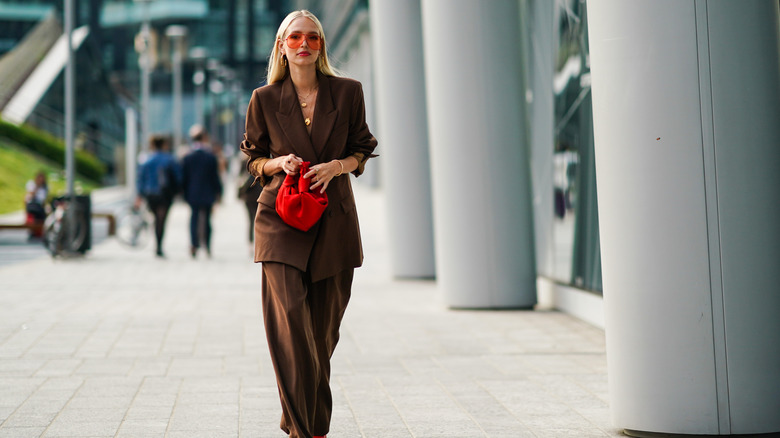 Edward Berthelot/Getty Images
As of fall 2023, red is having a huge fashion moment, and we have no doubt that it's here to stay. We're styling it in all kinds of ways, and seeing others wear the daring hue of passion in killer outfits.
Red has historically been a tougher color to style, especially the punchier shades like scarlet, siren red, and candy apple since they're so vivid. But now that red is popping up literally everywhere, it's easier than ever for those who shy away from bright shades to get on this trend. For instance, those who don't want to don a full red jumpsuit can jump on the versatile red accessory trend; not only are they easy to style, they can really elevate a look. 
Red is revving up as the ultimate color, and it's working its way into other trends too. Leather trench coats are having a Renaissance, and the two go together like PB & J. Red leather trench coats are all we want to see. Cowboy boots are hot, and red cowboy boots are even hotter. While we love to see red everywhere, it can be a little tough to wear something as bright as a siren red on its own. Pairing this red hue with a deep, chocolate brown is a perfect way to balance the two colors. Here are some ways of doing that. 
Combine a brown pleated midi skirt with a red jacket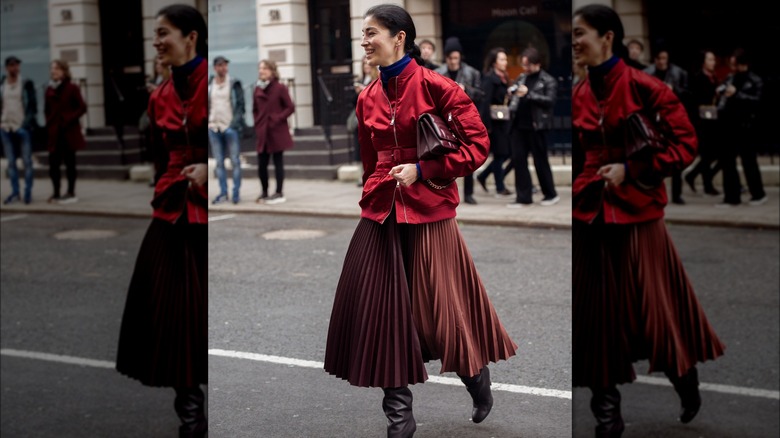 Raimonda Kulikauskiene/Getty Images
Bright red and deep, chocolate brown are the perfect pairing because they're both warm colors. Pair a rich, walnut midi-skirt with a cherry red belted jacket for a perfect fall look that's as delicious as dessert. Slouchy boots in a darker brown and a burgundy handbag keep all the warm tones together, even through accessories. Since both the skirt and the jacket have a satin finish, the outfit gives a cohesive effect overall. Plus, the micro-pleats in the midi-skirt add a playful element.
Pair a red dress with a brown bomber coat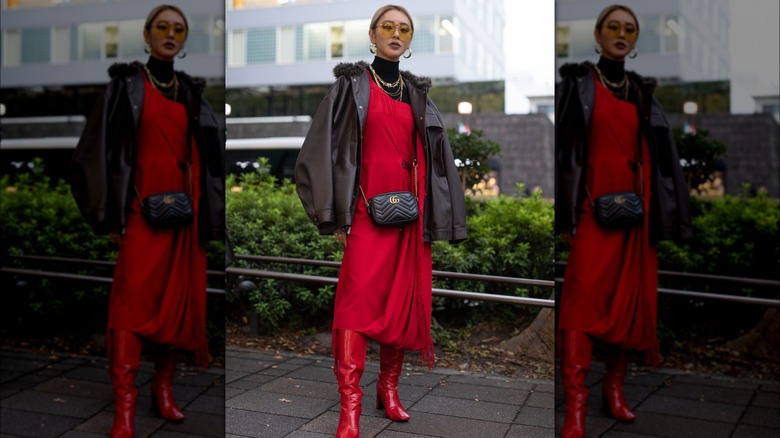 Matthew Sperzel/Getty Images
With an outfit that's heavily red, a touch of brown outerwear is a great way to tone things down. Create a monochromatic look by combining a fire engine red dress with patent red boots. If this is feeling like a heavy dose of bright color, cool things down by adding a black turtleneck and a brown bomber jacket. This is a perfect way to wear bright summer dresses in the fall and winter months. The black in the turtleneck and purse read as small touches of accessory color, while the brown jacket creates an inviting shell of neutral. Jazz things up with gold jewelry and some tinted sunglasses. 
Toss a red scarf over a boxy blazer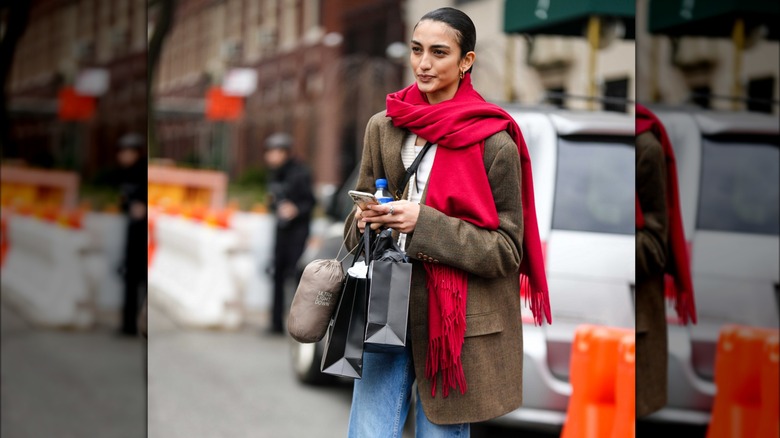 Edward Berthelot/Getty Images
If a large canvas of siren red feels like too much, you can easily focus your attention on chocolate and mocha tones when putting together your outfit. Starting with a palette of warm neutrals on top, add your favorite pair of loose denim, then bring in some cherry red accessories to brighten things up. Something as simple and easy as a red scarf or a red handbag can do enough to add a vivid pop of color to an outfit without going overboard. While there's certainly a time and place for beige and brown outfits, red is such a hit color right now that it would be a shame to miss the fun. 
Use a brown handbag to bring an extra long red coat down to earth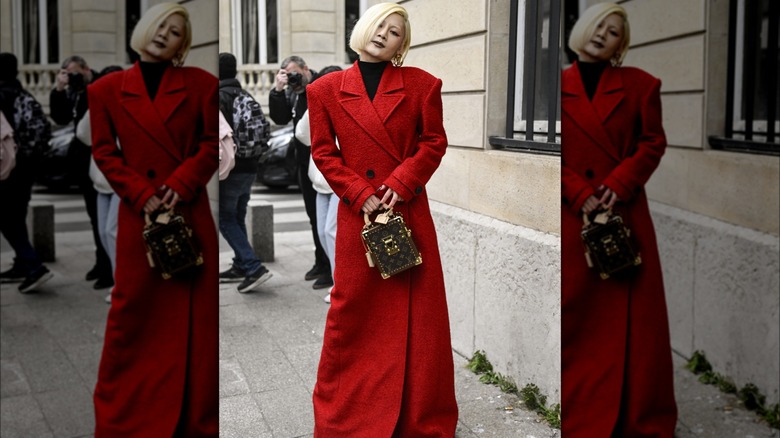 Daniel Zuchnik/Getty Images
If you have no issues wearing a lot of red, then you're one step ahead, since red is forever a popular coat color. Pair an extra-long, cherry red duster with a small, brown handbag to keep things down to earth. The earth-toned accessory creates a sense of warmth and coziness that tones down the intensity of the massive, red outerwear. 
There's actually scientific reasons to wear red. In "The Science Of Color," the BBC noted that both men and women were rated as more attractive when wearing red. People also linked success and confidence to people who wore red. So even psychologically, there's good reason to bring red into your wardrobe. It's also the color of desire and seduction. It's high time to jump on the red wagon, and pairing the powerful color with earthy browns helps ground an energetic look. 
Bring a pop of color with a red cardigan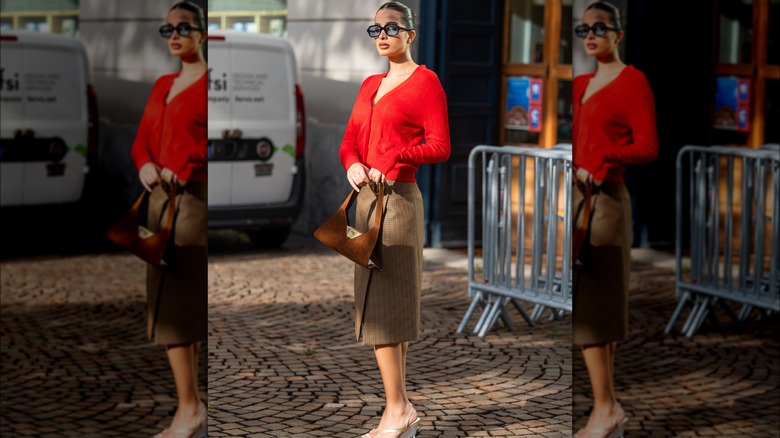 Christian Vierig/Getty Images
There's nothing as quintessentially feminine as a cardigan and a pencil skirt. With this solid outfit formula down pat, play with color variation. Opt for a neutral, russet color skirt and pair it with a cinnamon brown handbag to keep the tones in the same family. Then, brighten up the look with a candy apple red cardigan for the ideal fall color combination. Neutral, off-white heels keep the look from getting too busy. In cooler weather, pair with nude pantyhose or leather knee high boots.  
Couple patent red leather with muted browns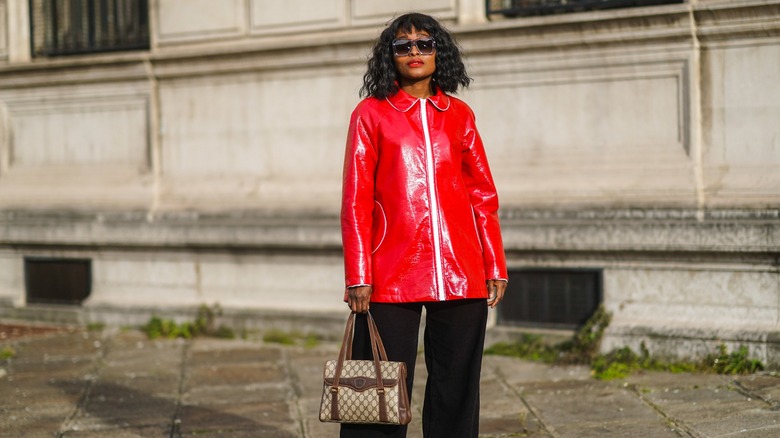 Edward Berthelot/Getty Images
If red oozes energy and confidence, then patent red amps these positive mental states up by hundreds of degrees. The bright red shade combined with the sheen of this particular finish is bound to turn heads. Combine with the muted browns of a soft-fabric, quality handbag, along with taupe brown sunglasses, and you've got the perfect contrast. Don't be too shy to bring out the red lipstick, since the red craze isn't just limited to clothing. Red lipstick is timeless, and works beautifully in any outfit that already plays with red as a lively, energetic feature. 
Balance a loud red crop blouse with brown high-waisted slacks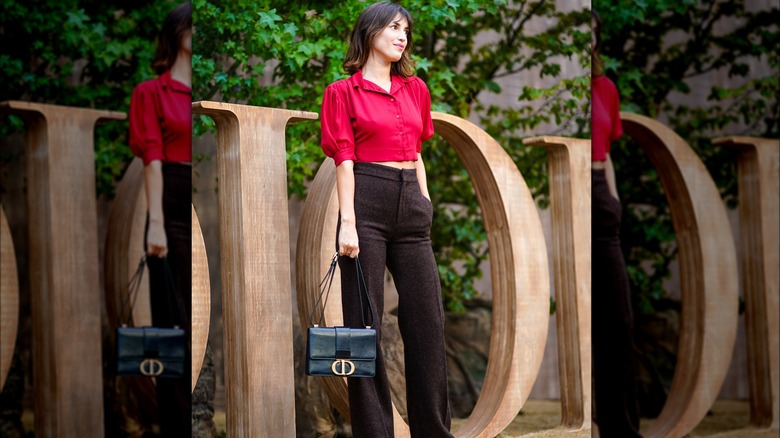 Edward Berthelot/Getty Images
If you've been looking to participate in both the red and crop top trend, but don't want to make the post Labor Day faux pas of wearing white pants, we've got you covered. 
Instead of going with black, opt for a pair of brown, high-waisted trousers to wear under your red crop. Cult classics like Madewell's Harlow Wide-Leg Pant in Chocolate Raisin are a perfect choice. Play with texture with Free People's We The Free Jayde Cord Flare Jeans in French Roast. Since the trousers are the larger piece, it makes the red seem less intense. The brown dominance in this outfit keeps the red as a playful pop of color. As always, work with blacks and browns as a neutral base by accessorizing with a black, leather handbag.
Work touches of red into a neutral outfit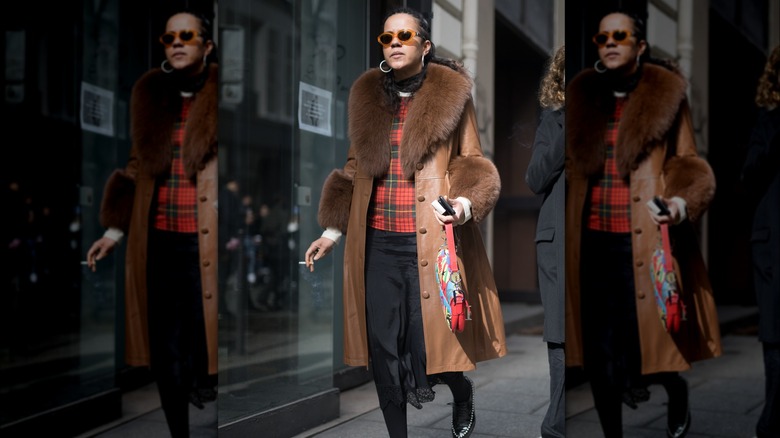 Matthew Sperzel/Getty Images
Some days, you don't want to go heavy on the red. This is totally understandable. Our energy shifts drive our outfit choices, and sometimes the mood isn't right for a heavily red look. You can still work with the dreamy combo of reds and neutrals by leaning heavily into browns. Layer a milk chocolate brown jacket over a red plaid top for a look reminiscent of the warmth of the holidays. Bring in a red handbag to make the color cohesive throughout the look. While this adds a playful thread throughout, the overall effect of the outfit is more muted.