We Know Fall 2023's Must-Have Outerwear Staple
Edward Berthelot/Getty Images
This fall, the ultimate outerwear staple is the leather trench coat. And we totally get why. The jacket is certainly timeless, but it also carries significant retro appeal, a look that we're very much going for in 2023.
When the classic trench coat first emerged, it was a key part of officers' uniforms in World War I, mainly due to its durable cotton material. It was later popularized for everyday wear in the mid-20th century by brands like Aquascutum and Burberry. But it wasn't until the 1970s that the leather trench coat really broke onto the scene, becoming a key element of that era's fashion — particularly for women. The leather trench coat morphed again in the '90s and became a hugely popular streetwear choice and fashion talking point in films from the era, thanks to classics like "The Matrix" franchise.
The leather trench has remained a key piece of outerwear up to the contemporary moment, carrying with it its rich history. Obviously, the coat is being styled differently now compared to how it was in the 1970s and the '90s, though the Y2K trend keeps some of that '90s feel alive. It's certainly not the only way that the '90s are working their way into the fall. Tie-dye inspiration is everywhere, especially in the cozy, layered looks of autumn. Plus, the '90s stretchy cotton headband has made a comeback, so we're juggling a lot of Y2K trends. But our favorite, without a doubt, is the leather trench. 
A gold, leather trench coat and a body suit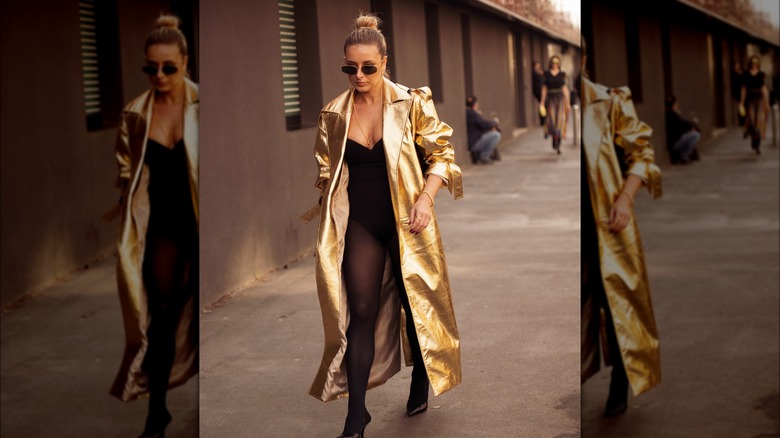 Raimonda Kulikauskiene/Getty Images
Since the leather trench coat covers so much of the body, it can be a great excuse to play along with showing off some skin, without fully committing to a baring-it-all look.
Create an edgy look by pairing a leather trench coat with an all-black bodysuit and tights underneath. While this looks great with a classic black trench, opting for gold or brown leather will surely make a bold statement. What's more, the tights add a layer of warmth for the fall, so you can still play with sex appeal as you style it without freezing. Keep the trench open to show off the layers beneath, or lean into the option of tying it closed if you want more coverage.
A leather trench coat over a sweat suit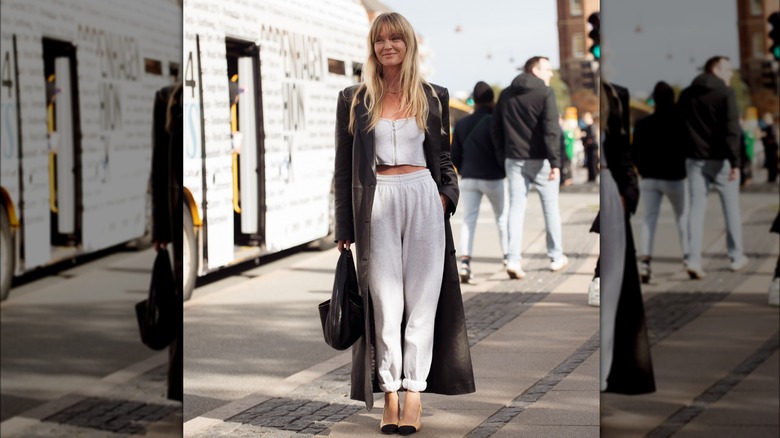 Raimonda Kulikauskiene/Getty Images
A leather trench coat is one of the most versatile pieces of clothing one can own, and it can elevate any outfit from casual to chic in a flash. This is most evident when the coat is paired with a basic, neutral-colored sweatsuit underneath. As we know now, sweatpants are an option for pretty much any everyday look, and this universal truth applies to leather trench coat outfits as well. Take a pair of comfy gray sweats or joggers and a matching zip tank, and step them up by pairing them with a rich, dark brown or black leather trench coat. Play with quiet luxury by pairing them with Chanel slingbacks for an unexpected pop of opulence. Throwing a leather trench coat over sweatpants is the perfect way to elevate the classic symbol of comfort by making you look way more put together.
A pink, leather trench and pink tights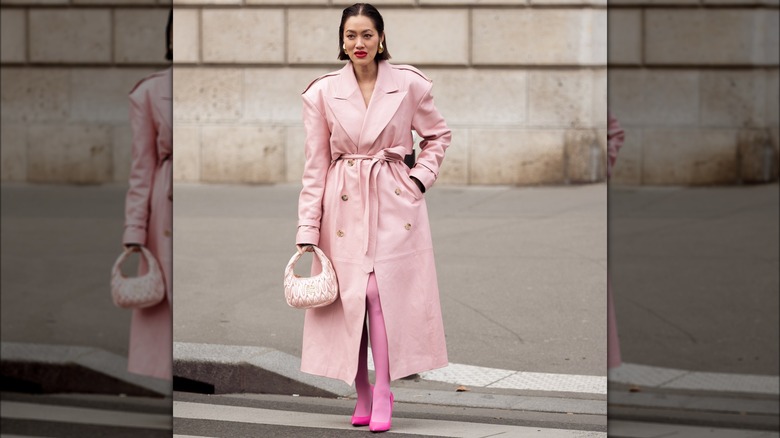 Raimonda Kulikauskiene/Getty Images
With the onset of fall, we're all about tights, and the more colorful the tights, the better. Add to this mindset our collective obsession with Barbiecore, and we've found the perfect palette to work with in the cooler seasons.
A pale pink leather trench coat is a playful way to incorporate the classic '90s outerwear in a fresh way. We're a long way from "The Matrix" with this color array, but it's totally fitting given the recent popularity of hyper-feminine stylings such as the coquette beauty trend. Don't worry too much about matching the shades of pink. Keep the look unexpected and fresh by playing with rose, peach, and hot pink for a fun, monochromatic look. Plus, with everything being one color family, nothing over-powers the look. What's so fun here is that even the accessories are shades of pink. 
A snakeskin leather trench and colorful pants
Edward Berthelot/Getty Images
While black and brown trench coats are always epic, we're seeing a wave of colorful leather trench coats taking over the fall outerwear game. Now's the time to make use of the color wheel. Exhibit A: Pair a vivid green trench coat with hot pink pants to inject some energy into your streetwear style.
We've also picked up on a serious sub-trend this fall: the python print. Brands like Stella McCartney, Bottega Veneta, Balenciaga, and Michael Kors are all incorporating the snake effect into their leather trench coats. So the combination of a brightly colored snake print on a leather trench coat is hot at the moment. Don't miss out on the opportunity to accessorize with some fun sunglasses. 
A violet, belted trench and leather camel slacks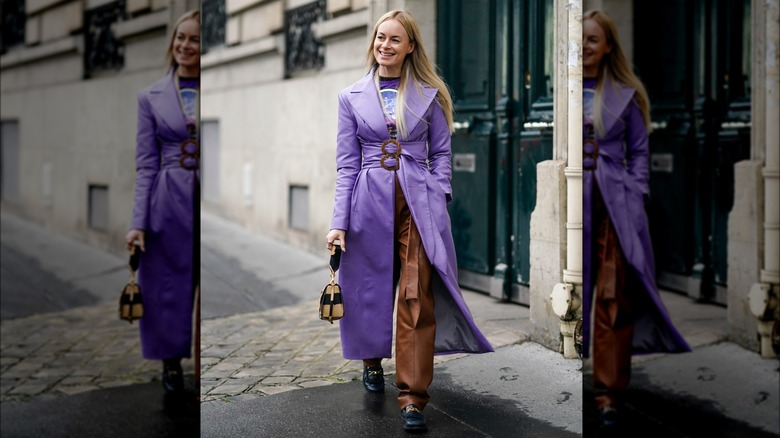 Edward Berthelot/Getty Images
If denim on denim is the Canadian tuxedo, leather on leather has to be the Canadian trousseau. Though the thought of doubling up on this fabric may bring to mind '80s rockstars, there's truly nothing more grown up than styling leather with leather. It's bold, durable and screams confidence. If real leather isn't your jam, vegan leather is just as stylish and easy to work with. Since brightly colored leather trench coats are major now, don't be shy to mix it up with a colored leather skirt of leather slacks. Vintage detailing on the jacket, like buckles and belts, adds to the nostalgia appeal. Keep the look fresh by styling it with platform shoes, minimal makeup, and smart accessories. You can also opt for white sneakers or Chelsea boots to ground the coat and keep it modern.