The '90s Stretchy Cloth Headband Is Making A Better-Than-Ever Comeback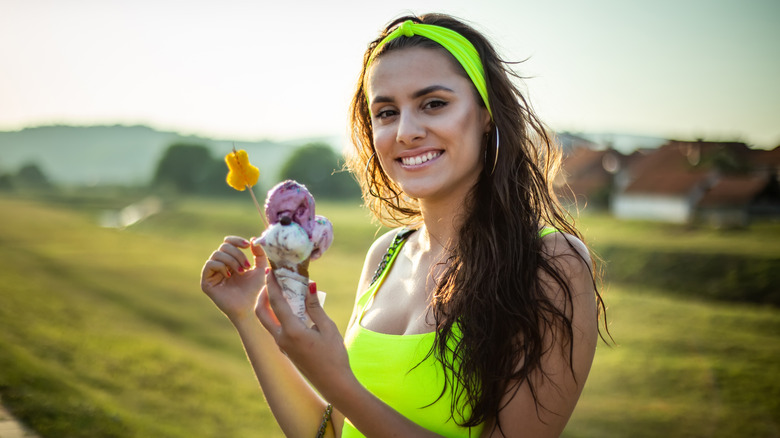 Milan Markovic/Getty Images
Everything old is new again. Y2K fashion has been all over the place, from low-rise jeans to sheer fabric and chunky heels. Some of the returning trends might be a little challenging to wear, but there is one nostalgic piece that you'll be happy to dig out of that box in the basement. Behold the return of the most comfortable trend of all: the stretchy cloth headband.
Of course, these items have never really left stores. We've been using them the entire time to hold our hair back while we wash our faces, to keep hair out of our eyes while we sleep, and it's much less damaging when we work out than a tight bun. Now, however, they can be worn from the office to the gym, and out to a late-night party. (Maybe put on a fresh one after that HIIT class, though.)
The great thing about stretchy cloth headbands is that they're not only easy to find, but they're cheap. We've seen them for as little as ten for $10. They come in all sorts of styles, from faux suede to mesh to shimmery mermaid print. Even better? They're not going to damage your hair, so take a look at how to style these little Y2K gems.
Dress it down
It's summer, and the whole world has been breaking temperature records. We're sweating like crazy, and one thing that really helps is keeping those tiny hairs out of your face. You know, the ones that sometimes feel like you have a bug on your cheek. Plastic headbands can give you headaches or damage your hair, especially if you wear them all day. The soft cloth ones look just as cute, and they won't yank out your hair. 
They look adorable with any outfit, but they give a little extra polish to a more casual getup. If you're just throwing on a pair of shorts and a tank top to head down the street for a walk, a headband can pull the outfit together. It can also add a pop of color near the face if you're keeping the rest of the look neutral, so as to not look washed out. They look just as polished with a workout ponytail as they do with your locks flowing down your back. Wear them in the center of your head or right at the hairline. (Wearing it at the hairline is a great tip if you haven't washed your hair in a bit — It covers up the greasy parts.)
Dress it up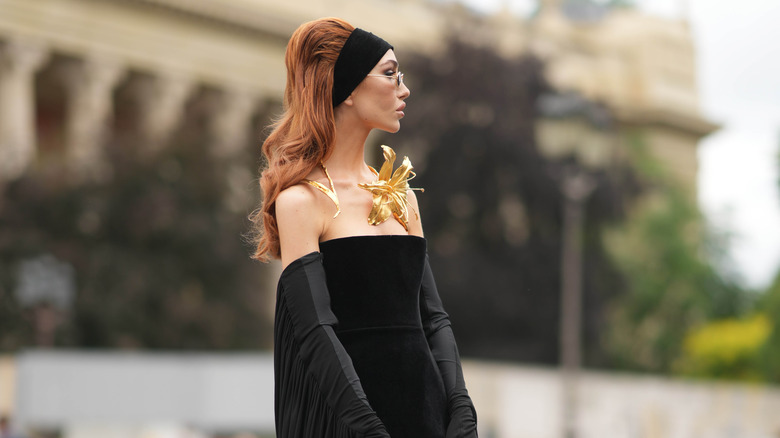 Edward Berthelot/Getty Images
Just because these hair accessories are made of cloth and actually comfortable doesn't mean you can't wear them with a fancy outfit. In fact, you can get these headbands in velvet or satin, or even lace with rhinestones on them. You can match a dress color or use the headband to give a pop of color. 
One way we've been seeing these cloth headbands used is to do a quick day-into-evening look. A neutral black headband works perfectly during the day and will also cover up where you attach a fake ponytail or added-hair accessory, so you don't have to spend that long on the switchover. Again, it can also cover up the parts of your hair that might be showing how many days it's been since your hair was tended to. Plus, in the wee hours after a riotous beach party, a cloth headband can double as something to tie your hair with while your Uber whisks you home.