If You Sleep With Wet Hair, These Tips Will Preserve The Health Of Your Strands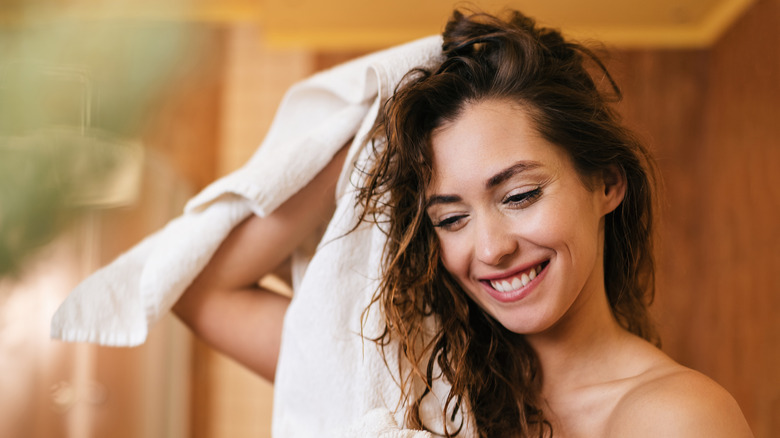 Drazen Zigic/Getty Images
When it comes to late-night showers, it can feel so nice to get clean and relax directly before going to bed. However, the downside to taking a nighttime shower comes when you have to figure out what to do with your wet hair. Do you sleep on your damp mane, or take away precious sleep time by drying it, and doing all of the styling things that come with keeping your locks looking their best? While it seems easy to go to sleep with wet hair, it may not be the best option for you. In fact, sleeping with wet hair has been known to cause some hair and scalp issues.
Sleeping with wet hair can contribute to hair breaking and fallout, leaving your hair looking thinner and duller than usual. "Hair is at its weakest when it's wet. The main risk (other than cosmetic ones) is breakage of hair when tossing and turning while sleeping," Dr. Adarsh Vijay Mudgil, MD tells Healthline. It can also cause dandruff and an itchy scalp, as well as acne, according to Vedix. More serious side effects of going to bed with soaked strands include inviting colds and sore throats. Scalp ringworm and bacterial growth and infections can also occur.
However, if you don't have time to dry their locks before hitting the sheets, there are some great tips for sleeping with wet hair that may help keep you and your strands healthy.
Protect your wet hair from breakage while sleeping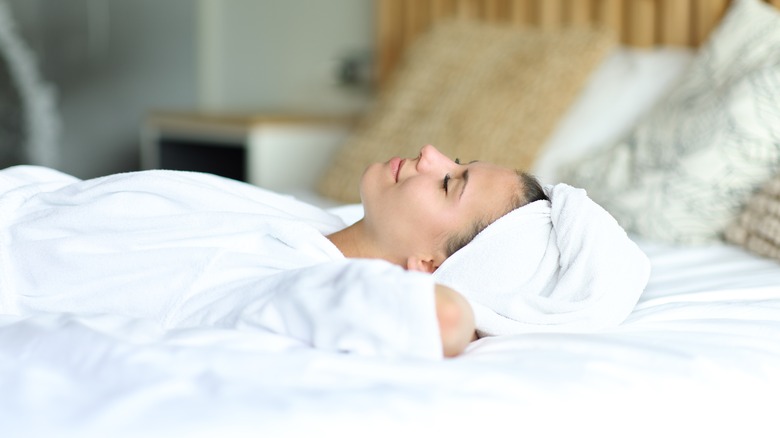 Antonio Guillem/Shutterstock
When going to bed with damp hair, it's important to ensure that your hair isn't soaking wet. So, you may want to leave time for your strands to air out naturally so that they are as dry as possible when your bedtime rolls around. In addition, you may also consider moving the time that you take a shower if possible. By doing this, you'll give yourself more time for your hair to dry before crawling into bed.
When sleeping with wet hair, you'll want to protect it from damage as much as possible. Don't pull your hair back into a tight style, this could potentially cause harm to your locks, and put pressure on your scalp as you sleep. Instead, try using a silk head wrap or a silk pillowcase to keep your hair protected from the breakage that sheets, blankets, and pillows can cause. However, if you want your hair back while sleeping, a loose braid may do the trick. "I recommend a loose french braid, starting just behind the front layers of your head. Your inability to make a perfect braid or perfect curl is working in your favor when you're styling before bed," celebrity hairstylist Creighton Bowman tells Byrdie.
Proper hair care products are also a great way to keep your strands protected if you're sleeping with moisture in your locks.
Using the right products is key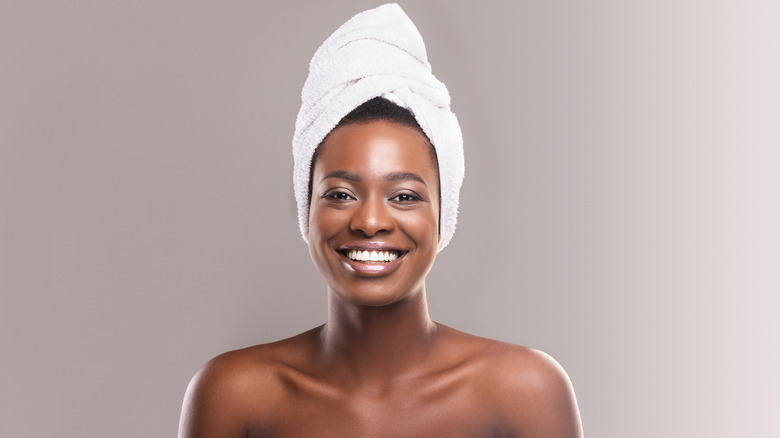 Prostock-studio/Shutterstock
One important step to heading to bed comes before you even step out of the shower. Using conditioner will help hydrate your hair, giving it more protection. Using a leave-in conditioner may also help you keep your locks looking luscious the next day. "I love leave-ins," celebrity hairstylist Kristen Shaw told Real Simple. "Davines OI All in One Milk or Su Hair Milk are amazing for nurturing your hair strand as overnight therapy," she recommended.
In addition, it's crucial for damp hair to brush and detangle your wet hair after washing. Gently detangling the strands can help prevent breakage throughout the night, and save you time combing through matted locks the next morning. Applying coconut hair to your strands will also help lock in hydration and offer protection from breakage while you sleep.
Sleeping with wet hair may not be the best thing for your mane. However, there are ways to help combat damage and keep your strands looking good and healthy when you simply can't find the time or the energy to dry your hair before going to sleep at night. Trying these hacks could benefit your strands more than you'd think, and completely change your hair care routine in the process.