Low-Rise Jeans Are Back And They're Surprisingly Wearable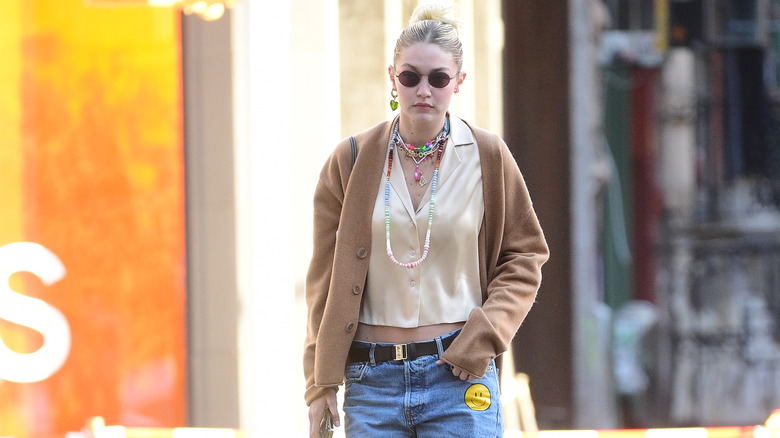 Raymond Hall/Getty Images
It's official: low-rise jeans are back. We understand that this is devastating news for anyone who came of age in the early aughts, as low-rise jeans are notoriously tricky to style. Fashion logic holds that the lower the cut the less flattering it may be. Many feel that if you don't have a particular body type, low-rise jeans simply do not work. Past iterations of the trend demanded a skinny waist and a perfect hourglass figure — meaning most of us were better off wearing a paper bag. Furthermore, if low-rise jeans are in, it means universally flattering high and mid-rise styles are unfortunately out.
As much as some of us may have prayed never to see low-rise jeans again, they have returned, and we have no choice but to figure out how to work them into our wardrobe. Before giving up on jeans altogether, though, rest assured that there are more than a few ways anyone — no matter their body type — can wear low-rise denim. Still don't believe us? Below, we explain how to make the world's most intimidating jeans work for you.
Keep it casual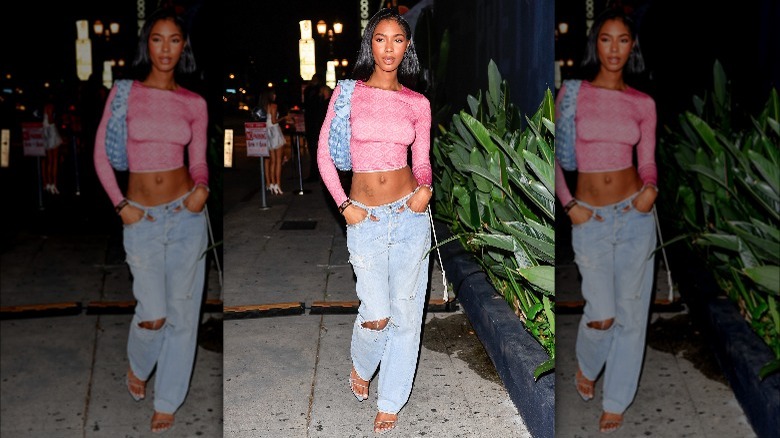 Rachpoot/bauer-griffin
Say "low-rise jeans," and it immediately conjures images of constricting waistbands and mortifying muffin tops. Rest assured, though, the low-rise jeans of today are far more user-friendly than their traumatizing predecessors. The modern take on low-cut denim is about conveying a casual, slouchy yet put-together look — an altogether different aesthetic than low-rise trends of generations past.  "Over the last year, we have introduced lower-rise styles as women look for a more relaxed fit," Donna Ida Thornton, stylist, and brand founder, told Elle in March of this year. "They tend to be lower rise but still very casual, so think straight-leg and boyfriend styles rather than skinny cuts. It feels cooler and more relevant."
Your jeans should feel comfortable, not constricting. The goal is to communicate a timeless sort of style rather than something hyper-trendy. If you're struggling to find low-rise jeans that work for your body — or feel baggy enough to look modern, consider what you already have in your closet. If you're already well equipped with a great pair of mid-rise or high-rise jeans, consider purchasing the same pair (or a similar one) a couple of sizes up. Ideally, you'll be left with jeans that hit your hips just right but still look mature enough to wear to work or a nice dinner date.
Style wisely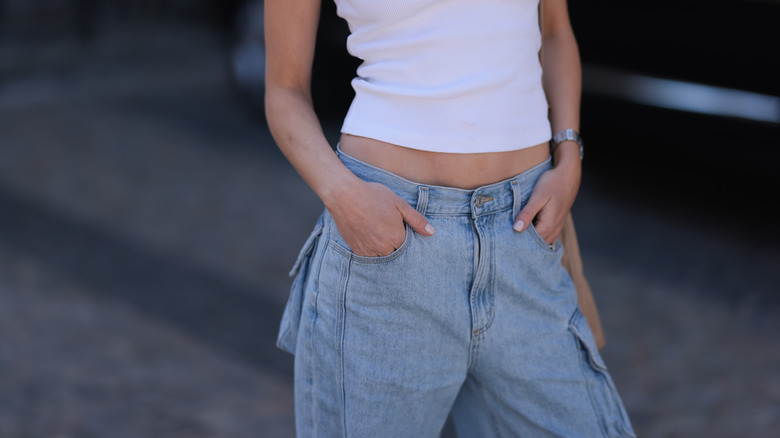 Jeremy Moeller/Getty Images
If you opt for a more stylish, slouchy pair of low-rise jeans, carefully consider how they're styled. Modern low-rise jeans are supposed to convey an air of nonchalance — something to keep in mind when crafting an outfit. Experiment with fit and fabric pairings to make your casual outfit a little more interesting. This could mean pairing a denim shirt or jacket with your slouchy pants or contrasting the pants' fit with a tight sweater or top.
If you're feeling particularly bold, or want to lean into the casualness of the trend, try a crop top, a staple look among Gen-Z. However, if you're well past your crop top days, you can still make the look work. Pair the low-rise pants with a boxy tee — not necessarily a crop top — but something that looks a little shorter when styled with low-cut buttons.
There are many ways to dress up the low-rise jean trend, too. Try a cotton button-down or a linen vest for something a little more formal – or office appropriate. Fashion law dictates loose pants mean a tight top and vice versa, but that doesn't have to be the case. Break the rules and try a chunky sweater with your loose jeans. Or, you could opt for a true vintage-inspired look with tight low-cut jeans and an oversized sweater. 
Update your waistline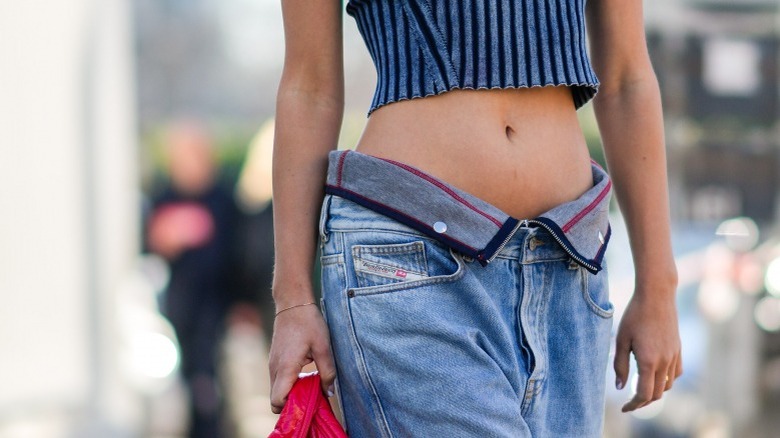 Edward Berthelot/Getty Images
If you've ever donned a pair of low-cut jeans then you probably know that they come with the risk of a dreaded plumber's butt. Thankfully, with careful styling, the faux pa can be avoided. The best way to ensure you get a little extra coverage on your tummy (or backside) while still embracing the trend is to shop for updated waistlines. You've probably seen folded-over, crisscrossed, or V-waistlines all over your "for you" page recently, and that's because they've become the younger generation's answer to the impracticalities of low-cut denim.
V-waist jeans allow the wearer to show a little tummy, thus embracing the low-rise trend, but still account for that pesky muffin top that often accompanies low-cut jeans. Crisscross pants, while not necessarily timeless, feel modern and cool, the perfect addition to any professional or post-collegiate wardrobe. V-waist or crisscross-style denim is great to pair with a crop top because regardless of your body shape, or waist size, these styles look flattering on just about everyone, making it an easy choice for a party or a fun night out. For an edgier look, play around with layering. Back in the day, it was all the rage to pair your low-cut denim with a thong, but these days, the trend is a little more conservative. Pair some low-rise jeans with men's briefs or boxer shorts and voilà — a cutting-edge look that still leaves something to the imagination.
Turn to the past
If you're a true vintage girlie at heart and love the opportunity to revitalize a look of yesteryear, don't worry about updating low-cut denim and lean into the trend. Low-cut denim was a staple in Y2k fashion which was defined by bright colors, big crop tops, and oversized/undersized accessories. Your jeans could come from H&M or a vintage store — it doesn't make a difference — as long as they scream Y2K. This means securing some low-cut pants with wide bottoms or embellished pockets.
Once you have the pants sorted, it's all about accessories. Pair your pants with a crop top and a chunky belt. Extra points if you can find a tiny shoulder bag and velour hoodie. "I go in with the accessories, which I would say would be the fishnet, the garter, the belts, the earmuffs — and fur," Aliyah Bah, a TikTok fashion influencer, told the New York Times in May of this year when explaining how she styles her unique Y2K aesthetic. Total Y2K may not be the most mature or modern, but authentic low-cut denim is excellent to wear in more casual settings. Ultimately, it's about wearing what makes you feel good, whether that's baggy jeans, low cut, or something in between.
Experiment with other fabrics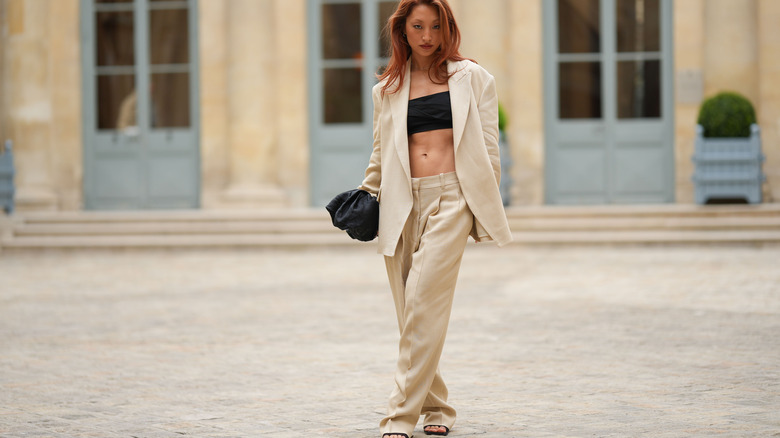 Edward Berthelot/Getty Images
Low-rise jeans might be all the rage, but they are admittedly un-wearable in certain situations. Even the updated baggy versions aren't necessarily office or cocktail-bar-appropriate. For a more sophisticated look, steer clear of trendy light-wash denim and invest in some high-quality white or black jeans that can transition between formal and casual settings. If denim just isn't your vibe though, the good news is the low-rise trend extends beyond jeans and is now a mainstay in designer labels that sell tailored trousers and expensive pants suits.
If you want to stay on trend but do so maturely, source some non-denim pants with a lower-cut waist. Baggy linen or wool bottoms offer a more timeless and versatile take on the low-cut denim trend. I think about how it used to be when super-low-rise was trendy — there was so much acid wash! Now you can get nice trousers or other cool low-rise pants. There's a wider variety of options," designer Kari Fry told Vox. Rest assured, you'll be able to find stylish options that fit almost any budget and feel appropriate in a variety of settings.