Patinaed-Washed Jeans Are Back And We Don't Know How Much More Y2K Revival Is Doable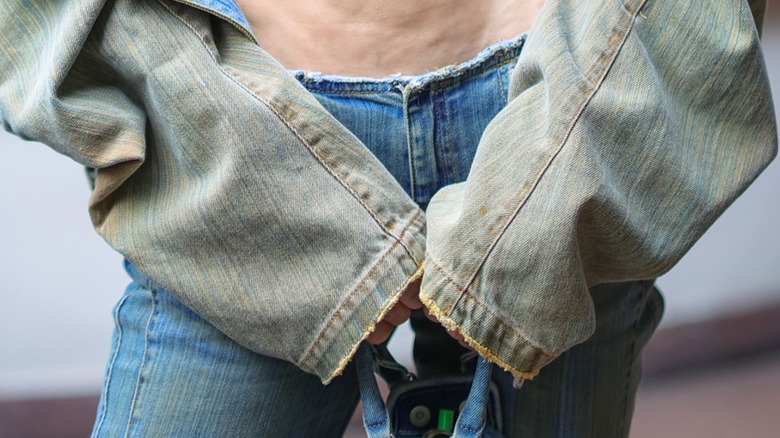 Rachpoot/bauer-griffin
Denim jeans, a wardrobe staple, are historically influenced by the trends of the times. In the 1970s, for example, came the bell-bottom jean; in the 1980s, the high-waisted jean was king; and in the 1990s, the super baggy cargo jean. Now, as the Y2K revival trend continues — just when we thought there was nothing left to be revived — another 2000s-era pair of jeans is returning to the fashion forefront: the patinaed jean.
What are patinaed jeans? Patina is what happens when metals such as copper or brass are exposed to oxygen. It rusts, creating a vintage or antique effect. As such, patinaed jeans often exhibit a kind of rusted color, in between a washed brown and a washed green, to emulate the look. Similar to the acid-washed jeans of the 1980s, which were modified with chlorine and rubbed with pumice stones to look distressed, patinaed jeans are also modified to look used and, perhaps, even slightly dirty. 
Patinaed denim takes on high fashion
Where patinaed denim might have been considered among the grungiest of denim washes, it has been transformed into a high-fashion statement for the Spring and Summer 2023 seasons. Canadian model Ari Fournier wore a patinaed denim gown by Blumarine to the 2023 Daily Front Row Fashion Awards, and earlier this year, known denim-lover Julia Fox wore a three-piece, patinaed denim set, plus a matching patinaed denim bag and heels, to the Diesel 2023 fashion show in Milan. (It's hard to wear denim with denim shoes without it being weird, but Fox never misses.) Both Fournier and Fox look modern and fresh in patinaed denim. But for our part, we're not sure how much more Y2K revival is doable; because of its grungy look, patinaed denim can be challenging to style. The trick, as Fox and Fournier have perfected, is to go all-in on the patina, and keep other elements of the outfit to a minimum. 
How to wear patinaed denim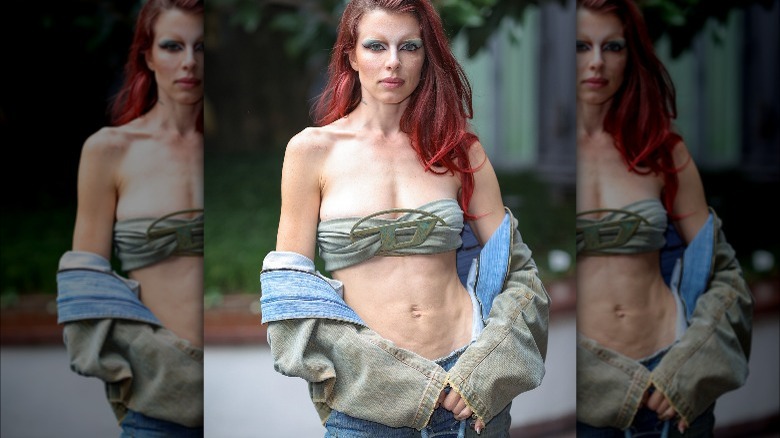 Rachpoot/bauer-griffin
And this might apply to styling any revival trend; one of the keys to doing it right is to not go overboard. That is, choose one, stand-out piece from the revived era, and pair it with other modern pieces or styles to ensure that your entire ensemble is not a complete blast from the past — unless that's the look you're going for! For example, we would style patinaed jeans with a super simple top, think white t-shirt, and neutral shoes, to ensure that the pants remain the outfit's focal point. Should you want to take patinaed jeans for a spin, here are a few places to look. Motel Rocks sells a super wide-leg pair of patinaed jeans, a cut that also draws from the 1990s and 2000s eras; Jaded London sells a similar wide-leg pair of jeans but in a lighter, greener wash; and Emmiol sells the ultimate, patinaed pair of jeans, which feature additional distressing and patchwork elements. Before you hit purchase, just remember that jeans take a staggering amount of resources to produce — 1,000 gallons of water per one, single pair, according to the Levi Strauss & Co. jeans lifecycle report from 2015. For revival-era pieces, we recommend searching for the authentic thing on secondhand sites, such as thredUp, DePop, or Poshmark, to avoid permanent environmental damage for a fleeting trend.