Tips For Wearing Pants While Still Nailing A Cocktail Dress Code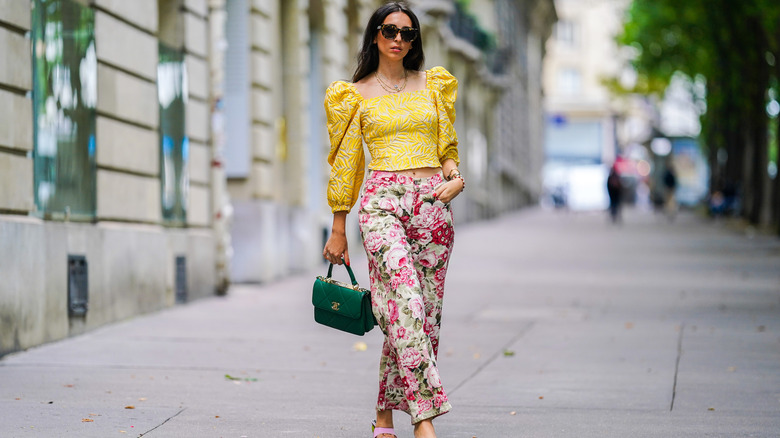 Edward Berthelot/Getty Images
When it comes to dress codes, we want to make sure we get it right. On the absolute extreme end of the spectrum is white tie, which is basically a royal event that requires a floor-length gown. Following this comes black tie, then formal, then cocktail dress. Cocktail attire is actually one of the most popular dress codes for special events, particularly weddings, because it requires people to dress up without being prohibitively glamorous. Not everyone has a floor length gown in their closet, but most people do have a few garments that fit the bill for cocktail attire, making it both dressy and accessible. 
There are a few essentials when it comes to nailing a cocktail dress code. Interestingly enough, wearing a dress isn't necessarily one of them. In order to do cocktail attire right, you basically need to look polished and dressed up; meaning  you should arrive with clear evidence that you put thought and effort into your outfit. This basic goal can be beautifully achieved with a good pair of trousers. You by no means have to wear a cocktail dress. Here are all the best pants look for nailing cocktail attire. 
Feathers and sequins make any outfit festive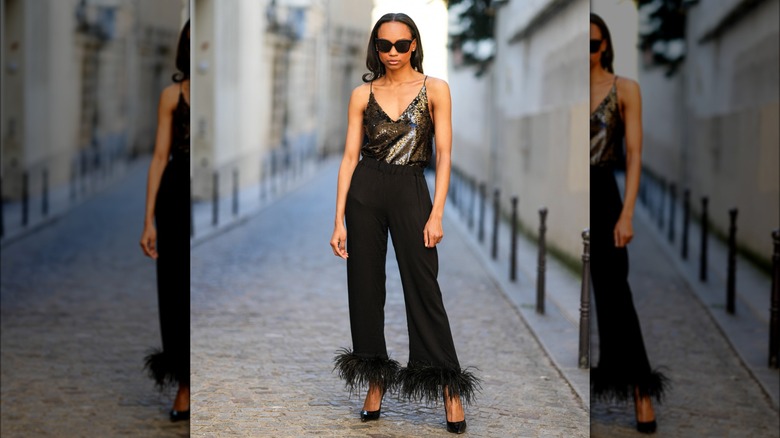 Edward Berthelot/Getty Images
Fabric is the key guide to cocktail attire. When wearing pants to an event that calls for cocktail attire, opt for a fabric that's dressier. This means to steer clear of cotton, linen, or any kind of athletic leisure material. Jeans are absolutely out. Instead, choose fabrics like silk, satin, and anything else that remains wrinkle-free and smooth. A polished looking pair of trousers or fitted cigarette leg pants are perfect.
When in doubt, black trousers are a good choice. They're easy to style and pair with a dressier top. To add to the look, choose trousers that feature some kind of embellishment, from sequins to pearls. We also love any kind of feather detailing, because it adds such movement and play to pants. Feathers tap into the fabulous trend of wearing pajamas out of the house, a look we are completely obsessed with. It's luxurious and fun. Pair it with a top with a metallic sheen for added glitz. 
When wearing pants, pick dressier heels or flats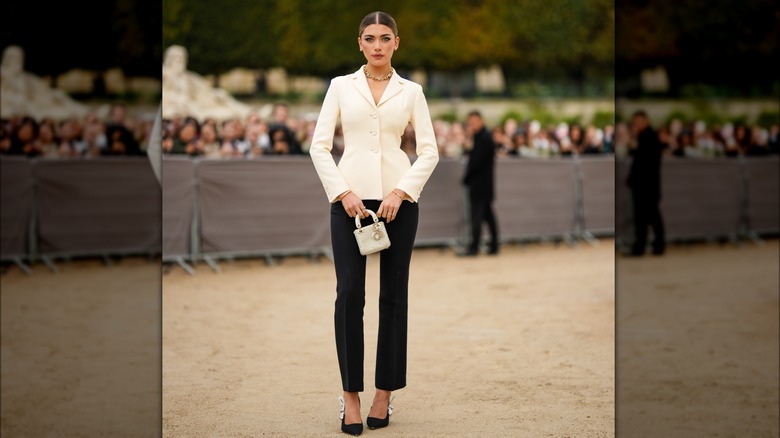 Edward Berthelot/Getty Images
A well-tailored blazer and straight leg pants are the perfect choice if you want to still fit the bill for cocktail attire. A black and white look is an easy way to look chic and sophisticated, and if neutral tones make you feel more comfortable, this is definitely the right color palette for you. Pair the look with a stylish, small bag or clutch and some glamorous heels. If heels aren't your thing, then you can still keep the look dressy with footwear that suits you. Kitten heels are perfect. Even a dressier flat is a great choice, so long as it doesn't look too casual. 
Lean into the power of hair, makeup, and accessories to dress up the look. A bold necklace takes the top to the next level. A sleek bun keeps things elegant, and full, tasteful makeup makes everything look polished. Your outfit can be simple and tasteful, but it's all these other details that transition the outfit from day to night.  
Tonal outfits 'bridge the gap between day to night'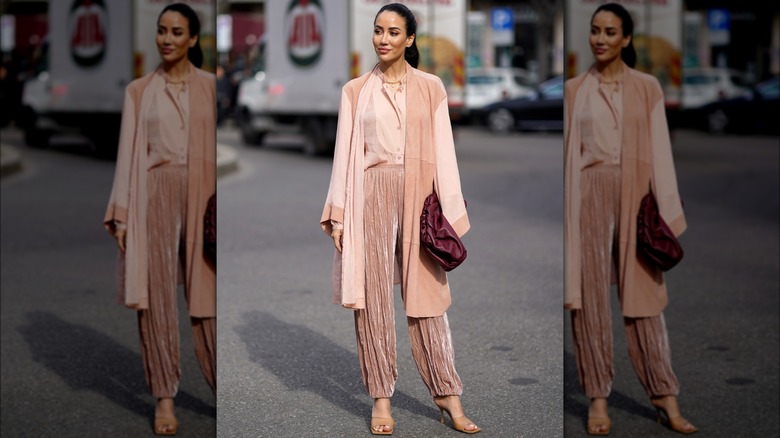 Edward Berthelot/Getty Images
If you want to keep the effect of a flowing silhouette but don't want to wear a dress, a longer jacket is a perfect choice. Keep things light and opt for fabrics with a glazed or silken finish. The point is that you want to look dressed up and that you made an effort. "Cocktail attire is meant to bridge the gap between day and night," bridal consultant LauraLee Baird told Brides. "It is still an occasion to dress up, but a full-length gown is not necessary." 
A tonal, soft pink outfit is the perfect way to dress up for an occasion, whether it's a wedding or any other function. Gathered pants in a velvet finish are a perfect look for any season. A tucked silk blouse adds to the soft silhouette, while nude heels make the outfit dressed up. Opt for a clutch that stays within the color family.   
Don't outshine the bride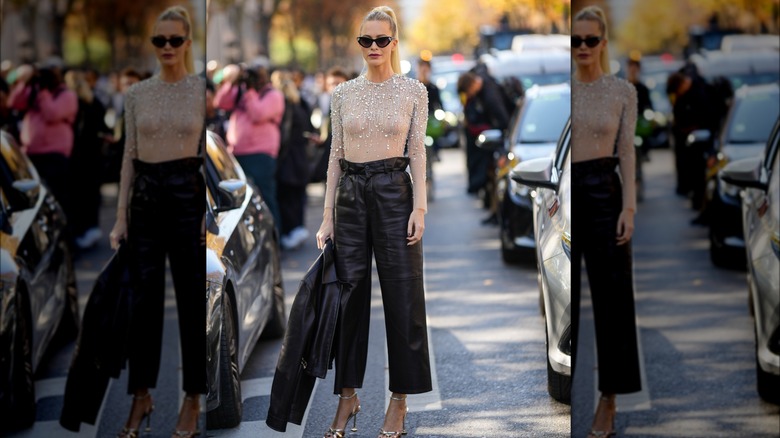 Edward Berthelot/Getty Images
While we might worry about arriving too casually to an event that calls for cocktail attire, there's a flip side to the dress code too. You want to be mindful of not overdressing. Cocktail attire is not black or white tie attire. If it's a wedding, absolutely do not outshine the bride or wear anything that would steal the spotlight. The point is that your grooming and outfit are ways of expressing your joy and celebration, while giving the bridal party the space for their big day. If it's another kind of event, you still don't want to overshadow the reason for the occasion. 
This is where leather pants, or faux leather pants, can work really well as cocktail attire. Also, leather is a sure way to avoid wrinkles in your outfit. Pair it with a festive, bejewelled top. The neutral tones of the outfit keep things polished without stealing anyone's thunder. A slick ponytail is a great choice for hair, since it's elegant.  
When in doubt, go with a higher neckline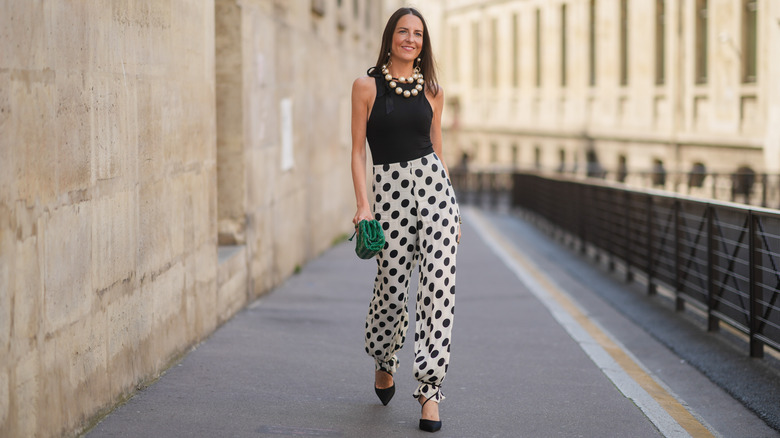 Edward Berthelot/Getty Images
There's another crucial element to nailing the cocktail attire dress code, and that's opting for clothing that leans on the modest side. A spot-on cocktail outfit should be something that doesn't reveal too much skin. While sleeveless and form-fitting clothes are perfectly fine, it's best to keep the neckline a little conservative if you're going that route — though it largely depends on the event that's calling for a cocktail attire dress code. Stylist Anny Choi explained to Harper's Bazaar that it's good to use your intuition about the vibe of the event. "If I am attending a fashion event or if the event calls for a 'creative cocktail', I know I have a bit more freedom and can think outside of the box," Choi told the outlet. "For a more traditional event like a wedding, I would stick to the more customary definition, as you wouldn't want to out-stage the couple or get strange looks from their older relatives, for that matter." When in doubt, go with a look that's a little more covered. But if you know the vibe and have a strong sense of the crowd, then have fun with your choices. 
Carry a small clutch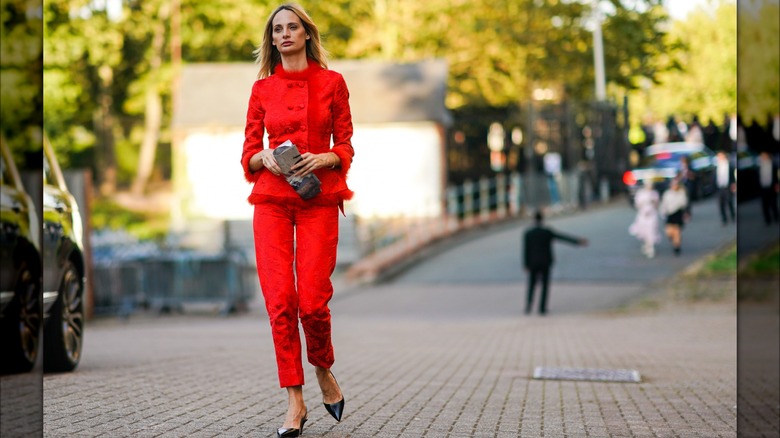 Edward Berthelot/Getty Images
Another crucial part of mastering cocktail attire is choosing the right bag. Don't carry a bag that's too big or loud. Part of the "uniform" of cocktail attire is carrying a small clutch or shoulder bag. A big bag will appear too bulky and weigh down the look. Plus, a fun clutch is a great way to take an outfit to the next level without much effort. "I think it's better to go minimal and dress up the look with fun accessories versus being the most overdressed person at the event," Choi told Harper's Bazaar. Later, she added, "A great accessory can take a smart casual look to a cocktail look!"
Lean into an elegant, monochromatic pant suit for the perfect cocktail outfit, and pair it with a compelling clutch. A red pant suit is beautiful and vivid, and a silver clutch creates the perfect balance. Best of all, this look showcases how to rock the metallic bag trend without it taking over the look. Just keep the bag small, and you'll be fine.