How To Wear Pajamas Out Of The House (And Still Be Stylish)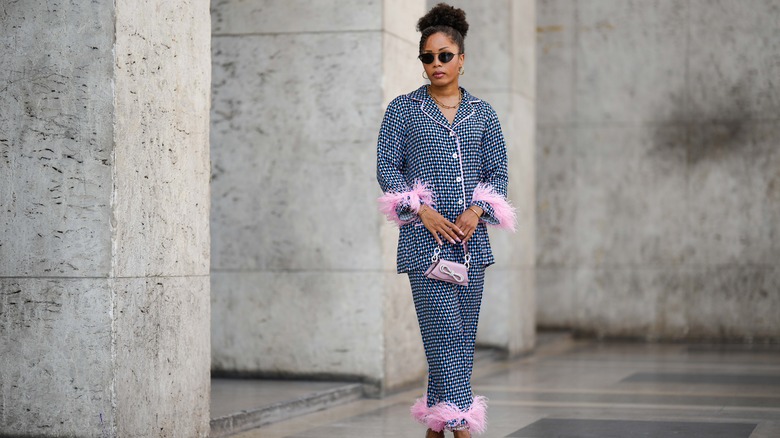 Edward Berthelot/Getty Images
There's something both bold and sensual about wearing a luxe pajama set out of the house. The style conveys a playful crossover between the personal and public; what we wear in our bedrooms is suddenly woven into what we wear in the streets. Of course, these pajama sets are elevated sleepwear. We're talking satin and silk, bright piping along the seams, playful prints in vivid colors, and of course, flirty feathers often found on boudoir gowns. We're not talking about sweatpants and Hanes undershirts. But wearing a matching pajama set out in public, no matter how luxurious it is, is no small feat. For one, you want to carefully balance the look so that the two piece set looks deliberate; you do this by keeping everything else polished. Satin pajama sets typically come in an oversized cut. So not only are you dealing with a look that's typically set for the bedroom; you're also dealing with proportion. 
While we want to remain mindful of these things, matching satin sets are the best. Not only do they convey an elegant "I don't care," they're also comfortable as could be. The loose trousers are effortless, and the button-up sleep shirt is roomy and textually pleasing. How you style these looks is everything; here's how to hit it out of the park.   
Keep your accessories cool with a matching pajama set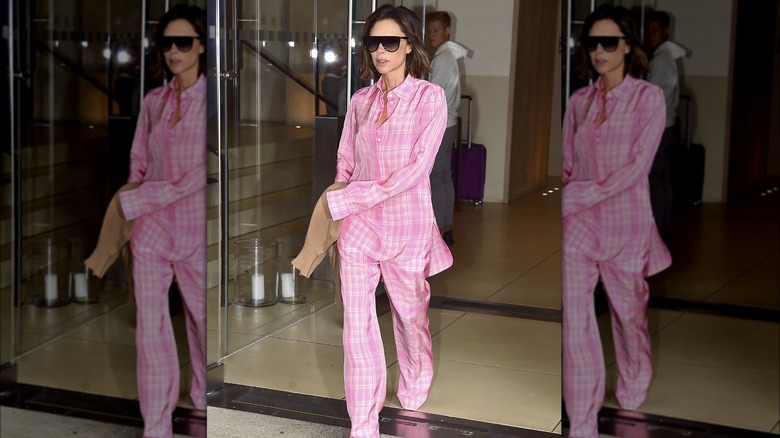 Alo Ceballos/Getty Images
Follow Victoria Beckham's lead when it comes to styling a pink, plaid satin pajama set. The key is in keeping the accessories very cool. While plaid pajamas are timeless, make the outfit intentional by pairing it with very current pieces. Opt for a pair of black, shield sunglasses and a luxe handbag. Since the pants tend to run long, don't be shy to wear your satin pants with heels to play with the height and proportions of your set. Go modern and minimal when creating this look. 
But plaid is everything, and even though plaid is such a traditional pajama print, we are loving it outdoors. Lean into the flirty pastels of plaid like Beckham did, or go for traditional dark plaids. Check out the rich plaid tones in a Norma Kamali pajama jumpsuit from Net-A-Porter or dig into the red and black plaid satin set by CowCow. Nothing could be more comfortable or chic. 
Groomed hair and pretty makeup are the ticket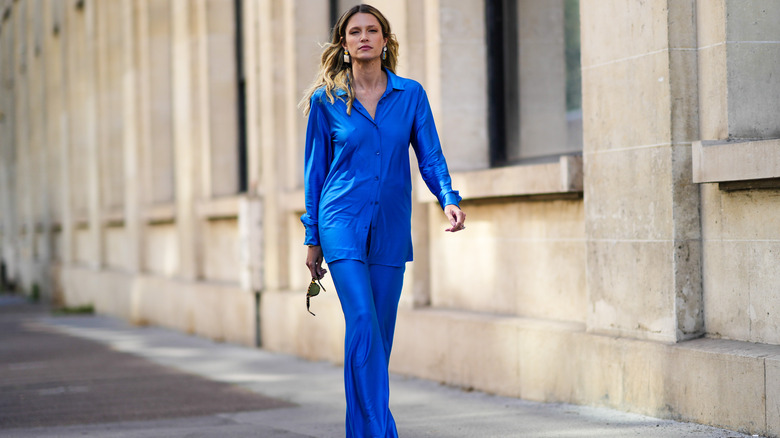 Edward Berthelot/Getty Images
While a matching satin pajama set suggests that you just rolled out of bed, you definitely don't want your entire look to send that message. So when wearing a matching satin set, make sure that your hair is done. When wearing pajamas out of the house, use the famous Iris Apfel quote as your guide: "If your hair is done properly and you're wearing good shoes, you can get away with anything." Let this be your mantra when leaving the house in something more daring, like daytime pajamas. Make sure your makeup is deliberate too; whether you want to go a little more glam or keep things natural, it doesn't matter. You just want to make sure that hair and makeup look polished, so that they balance the playful look of a satin set.  
Wear bright prints with an oversized blazer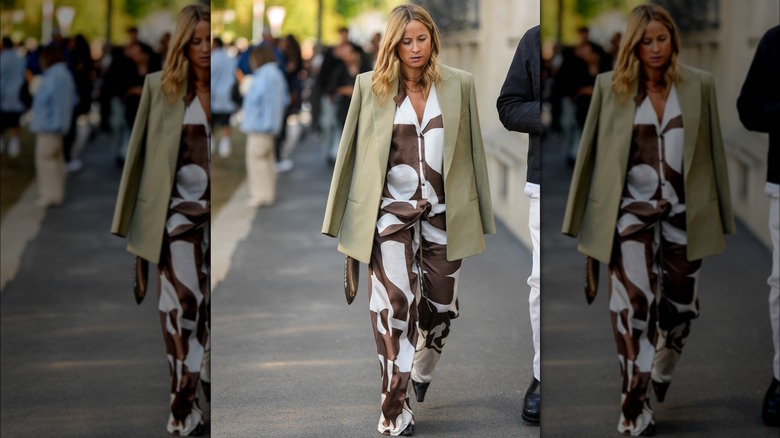 Edward Berthelot/Getty Images
Embrace lingerie as outerwear with this look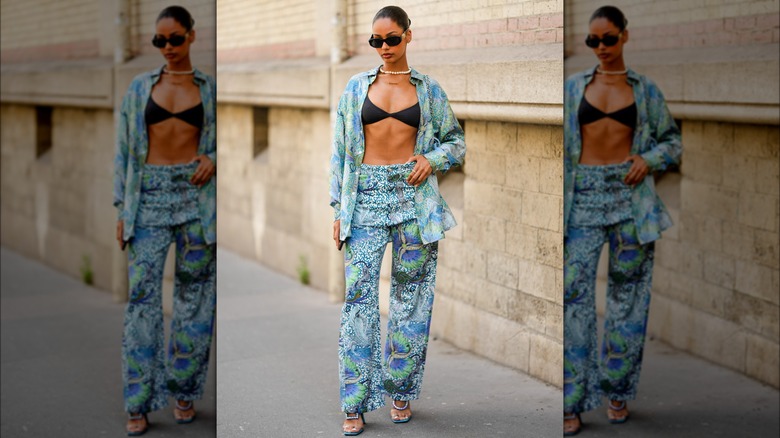 Edward Berthelot/Getty Images
One way to keep the pajama look hot on the streets is by embracing lingerie as outerwear. Of course, in fall months this is going to depend on the weather. On warmer days, embrace a bralette as a top and keep the satin pajama set unbuttoned. If it's too chilly to have the top totally opened, then wear a lace camisole or bra and wear the top slightly opened so there's a peekaboo effect. Since the suit tends to run larger, the balance of fabric and sex appeal makes this the perfect look.