Cross-Body Bags Are Firmly Out This Fall — Here Are Our Favorite Alternatives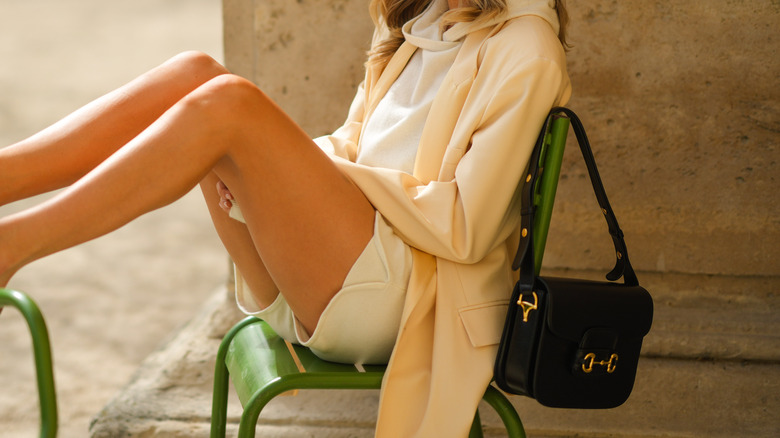 Edward Berthelot/Getty Images
Sorry to cross-body bags, but your days are numbered. The bag, with its strap hanging diagonally across the body, cuts a look in half and creates too much busyness across the torso. With all of the effort we put into styling the perfect look, no one wants a big strap covering and distracting from the final effect. The cross-body bag is one in a lineup of handbags that we're leaving behind this fall, in good company along with micro mini handbags (why?) and designer dupes (just no). 
Unlike the micro mini bag, the cross-body bag actually did serve a legitimate purpose; it allowed for hands-free walking, thus making a commute that much easier. So as we hail in the newest fall handbags, we're sourcing stylish alternatives that still offer this conveyable plus. Don't worry. We're not pitching clutches or any other high-maintenance bag. Everything is stylish and comfortable, so you can take in the fall foliage and pick pumpkins in chic serenity. 
A bright shoulder bag adds a burst of color to your fall look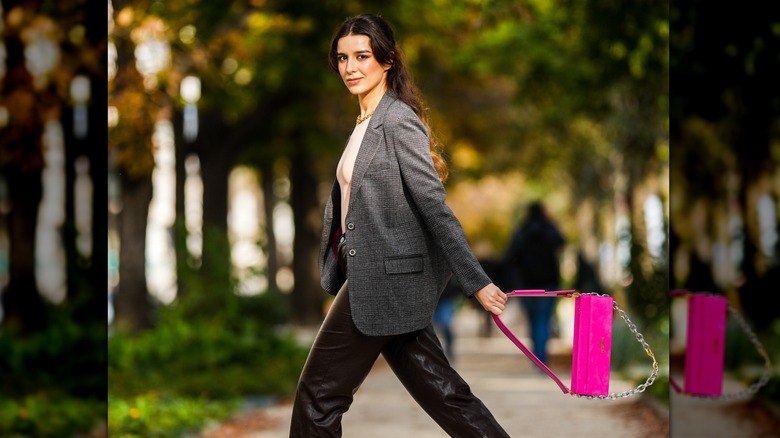 Edward Berthelot/Getty Images
A shoulder bag is the new go-to bag for fall. The sleek shoulder strap makes it easy to carry without crossing over your blazer, shacket, or whatever other outerwear you've chosen to take in the crisp air. Shoulder bags nestle easily between your arm and side. The straps are frequently adjustable, so you can keep it short and close to your body, or wear it longer down your torso. If you're leaning into a more muted autumn palette, with neutrals, charcoals, and blacks in your outfits, let your shoulder bag be the pop of color in your look. Red accessories are one of the biggest trends this fall. Also, a fuchsia pink shoulder bag adds a playful pop of color. 
The luxurious fanny pack makes a commute easy-peasy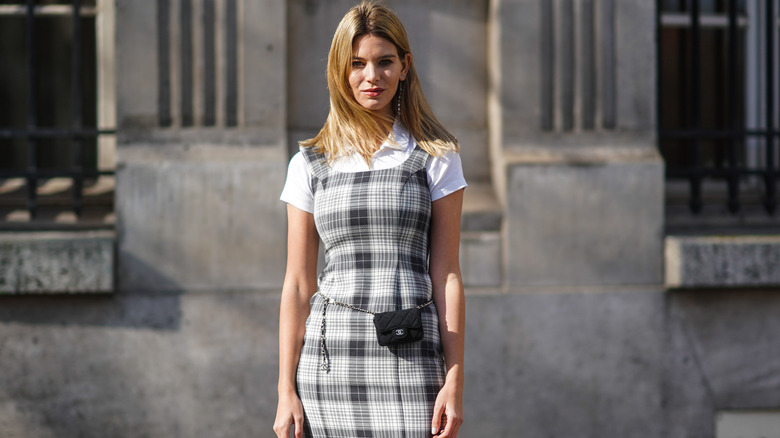 Edward Berthelot/Getty Images
We love fanny packs and belt bags. Granted, you may need something larger than the chic and very petite Chanel chain waist bag to hold your things, but fanny packs and hip bags are one of our favorite ways to carry your things comfortably and stylishly. Talk about hands-free travel! Take the inspiration and run with it. Vintage and second-hand stores can be a fun way to source retro, canvas bags that are spacious enough to hold your phone, keys, and cards. Or, treat yourself to a high-end belt bag. Everyone from Isabel Marant to Saint Laurent is making them, so they're designer-approved. 
Carry a spacious tote bag to catch everything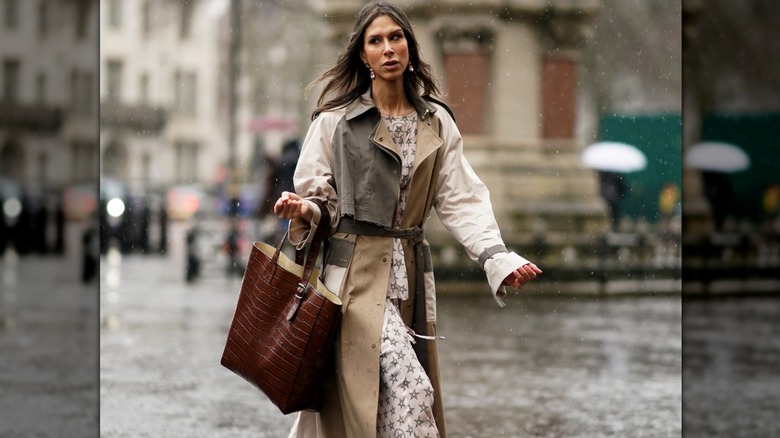 Edward Berthelot/Getty Images
We love tote bags for so many reasons. For one, the range is impressive. Opt for an upscale tote bag, like a glossy brown one in an alligator skin print, with gold hardware. The color tone works well with warm and richly-hued autumn outfits. But tote bags also come in more accessible versions. A simple canvas tote bag, like the L.L. Bean Boat and Tote, is classic and roomy enough that you can throw in your purchases as you run errands. If you want to sport a brand on your tote, it doesn't get more New York than a Trader Joe's canvas embroidered shopping bag.
Sport a woven bag in the fall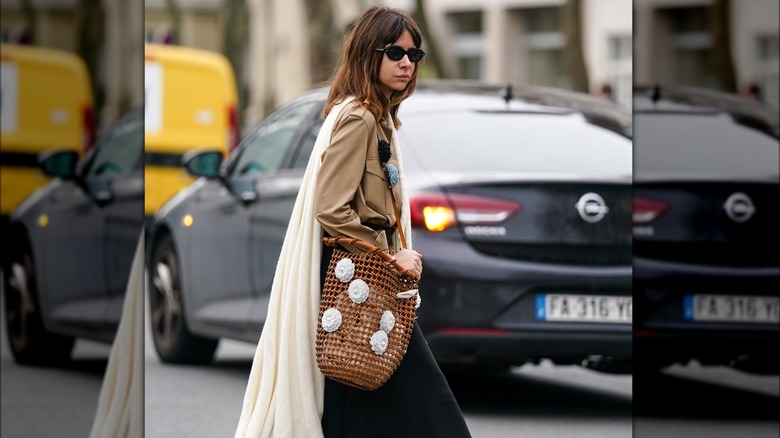 Edward Berthelot/Getty Images
While woven and wicker bags are used to signal a day at the beach, the lively woven bag is now an all-season accessory. Durable and lightweight, the woven bag offers a stylish way to carry your belongings around town. Since the bags tend to come in straw, sand, and earthy umber colors, it's the perfect neutral to work with other fall colors. Opt for one with a long strap, so that you can sling it over your shoulder and be about your business. The added texture from the raffia or woven leather enriches the story of your look. 
A backpack purse is your new best friend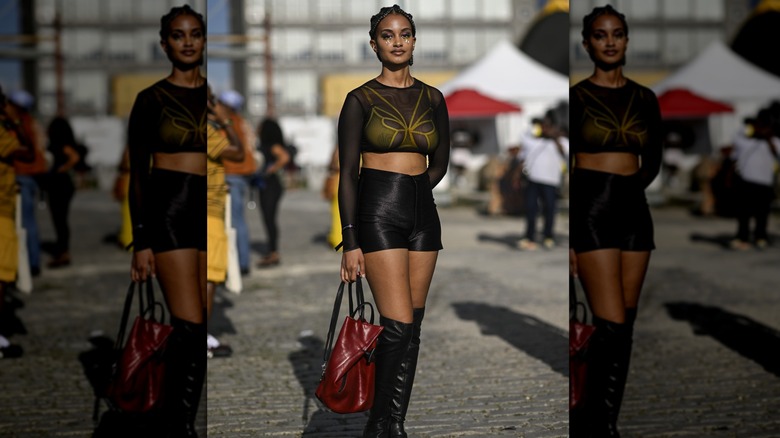 Daniel Zuchnik/Getty Images
A backpack purse is miles away from the former days of backpacks in cafeterias. This is the grownup version, and the sophistication is only outweighed by the points this bag gets for easy transport. Carry it in your hand when you need to grab something, but for the rest of your day, wear it on your shoulders and bask in the comfort of having your hands free. Plus, if you have a lot to carry on any given day, you may find that a backpack offers more support and comfort than a purse.