It's Time To Say Goodbye To These Outdated Handbag Trends In 2023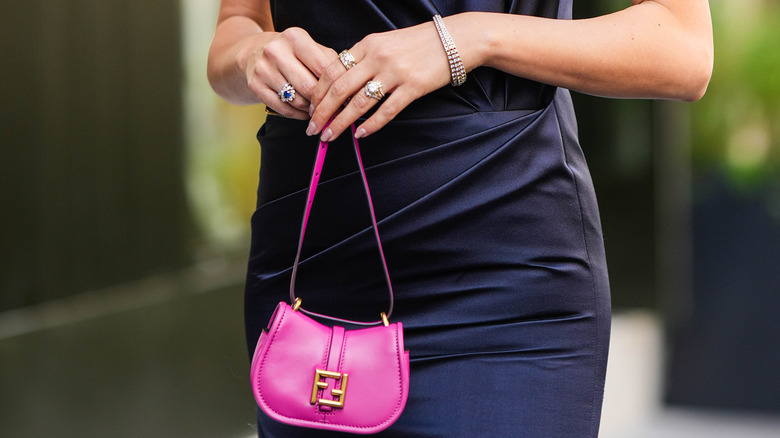 Edward Berthelot/Getty Images
Another year, another trend. This time, let's discuss handbags. Handbags are a necessary wardrobe staple for many women, whether they're used to stash tampons or lip gloss. Of course, it doesn't hurt when your bag of choice is also stylish or on-trend. As a new season approaches and you look for a new handbag, you may want to consider which bags are in, out, or maintaining their status as a classic. 
Of course, there are other considerations to take into account when choosing your next bag. Think about what you need or want out of your accessory, and whether it fits your budget. And when you do decide what bag (or bags) you choose to wear this season, make sure you wear them well and with confidence. The purse you wear shouldn't necessarily dictate or define how stylish you are, but if you're looking to move on from outdated trends and discover something fresh, take a look at our list of been-there-done-that bags. Remember, fashion should be fun!
Micro mini handbags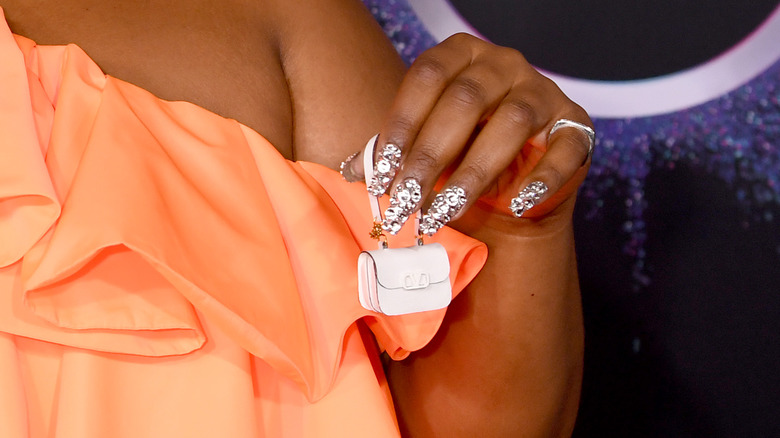 Jeff Kravitz/Getty Images
While the micro mini handbag has been on trend for quite some time, it may be time to give these little guys a break. Though fashion and function aren't always mutually exclusive, fashion for the sake of fashion might be a thing of the past in this instance. The novelty of these bags is still good for a chuckle, but for the price that some of these retail at, you may be better served spending the same amount of money on accessories like jewelry or sunglasses. If you already own one of these bags, you can even repurpose it and wear it like a piece of jewelry. Try threading a chain through your micro mini handbag and wearing it as a pendant, or even a charm for a bracelet.
Designer dupes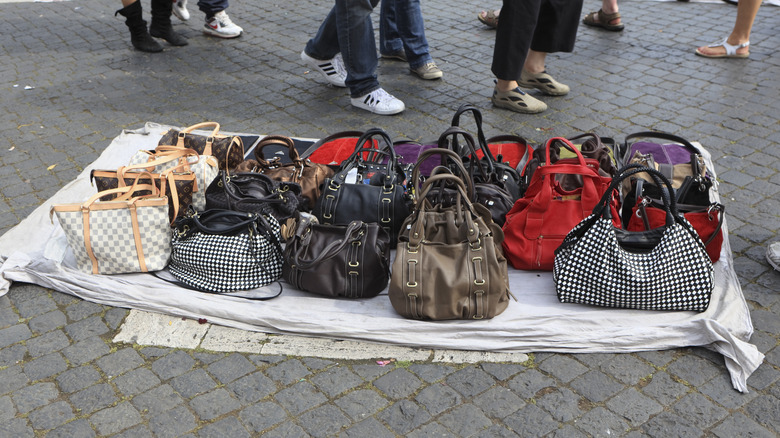 Romaoslo/Getty Images
Designer handbags have been at the forefront of bag trends as of late, and while the thought of investing in a designer bag may appeal to you, it may not be a smart choice when it comes to your budget. Some people have turned to a more budget-friendly way to participate in designer bag trends by purchasing "dupes" or designer replicas. 
But though purchasing a replica or fake designer bag might seem like a good way to save money, you may want to think about whether or not it's really worth it. First, if you are hoping to pass off your designer dupe as the real thing, there are eagle-eyed fashion enthusiasts who can usually spot a fake Gucci bag from a mile away. Second, while real designer handbags can cost upwards of thousands of dollars,  their less expensive counterparts aren't always cheap. Dupes can still cost hundreds of dollars if you want something that's virtually undetectable as a fake. With this in mind, it might be better to spend that money on a high-quality, well-made bag instead — even if it doesn't come with a designer label. 
Beaded bags
The beaded handbag trend certainly served its purpose. For a while, it was almost everywhere you looked, online and in real life. The beaded bag is a great "going out" accessory because of its shiny finish. Wearing a beaded bag is also a fun way to add cool detail to a casual outfit. However, it is time to say goodbye to this trendy piece. 
If you are looking for a handbag with similar qualities and functions in terms of elevating an outfit, look no further than a metallic or sculptural handbag to add a bit of flair to your ensemble. Of course, if embellishments are more your style, you may want to opt for bags that have stud details, or perhaps a sequinned evening bag you can wear during the day, with a T-shirt and jeans look, for an unexpected pop of glitz and glamour. 
Viral it bags
There are a few factors that you may want to consider when buying a designer handbag: one of them being the longevity or how much use you are going to get out of the bag you purchase. While the decision to wear a trendy handbag long after the trend has passed is completely reasonable, if your goal is to simply partake in a fashion trend, you may not want to participate in one that can cost you thousands of dollars. 
If your budget is a consideration when purchasing a designer handbag, it may be to your benefit to choose a bag that is more classic, or even a bag that simply isn't a viral trend at the moment, so that you can be certain that you're not just purchasing the bag because you've been influenced after seeing it all over your social media feeds.
Buying new
Bloomberg/Getty Images
Your purchasing decisions are up to you, but if you are someone who is looking for a more classic handbag style, or perhaps someone who has sustainability in mind, buying a brand-new handbag may be a thing of the past. While purchasing brand-new items certainly has its appeal, opting to buy a handbag second-hand through resale websites or your local consignment shop can be a more sustainable choice, as no new products are being made. 
Shopping second-hand can also save you some money, especially when making an investment in something like a designer handbag. Just remember to do your research and ensure that you're purchasing from reputable resellers. Browsing at consignment shops where designer handbags are authenticated before being sold can ensure you aren't being scammed into spending your hard-earned cash on a handbag that is not authentic. 
Basic, structured bags
A basic, structured handbag is always useful, whether it's for work, school, or just day-to-day activities. But just because you need something that's functional, doesn't mean that your handbag has to be boring. The photo above is a great example of an alternative to your everyday handbag. 
While the bag still maintains its functionality and structure, its unique handle and details set it apart from your average handbag. It is also a good size to fit your daily necessities like a cellphone, wallet, keys, and perhaps some makeup or other toiletries. If you must carry a handbag day-to-day, you may want to opt for something that has some unique or interesting details, to add a bit of fun to an otherwise purely functional accessory. 
The Mrs. bag
There are usually few occasions—outside of your wedding day or bachelorette party—to wear this type of personalized handbag, but we still think it might be time to say goodbye to the "Mrs." bag. While this bag is cute and certainly earns some points for being fun and novel, personalizing pieces in this way does read like a dated trend. 
Quiet luxury is the buzz phrase of the moment, especially with the viral TikTok wedding of Sophia Richie, who has a timeless style. Wedding fashion seems to be leaning towards classic silhouettes, subtle glamour, and understated accessories. By definition, this disqualifies the personalized handbag, as it isn't exactly subtle. 
Of course, for such a significant event like your wedding day, you should not be confined to trends of the time to execute your vision. If you really want to personalize something like a handbag or clutch, you might want to consider embroidery in your bag's lining, for a subtle detail that is special (and secret), just for you.
Using bags purely for function
As we have noted and emphasized, fashion should be about fun. While trends come and go, you should be the one making the rules when it comes to your personal style, even if that means disregarding trends altogether. Of course, in this case, the trend is to disregard function and lean into style and art. 
For the most part, when you think of a handbag, you are likely thinking about it as a vessel to carry your things. However, this trend is challenging you to abandon that thought altogether (not unlike the micro mini handbag trend). The handbag-as-art trend, as we are going to call it, subscribes to the idea that your bag doesn't have to serve any purpose aside from being an accessory. Fashion creator izzipoopi demonstrates this with a wooden "bag" that has no compartments or internal storage space. The bag she wears is simply an illusion of a functional bag, while still serving its purpose as an accessory to elevate her look.