Sofia Richie's Favorite Outfit Formula Is Timeless & Easy To Recreate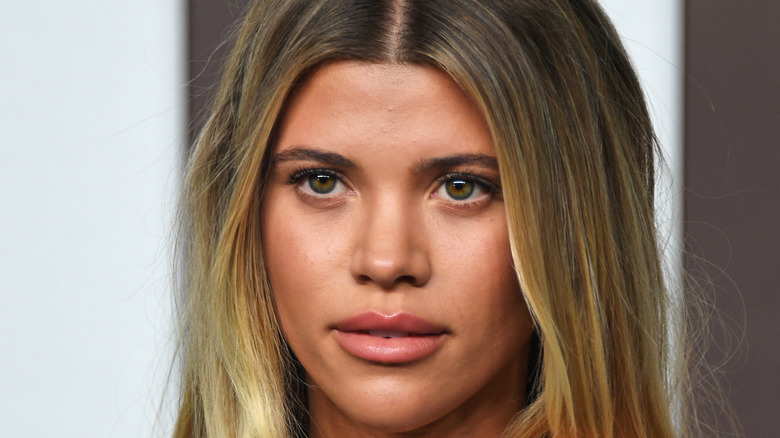 Gotham/Getty Images
It's always a pleasure to scroll through Sofia Richie Grainge's Instagram feed. Our girl has mastered the art of sophisticated, classical dressing, which is surprising and chic on someone so young. Her social media is a visual feast for fashionistas with plenty of long, linen skirt suits, ample dresses, and structured tailoring, with the added bikini selfie sprinkled in for good measure. It is Instagram, after all.
Richie Grainge's classical look is a great example of how to utilize the 'anti-trend' aesthetic, choosing instead for timeless pieces. She's also mastered the art of wearing black in the summer, without looking off season. We love it when people pull off black in a breezy way, and we've seen Richie ​​Grainge do it constantly, with black maxi-dresses and mini-blazer dresses. It's not just black, though. Richie Grainge utilizes the "quiet luxury" look in countless ways, with muted color palettes in creams, sands, and camels. But this magic doesn't always happen out of the blue. In fact, Richie Grainge has a formula for one of her favorite looks, and shared it during a conversation with InStyle. So we can take her advice and recreate this home run of an outfit.
Her go to is jeans, a classic shirt, and a pair of slingbacks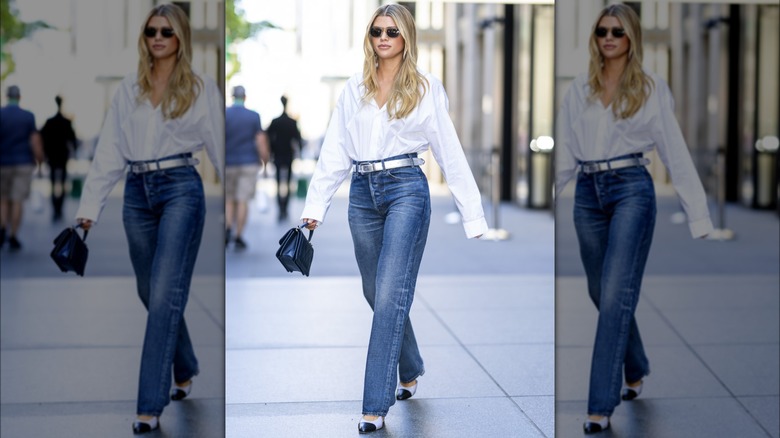 Gotham/Getty Images
While Sofia Richie Grainge has many different looks, the star has gone on record to say she has a formula for the perfect outfit. In her "How I Get Dressed" segment for InStyle, Richie Grainge said, "Jeans, a T-shirt, and a pair of Chanel slingbacks is my go-to outfit." It's no accident that Richie Grainge incorporates Chanel in her outfit formula. The star cites Jackie Kennedy as her fashion inspiration, another style icon who loved the French fashion house. Following in Kennedy's footsteps, Richie Grainge opts for basic cuts, high necklines, and monochromatic power.
Richie Grainge went on to talk about how her look has developed over the years. For instance, she dresses differently now than she did when she was dating Scott Disick, showing a personal evolution that has grown with her taste. "My style has evolved over the years, but day-to-day, I'm pretty consistent," Richie Grainge told InStyle. "I love simple and timeless looks and tend to pull style inspiration from art and music. I gravitate towards pieces that feel effortlessly chic and classic." Sounds great.
The perfect jeans and t-shirt for this look
To recreate this perfect look that Sofia Richie loves, we've sourced out the right jeans to get the job done. Richie frequently goes for straight leg, high-waisted jeans in a medium blue wash. Thankfully for us, many brands carry a jean that works well with this look, like NA-KD's Straight High Waist Jeans or Mother's The Rambler Zip Ankle Jeans in the wash High Tide. Richie actually collaborated with Rolla's jeans back in September 2021 and spoke highly of the brand. "I've always loved Rolla's because the fit on all of their denim is very flattering, but still comfortable and easy to style," she told E! News. "From the flares to the cut-offs, every style fits like a glove." There are several options from Rolla's that work perfectly as well, especially the Original Straight Long jeans in Rinse Blue. Richie doesn't shy away from distressed denim, either, so if you've got a penchant for rips in your jeans, this is perfectly fine.
In terms of white tops, Richie leans towards oversized white button ups, like the white Oversized Shirt from Banana Republic. She also goes for simple, white tees like the L.L.Bean shell, or the Premium Weight Muscle Tee by Everlane. Thankfully, jeans and a tee make for a pretty simple outfit formula, so it's pretty easy to make this look your own. 
The right shoes for Sofia Richie Grainge's outfit formula
Sofia Richie Grainge is obviously having a big moment with Chanel. The fashion house did her dress for her wedding to Elliot Grainge. "I was desperately looking around for a wedding dress, and Chanel had been my favorite designer forever," Richie Grainge told Town & Country. "So someone said, 'Why don't you do Chanel?' And I was like, 'Oh, I wish it was that easy.' And then we said, 'Well, why don't we ask?' We reached out, and they were kind enough and open enough to do one dress, the wedding dress." Turns out, Chanel also ended up doing several other looks for her wedding too.
While this is super great for her, not everyone can incorporate such prohibitively expensive brands into their everyday looks. But chic and timeless style doesn't have to be for the wealthy. To recreate Richie Grainge's go-to look, the jeans and the t-shirt are easy enough to utilize. As far as Chanel slingbacks go, we've sourced out several dupes that look remarkably close to the luxury brand's famous footwear. What makes the slingbacks so lovely is the black toe with cream body, a look that's become synonymous with effortless taste. Source them out in heels or flats; either look is exquisite. Of course, the classic Chanel slingbacks come in a whole range of colors, so you can play around with a brighter shoe if you want to steer clear of cream.