Common Mistakes To Avoid When Buying A Designer Handbag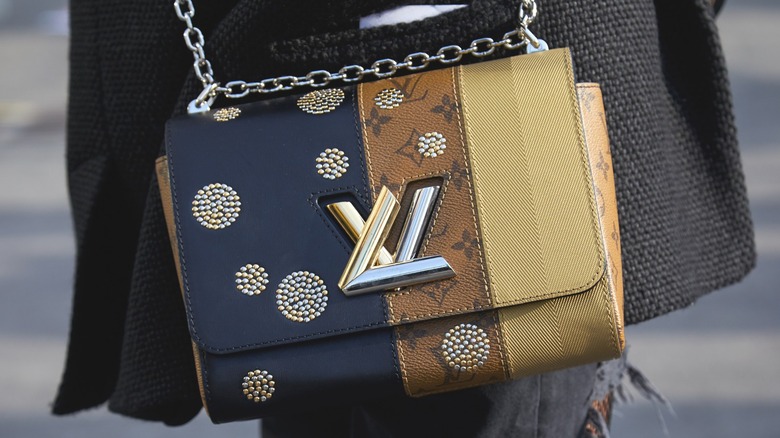 andersphoto/Shutterstock
Designer handbags date back to the mid-20th century, when designers like Giuliana Camerino of the Roberta di Camerino fashion house worked to create a bag that doubled as a status symbol. Decades later, few fashion items can make a statement like designer handbags. Modern-day designer bags are meticulously crafted from high-quality materials and have hefty price tags to prove it. So, if you've decided to buy a designer handbag, you want to ensure you get value for your money.
One rookie mistake is buying designers from just anyone, since the designer handbag market is rife with counterfeit products. In 2021, the U.S. Customs and Border Protection seized almost $1 billion worth of fake luxury handbags and wallets from 28,331 sources. To avoid fakes, buy directly from the manufacturer's website, physical store, or licensed distributors.
Sadly, getting a trusty merchant doesn't put you in the all-clear, as there are many luxury brands that aren't worth the money. Even experienced shoppers make mistakes when buying original designer handbags. Luckily, a foolproof way to avoid regret is to consider some common mistakes buyers make when shopping for a designer handbag.
Not considering the purpose and function of the designer handbag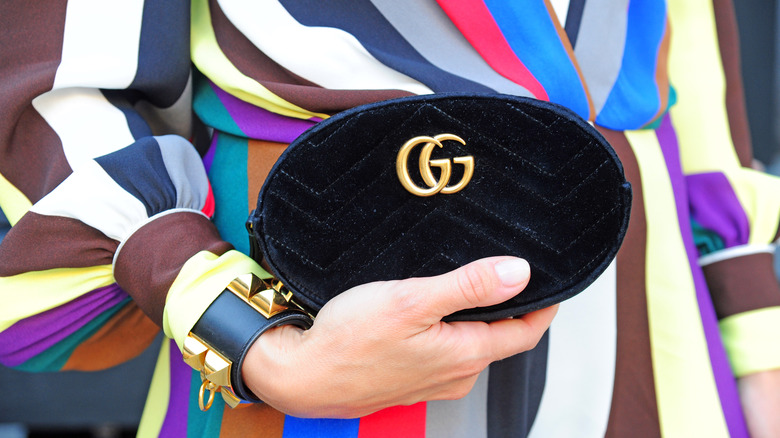 DELBO ANDREA/Shutterstock
When choosing the right designer handbag, it's essential to consider its purpose and function. It's not just an accessory, so you need to consider your lifestyle and how often you'll use it. Decide if you'll use it every day or just for special occasions, so you can choose a bag that fits your needs.
For example, if you need a designer handbag for work, you'd need to consider the functionality for your job. This would require considering various handbag types, such as totes, maxis, and designer briefcases made of durable materials for daily wear and tear, like Louis Vuitton's Neverfull collection. On the other hand, if you're looking for a designer handbag for a wedding or party, you may need to prioritize style over function to get one that matches the event and your outfit.
It's also important to be realistic about the cost-per-wear of the bag. If you want a designer handbag for a specific occasion, consider renting or buying a pre-loved one and purchasing another you can use more often. Remember that rentable luxury bags are having a moment on TikTok.
Not checking the weight of the bag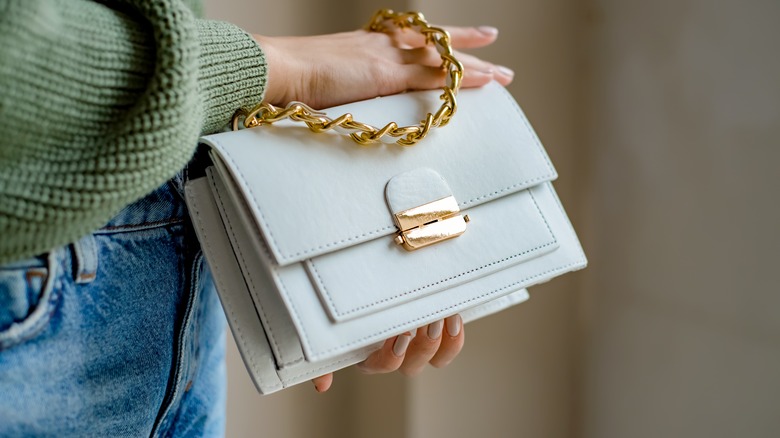 Chernova Yuliia/Shutterstock
Designer handbags are made from quality materials like metal and thick animal skin, so they're often heavy. Your handbag's weight might not seem like a huge problem, but a 2018 study published in the Journal of Motricidade proves otherwise. The study observed 316 women aged 18 to 35 and collected information about their lifestyle habits. Researchers found that 195 of the women who complained about backpains carried handbags heavier than 4.02% of their body weight.
Consequently, if you want to frequently wear a designer handbag without developing health issues, researchers advise that your bag should be less than 4% of your body weight. This can be tricky because empty and filled-up bags have marginally different weights. So, it would be best to evaluate what you put in your bag, because the total 4% limit includes the weight of your bag and its contents. Luckily, most designer websites are up-front about how much their bags weigh so that you can do the math.
But what do you do if your heart's desire is at a physical store? It's just as easy. Many stores allow you to try out your bag to get a feel of its weight. While you test it, try to quell the butterflies in your tummy long enough to get a genuine assessment of the weight. Designer handbags are amazing treats but aren't worth long-term back problems.
Not considering the perfect color and print for your needs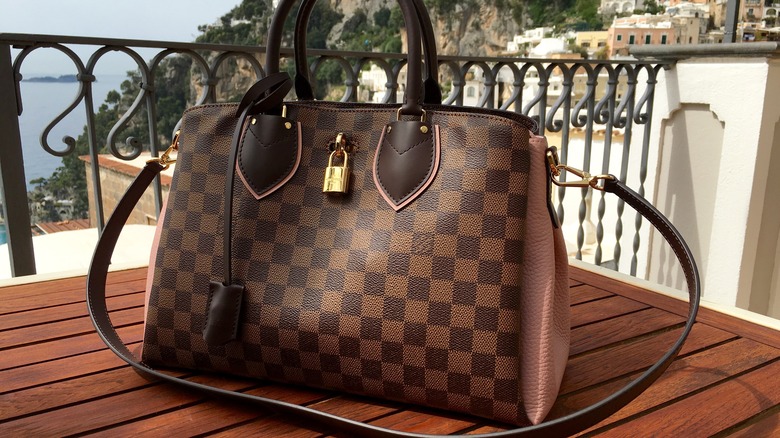 Jeramey Lende/Shutterstock
Luxury handbags are designed to stand out and attract attention, so you must consider what kind of bags to buy if you really want to make a statement. Many designer handbags have distinguishable patterns that make them better suited for specific outfits and occasions. Prints like Louis Vuitton's Damier Azur encapsulate that spring/summer vibe to a tee, while the Dauphine MM Bag literally speaks winter. Both bags are stunning but would better complement outfits similar to their respective vibes.
Similarly, it's essential to consider the color of your bag. Many designer handbags come in glorious colors that won't match every occasion. One prime example is Stavley's 24k Gold Crocodile Skin Handbag. According to Stavley Fashion House, they make this bag by melting Pure 24-karat gold to gas and using a vacuum to insert the golden gas into the crocodile skin.
When it's cooled, the gold solidifies, leaving the crocodile skin in a gorgeous, muted shade of gold. Stavely's 24k gold bag looks amazing and is perfect if you want a designer handbag for special occasions. However, if you're looking for a bag you can wear to work frequently, a piece like Gucci's Ophidia large tote bag, which comes in a versatile black, is a better option because it's built for use.
Not checking the size of the bag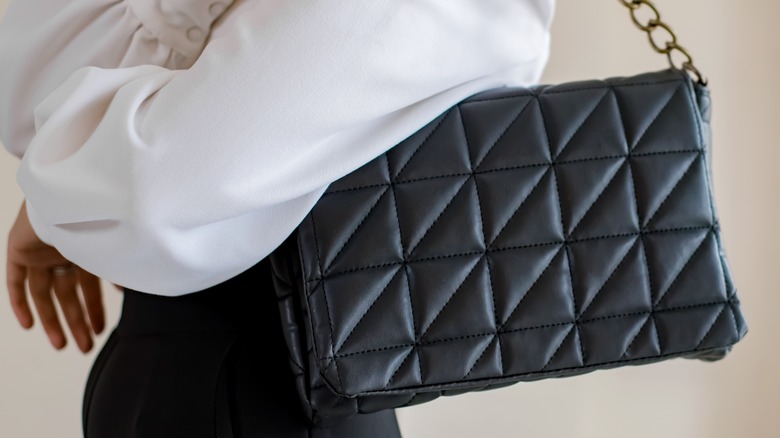 Chernova Yuliia/Shutterstock
You might think that picking a designer handbag of the right size would be as easy as eye-gauging, but it really isn't. For starters, you need a bag that's large enough (not too large, mind your back) to carry your essentials. However, it's equally important to consider internal pockets. For example, if you want a large tote bag to carry your laptop, you'd need to check the insides to ensure its compartments suit your laptop. It's possible to make a wrong choice if you're just eyeballing it.
Take Saint Laurent's Sac De Jour, for example. The medium size looks pretty large but can only fit laptops 13 inches and smaller. If yours is past this range, you'd need the large size. Sizing is also important to designer handbag collectors for a couple of reasons, the most apparent being price. A good example is the Chanel Flap Bag, which comes in several sizes: mini, small, medium, jumbo, and maxi.
The jumbo and maxi are more expensive because of how much they can fit, unlike the Hermès Birkin bag, which also comes in various sizes ranging from 25 to 40 centimeters. 25-centimeter Birkins are more expensive because they're rarer. Another reason to consider the size of your designer handbag is to ensure you have suitable facilities to store it. Designer tote and hobo bags can be stored folded because of their material and size, while smaller structured bags need to be stored upright.
Not inspecting the handle of the bag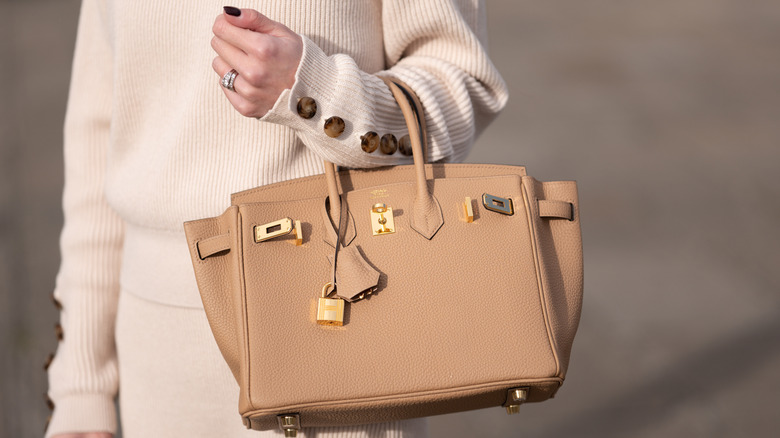 Edward Berthelot/Getty Images
The handle of a designer handbag will determine if it ends up being a joy to wear or something you keep in a show glass because of how uncomfortable it is. So, what makes a good handle? The first item on this list is comfort. A good designer handbag handle should be comfortable when held or slung over the shoulders so it isn't a pain to wear. If your strap is uncomfortable, a heavy handbag will unapologetically dig into your skin.
Another good-to-have feature is different handle options. Many gorgeous designers, like Givenchy's black Mini Antigona Bag, come with a handle and a strap for versatility. This feature allows you to pair your bag with more outfits. If a shoulder strap is a must-have, it should be adjustable and long enough. However, the only way to test out a bag's strap is to try it on to be sure it's perfect for your frame. Be sure to check out the quality of the strap buckles to ensure they won't fade.
Another critical factor is the material of the strap. Many designer handbags feature leather handles, which are durable and stylish but don't fit every climate. For example, leather handles are prone to damage in rainy or humid climates. A better choice would be a nylon or canvas handle or strap, which is more suited to such climates.