The Hottest Fashion Trends From NYFW Spring/Summer 2024 Shows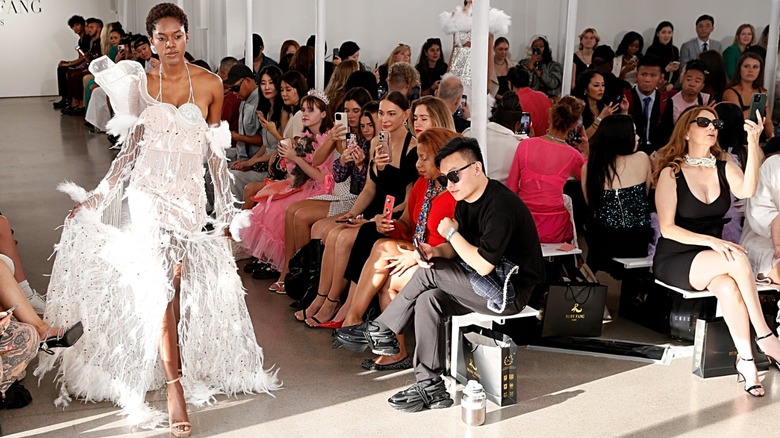 Getty Images
As the leaves change color and the temperatures get cooler, it might feel a bit odd thinking about what-to-wear when for warm weather. However, this year's runways have hinted that 2024 fashion will transition effortlessly between seasons without too many trend-tossing extremes. Summer skin is still exposed this fall, but in new ways that are inarguably autumn. The runways for spring/summer 2024 are another smooth blend from what's happening this fall/winter.
The September 2023 New York Fashion Week highlights were layered with substantial fibers and elegant designs alongside rich and playful decadence. Asymmetry, monochrome color, and neutrals — especially with pops of red — stood out among a sea of contrasting leathers, wool, and mesh fabrics. Some prints were uniquely created by hand for a single piece, while others were a collage or quilt representing everything under the sun.
Deconstrucion and asymmetry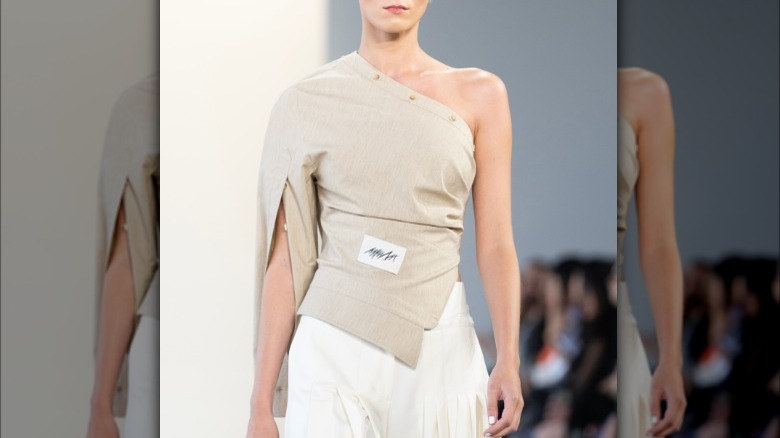 Shutterfly
When fashion questions or "deconstructs" the basic button-down or pair of overalls and rebels against the "twoness" of our bodies, it feels like something more than a trend is happening. It's a statement. The newest styles on display during NYFW Spring/Summer 2024 showcased clever ideas for the ways our clothes can go against traditional angles. Whether it's an off-the-shoulder neckline or a split hem midi skirt, we're seeing just how quickly a neutral color garment can be transformed through cuts.
Flats and Mary Janes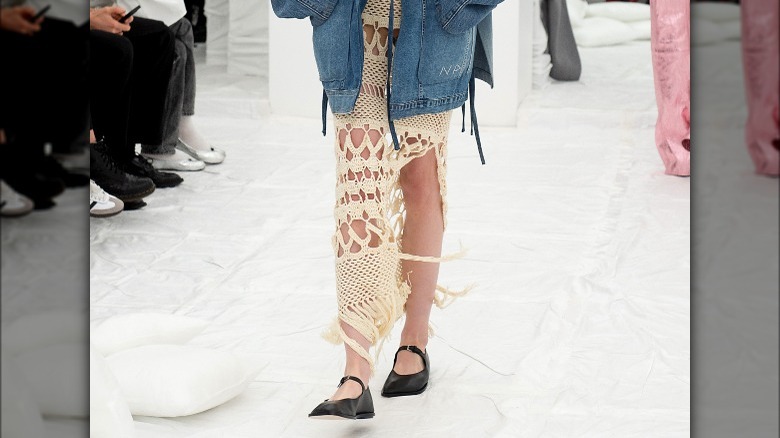 Shutterfly
Although ballet flats had a resurgence in the 2010s thanks to the rise of twee fashion, their popularity eventually faded in favor of loafers as the go-to 'prep style' shoe. However, thanks in part to TikTok trends like coquette and balletcore, and the surge of brands like Miu Miu, the simple, the shoe has been slowly making its re entrance into the fashion conversation.
This year's runway proved the style is more than just a TikTok trend. As reported by WWD, ballet flats were all over the runway, with special embellishments added to make them pop more than the typical plain style.
Mary Janes, meanwhile, are currently on trend, and will continue to maintain that place through 2024. It makes sense why. They go with everything and they're practical for popping in a bag for quick trips requiring quick changes. WWD reports that we can expect to see the classic black style with a single strap everywhere, along with more modern styles featuring multiple straps and different colors,
like ruby red or purple. Bring them into your everyday wardrobe by wearing them with a unique pair of socks, tights, or leggings, or don them barelegged for warmer wardrobes in the summer.
Flower accents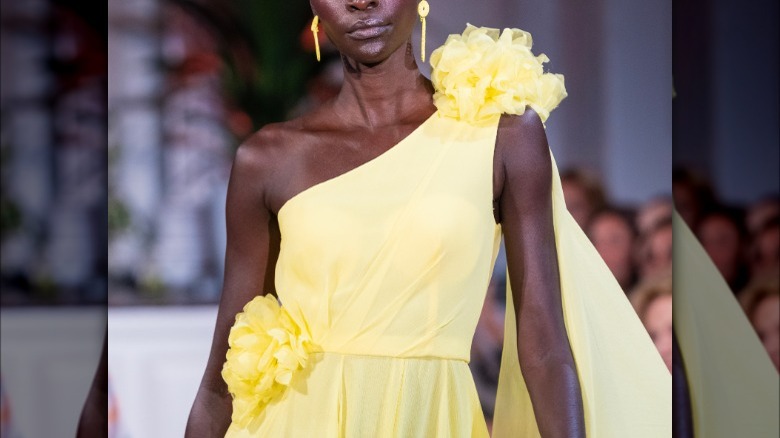 Shutterfly
Corsages, mums, broaches, rosettes, and bows are all popular accents for every outfit and any occasion coming up next spring and summer. W Magazine reported that all of these feminine accents were on full display at this fall's fashion week. Some of these accouterment were oversized and playfully cartoonish, including roses two-feet across on shoulders, and bows with dragging tails along the wayside. Singer Sia even made an appearance wearing a gigantic pink ribbon atop her signature bangs.
Other looks are quaint throwbacks to classic midcentury, feminine designs or coquette stylings. If next spring, you have an inkling to add some three-dimensional accents to your outfit, do not hesitate. 
Drop dead reds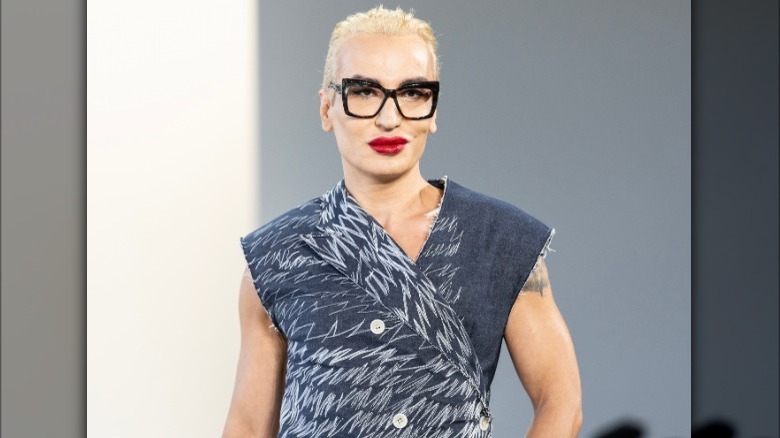 Shutterfly
One of the most popular trends from the spring/summer 2024 runway was the simple strategic placement of a stand-out red. Many shows included neutrals in basic shapes with one bold, eye-catching nod to crimson. Pantone anticipates that a deep rooibos tea-colored rusty red will be everywhere once the weather stars warming up again. Transitioning from the fall/winter monochrome threads with reds, even knockout red lipstick layered coloring is as welcome as a red door on a hospitable home. 
Razzle dazzle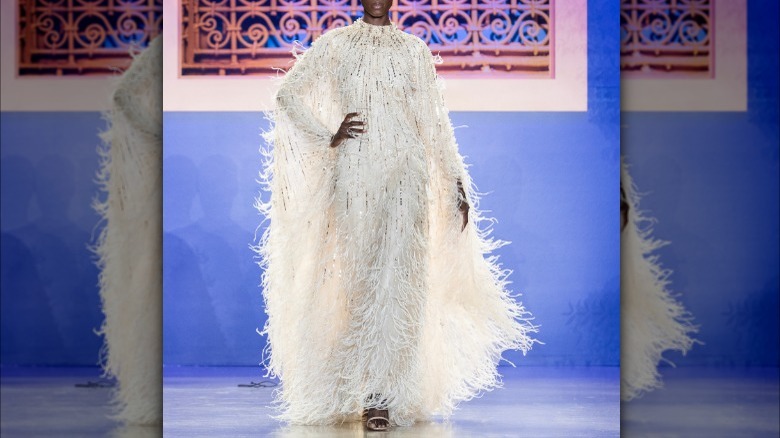 Shutterfly
Sequins, sparkles, and flowing feathers have typically been reserved for evening wear, costumes, the '80s, or Vegas day drinking. But thanks to more modern textiles in mass production, along with our newfound cultural embrace of everything everywhere all at once, this spring/summer runway was littered with glitz and glamour. Models and attendees were reportedly seen sporting sequined skirts, dresses, and pants in shades of gold, silver, and blue, per W Magazine.
Classic Hollywood is a great place to look to for matching a glitzy silhouette. If it moves or sparkles, don't be afraid to let the sun make it shine.
Fine art prints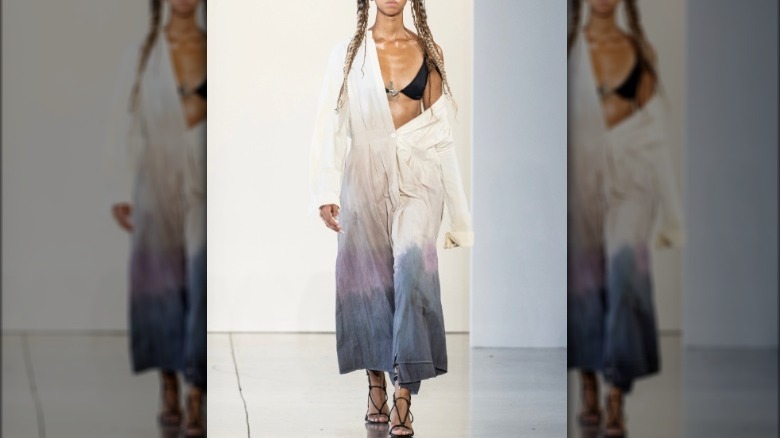 Shutterfly
Wearable art and uniquely handcrafted garments were, technically, all garments once upon a time. But today we appreciate the rare, one-of-a-kind occasionals either through successful vintage finds or commissioned creations. Expect spring/summer to be loaded with a renewed appreciation for thoughtful skill, craft, effort, and time on your wearables. Special stitching, weavings, and dyes will be noticed by all eyes in tune on the trends of next year. Take the opportunity to support local artisans in the coming seasons and help keep slow fashion sustainably moving forward.