The Trendy Color Combinations To Try For Your Fall 2023 Outfits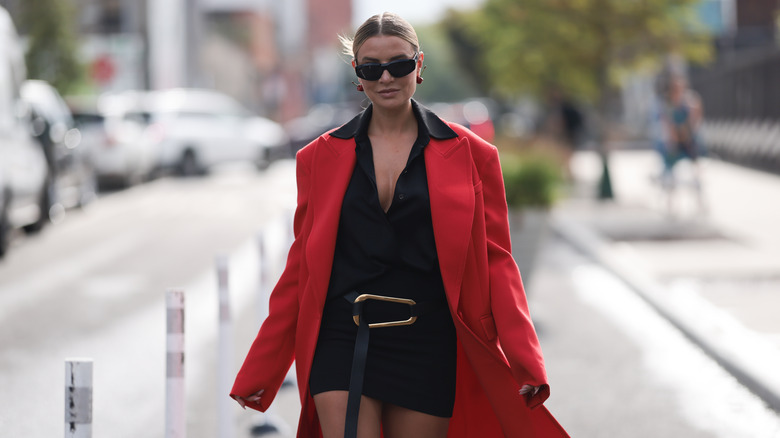 Jeremy Moeller/Getty Images
With fall upon us, it's time to embrace the energy that comes with a changing season. While summer makes us think of pushing the limits with bralettes, cutoffs, and crop tops, the fall has us geared up for more complex sartorial choices. We get to change the vibe with long jackets, sheer tights, hats, gloves, boots, and more. The summer heat means that outfits are best when kept to a breezy minimum, while the cooler days of fall give us a chance to play with layering and draping. This doesn't mean that we're necessarily boxing our summer clothes. We're just getting more creative. For instance, the sheer clothing trend definitely has a place in a fall wardrobe. 
There's a greater opportunity to get creative with a fall wardrobe. Cowboy boots are back this fall with a vengeance, which is perfect because they look awesome with jeans and skirts. Meanwhile, fall coat trends have gone in a romantic, dramatic direction. We're seeing long trenches making big statements and lots of faux fur. With so much to work with, we want to be mindful of color choices in the fall as well. Just because it's getting darker and colder, doesn't mean that our palettes have to be so drab. In fact, the fall is the perfect time to play with some fun, unexpected color combinations. 
Browns and pinks were made for each other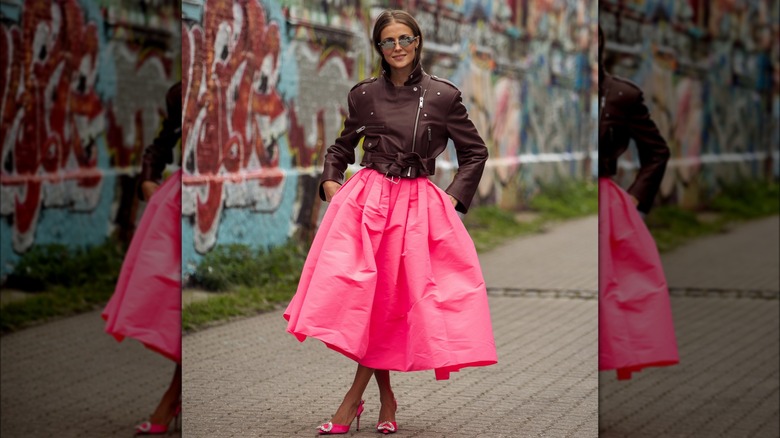 Raimonda Kulikauskiene/Getty Images
Pink isn't just a summer color, and we're making a pretty educated guess that people aren't going to part with Barbiecore any time soon. No complaints from us! Pink gives such a dopamine hit, so seeing this cheerful color work its way into fall is a win for any wardrobe. Take it back down to earth with brown, to create an unexpected color pairing. Since brown has such warm undertones, it lets the pink carry the look in a harmonious way. Since pink and brown are an unusual pairing, play up the surprise with a feminine piece, like a full, pleated skirt, and an edgy leather jacket. You'll waltz right into fall. 
Work it with blues and yellows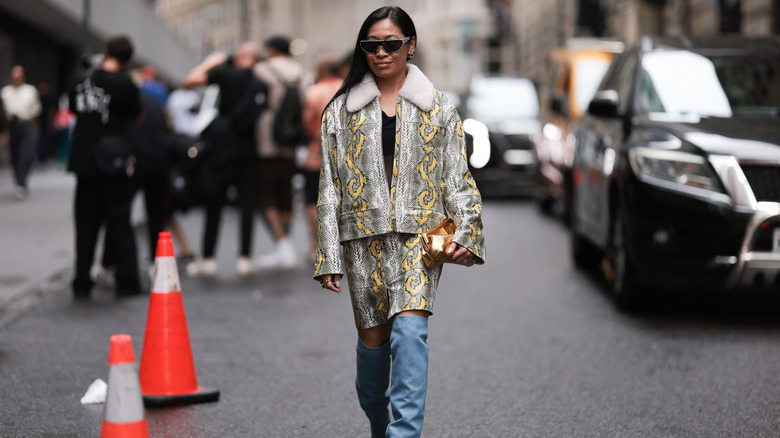 Jeremy Moeller/Getty Images
Blue and yellow are another happening combination this fall. While the two primary colors obviously complement each other, we're seeing them worked into outfits in more muted ways. These aren't the bold, traditional pigments we're used to seeing. Now, the trendy thing to do is opt for yellows and blues that are more subdued. The softer yellow accents in a snakeskin suit add a richness to the pattern. Choose chalky blues to add a sophistication to the palette; though if you want to really turn heads, frosty blue is also having a huge moment this fall. Pastels in any season besides spring make the tone that much more interesting. 
Burnt Sienna and blue are where it's at
Christian Vierig/Getty Images
Many guests who attended New York Fashion Week 2023 wore outfits that were rich in browns, sepia, and burnt sienna. The earthy palettes are what we expect for fall, but what makes these hues so compelling is when they're paired with unexpected choices, like a cool cerulean blue button up shirt. A pinstriped print makes the top even more dynamic, but it's pulled back down to earth thanks to the warm, rich, natural tone of the burnt sienna. Pair the powerful combo with nude accessories to avoid detracting from the warm wardrobe.   
Red and butter yellow balance each other out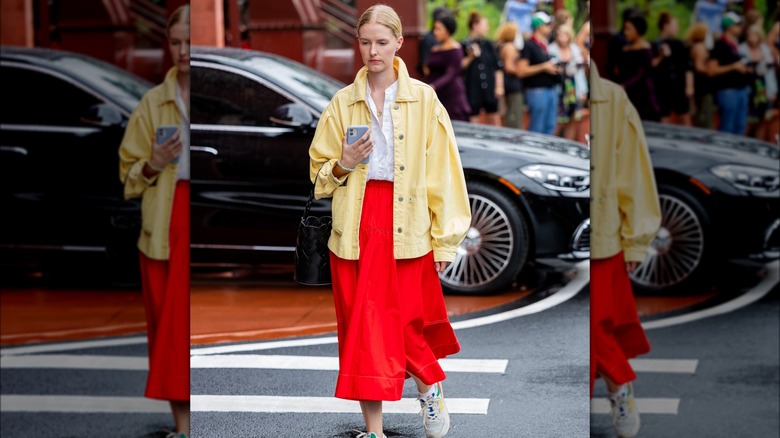 Christian Vierig/Getty Images
Red is huge this fall. In fact, red is THE color of fall 2023. It's coming in all of its glory, through the impressive range of shades. There's cherry, scarlet, crimson, ruby, as well as natural, raw tones like brick, merlot, and rust. If you like a punchy red, now is your time to shine. But if you're not going for the full Doja Cat "Scarlet" look, try and balance it with a lighter, muted color. Choose a candy apple red skirt and balance out its strength with a white t-shirt and a butter colored jacket. You never know when you'll need that optional layer of warmth. Keep the look comfortable with your favorite pair of white sneakers. Seriously, this look is so comfortable that it'll become your autumn uniform. 
Burgundy with red accessories bring warm and cool tones together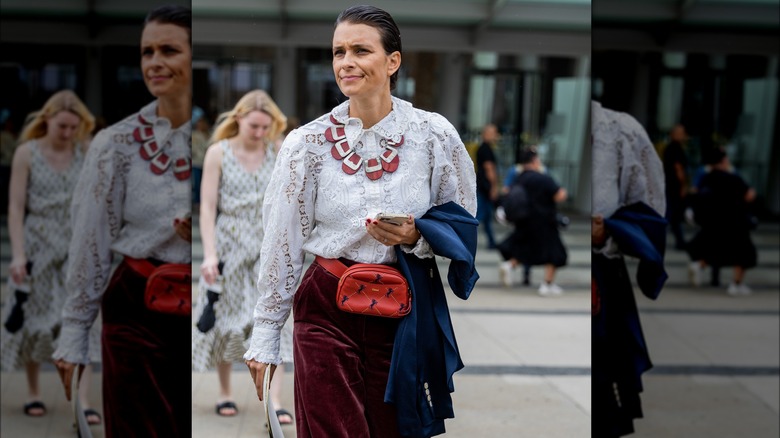 Christian Vierig/Getty Images
With the cooler weather giving us room to layer, fall is a great opportunity to highlight warm and cool tones by playing with different fabrics. This is the time to lean into velvets and corduroys, and a rich, warm burgundy is that much better when it's made of velvet. To add a playful touch to a rich, moody look, bring in bright red accessories with cooler undertones. A blue-based, cold red pops when worn alongside sumptuous velvets, sturdy corduroys, and heavy cottons. Another way to amp things up is by utilizing fabrics that bring their own music to the outfit. A cotton crotched blouse adds dimension and interest; don't be fooled by the simplicity of the white. 
Lean into lime green and black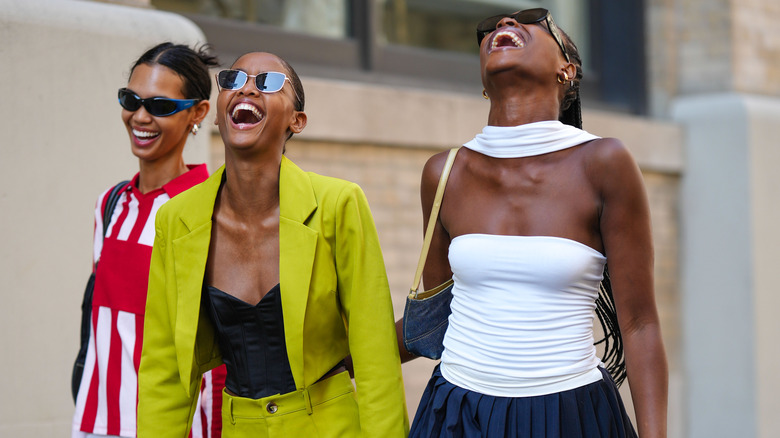 Edward Berthelot/Getty Images
Lime and neon green isn't just a color for summer. Sure, we might initially think of slicing limes on a Tuscan balcony, but the lively color is an unexpected delight in the fall and winter. It's charming largely because it's so unexpected, since fall can make people think of drab trappings. Instead, bring the energy with the zest of lime green. Since the citrus tone is so powerful, black or white work well for accessories and undershirts, allowing the lime to carry the look. Fall wardrobes don't have to be subtle.