The Utilitarian Trend Is Bringing Khaki Shorts Back And We're Actually Glad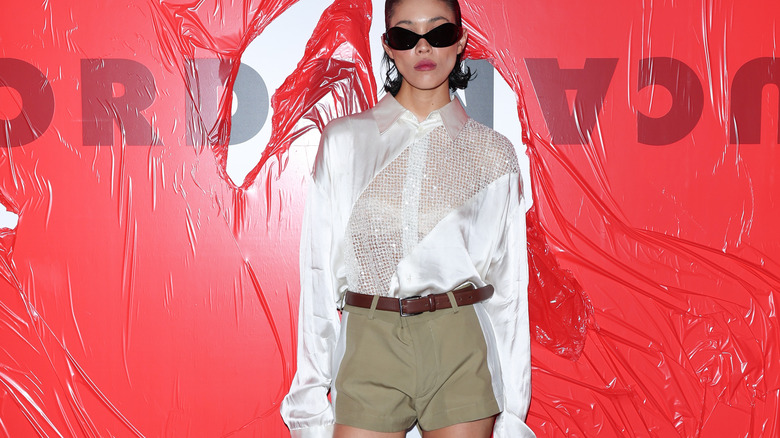 Jacopo M. Raule/Getty Images
Fashion has taken a utilitarian turn this summer, bringing comfort and convenience to the forefront of style. Utilitarian style is bringing us pockets, combat boots, cargo pants, and more. The style has taken on an urban feel this season due to the convenience many pieces offer to those walking around cities — functional pockets in pants and shorts have been a real game changer. One of the most popular ways this trend has established itself this summer is through khaki shorts.
Before you turn your nose up, know these aren't your dad's khaki shorts. They're making a comeback this summer in a much more tailored and sophisticated way. Khaki shorts can be easy to style and come in more forms than just the beige Bermuda shorts you're imagining. Whether you want to dress them up for Sunday brunch or dress them down for a casual park day, there's a style of khaki shorts to fit your needs.
Maximize your storage with cargo khaki shorts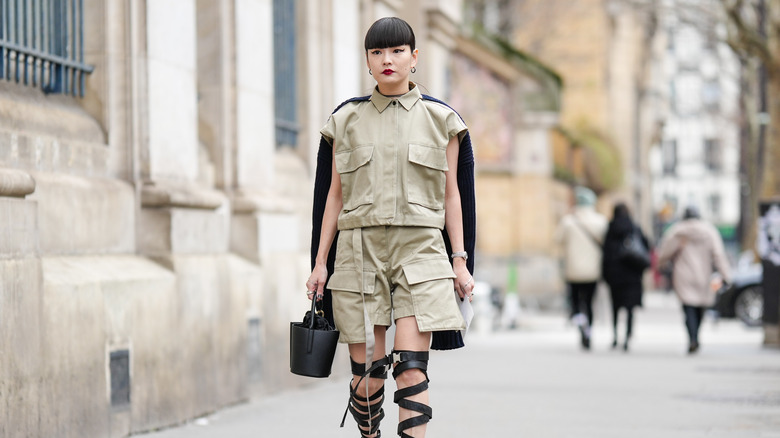 Edward Berthelot/Getty Images
Cargo khaki shorts can be your secret style weapon to mastering the trending dad style. Pair your cargo khakis with the dad shoe trend and a simple tank top and you've got the perfect look for your next summer BBQ or picnic. This style looks effortlessly cool and we love the comfort this look provides. The simple clothing choices leave plenty of room to accessorize with your favorite rings, chunky necklaces, and hoop earrings.
Pair khaki shorts with high-end pieces for a luxurious look
Quiet wealth has been the go-to style for celebrities like Hailey Bieber and Kendall Jenner this summer. The good news is you don't have to be a millionaire to get the look. Pair tailored five-inch inseam khakis with a structured white button-up and a pair of chic cat-eye sunglasses to give a quiet luxury vibe to your look. The simple outfit is functional and will work great for your next brunch. Tie the look together with some classy, minimalist jewelry and you've got an outfit that is timelessly sophisticated.
Feminize khaki shorts by going for a mom shortcut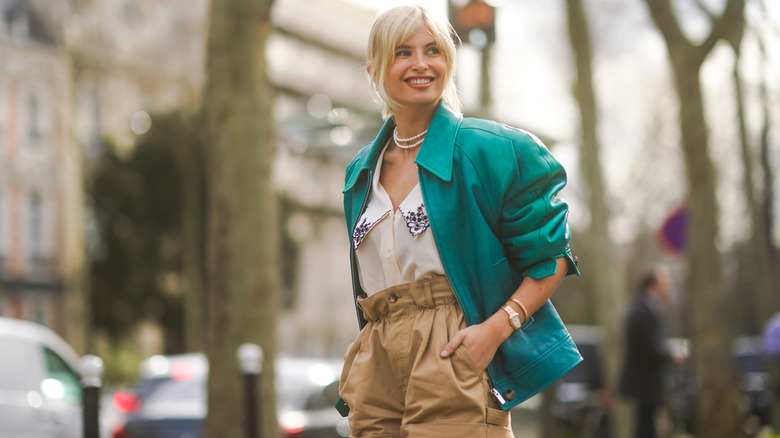 Combining mom khaki shorts with a flowy top and a sweet hair bow is a girly twist on the style. The coquette beauty trend is unapologetically feminine and has been taking over TikTok. Khaki shorts can be styled to fit the trend while providing comfort and ease. Feminine style doesn't have to come for at sake of your convenience! Add a vintage-looking belt and your favorite frilly socks to create a softer style. We love this look for a happy hour or girl's day.
Look effortlessly cool in a pair of long khaki shorts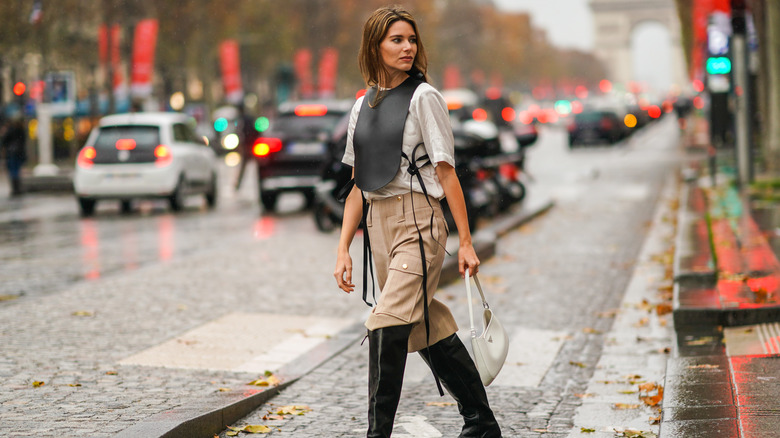 Edward Berthelot/Getty Images
The key to finding the right pair of shorts is to find ones that hit right below your natural waist to give you the most flattering silhouette. Pair with some fashionable boots or a trendy blazer for major style points. This outfit gives an urban, cool vibe to your look that anyone can achieve. Don't be afraid to accessorize with this style by pairing a corset or vest with your look. If you're on the fence about wearing longer shorts, try playing around with proportions in your outfit to find the fit you like best.
Bring some color back to your outfit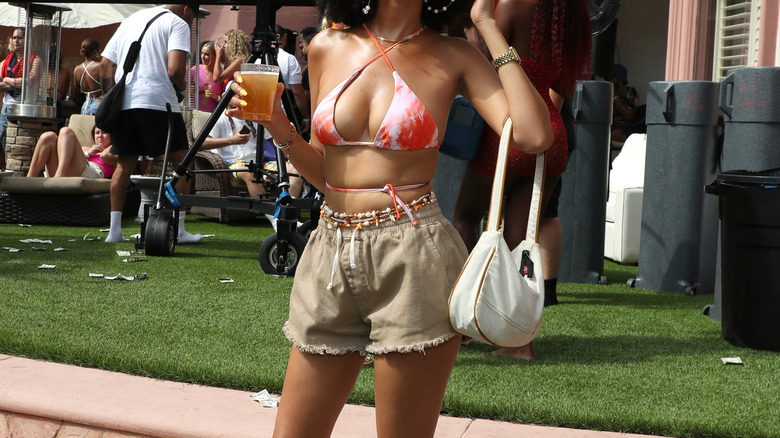 A common worry of khaki shorts is that the color will make your outfit boring. You can ease these worries by going for bold color combos with your top and accessories. A brightly colored shirt and matching bag can bring a much-needed burst of color to your look. This style lets you embrace the rise of the colorful purse without fear of doing too much with the rest of your outfit. Khaki shorts are the perfect neutral base to experiment with unique color combos, and bonus points that this style is perfect for festival fashion.