Utilitarian Styles Are Bringing Us The Pocket-Heavy Fashion We Need This Summer (Finally!)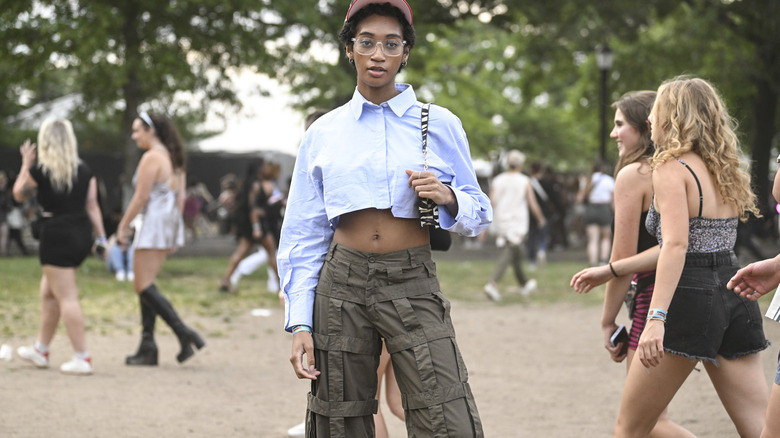 Daniel Zuchnik/Getty Images
The inconveniences of women's pockets are frustrating for many. Pockets in women's clothing are noticeably smaller than men's and don't provide much function. And that's if we even got them at all. But this past spring and summer runway saw an uptick in pockets. Fashion has taken a utilitarian turn in recent years, people are seeking comfort and functionality from their pieces. Not to mention, pocketless clothing has been a pain point that has been begging to be addressed. 
While the trend definitely echoes back to the Y2K cargo pants seen with celebrities like Christina Aguilera, pockets 2023 focuses less on sex appeal and more on functionality. In a conversation with Elle, the cofounder of Jade Goulden, Jaded London mentioned drawing inspiration from the early 2000s but wanted to create more detailed, structured pockets for his collection. "There are 15 pockets on each pair of our parachute pants, and my favorite pocket has to be the AirPod pocket, which makes these an essential piece in our consumer's wardrobe," says Jade Goulden for Elle. 
Pockets are popping up in nearly every piece of clothing. From pants to skirts to vests, even boots are getting the pocket treatment. Pockets are associated with working-class fashion, making this trend unique in the presence of trends like quiet wealth. These simple additions are creating a convenience most women's fashion has never had before. And we couldn't be more excited.
Why are pockets so in?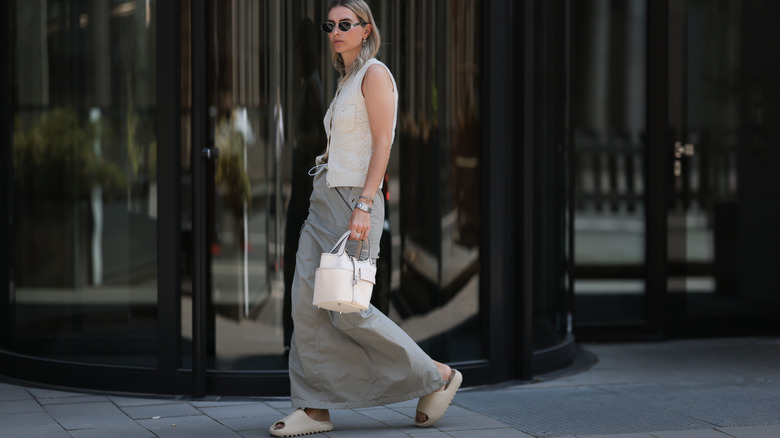 Jeremy Moeller/Getty Images
There are a variety of aesthetics utilizing pockets this season. Everyone has been dressing like dads this summer and we are here for it! Especially with the added pocket room dad-style shorts offer. The Y2K revival is still going strong and bringing a fresh twist on pockets. As mentioned before cargo pants are back, but that's not all. Pockets are appearing on Y2K-inspired handbags of all sizes. From the oversized "hobo" bag to the micro mini handbags, expect to see extra pockets on the sides of these, making them even more functional.
Pockets are also taking on a more urban look. This makes sense because if you have to get around for longer periods in a metro area, lugging a big bag around isn't always ideal. Pockets offer more freedom for your hands and can keep your items safer. Urban pockets are taking over on vests and baggy jeans, making them a cool and practical twist.
Styling the pocket trend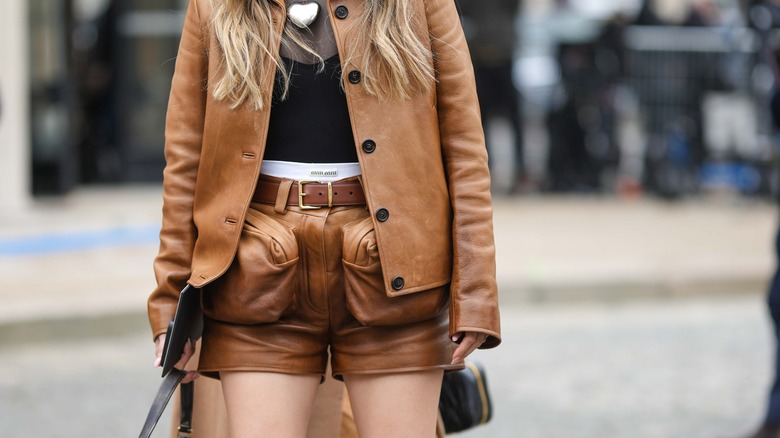 Edward Berthelot/Getty Images
To find your right pocket style start by assessing if you are looking for pockets in a more fashionable or functional sense. If you're hoping pockets can replace a purse, you may want cargo pants or a cargo vest. These options often provide the most pockets and the deepest. There is a subtle rebellious nature to these garments as well. Reclaiming the typical masculine staple is freeing for women's fashion. 
Or, create a more feminine feel for pockets by opting for a utilitarian skirt like this denim one from Miu-Miu. These skirts with big pockets on the front or side appear in so many brands right now and offer a useful, yet elegant take on the trend. One brand that has really embraced pockets across all garments is Tunnel Vision. Tunnel Vision has committed to creating a wide array of pocket-focused styles including fun flares and grown-up takes on the miniskirts of your youth. 
Thoughtfully styling these pieces allows you to further emphasize the look you're going for. Going for a basic tank top and comfy, chunky sneakers with cargo shorts can give you an effortlessly cool urban feel too. Or, pair your cargo mini with a classy sandal and blouse to bring a more feminine look to the utilitarian vibe. If you want a sleek and sophisticated feel, opt for a pocketed maxi skirt or flowy pants with a top in the same color family and keep your accessories sleek and simple.