Summer 2023 Proves Chic Cat-Eye Sunglasses Never Go Out Of Style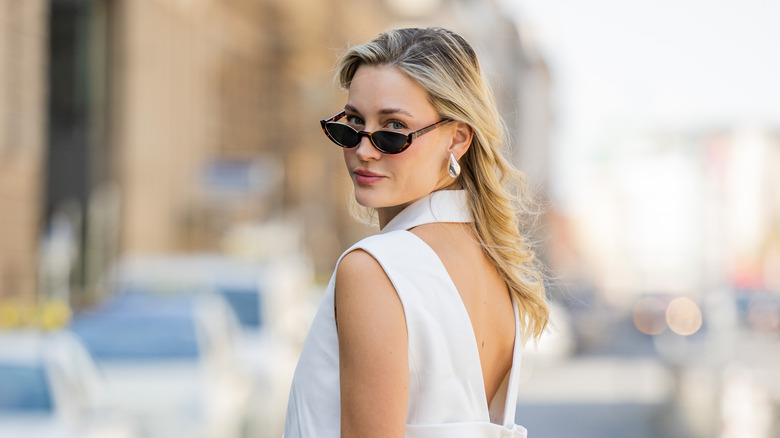 Christian Vierig/Getty Images
Cat-eye sunglasses are the trend you, your mother, and your grandmother can all agree are a timeless accessory for any summer outfit. The cat-eye frame for sunglasses was popularized by Audrey Hepburn in the '60s when she wore a version in her film "Breakfast at Tiffany's." Since then, we have revisited the shades time and time again, and it's no surprise why. The chic frame is universally flattering, and the shape offers a sleek, professional vibe. This summer shows the sunglasses making their rounds once again.
Cat-eye frames are a great option if you are looking to invest in one versatile pair of sunglasses. They can easily be dressed up or down, depending on how you style them. Plus, they go with almost any outfit due to their simple design. Not to mention, this frame is the favorite of the Hollywood elite this summer. Everyone from Lily-Rose Depp to Kesha to Sofia Richie has rocked a pair of cat-eye sunglasses. And it's no surprise why: With several subtle variations, the cat eye is an easy accessory to make your own this summer.
The modern cat-eye frame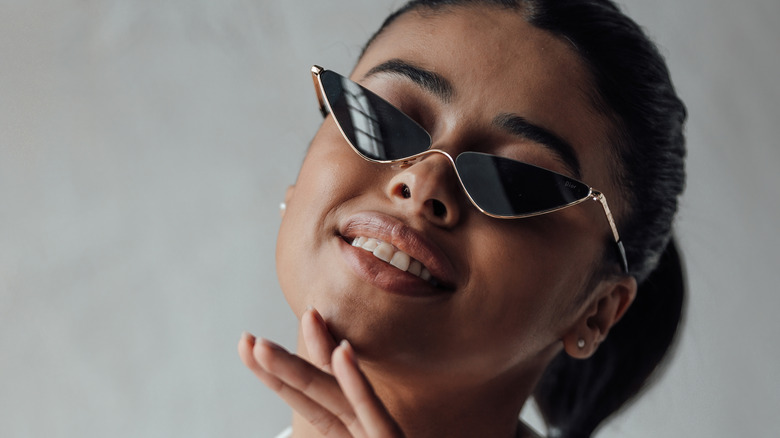 Olga Yefimova/Getty Images
Just because it's a classic trend doesn't mean it can't be modern. The cat-eye frames today feature a more elongated wing. Lengthening the wing creates a more pronounced look that demands attention without being too kitsch. Don't be afraid to experiment with colors in this style. Choose a color that compliments your skin and hair to make you look brighter and more alive with a single accessory. The cat frame is also perfect to try out the indie sleaze look. Go for a more edgy, metallic frame with cutouts. This gives you a punk look that fits right into the indie sleaze. Or go for a twee look by keeping it old school and searching for sunglasses that fit Audrey Hepburn's vibe.
Celebrities are fans of the Lanvin signature cat-eye frames, according to The Zoe Report. Sofia Richie, Emma Roberts, and Shay Mitchell have all been spotted in this particular brand. The Lanvin frames are small, simple, and scream quiet wealth (especially since prices start at $300). The minuscule frame calls back to the tiny sunglasses trend of Y2K but in a more wearable and eternal way.
How to style cat-eye sunglasses this summer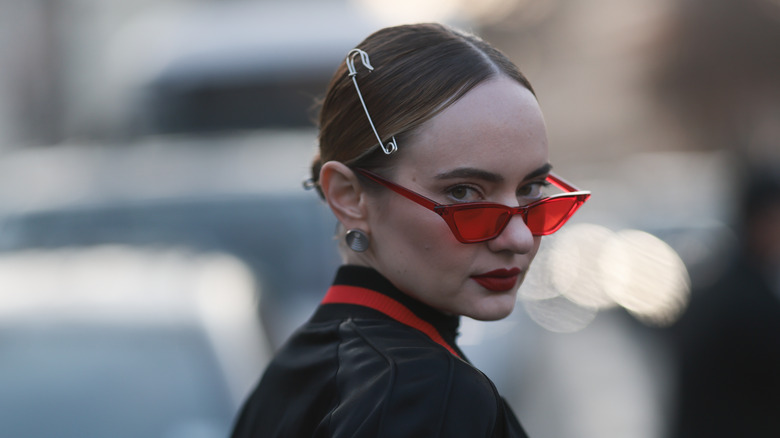 Jeremy Moeller/Getty Images
Once you have your perfect cat eyes, the next challenge is styling them to feel fresh without drowning them out in your outfit. The beauty of this frame is that it effortlessly fits into almost any aesthetic you're pining for this summer. Lean into the summer of Barbie obsession by giving the shades a more feminine feel. Wearing a cat eye with subtle pink hues and glammed-up hair and makeup gives you total Barbie energy without beating the trend over its head.
To give the sunglasses a more masculine feel, lean into dressing like your dad. No, seriously — long jean shorts and a blazer play surprisingly well with the dad style. The feminine cat eye balances the masculinity of the dad aesthetic and creates a really balanced style. Or, if you are committed to the Y2K revival, go for a small cat-eye frame and bring attention to it by styling your hair in an early 2000s style. Go for butterfly clips or bubble braids to bring easy playfulness to the look.
If you are living for the quiet wealth aesthetic shown by celebrities right now, keep the cat-eye frame as classic as possible. Stick to neutral colors like black, weight, and taupe, and pair the sunglasses with structured bottoms and crisp button-ups. Don't forget to add your favorite loafers to round out the look.